Disclaimer: This bra set was bought with my own money and Cleo by Panache did not request a review. This blog post contains an affiliate link.
How often do you see lingerie you love so much you buy it on the spot? That's how it was for me with this Jolie bra set from Cleo by Panache. I saw lingerie blogger Denocte's review and thought "bows!", and ten minutes later it was mine.
When I was about five my mum bought me a set of iron-on bow transfers – I promptly made her iron bows onto everything in my wardrobe and have been more than a little obsessed ever since. I really think everything looks better with a bow on it (including me, I have bow tattoos) and I also love pink and orange together (my sixth form leavers' ball dress colour scheme). So despite it being far from my usual style, the Cleo Jolie set was simply made for me.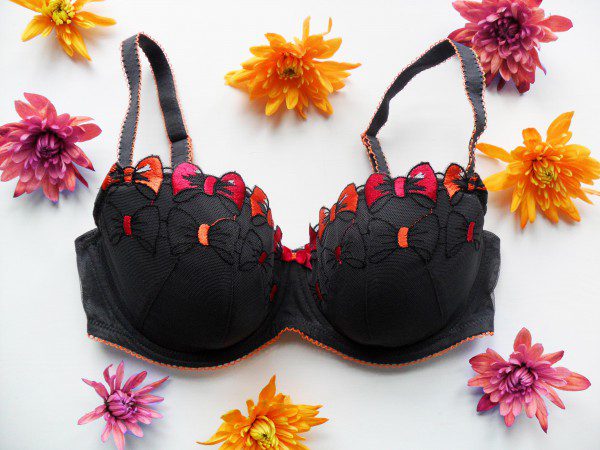 Appearance
Cleo is Panache's younger-targeted, cheaper brand, full of vibrant colours and bold prints. The Cleo strapline is 'Crafted For Fit, Styled For Fun' and if there's one thing this bra really is, it's fun!
The bow motifs are bright and cartoonish, and there are lashings of them. They're embroidered rather than printed which not only makes them pop even more, but also makes the set look and feel like a great-quality one.
The lingerie is finished off with matching bright orange picot edging, orange-coated metal hardware, pink-and-orange bows and even a specially-made hook-and-eye fastening with orange hooks. Inside, the wire casings are printed with the Cleo strapline which gives the bra a somewhat sporty vibe, especially with the grey and neon orange colour scheme!
Verdict: 9/10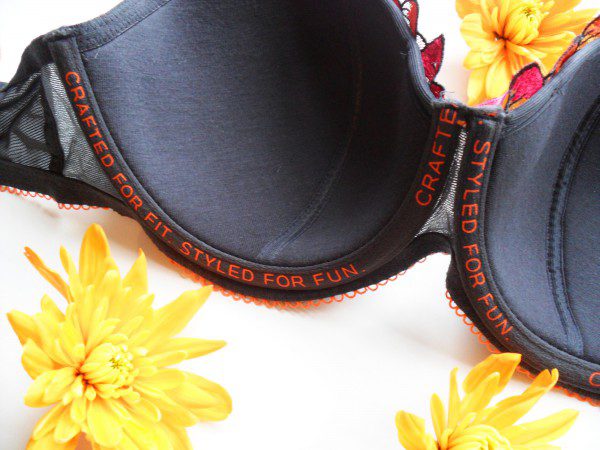 Construction
The bra has soft, moulded cups topped with a sheer mesh which the bows are embroidered onto. The cups have a single seam right up the middle – the other two seams you see in the picture are just on the mesh layer. The knickers are made from the same sheer mesh, with the embroidered panel overlaid at the front.
Overall it's a nicely-made set with a lot of attention to detail and great construction.
Verdict: 8/10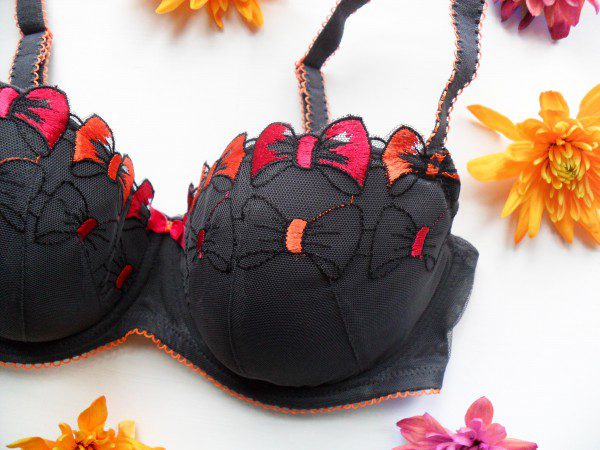 Fit
I bought a size 30E and UK size 6. The set fits very true to size – the knickers are a comfortable fit without digging in, though I wish there was a bit more coverage at the back, and the bra band is snug without being too tight.
The cups do gape a little on me, but I find I have this problem with most padded/moulded bras (which is why I own so few of them) due to my full-on-bottom shape. If you have shallow breasts you might want to try sizing down in the cup, or wearing the bra with inserts ('cookies' as I recently found out the Americans call them – much nicer than the British name 'chicken fillets'!).
Verdict: 7/10
Durability
The bra is hand-wash only whilst the knickers can be machine-washed up to 40 degrees. I've been hand-washing the set and aside from some fraying at the ends of the wire casings and one of the stitches coming undone that's holding the knicker embroidery in place, it's in pretty good condition.
Verdict: 7/10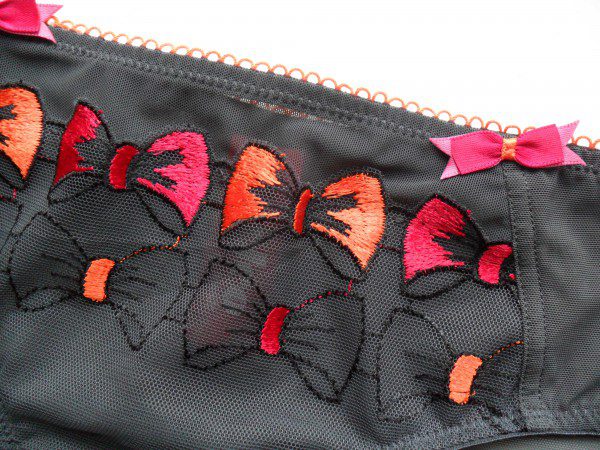 Value for Money
The Jolie set is not current season stock, so I picked it up from the Belle Lingerie clearance outlet on eBay
 at £14.50 for the bra and £9.95 for the knickers. That's a really great price for the quality, especially with what I assume is custom-designed embroidery!
Verdict: 10/10
Would I recommend it?
Yes, I think this is a really fun design that fits well and will be plenty supportive in larger sizes. If it had come in a non-padded version I would have gone with that, and would probably have found it a better fit, but I'm more than happy with it as it is. After all, bows!
What do you think of Cleo by Panache's Jolie set? Have you tried anything else by Cleo?