Disclaimer: This corset was bought with my own money and Ava Corsetry did not request a review.
I've owned luxury corsets that didn't really do any waist cinching (see my Agent Provocateur Jet and Verronika reviews), and I've owned a 'proper' corset that I would definitely not describe as luxurious (see my Restyle Brocade Underbust review), but I have never owned a proper, luxury corset before. So it was all very exciting receiving my package from Ava Corsetry and trying it on for the first time!
I heard about the brand through Karolina Laskowska's website by the way, whose Ume and Erika styles are made by Danielle at Ava Corsetry. So those are options to get Ava Corsetry's construction with some more unique and eye-catching fabric choices. But onto the corset I actually bought, which is called the Audrey plunge overbust…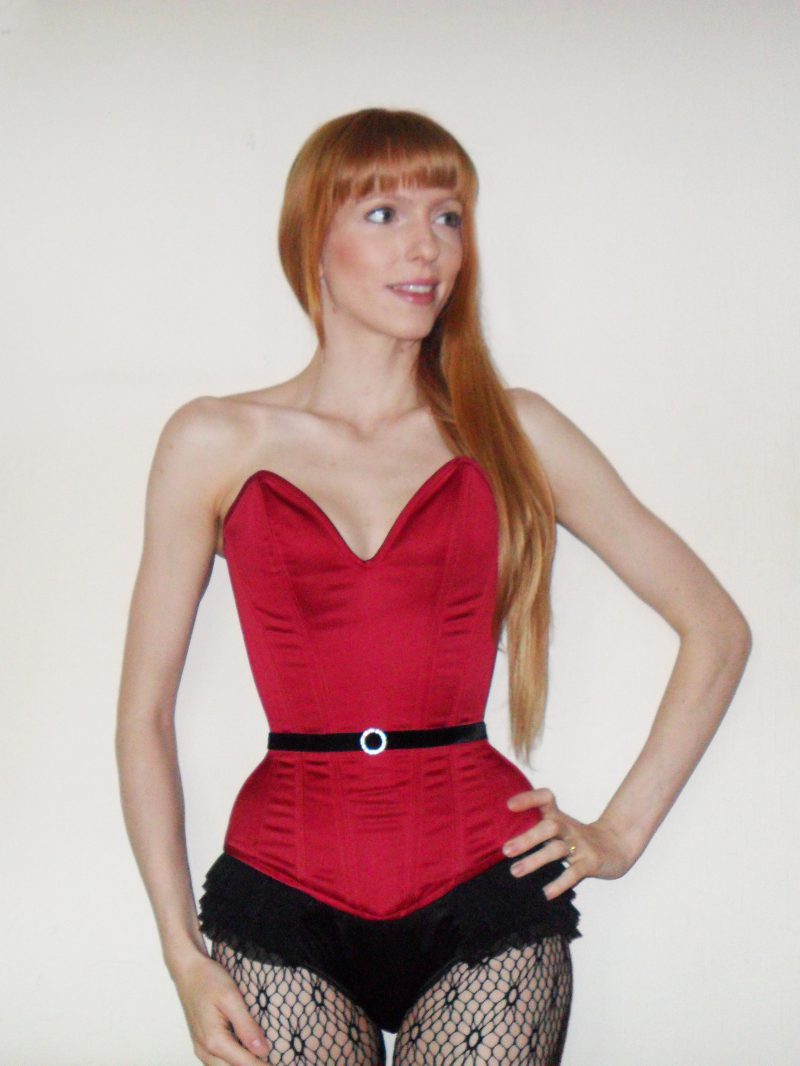 Appearance
The Audrey corset comes in a choice of black or red and, already owning a couple of black corsets, I opted for the red (which is more of a deep wine than the raspberry colour it looks in my photos).
It's simple and elegant, with the black velvet band emphasising the waist even more and the sparkling diamante ring adding a touch of glamour. It's sleek, chic and thanks to the black band and lacing details goes perfectly with any black lingerie or clothing!
Verdict: 8/10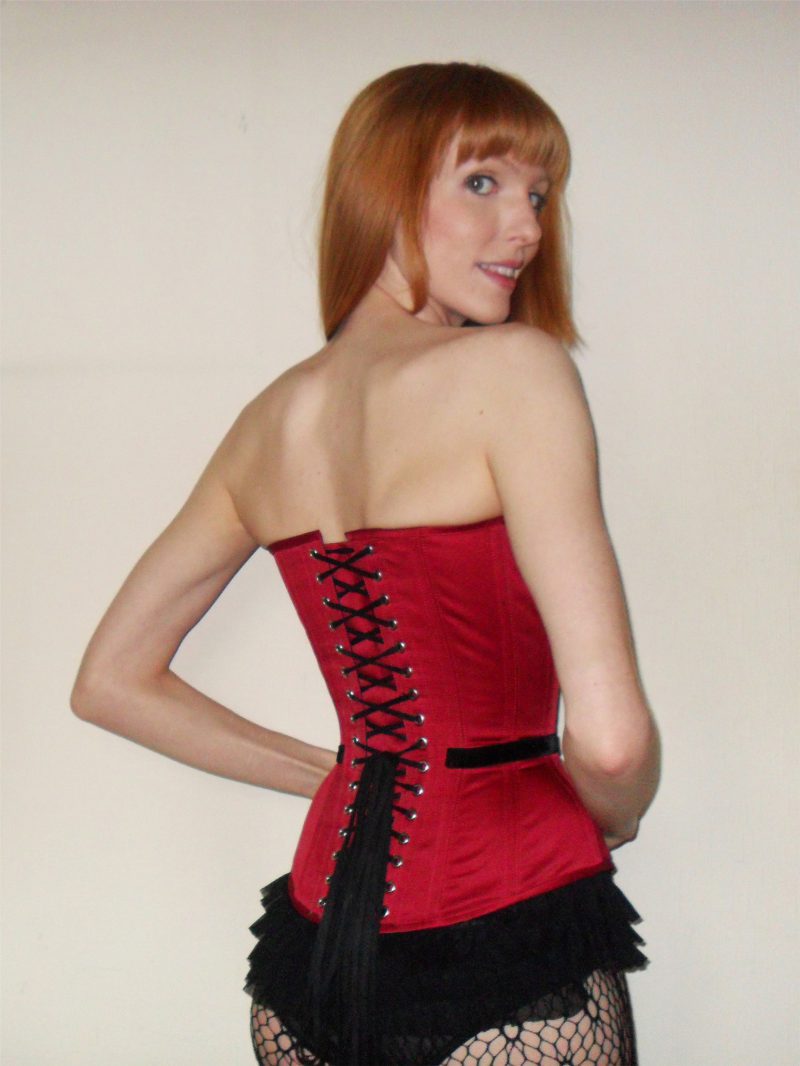 Construction
Danielle hand-makes her corsets in Guernsey and I am really impressed with the construction! The corset features steel boning, a lining layer and strong metal eyelets, as all good corsets should, and a waist tape too for added durability there. It's made from a lovely, quality satin and has durable shoelace cord.
The velvet band is that kind of fabric that dust loves to stick to, as you can see in the close-up photo down below, but that's nothing a lint roller can't fix. Really, I have nothing but great things to say here – it is meticulously and expertly put together.
Verdict: 10/10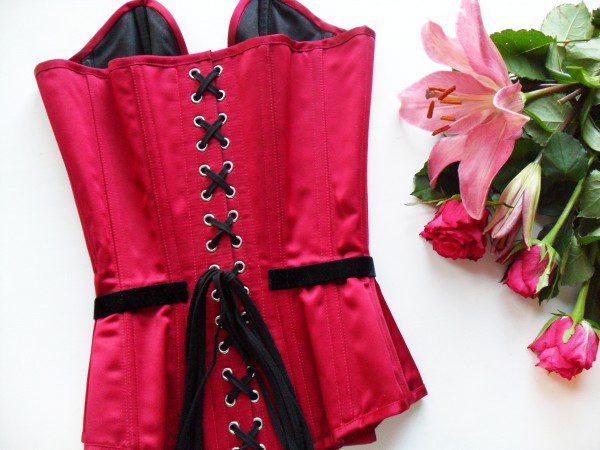 Fit
My natural waist size is 25″ and I bought a 20″ corset, which turned out to be the right choice as I can cinch it most of the way down (and I am by no means a 'waist trainer'). The thing that struck me most about this corset was the shape it gives; without even tightening it below my natural waist size it already gives a curvier silhouette! It is also a perfect fit at the hips, despite the off-the-rack sizing.
The fit at the bust is so-so on me. According to the description, it fits from a C-F cup (which is a little meaningless without band sizes). I would say if you want to fill out the bust section completely you need to be at the upper end of that range, a 30FF/32F or so.
On me, as a 30E, the cups stand up and away from the body, like a less dramatic version of this Sparklewren corset. Which is not a bad thing – I think it looks quite nice, but it's something to bear in mind if you want a more form-fitting corset. You may prefer to buy the underbust version and wear it with a bra.
Overall though, an excellent fit and very, very comfortable. This is by far the most comfortable corset I've worn, despite being the one that reduces my waist the most. I can easily wear it the whole day long, even as a relative corseting newbie.
Verdict: 8/10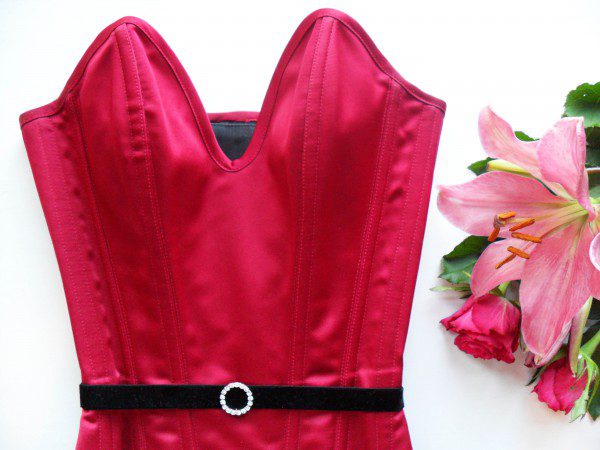 Durability
Ava Corsetry sends out an extensive list of care and washing tips with each corset, which is helpful if you are buying your first corset. Essentially, it's dry-clean only, but you can use a damp sponge to clean off any small marks in between.
I've worn this maybe 10 times now and it is in excellent condition – it only becomes more comfortable with wear, and there's absolutely no sign of straining at the waist or eyelets.
Verdict: 8/10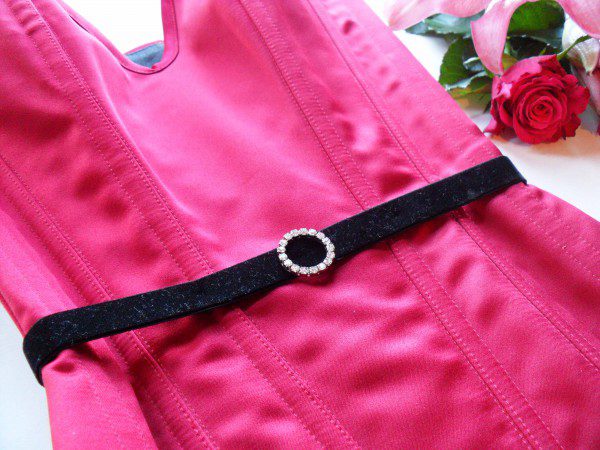 Value for Money
The Audrey overbust corset costs £227.40 (less 20% for international customers, but then you will need to pay your country's import duty rate). However I bought mine during a sample sale at a massive discount, £68.22, and it's possibly the best value-for-money lingerie I've ever bought.
Although at full price this isn't in my regular budget, especially as I don't wear corsets very often, I would absolutely consider buying another Ava Corsetry piece for a special occasion such as my wedding. The fit, comfort and construction is all worth it!
Verdict: 10/10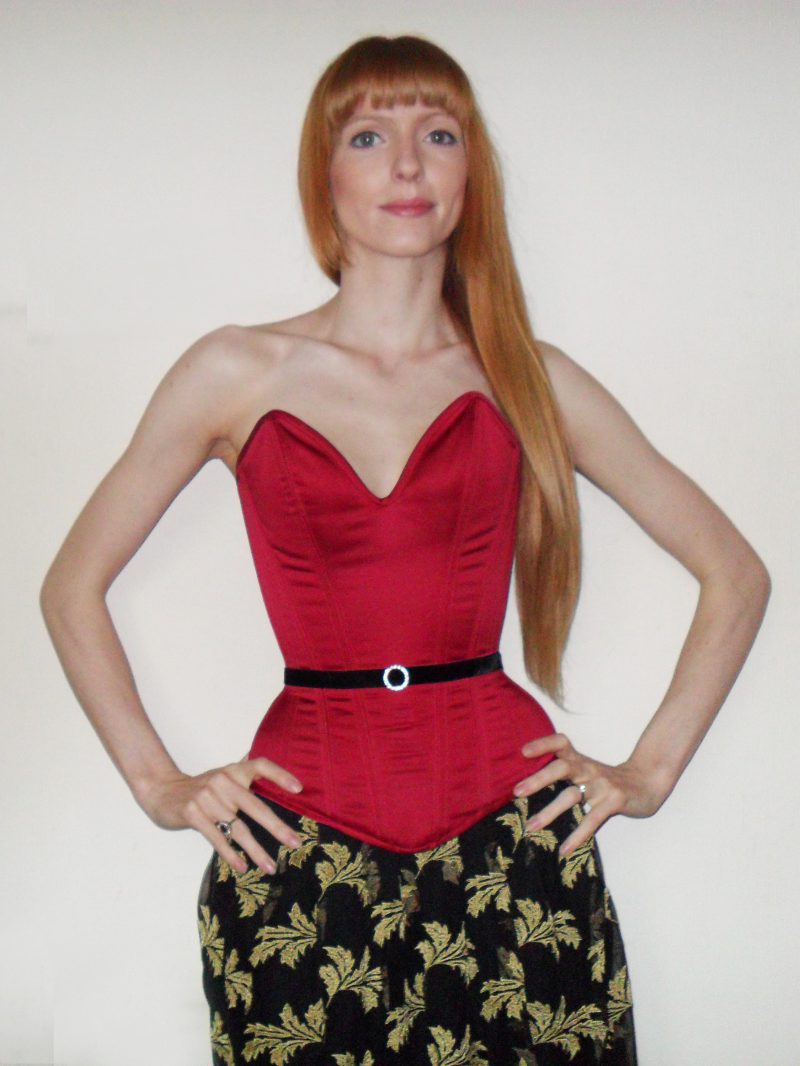 Would I recommend it?
Absolutely! The difference in comfort and waist-reduction between this and cheaper corsets (and, frankly, higher-priced ones from Agent Provocateur) is striking. If you're looking for a quality corset, the Ava Corsetry Audrey one is well worth the price.
Update 16/03/18: Just thought I'd come back and update this post with a couple of more recent images!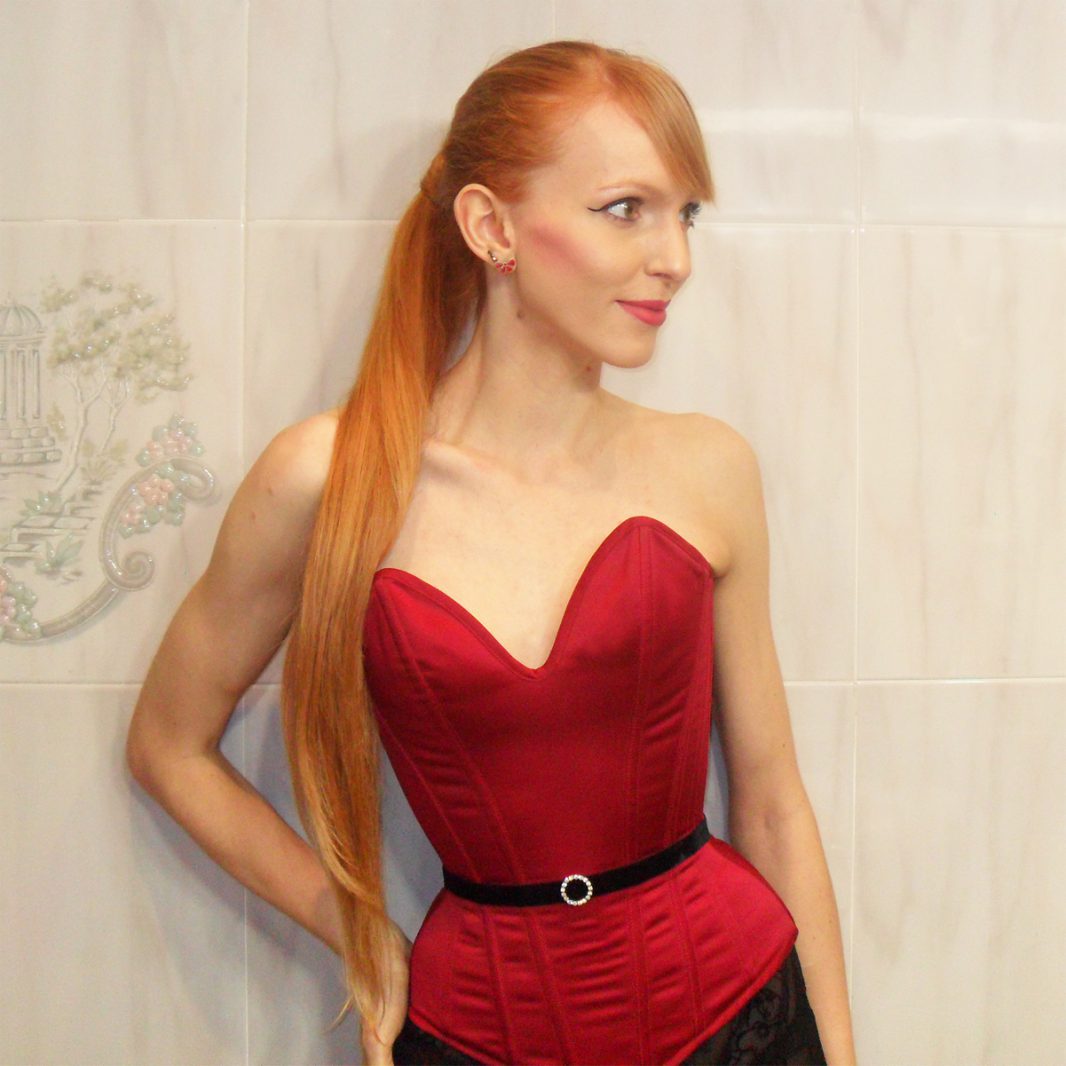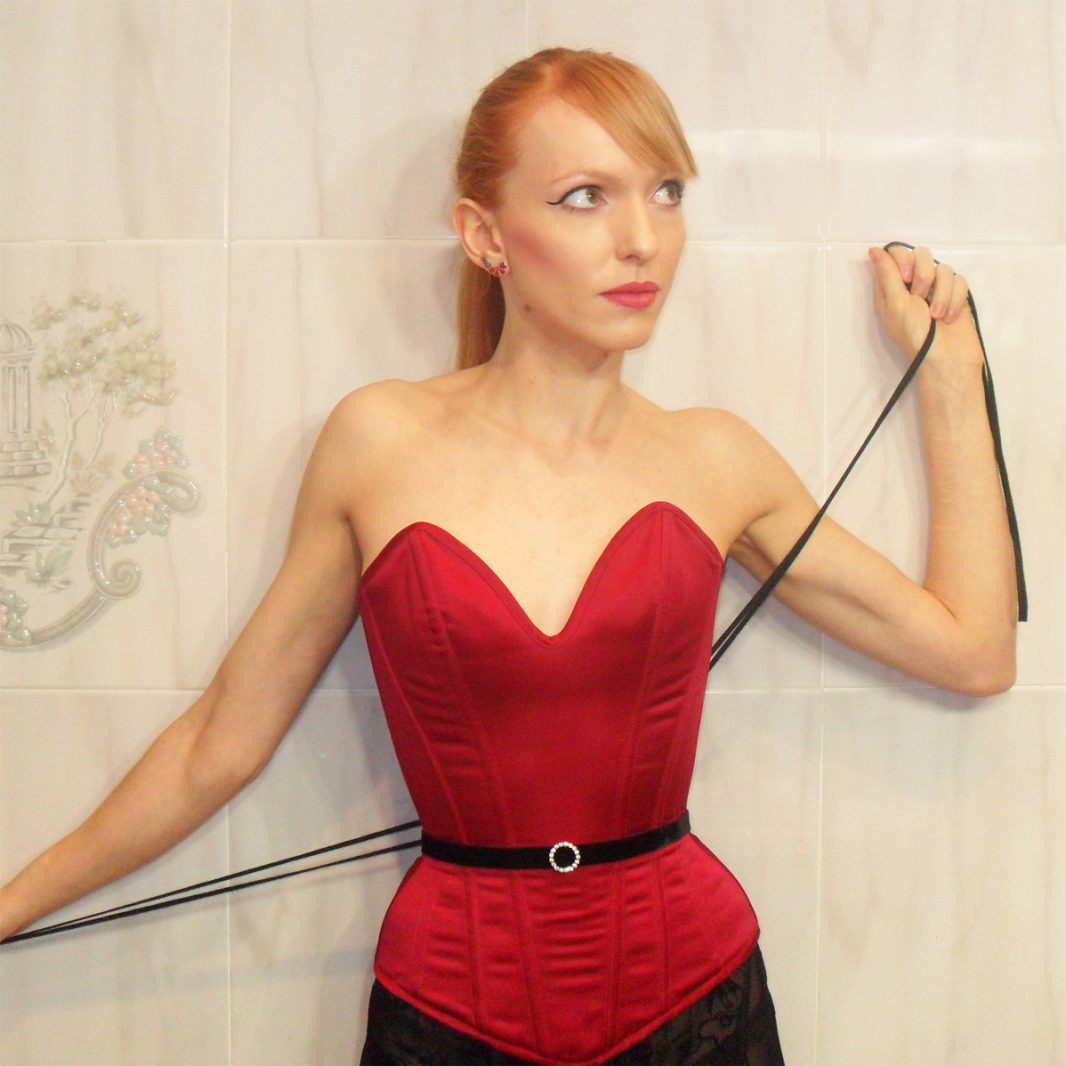 Have you ever bought anything from Ava Corsetry? What do you think of this design, the Audrey overbust?