Disclaimer: These bra sets were bought with my own money and neither Miss Mandalay nor Dbusted requested a review.
Dbusted is an Australian retailer of D+ lingerie and clothing, who are in the process of closing down and hence having a massive clearance sale. I loved the fit of my previous two Miss Mandalay bras (the Paige and the Amelie) but they sadly no longer fit, so I couldn't pass up the chance to buy a couple of replacements at over 70% off!
I bought the Mia and Florine bra sets and rather than review them separately, have decided to do a comparison post – partly because they are so similar, and partly because they are so different!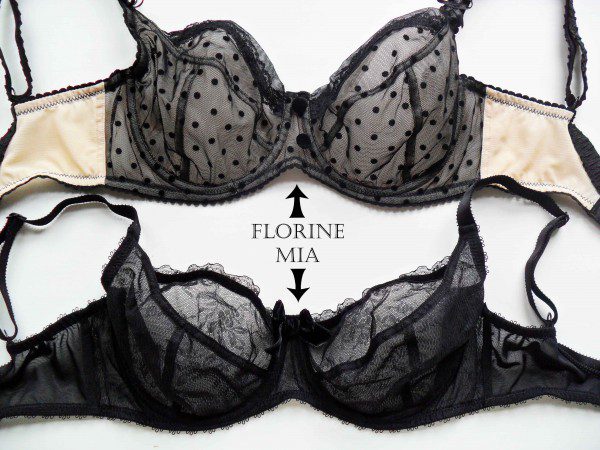 Appearance
The Florine bra was my favourite when purchasing, with its velvety polkadots and fabric-covered button decorations. It also has fancier straps made from a wider, ruched material and topped with little bows. The matching knickers are a hipster-style with a matching polkadot panel at the front, and lace to match the lace trims on the cups.
However the Mia set turned out to be my favourite when I tried them on – the product image really does not do it justice! It's made from a lovely floral lace with floral net trims, satin straps, velvet piping across the top of the cup and a large velvet bow. The ruffle-edged knickers have double-layered lace at the front, but sheer lace at the back for a very delicate and luxurious looking finish.
Verdict: 8 / 10 for the Mia, 6 / 10 for the Florine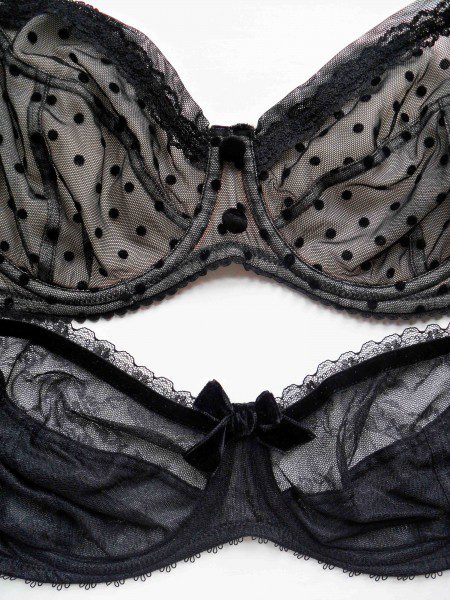 Construction
Construction-wise, these are essentially the same bra. They both have unpadded cups in two layers of mesh, with the 3-part cup construction that Miss Mandalay uses on all their unpadded bras and which makes these just as supportive as padded styles!
The knickers are different – a classic hipster brief for the Florine set and a mini style brief with a lot less coverage at the back for the Mia set. Everything is really well made, as I've come to expect from Miss Mandalay.
Verdict: 10 / 10 for the Mia, 10 / 10 for the Florine
Fit
This is the part that confuses me – how can two bras made from seemingly the same pattern fit so differently? I've lined up the wires (they're identical), taken measurements along all the cup seams (also identical) and yet one of these bras fits like a dream and the other is far too big for me.
I bought both in a 30E, my usual size right now, and it's the black lace Mia that fits perfectly.  And I mean perfectly – I remember now why I loved my old Miss Mandalays so much! The band and cups are just right, and it's comfortable all day long.
The Florine bra on the other hand gapes and wrinkles at the top of the cup and I feel like I should have bought at least one cup size down. It's also less comfortable, digging in at the sternum a little.
As for the knickers, UK 10 was the smallest size stocked at Dbusted. That's 2 sizes bigger than I am, but they turned out to both be a very comfortable fit on my 34″ hips. The Mia knickers have plenty of stretch so will fit up to a UK 10 just fine, whereas the Florine knickers are tighter and probably won't fit more than a UK 8 without digging in, so I'd recommend sizing up in these.
Verdict: 10 / 10 for the Mia, 5 / 10 for the Florine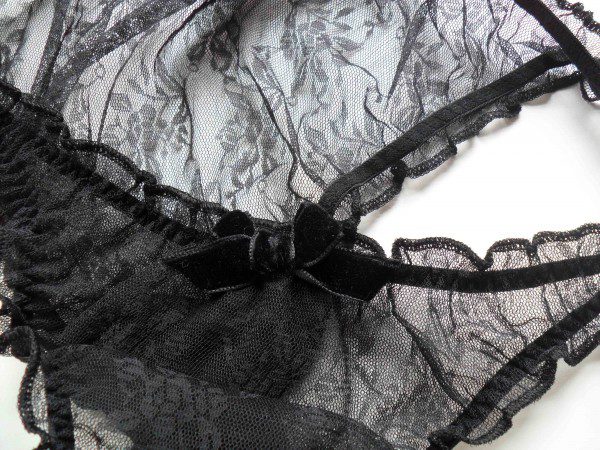 Durability
All four pieces are hand-wash only. The Florine set seems more durable – I've noticed a few pulls in the delicate lace of the Mia knickers already.
Verdict: 6 / 10 for the Mia, 8 / 10 for the Florine
Value for Money
As mentioned, I got both sets at over 70% off (yay!) – AU$25 for the two bras which is roughly £12.50, AU$12 (~£6) for the Mia knickers and AU$13 (~£6.50) for the Florine knickers. That is just incredible value for money for such well-made lingerie!
I just wish that the Florine bra fit as well as the Mia does, because I just can't wear it as it is.
Verdict: 10 / 10 for the Mia, 9 / 10 for the Florine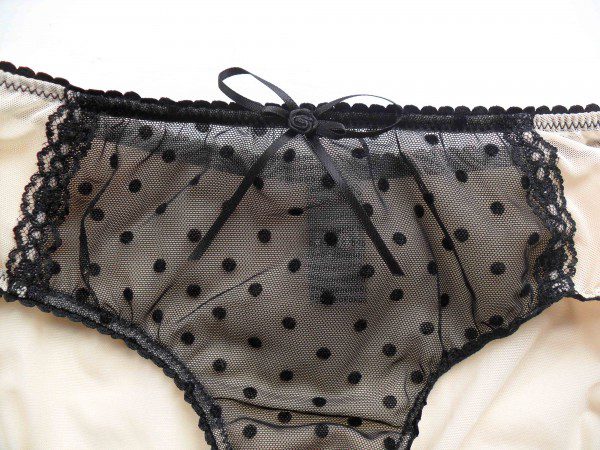 Would I recommend it?
My favourite has to be the Mia set – it just fits far better, and looks like more of a luxury set than an everyday one despite costing the same. However, I'd still recommend both sets, and especially whilst they're available at such tiny prices – remember, Dbusted is closing down so they won't be around for long! These are also quite old styles so are mostly out of stock everywhere else.
I would however definitely advise sizing down in the Florine bra and up in the Florine knickers if you want to get a great fit!
If you own the Mia or the Florine set by Miss Mandalay, what do you think of it? And which design is your favourite?