Disclaimer: I purchased this item myself. Links with a * are affiliate links.
I realised recently whilst digging through my lingerie drawers that Playful Promises* is one of the brands I've bought from the most, which actually came as a bit of a surprise to me because whilst I like them, I wouldn't have listed them as one of my favourite brands. When I saw these Frida knickers however, I knew I had to have them.
I do like knickers with a neck strap and I've been eyeing up a few such styles for a while, but it was the combination of the unusual print and the fishnet that sold me on these Playful Promises ones. The Frida collection also includes 5 other pieces, including matching printed bras, but nothing particularly stood out to me so I just bought these to match with my existing black bras.
Appearance
The fabric in the Frida collection has been digitally printed which, if you've not seen digital prints before, is pretty awesome – it's like the first time I watched a DVD after years of grainy VHS! The image quality is so detailed that the flowers almost look like a photo.
I love the fishnet side panels which break up the design and also make the knickers look less 'big' – they offer a lot of coverage without ever verging into 'granny panty' territory.
Verdict: 9 / 10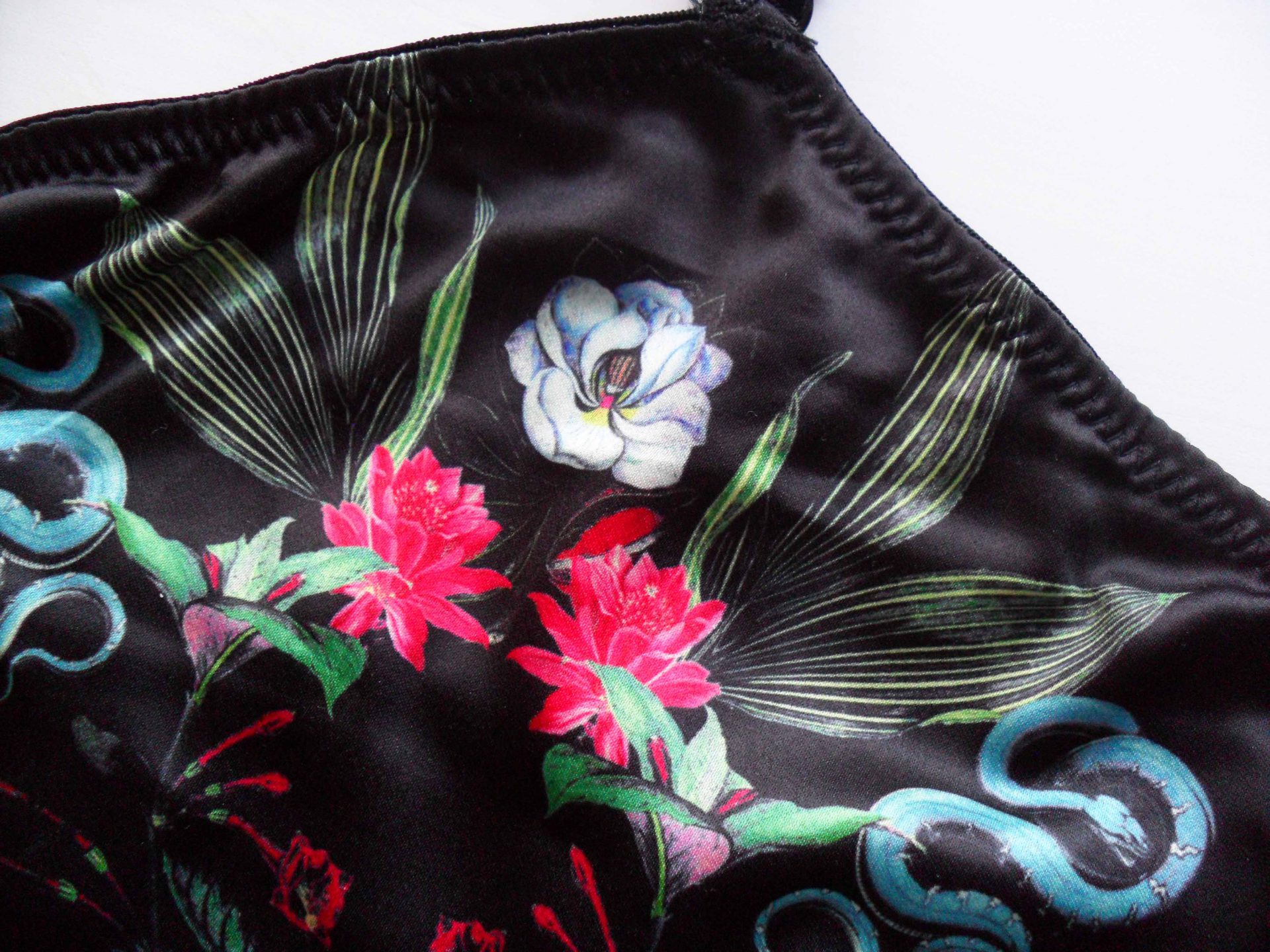 Construction
The Frida knickers are really well made, with a cotton gusset and a sheer black mesh lining underneath the fishnet for added durability.
The one thing I didn't like about these however was that the neck strap is not detachable, which makes getting undressed pretty much a requirement to be able to go to the toilet! If Playful Promises release more harness knickers (there's already a Magdalene Virgin version) I'd love to see them come with a little hook to take the strap off when needed.
Verdict: 6 / 10
Fit
I bought an XS or UK size 8 and they are a really great fit on me (I have 34″ hips). The neck strap is super adjustable so you don't need to worry about this being too long or short, whatever height you are.
Verdict: 9 / 10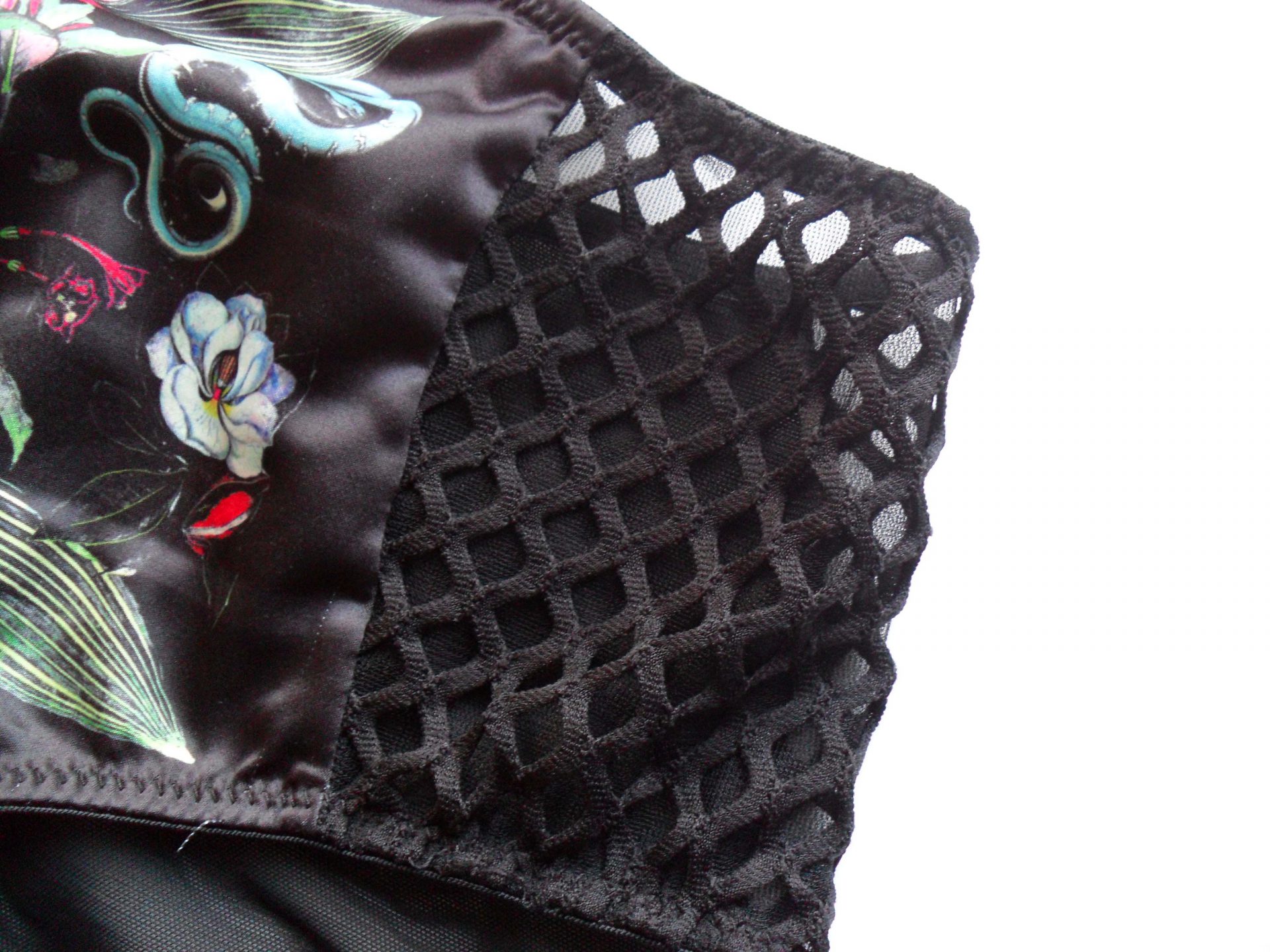 Durability
They've held up more or less fine to multiple washes and wears, though I did notice a small pull in the printed fabric and don't know when or how that happened! The label states hand-wash only but they don't seem particularly delicate, so I think you could get away with a cool machine wash on a delicate cycle if you use a mesh laundry bag to protect against snagging.
Verdict: 7 / 10
Value for Money
These are really great value for money! I had a £5 voucher code so got them a little cheaper, but even at full retail price of £25 I think you're getting an awesome deal for what is both an unusual design and a really high-quality print.
Verdict: 10 / 10
Would I recommend it?
Yes, I love them! The non-detachable strap is the only thing that bugs me but modifying these to include a hook is easy if you have some basic sewing skills and I'm thinking of doing this to my pair.
If you buy anything else from the Frida collection, I'd love to know what you think of it! Are you a fan of this harnessed knicker design?