Disclaimer: This travel & laundry bag set was sent to me free of charge by Sugarfuzz Intimates for review purposes. All opinions are, as always, 100% honest. This post contains affiliate links.
I've spent that past couple of weeks in California (leaving later today, boohoo!), taking a couple of road trips around local National Parks and towns. I love travelling, but it takes a little planning if you want it to be compatible with caring for your lingerie.
Travel-sized lingerie washes are available, but I just wash mine with organic baby shampoo (easier, since I have it with me already for my son). So how about storing and protecting your lingerie when away? Back home I keep mine in boxes and I have taken them abroad with me in the past, but they are not at all space-efficient – definitely not for a hand-luggage only type trip!
I was thrilled when, with perfect timing, Joslyn from Sugarfuzz Intimates got in touch offering me one of her lingerie travel and laundry bag sets just before my trip. Problem solved!
Sugarfuzz is a brand new, handmade brand based in Utah that currently only offers this one product (available in a choice of colours), billed as "a lingerie bag that doesn't look like one". Postage is only available to the US and Canada.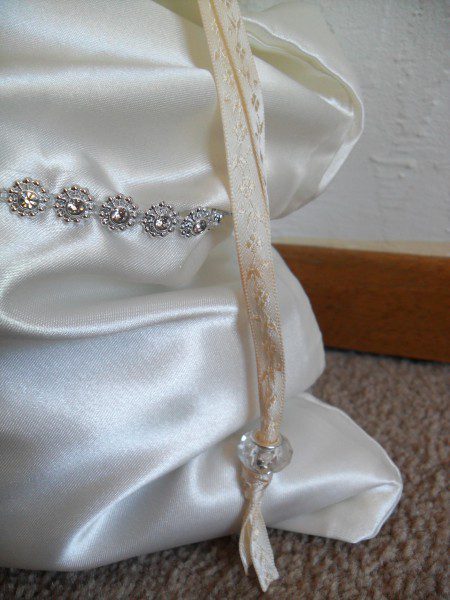 Appearance
I asked Joslyn for a surprise colour and she sent me ivory, which looks wonderfully elegant alongside the sparkling silver trim, a decorative plastic and diamante embellishment that has been carefully hand-stitched all the way around the bag. It's finished off with an embroidered cream ribbon drawstring that has plastic crystal beads at the ends – gorgeous! I certainly wouldn't mind storing this bag on display rather than tucked inside a drawer.
Not much to say on the mesh laundry bag front, except that it's trimmed with the same-coloured satin as the bag you choose.
Verdict: 8 / 10
Construction
Sugarfuzz Intimates' lingerie bags are handmade from a polyester satin that looks nice and silky. The stitching holding the silver trim in place is barely visible and the ribbon drawstring ends look like they have been heat-sealed to prevent fraying.
The bag is also fully lined with French seams so that no stitching is visible on the inside or outside, except at the drawstring channel. All of this gives is a well-made, luxurious finish despite the polyester fabric and plastic trim.
The matching mesh laundry bag, unfortunately, is not made to the same standard. Unlike on the travel bag, the stitching is visible with long stitches that give it a cheaper appearance. There's also the issue of the satin trim not being folded far enough over, which I'm about to get onto.
Verdict: 6 / 10 (or 8/10 for the travel bag and 4/10 for the laundry bag)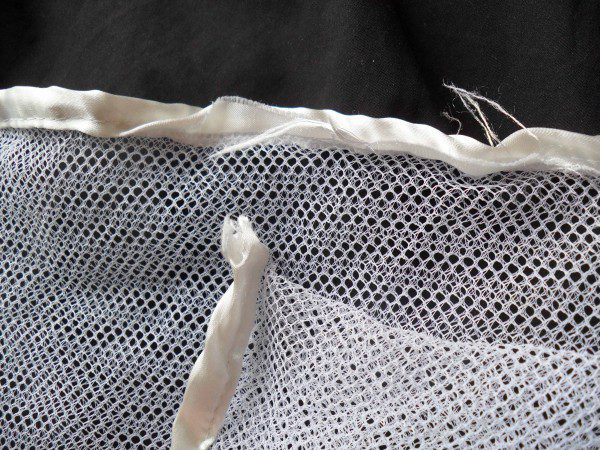 Durability
I'm pretty strict about only ever hand-washing my lingerie in cold water, but as I wanted to properly review the mesh bag I've used it to machine-wash and tumble-dry some delicate clothing.
After just a few washes, the edge of the satin trim has started to unravel in multiple places. If a wider section had been folded over, possibly combined with smaller stitches, this probably wouldn't have happened. The laundry bag is holding together just fine for now and does its job of protecting my clothes, but I expect that it will need replacing after not many months.
The travel bag on the other hand is hand-washable only and shouldn't need washing very often (or ever, possibly), so that will definitely last a lot longer. The satin fabric is the type that snags easily so how long it stays looking perfect will really depend on whether you're using it for regular travel, or just as a pretty, at-home storage bag.
Verdict: 5 / 10 (or 7/10 for the travel bag and 3/10 for the laundry bag)
Value for Money
Sugarfuzz Intimates' satin lingerie travel and laundry bag set costs $42, or roughly £27.50 (though UK shipping isn't currently available). That is at the upper end of what most other satin lingerie bags I've found cost, but not an unreasonable price.
Remember that it is handmade, and even though the laundry bag wasn't great it's something that you don't get included with most other lingerie travel bags – if nothing else, it made for a handy place to store my worn lingerie away from the clean stuff until I got round to washing it!
Verdict: 6 / 10
Would I recommend it?
That depends on what you want. If you are particularly after a mesh laundry bag, you can find a better one cheaper elsewhere. However if it's the bag you want and you view the laundry bag as a sort of freebie, then yes I recommend it – the satin bag is lovely, whether you want it for travel or general storage, and would make an elegant gift for any lingerie addict!
What do you think of Sugarfuzz Intimates' debut lingerie travel bag? How do you store and care for your lingerie when you go on holiday?