Disclosure: I purchased this lingerie set myself. 
Last week I reviewed Claudette's En Dentelle set, and today I'm reviewing the other set which I bought from their amazing Encore sale shop [update: link removed as their site no longer exists].
Of the two, I expected to like this one the least, so I decided to experiment with the sizing. I like to think I know my own bra size, but I'm open to finding out that I'm wrong (after all, I did wear the wrong bra size for most of my teenage years), and a number of people have told me that with my 26″ underbust I should be in a 28 band size. And since this bra was so utterly cheap, I sister sized down from a 30E to a 28F just to give it a go.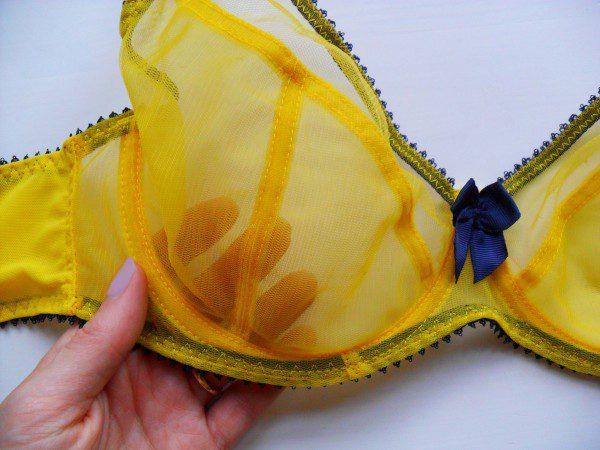 Appearance
On its own, this is a pretty plain design – simple, block colour, minimal decoration and a pretty standard cut for the knicker – but oh my, how I love it when it's on!
I normally shy away from anything plain and 'boring', preferring to opt for lace, unusual shapes, and did I mention lace? But the sheerness of the bra cups really makes this set very sexy. I ended up much preferring it to the lacy En Dentelle bra, which was a surprise to say the least!
Verdict: 8 / 10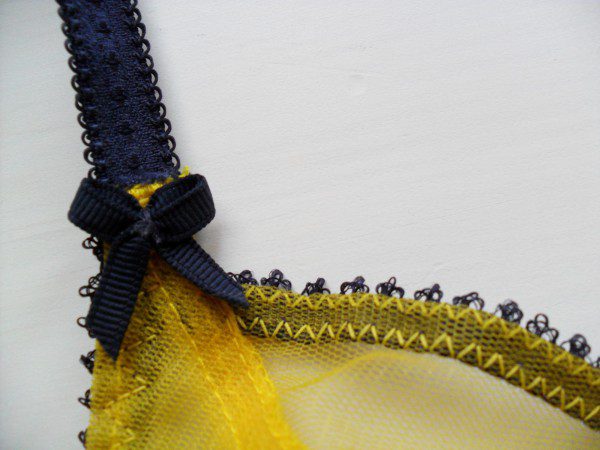 Construction
Like the En Dentelle set, it's very well made, and unlike that set the straps are in a more usual position which makes them much more comfortable.
The set is made from 3 types of mesh – a stiff one on the front panel of the knicker and cups, which probably helps add support, a softer one to back this, and an even softer, stretchier mesh for the bra's wings and the side and back panels of the knickers. The knickers have a cotton gusset too.
Verdict: 10 / 10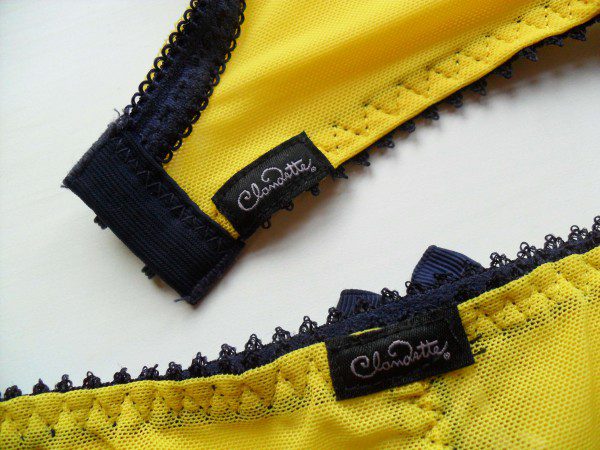 Fit
The knickers are an XS and, like the En Dentelle ones, fit me perfectly so I'm going to say they're a UK 6.
How did I get on with the 28 band bra? Technically, it fits. It looks (really) amazing on, with a very round shape and lots of support. I can fasten the band on the tightest hook, though I find it more comfortable on the centre or loosest one. However, over the course of the day this bra gets really uncomfortable. The gore digs in, the underwire makes me feel sore at the side, and I kept finding myself adjusting the bra every hour or two so that it was pressing against a different bit of skin.
I'm not saying there's anything wrong with the bra, just that the 28F is not for me – the comfort issues could likely all have been solved by going up to a 30 band so that the wires weren't being pressed against me so tightly.
The cups fit me perfectly however, so unlike the En Dentelle bra which came up very small, I'd recommend sticking with your usual size in this bra.
If only Claudette's Encore shop offered UK shipping I'd be ordering not only a 30E replacement, but also a pink one, and a green one, and a leopard one, and…
Verdict: 5 / 10
Durability
Both pieces are hand-wash only in cold water, and both are in near-perfect condition after a few washes. With the lack of decoration or lace, I also think you could get away with machine-washing this on a cold, delicate setting just fine if you use a lingerie wash bag.
Verdict: 9 / 10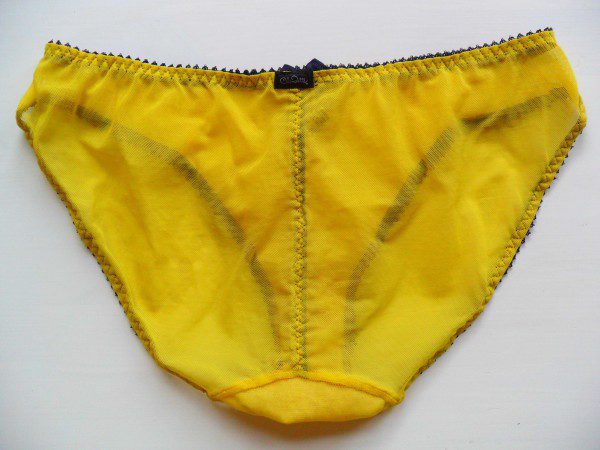 Value for Money
As I mentioned in my En Dentelle review, Claudette's Encore shop prices are ridiculously low. This set cost me $19.98 (~£12.79), down from $84.50 (~£54). I was serious when I said I'd buy a whole bunch more sets if they had UK shipping – it's incredible value for money!
Verdict: 10 / 10
Would I recommend it?
Yes! Yes at full price and triple yes at this price. It's a gorgeous bra set and it's available in so many colours and prints that there's sure to be one you love.
What do you think of the Claudette Dessous? How many colours do you own it in?