Disclosure: This set was bought with my own money and Pretty Wild Lingerie did not request a review. 
Pretty Wild is a relatively new brand from The Netherlands who are doing some stunning things with lace and embroidery. The designer, Firouze Akhbari, tends to stick to black, with designs that I think manage to look new and classic at the same time.
I'd had my eye on the Love Flower bra and nightwear set for quite some time, and they've been on sale all along so I think these are a clearance line (i.e. you may not have long left to get hold of these items).
Eventually I gave in and picked up the babydoll and matching knickers. When it arrived, there was also a thong which is not mentioned in the product descriptions. Pretty Wild told me over on Instagram that "That's the concept of PWL. There comes always a small thong as a free gift with the package" but I found no mention of this 'concept' anywhere on their website, so I'm not really sure if it's part of the babydoll set or if you'd still receive this if you just bought the knickers, or a bra.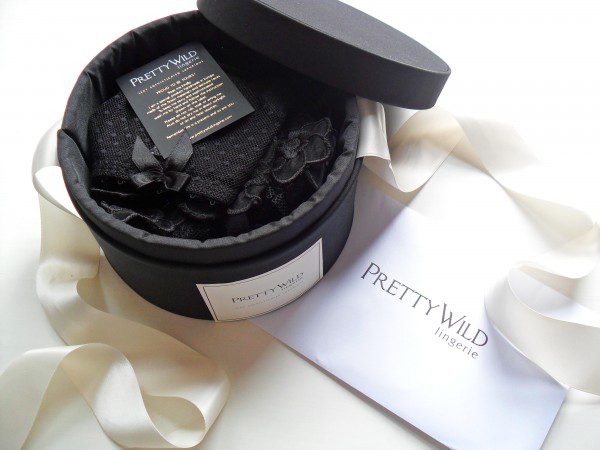 Just before I get onto the review, can we all take a moment to marvel at their truly deluxe packaging? If I think of luxury brands whose packaging has impressed me, Bordelle, Made by Niki and Lasvicious all spring to mind – but none of them have anything on Pretty Wild Lingerie!
The lingerie arrived in a beautiful, very sturdy, fabric-covered case with a cushioned lining and attached bow. I do have certain packaging expectations when it comes to luxury brands, but many of them forgo all that when you're buying on sale which is understandable. Receiving my purchase like this just made it seem all the more indulgent, and it was a real treat to unwrap.
Appearance
The Love Flower babydoll and knickers are made from sheer, polkadot mesh, with the key element being of course the embroidered flower appliqués. There are 5 on each cup and on the knicker, and they're sewn down in the centre only for a 3D effect.
The finishing touches are great too – a little keyhole and bow detail at the centre of the bust, another at the back, ruched satin straps and a pretty, ruffled hemline.
The free thong that I received is not as pretty as the thong you can buy – it's made from a plain mesh only with just one flower at the side. But it was free and unexpected so no complaints there!
Verdict: 10 / 10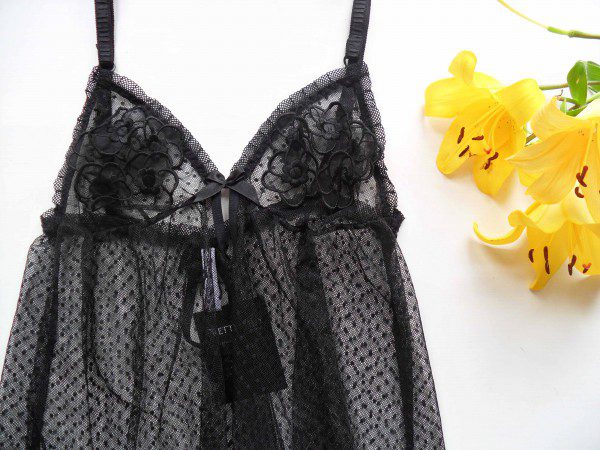 Construction
The stretch mesh is super soft and comfy, the hardware on the straps is coated metal, and because the flowers are only sewn on with a few tiny stitches at the centre, there's no scratchy stitching on the inside of the cups. The hemline has been left raw and doesn't appear to be fraying at all.
I love that even the tiny details have been thought out, like the little satin bows sewn onto the labels – though the placement of the label at the keyhole opening makes it very obvious. I feel like somewhere down the side would have been less conspicuous and given me the option of not cutting it out if I wanted to (I like to have the washing instructions there to refer to).
Verdict: 8 / 10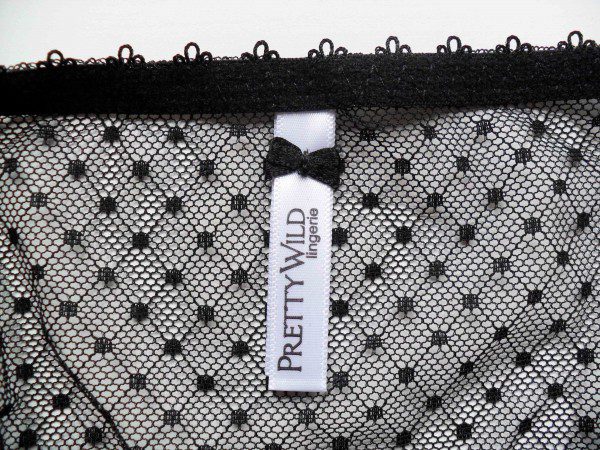 Fit
Pretty Wild's size guide only covers bra fit and doesn't even mention nightwear/knicker fit, so I guessed and bought an XS which I find usually works out at a UK 6 or 6-8. However, the knickers were a lot smaller than anything else I own in XS – I'd estimate them at a UK 4. They were seriously cutting in when I tried them on – so I was very thankful to have received the thong too!
The thong doesn't have a size label, but is about 2″ bigger around the waistband than the knickers, made with a stretchier elastic and fits me okay. Yay, I still have a full set!
The babydoll I bought in a size Medium, because smaller triangle-cupped babydolls almost always have cups that are far too small for me. The cups did, as I'd hoped, fit me just right – but also the rest of the babydoll seemed spot-on and I wouldn't really want the 'band' any smaller, so the Love Flower range definitely comes up on the small side. I feel like XS=UK 4, S=UK 6, M=UK 8 and so on with this brand.
Verdict: 6 / 10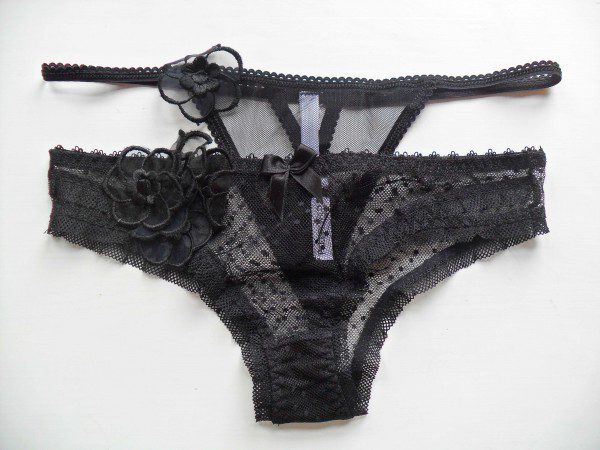 Durability
The babydoll is hand-wash only. The thong, with its plainer mesh, can be machine-washed. I can't recall the washing instructions of the knickers but assume they would be hand-wash only like the babydoll. The mesh is quite delicate, you wouldn't want to snag it on anything.
The set has held up just fine to washing and wearing so far, with the tiny exception of some fraying starting to happen on the edges of the embroidered flowers. It's not at all noticeable right now unless I peer at it closely, but they may need repairing at some point. Pretty Wild also let me know that the flowers can be ironed down flat again after washing.
Verdict: 7 / 10
Value for Money
I bought the babydoll for €29.70 or about £21 (down from €99/£70), the knickers for €19.50 or about £13.80 (down from €65/£46), and as mentioned the thong was a freebie. That is a pretty huge discount, and it's definitely worth every penny. Pretty Wild is made in Europe too.
My one hang-up would be the sizing, or rather the lack of sizing information on the website – even £13.80 knickers aren't value for money if they're too small to wear.
Verdict: 9 / 10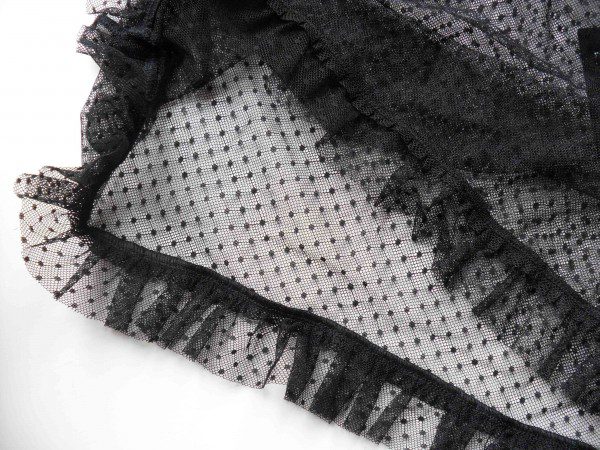 Would I recommend it?
Oh yes, the Love Flower babydoll has been one of my favourite lingerie purchases of the year to date! Size issues aside, I was absolutely delighted with every aspect of my purchase – the design, the quality, the delivery speed and especially the packaging. I've worn this during the day and I've worn it as sleepwear, and it has always been very comfortable. Now I've got my eye on some other Pretty Wild designs!
What do you think of the Love Flower nightwear set? And if you've bought anything from Pretty Wild, what did you think of the sizing?