Disclaimer: I bought all of the items featured in this blog post myself. This blog post contains affiliate links.
Firstly, sorry for the delay – I know I said I was going to post this on Sunday. I've gotten very lost in sewing my next collection recently (sneak previews on Instagram) – I keep sitting down to sew after work and then all of sudden 3 hours have passed and it's time for dinner!
I've decided to sew this collection entirely myself which is all being very fun and educational (I've pattern-cut and sewed my first camisole and tap pants this month – yay!) but sorry if blogging has fallen a little by the wayside. I do have plenty of upcoming reviews and other posts, and the annual lingerie design competition will be launching this weekend even if I have to teach my 1-year-old to sew knickers to free up my time to do it!
Anyway, onto today's set of reviews. Last week I reviewed some of my current favourite 'fun' hosiery designs, and today I'm going to be sharing my thoughts on some of the simpler, more 'practical' hosiery I own. Everything in this post was bought from Stockings HQ.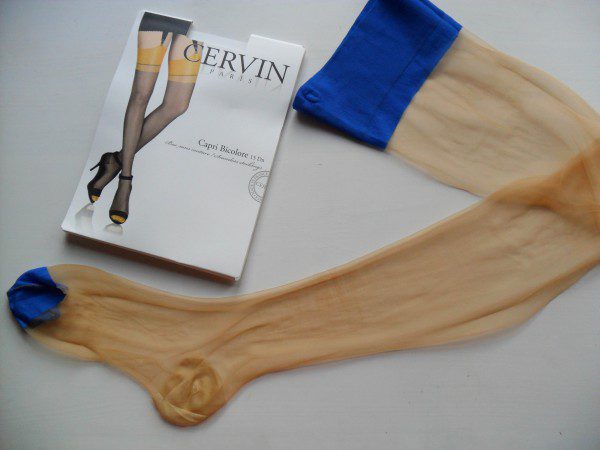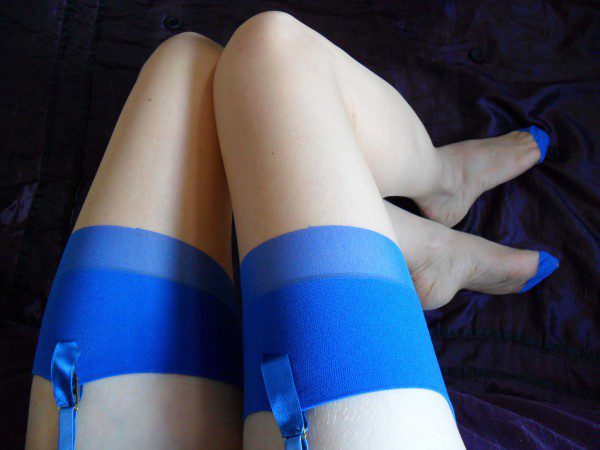 Cervin Capri Bicolore Stockings (size 2)
I've been dying to own these stockings forever, but just needed the perfect matching lingerie set first. I love the look of colourful lingerie sets worn with matching stockings, but I'm not a fan of all-over coloured hosiery because it's hard to match it with my clothing. These Bicolore stockings are the perfect compromise – they're mostly available in black, grey and light nude tones (blush, gazelle, melon and rose), but with a bright pop of colour hidden away at the top!
The second I added L'Agent's bright blue Marisela suspender belt to my collection, I knew I had to have these stockings in 'Melon/Royal Blue' too! The melon is a tad yellow for my skin tone unfortunately, but it'd be ideal for someone a little less pale. And the blue? Perfect match for Marisela.
Like my previous Cervin stockings, the Capri Bicolore style is shaped to the leg rather than just being a tube, which helps them to fit well despite not being very stretchy. At just £10.95, they're super silky, smooth, luxurious and durable too.
The only issue I had with these was the fit, and that's my fault. I normally buy a size up in stretchy hosiery for more comfort, but because these have so little stretch you really do need to buy the right size – these wrinkle rather a lot on me, and I should have gone with the size 1 their size chart recommended. As soon as I find a suspender belt to match my bright yellow Claudette set I'll be back for the yellow-topped pair in size 1!
Verdict: 7/10 – Excellent quality for the price, and great range of colour options
Mona Giulia 28 Tights (size 3)
I picked these up in May on clearance and they are now sold out. I thought they were pretty cool, they were half price, and I was already placing an order for some other items so I popped them in my cart too.
According to the size chart on the packet, I'm below a size S which is the smallest these come in. However I bought them in an M because it's what was available and like I said above I tend to size up in hosiery anyway, and they were a good, comfortable fit.
Unfortunately though, I hated these! The contrasting strip at the bottom is a lot less obvious/sheer than it appears in the product photo, but that wasn't the issue. The problem is that these stank of chemicals. So much so that I couldn't contemplate putting them against my skin. I've washed them twice and the smell is still there.
Also, the pair I received have a 'cross' design at the thigh which the Stockings HQ website didn't show, and which I don't like, so that was an added disappointment!
If this had been my only Mona purchase I'd never have bought from the brand again, but I did have some other Mona tights in the same order (which don't stink), so review to follow of those.
Verdict: 2/10 – Points for nice design but they feel cheaply made and smell horrible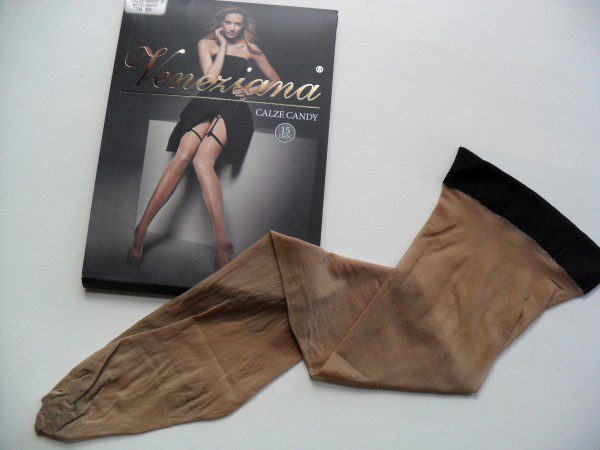 With the flash – leg gloss!
Without the flash – where did that glossiness go? 🙁
Veneziana Calze Candy (size 1/2)
Veneziana is my go-to brand for cheap hosiery that's great quality and available in lots of lovely designs. These are still available here for £7.95.
Stockings HQ has them listed as 20 denier but they're actually 15. What drew me to them was that, on the model, they didn't look like beige stockings so much as a super sheer, transparent layer of stockinged gloss! I also love the narrow band, though it does roll over and dig in a bit.
Unfortunately, in real life they're not so gorgeously glossy. Well they are, but only with a camera flash! Without, they're completely matte.
Regardless, they're nice everyday stockings and a great match for my pale skin. Despite being so sheer, they've held up exceptionally well and are still in perfect condition over half a year since purchase.
Verdict: 6/10 – Excellent value for money, but not what I expected from the image
I have plenty more hosiery reviews to share with you as the winter draws closer, including a return to my series on hosiery for sensitive skin which got put on hold over the summer.
In the meantime, I'd love to know what you think of these designs and hosiery brands – have you bought from Cervin, Mona or Veneziana before?