Disclaimer: I bought these knickers with my own money and Glitter and the Moon did not request a review. 
Glitter and the Moon is a new British brand that launched this November just gone, and you can check out my interview with founder Heidi here to find out a bit more about the story behind the launch.
As soon as I saw these Just Rose knickers I knew I'd be buying them – I'm a sucker for red lingerie and, in case you haven't noticed from my review photography by now, I also have a thing for pretty flowers!
Just before I get onto my review, Glitter and the Moon is running a perfectly timed offer I wanted to share with you – between now and Valentine's Day, if you buy one of her retro bed jackets, you'll automatically receive a pair of matching French knickers free! The Just Rose bed jacket is available here for £70 and that price includes optional monogramming with your first initial.
Appearance
The Just Rose knickers come in a choice of three colours – I went for the Cherry Red which is a bright-but-not-quite-scarlet red with a glossy, iridescent sheen to it. It's a simple design with a nice, picot edging at the waist and narrow band of crochet lace trimming the leg openings.
Of course, what makes each Glitter and the Moon piece truly special is the embroidery. Just Rose is Heidi's simplest design, but one with a classic, romantic appeal. Up close, it's absolutely divine in a mixture of satin thread and shimmery thread, topped with a scattering of hand-sewn sequins and beads in various sizes and colours. Beautiful!
Verdict: 7 / 10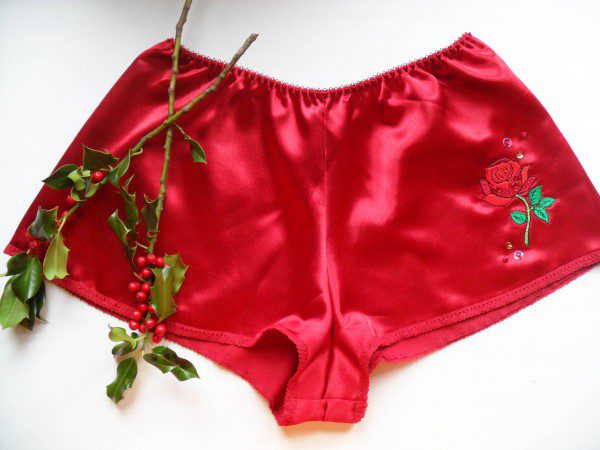 Construction
Glitter and the Moon lingerie is produced in a UK factory and then machine-embroidered and beaded by Heidi herself – this is how she's able to offer personalisation on many of her designs – and the embroidery part of these knickers is impeccably done.
The knickers are made from a thick, glossy satin crêpe. It looks lovely but it does make the fit of the knickers somewhat rigid – they just sort of stick out in a triangle shape rather than draping and fluttering like a silk or soft mesh would.
The embroidery isn't backed, however because of the loose fit the reverse barely touches the skin and I didn't find it at all irritating.
Verdict: 7 / 10
Fit
Glitter and the Moon's debut collection is available in S-L, covering UK 8-16. These French knickers are a size small or UK 8-10, and designed for a 25-27″ waist.
Although I'm a UK 6-8, my waist is larger than usual for this clothing size at 26″ and these do fit me fine at the waist. There's plenty of room to spare though, so if you have a 28″ waist and narrow hips you might prefer to go for a size S than the M the size chart suggests.
I will note that the gusset doesn't actually touch anything so wearing these feels akin to going commando! Which you may or may not like – you could easily hide a pair of regular hipster briefs underneath if not.
Verdict: 7 / 10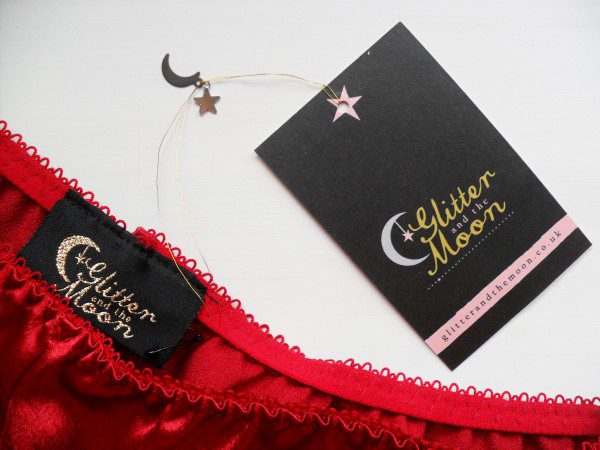 Durability
I went to Spain at Christmas and somehow forgot to pack all of my lingerie – except these, because I'd planned to review them on holiday (you might notice a slight festive undertone to the images). So they've gotten a whole lot of wear in a short space of time.
Due to the delicate beading these are hand-wash only, and I also wouldn't recommend them to sleep in. However, a couple of months and many wears and washes later, I'm happy to say they look as good as new!
Verdict: 7 / 10
Value for Money
The Just Rose French knickers cost £28 – I bought them with a 20% off coupon that's now expired, but like I mentioned, you can currently buy any bed jacket (starting from £55) and get the matching French knickers included for free which is an awesome deal!
These aren't a luxury product, but they are very pretty and very comfortable. They're also ethically-made with seemingly no expense spared on packaging (see below), so £28 is a very fair price to pay.
Verdict: 10 / 10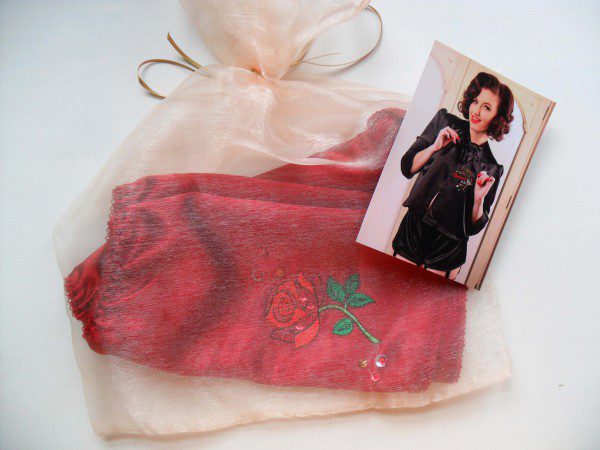 Final Thoughts
I'm not totally sold on the fabric – though perhaps the 'boxy' fit is just because I really needed a size down – but I'm very happy with my purchase nonetheless, and now have my sights set something with a more intricate and unusual embroidery like this Lucky Star robe.
About that packaging – I was super impressed right from receiving my parcel in it's shiny gold envelope, through to opening the tissue-wrapped goodies inside and discovering that it came in a large organza storage bag, handmade by Heidi. If you're thinking of buying someone Glitter and the Moon for Valentine's Day, rest assured she's got the whole gifting experience down to a T!
What do you think of these Just Rose knickers? And of Glitter and the Moon in general?