Disclaimer: This set was sent to me free of charge by Black Alice to be reviewed. My opinions are, as always, 100% honest. Roza is not affiliated with this blog post.
Black Alice is a new online store specialising in sexy, budget-friendly lingerie. Although UK based, many of the brands they sell are from Poland, such as Gracya, Irall, Beauty Night and the brand I'm reviewing today, Roza. Minimum wages and living costs are much lower in Poland than the UK, so many brands there can afford to produce locally and still retail at prices that are lower than we're used to here in Britain.
Polish lingerie gets a lot of love from full-busted bloggers and customers, but the country is also home to a number of popular core-sized brands. Roza is one such brand, offering 32-38 band sizes and A-E cups and with prices that start from £17 for a bra at Black Alice.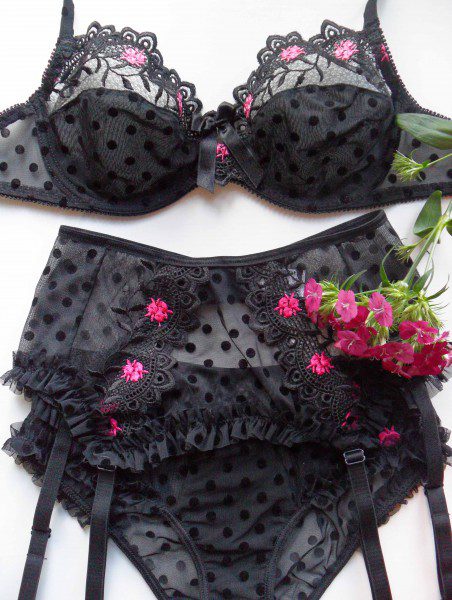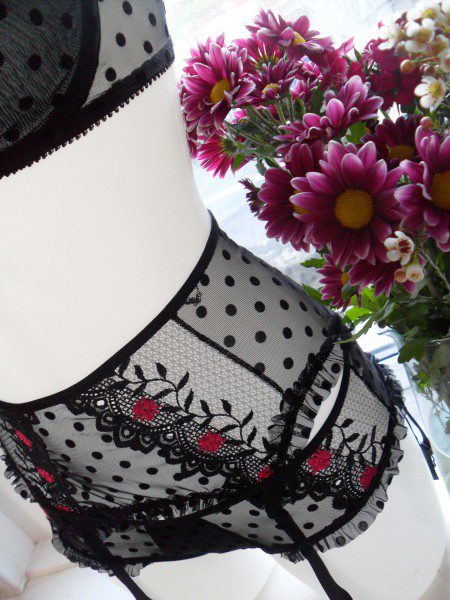 I picked out the Roza Grase bra plus the Scarlet suspender belt and knickers (the Grase and Scarlet ranges are matching), but if these aren't quite to your liking there's also a molded bra, high-waisted knicker and thong available – plus some of these styles are available in a white and baby blue colourway.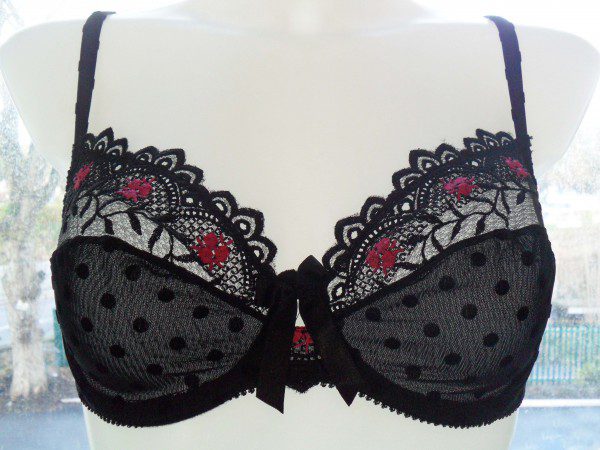 Appearance
The Grase bra has a simple, 2-part cup with a semi-opaque lower half that's covered with raised velvet dots, and a sheer upper half made from ultra-fine mesh that's thickly embroidered in black and pink. I particularly like the spiky, scalloped edging on the embroidery.
The embroidery is used again between the cups, and the straps are covered with the same flocked-velvet fabric as is used on the cups and the band. Despite the relatively low price, it's a pretty bra with attention paid to the smaller details.
The matching Scarlet knickers and suspender belt are both made from the sheer, spotted fabric with embroidered mesh details and also the addition of mesh ruffles. I like the way that the embroidered panels slant outwards on the suspender and are placed even further to the side on the knickers, which creates the illusion of more curves when worn together on the body (never a bad thing in my books, since my waist doesn't really nip in naturally!).
Verdict: 6 / 10
Construction
Overall, the construction is about what I'd expect for a bra set in this price range, perhaps even a little better as the fabrics are interesting and unusual. It's neatly sewn, with coated metal hardware on the suspenders.
Up close, the pink embroidery doesn't match the rest of the embroidery in terms of quality or design, but I do like the flashes of hot pink (which go perfectly with my favourite new stockings, yay!).
Verdict: 7 / 10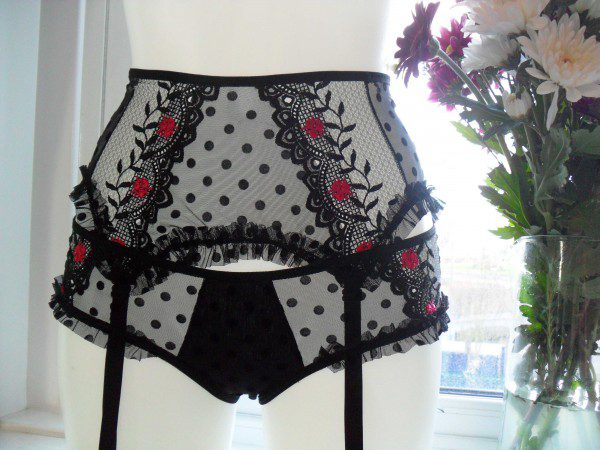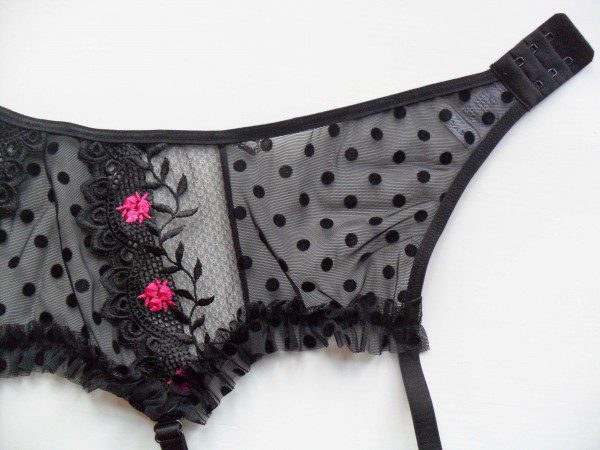 Fit
Initially I asked for a 32DD but what arrived had UK 32E / European 70E on the label (which they'd sent as a 70E should equate to a UK 32DD) and was much too big for me. Black Alice were very helpful and promptly sent out a cup size smaller, which has UK 32D / European 70D on the label. One European cup size down but two UK sizes down, which is all very confusing! I'm mentioning all of this to say that I'm not entirely sure of what size bra I'm wearing and if it's what I'd 'ordered', but basically the one with UK 32D on the label fits me in the cups like a standard UK 32DD.
Speaking of the bra fit, the band runs very big on the Grase. As a 'true' 30E, I'm used to 32 bands feeling a little loose but this one rides up noticeably. So, the one with UK 32D on the label fits in the band much more like a UK 34. Bad news if you wear a 32 band size or below, but it does mean that if you wear a 40 band you have a good chance of fitting into Roza's 38, at least in this particular style.
The knickers are a size Small – a UK 8-10 according to the size chart on Black Alice's website, but a UK 8 on the label and a UK 8 in how they fit.
The suspender belt is the same – the Small is labelled a UK 8 – but I found the fit of this to be much more generous. Perhaps because of the narrow hook-and-eye back, it doesn't do a good job of staying at waist level on my 26″ waist. If you can, size down in this to get a better fit. It's also worth noting that the suspender straps are super long. I'm going to lop a good 6″ off of them when I get a moment to do that and adjust the band size.
Verdict: 4 / 10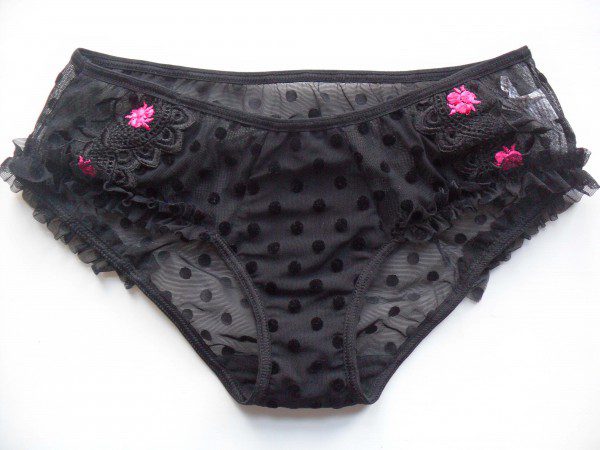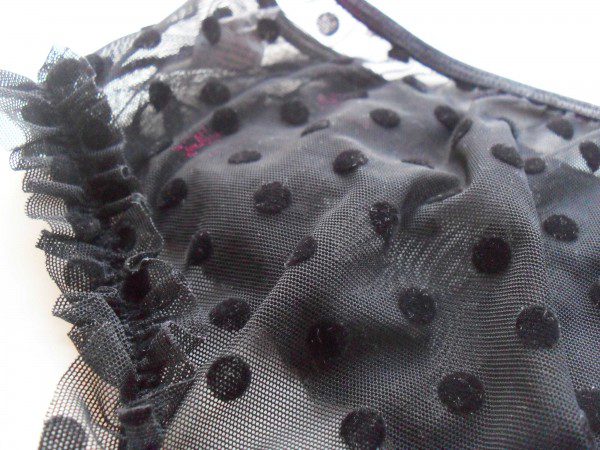 Durability
One of the pink motifs is starting to unravel already which is disappointing, but otherwise the Grase/Scarlet set has held up really well to multiple wears and washes. It's hand-wash only, but if you were to use a mesh bag and a delicate spin cycle you could probably get away with sticking this one in the machine.
Verdict: 7 / 10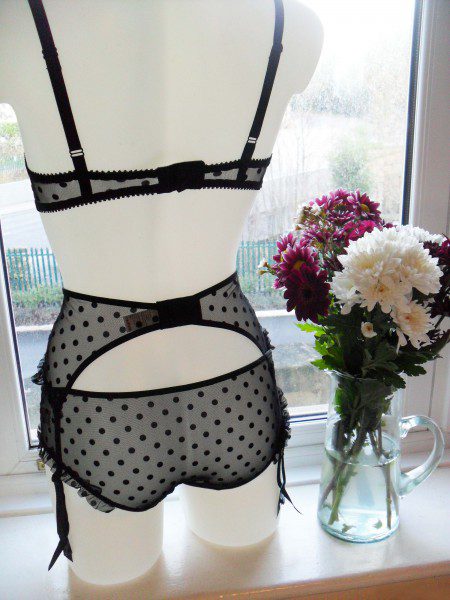 Value for Money
At Black Alice, the Roza Grase bra costs a very budget-friendly £20.99, the knickers are £14 and the suspender belt is £21 – making it £55.99 for the 3-piece set or £34.99 for the bra and knickers for those who don't want to do the maths 🙂
This is an affordable, pretty lingerie set and it's worth what you'd pay for it.
Verdict: 8 / 10
Each piece of Roza lingerie arrives tissue-wrapped in its own little box
Final Thoughts
Although I had a number of fit issues, they're the kind of thing that can be remedied easily enough with a little alteration. To avoid yourself the hassle though, sister size down (one band size smaller and one cup size larger than usual) if you can in the bra.
As my first little foray into the Polish lingerie scene, I've been happy with the set overall and I'd consider buying something by Roza again – the Florence, Natali and Ginewra sets looks pretty! The Mon Amour bra by Gracya and Fabra basque by Bassaya at Black Alice are worth checking out too.
What do you think of this Grase/Scarlet design by Roza? Is there anything else at Black Alice that you like the look of?