Disclosure: I bought this bodysuit myself. This blog post contains affiliate links.
I am so behind on my lingerie reviews. I think I bought this bodysuit around October time last year and had planned to review it over the Christmas break. But luckily it's still relevant because Bisou Bisou is one of Mimi Holliday's ongoing collections; in fact, I'd say this is their most iconic line – no matter what colour it's in, the Bisou Bisou lace makes pieces instantly recognisable as a Mimi design!
I picked this up on MySale at the same time as I bought my Mimi Holliday Raspberry Ripple slip and a bra set I'll be reviewing soon. MySale has been running Mimi Holliday sample sales very regularly lately so do sign up if you're interested – you've just missed one that ended yesterday but I expect it'll start up again in March!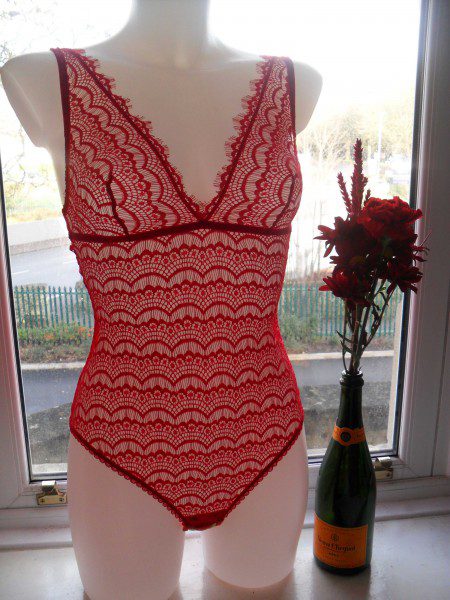 Appearance
This particular bodysuit is from Mimi's Strawberry Split range, featuring the Bisou Bisou lace in a vibrant, scarlet red that I couldn't resist. All lingerie looks better in red as far as I'm concerned!
The entire front of the bodysuit is made from lace, including the sheer cups that play on Mimi Holliday's 'shoulder bra' look – another iconic Mimi design. At the back, a centre panel of lace is framed with sheer red mesh, and there's a large keyhole cut-out trimmed with a cute, scalloped net lace that also edges the leg line.
It's a pretty simple silhouette, but with the stretch lace is perfectly contoured to the body and looks gorgeous on!
Verdict: 8 / 10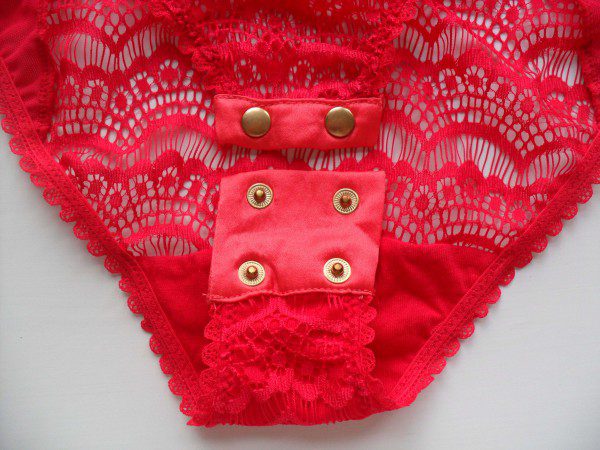 Construction
Although I've been seeing the Bisou Bisou lace pop up everywhere for years, this is my first time actually viewing it up close rather than on a computer screen, and I'm delighted to say that it feels as good as it looks – soft and stretchy and wonderfully comfortable to wear. The mesh is nice and soft too, and feels quite durable.
It's a nicely-made bodysuit right down to the finer details – the poppers at the crotch are set onto silk satin, and the bra straps feature gold-tone metal hardware. I wouldn't call it a luxury product, but it is a good quality one.
Verdict: 10 / 10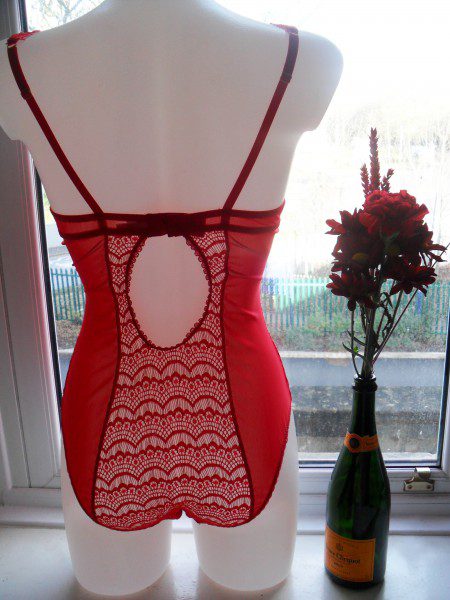 Fit
I bought the Strawberry Split Bisou Bisou bodysuit in size XS which equals a UK 8 on the brand's size chart. It's a great fit on me, which is mainly down to the stretchiness of the fabric but there's also two rows of poppers at the crotch (so taller women can get an extra inch of length) and a bra-style back fastening with four settings for plenty of flexbility here too.
Verdict: 8 / 10
Durability
So as mentioned, I've had this bodysuit for quite some time now and I've definitely gotten a lot of wear out of it – it was one of the only pieces of underwear I remembered to take on holiday with me at Christmas (so I could write that review…) so I was washing it every few days there in shampoo (my holiday lingerie wash solution).
I've worn it plenty since too, and there's absolutely no wear or damage. This Bisou Bisou lace is hardy stuff!
Verdict: 10 / 10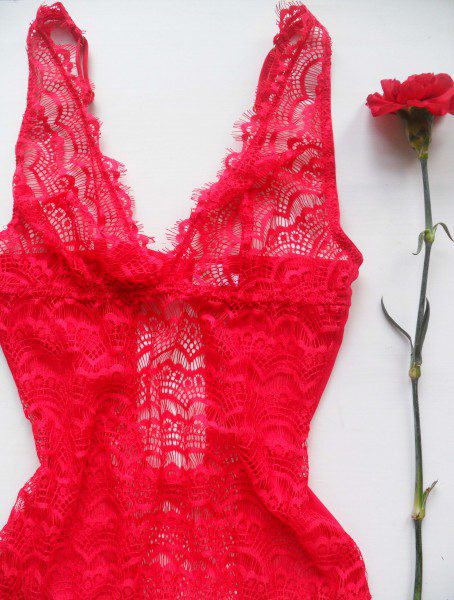 Value for Money
I was incredibly lucky to pick this up for a mere £15 at MySale, down from an original price of £90. I probably wouldn't have gone for it at full price just based on the product photo, but knowing how much wear I've gotten out of it (it's so comfortable, but gorgeous too – a pretty perfect combination if you ask me) I would now say it's worth it!
Verdict: 8 / 10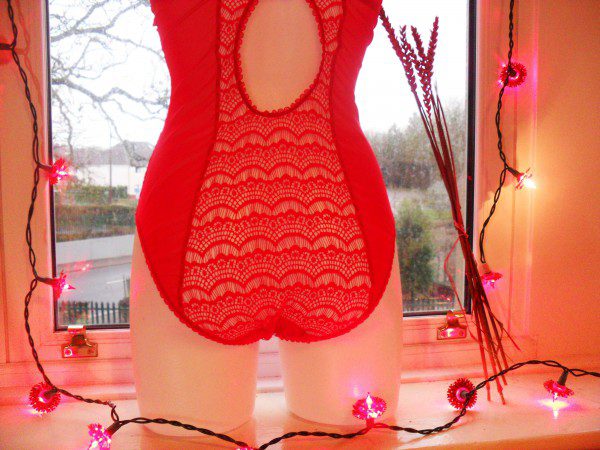 Final Thoughts
Before I bought this, I was starting to feel like Mimi Holliday's Bisou Bisou line had been done to death. Seeing the same lace used in similar designs over and over was getting a bit stale.
However, now I own it I totally get the appeal and understand why it's a bestseller for them – the lace is pretty, high quality and really comfortable. This has become my go-to piece for easy, relaxed style on the weekends. Still, I'd love to see them release the Bisou Bisou line in some bold, Claudette-esque colour combinations. I'd buy this bodysuit again in yellow too!
Unfortunately this Strawberry Split bodysuit is now sold out, as is the bodysuit from the current 'Mercury' Bisou Bisou line, but I doubt the next Bisou Bisou bodysuit is far off! In the meantime, there are other pieces available that use this lace.
What do you think of Mimi Holliday's Bisou Bisou line? Are you a fan of this lace, or thinking enough already?!