Disclosure: I bought this set with my own money and was not asked to review it. This blog post contains affiliate links.
I don't tend to be that brand loyal with my lingerie, not because I don't want to be but because there are just so, so many brands I want to try out, and I only have limited funds! Plus I think this blog would get a bit boring if I kept giving you reviews of the same handful of labels…
That said, last summer I reviewed a bra set by ViVi2Anna which has turned out to be one of my most-worn sets so I didn't take much convincing to go back for a second set.
The Silver Celebration set is only offered with these high-waisted knickers which are cool, but I wanted a thong like before and the awesome thing about buying from indie brands is that they're usually happy to do custom orders. So although you won't find this thong in her shop, if you want to buy it you need only ask!
Bra & thong: Silver Celebration by ViVi2Anna. Suspender belt: Ariana by Esty Lingerie
Appearance
Silver Celebration is a lightweight bra made from sheer black mesh and an awesome, sparkly black and silver fabric. The thong was a bit of a surprise (I didn't request anything more than "can you make me a thong in this fabric please?"), so I love that she added a little keyhole design at the back, topped with a satin bow.
It's a fairly simple set overall, but made eye-catching thanks to the fabric – I do like a bit of shimmer!
(P.S. The black mesh isn't sparkly too – that's just me being overenthusiastic with silver glitter in my photos, which I then had to painstakingly wash out. I didn't think that one through fully!).
Verdict: 7 / 10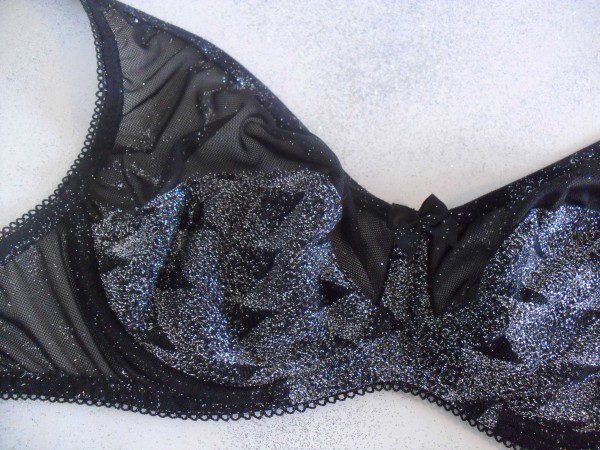 Construction
Both pieces are excellently and expertly constructed, with perfectly neat stitching everywhere and the kind of finish you'd expect from a shop-bought lingerie set.
The two things I wasn't super keen on with my previous ViVi2Anna set are both 'fixed' with this one too – the lower half of the bra cups come lined (it was never a comfort issue before but did make the bra look somewhat unfinished), and the single hook band fastening has been replaced by a double-column one for a tad more support.
Verdict: 10 / 10
Thong: Silver Celebration by ViVi2Anna. Suspender belt: Ariana by Esty Lingerie
Fit
My previous ViVi2Anna set is a 32DD and XS, and an excellent fit if just the tiniest bit loose in the band. Still, I went with a 32DD/XS again and though my new set fits me very well, it's not the same size.
The thong is a good 2″ shorter around the waistband, and the brand band is 2″ shorter too. Which happened to work in my favour since I prefer a 30-band to a 32, but it's worth noting that you may encounter sizing inconsistencies if you're ordering multiple pieces from this brand.
Verdict: 7 / 10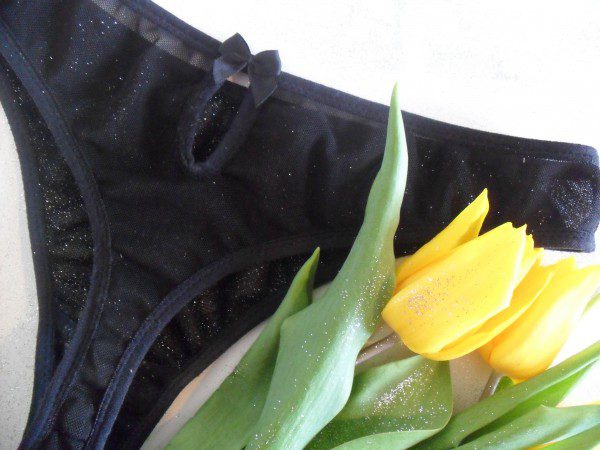 Durability
I've had this set since December and, like my rose-print one, have been wearing it constantly. It's a fantastic, comfortable everyday set which is exactly what I was hoping it would be. And yet it's still in really good condition, so yay!
Verdict: 9 / 10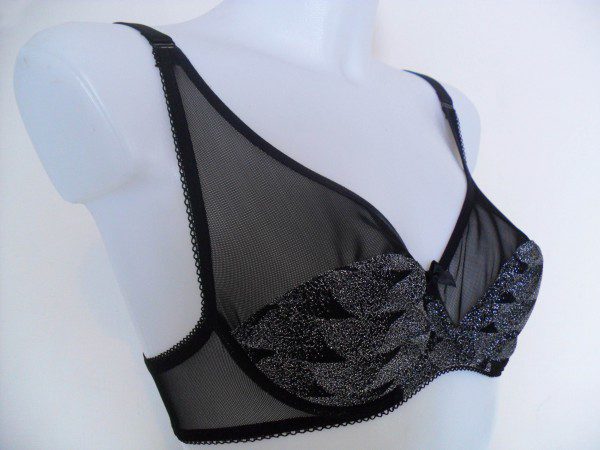 Value for Money
ViVi2Anna is based in Latvia but lists prices in US dollars – the Silver Celebration bra costs $25 (roughly £18) and she asked for just $10 (~£7) for the thong.
You really can't ask for a better deal than that, particularly considering this is from an independent designer, but you're going to get one anyway because I just received a 20% off coupon in my inbox. So if you'd like it, use CELEBRATION in her Etsy shop here until the end of April.
Verdict: 10 / 10
Final Thoughts
I don't really have much more to say, except to point out the brand's extensive size range – this bra is available up to a 40-band size, and almost all products can be custom-sized if you're outside of the listed sizes too.
Have you shopped with ViVi2Anna before? What do you think of this sparkly design?