Disclosure: I purchased this set myself. This blog post contains affiliate links.
Every now and then a lingerie brand comes along that is doing something genuinely different. Whether it works out or it doesn't, I admire brands that are willing to experiment and take design risks.
Silent Assembly [edit 04/01/2019: this brand has now closed down and removed its website] is one such brand, thanks to their unique Curvessence technology, which is an alternative to the ubiquitous metal underwires in regular bras.
Traditional underwires are flat, and get stretched into shape when you clasp the band behind your back. Silent Assembly's Curvessence is a nylon 'rib' that's closer in shape to the actual curve of a body.
Although I don't personally find underwires uncomfortable (95% of them anyway), my curiosity was piqued. Could a Silent Assembly bra be even more comfortable to wear than I was used to?
I bought this bra through flash-sales site MySale about 4 months ago now, and am writing this review today because their Silent Assembly sale is now back on. You can buy this set and other designs at crazy low prices until Tuesday only!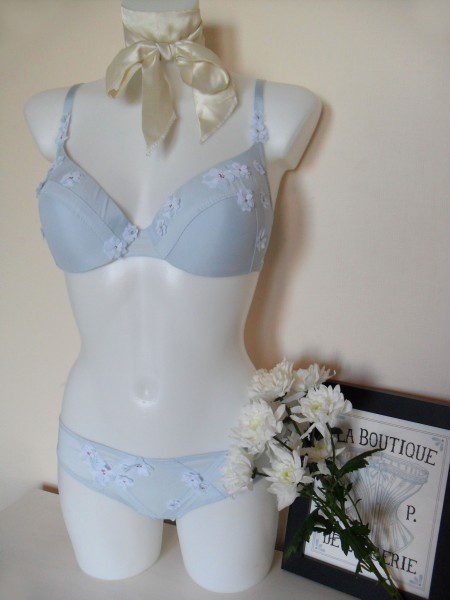 Appearance
I bought the Elidi bra and cheeki brief in 'ballard blue', which I thought was the most unusual of Silent Assembly's designs. There are lots of smooth contour bras and lacy ones, but this one stood out to me thanks to its abundance of chiffon flowers.
Each of the flowers is centred with tiny silver studs and sparkling Swarovski crystals, and I love that they've been somewhat randomly scattered across the bra and brief, rather than placed symmetrically.
The fabrics look high-quality, from the slightly pearlescent Italian stretch chiffon to the semi-sheen satin straps – though the hardware on them does appear to be plastic. Overall, I find it a pretty and unusual bra set.
Verdict: 7 / 10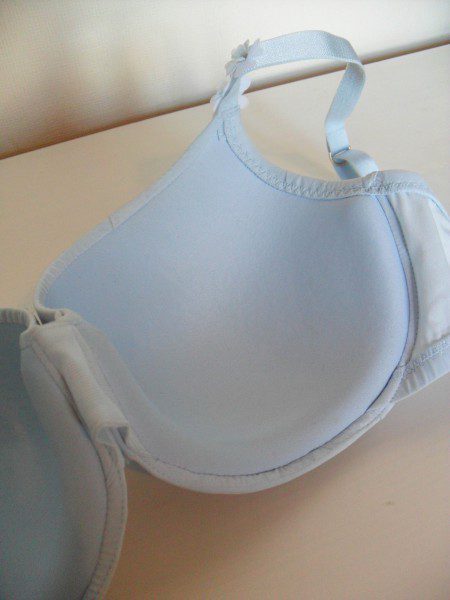 Construction
So this is where it gets interesting! You'll notice from the picture above that there's no underwire casing along the inner edge of this bra. Instead, the nylon rib is sandwiched between the fabric, and it doesn't have that perfect, flat 'U' shape that metal underwires do. I wouldn't say it feels any more flexible than a metal wire, but it does appear to be more contoured to the natural curve around a ribcage.
The bra is very well-made in general – the fabrics as I've mentioned look high-quality, and all of the stitching is perfectly neat. The elastic on the bra's band and around the knicker edges is encased within the chiffon fabric which, again, looks very neat. The back half of the leg seams are actually elastic-free (the fabric is double-layered so the edge is where it folds over), which helps to give the knickers a smooth and seamless look under clothing.
Also, I bought two of these bras (32D and 32DD) and the DD version has wider straps and a marginally wider band, so support considerations have been taken into account for DD+.
Verdict: 9 / 10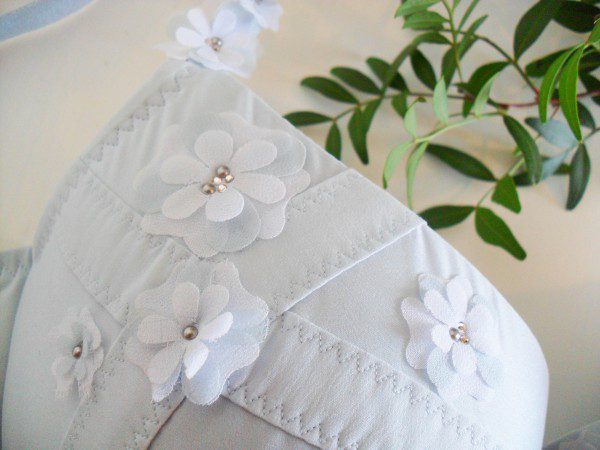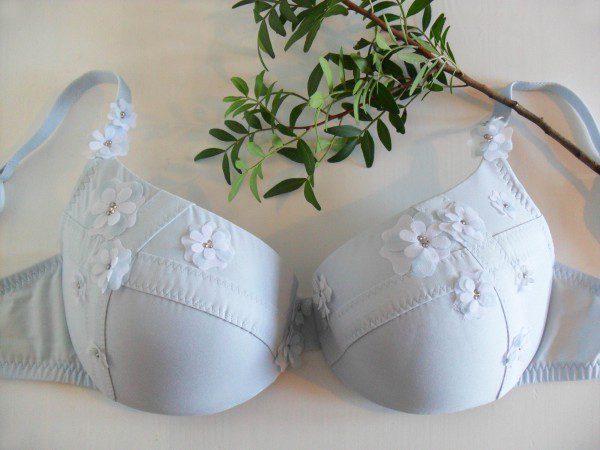 Fit
The reason I bought two bras is that, silly me, I wear molded cups so rarely nowadays that I forgot I tend to need a cup size smaller in them. I originally bought a 32DD but the cups were gaping, so repurchased in a 32D (which just arrived yesterday) when Silent Assembly next popped up on MySale.
The 32D is a perfect fit in the cups so in regards to that, I'd say it fits true to size. However the band does feel a tad looser than most of my 32s so size down if you prefer a very snug band. The brief I bought is an XS – there is no sizing information on Silent Assembly's website which is very odd, but they seem like a UK 6-8 to me as they fit me perfectly.
What about the Curvessence technology? I have to say, it is a very comfortable bra to wear! I think that is as much to do with the fact that the rib is underneath a layer of padding as it is to do with its shape or flexibility. It's like having a layer of cushioning over the wire, which can never be a bad thing!
Verdict: 9 / 10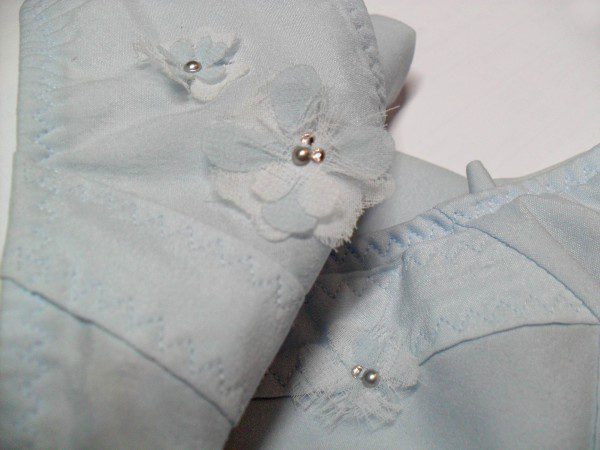 Durability
Unfortunately, the chiffon flowers have not held up well to wear and gentle hand-washing. None have fallen off, and they've all still got their beads/crystals too, but as pictured above they are definitely fraying. (All other photos were taken when the set was relatively new).
It's a shame, because the delicate little flowers do look gorgeous but I don't expect this set to last as long as most of my other lingerie.
Verdict: 4 / 10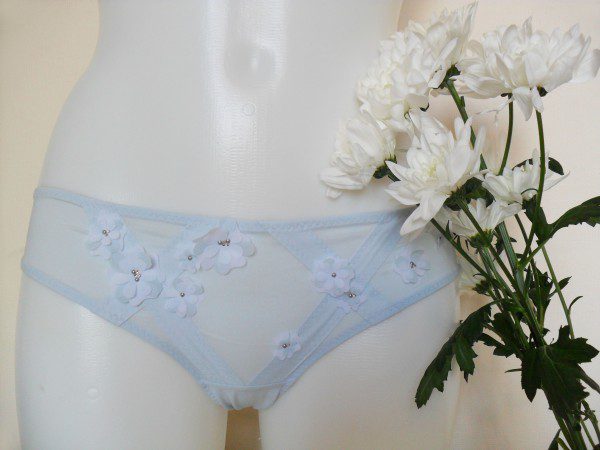 Value for Money
I bought this set on MySale for an absolute steal – £9 for the bra and £5 for the knickers! You can even buy a 2-pack of these or the high-waisted knickers for £9 if you're fast – the sale ends Tuesday.
The original RRP is £38 for the bra and £22 for the knickers, which seems like a very fair price, particularly given the unique Curvessence ribs which add to the comfort and would likely have cost more to manufacture than buying in pre-made metal wires. However I'm not giving it a 10 out of 10 based on the longevity issue.
Verdict: 6 / 10*
*I have decided from now on to rate my reviews against the original RRP, as that seems a fairer way to compare purchases, some of which may have been on sale and some not. Previous reviews are all rated based on the price I actually paid.
Final Thoughts
It's lovely to see a brand pushing the boundaries of how a bra can be made. Will nylon ribs one day replace metal wires as the status quo for structured bras? I'm afraid there was no "OMG so this is what I've been missing out on my whole life" moment, but I didn't find it slightly more comfortable than usual and I'd recommend giving Silent Assembly a go if you do have comfort issues with regular underwires.
Remember, you can buy this and other Silent Assembly sets here at teeny tiny prices until Tuesday 17th May! I've just picked up another set, so expect another review next month.
What do you think of this Elidi set, and Silent Assembly's Curvessence rib idea? If you've bought a bra from them before, did you find it any more comfortable than usual?