Disclosure: This blog post contains affiliate links.
Helen Valk-Varavin is an independent designer that I've purchased from before – you can read my review of her Lola (now called Venus) bra set here, which two and a half years later is still something I wear regularly. Those frilled shoulders just look super cute poking out from under a camisole or a strapless dress! It's also still in fantastic condition after all this time, so I can totally attest to the brand's quality.
Checking out Helen's newer designs recently, I was awe-struck by a few of them. She's retained the simple silhouettes and sleek silk satins from her debut collection, but has started to add in some beautiful details – a little beading here, a lace-up back there – that elevate her handmade designs to a new level.
I simply had to share my favourite Helen Valk-Varavin pieces with you guys, so here goes…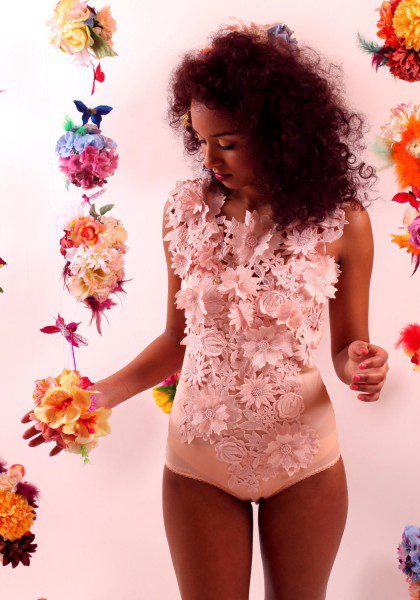 Gloria stretch silk bodysuit, €185 (~£142 / ~$207)
This stretch silk bodysuit is topped with lashings of layered, 3D floral lace appliqué for a truly breathtaking look. It's just as gorgeous at the back, with a lace collar that wraps around and a 'bunny tail' of the appliqué!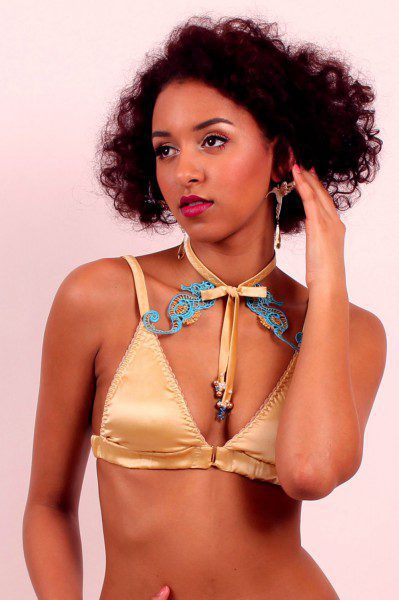 Ariel gold silk bralette with seahorse lace, €109 (~£84 / ~$122)
Bralettes are everywhere right now and they can all start to look a bit same-ish, but not this one! With its front hook fastening and Swarovski pearl-beaded silk collar detail, it's simply gorgeous and would look amazing worn with a V-necked top. I didn't realise that the lace bits were seahorses until I read the product title, but now that I can see it I'm even more in love!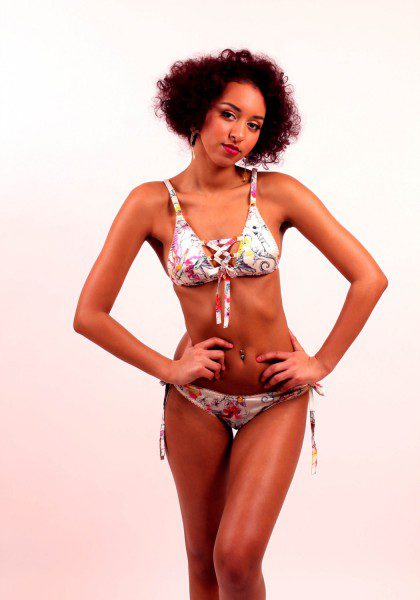 Astrild silk bralette & tie-side knickers set, €120 (~£92 / ~$135)
Another fun little bralette, this one features silk ribbon lacing up the front. What I love most about this set though – which includes the tie-sides pictured – is the printed silk. It's a wonderfully whimsical pattern called Magic Garden, which features everything from hummingbirds to kittens.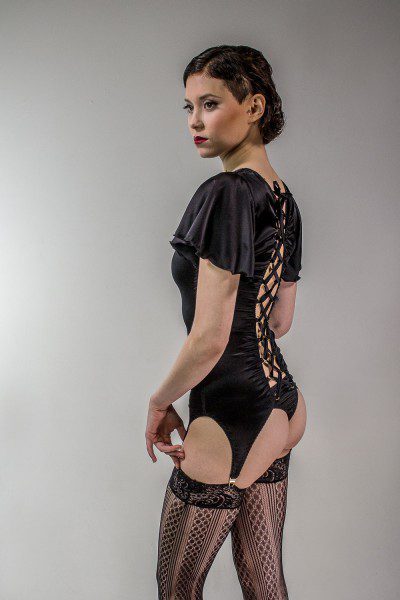 Astrild black silk lace-up garter blouse, €145 (~£111 / ~$162)
Part of the same range as the lace-up bra set is this stunning 'blouse' in stretch silk satin (available in 5 different colours) looks sleek and simple from the front, but incredible from the back. I also love the short, floaty silk sleeves – definitely one to pair with a skirt and show off!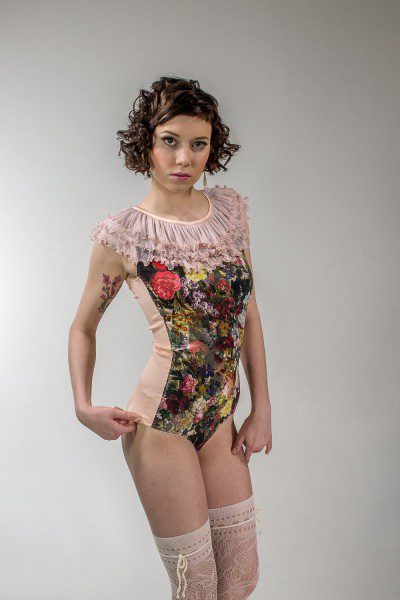 Flora silk bodysuit, €129 (~£99 / ~$144)
I don't tend to do florals, but this one is so grown-up and elegant – it looks like an oil painting. The back is worth a look, with 5 ribbon bows down the spine and a sixth one fastening the ruffled silk collar at the back. If you just like the way the ruffled bit looks by the way, Helen also sells these collars separately in lots of colours.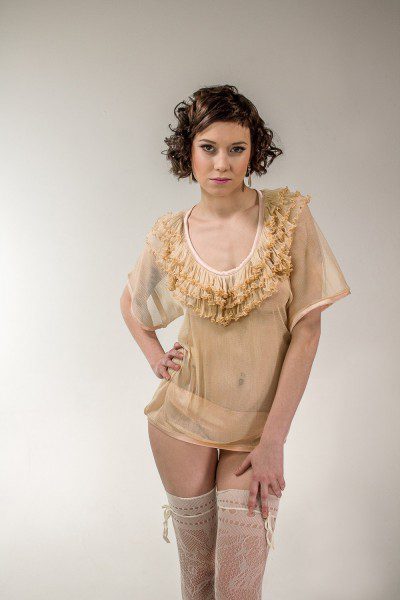 Astrild gold silk tulle blouse, €109 (~£84 / ~$122)
The sheer, gold silk tulle, the silk satin trims, and the textured neckline detail on this piece remind me so much of my La Perla Lulu babydoll. Which is to say, I absolutely love it! This piece would make for stunning, luxury loungewear but also look fantastic as outerwear with a camisole underneath for modesty (or not! Your choice).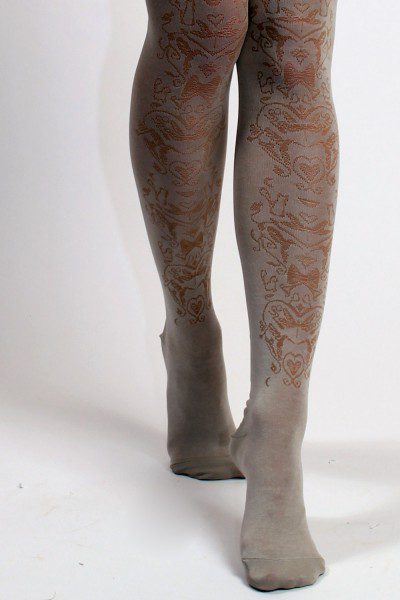 Baroque pattern stockings, €39 (~£30 / ~$44)
Ladies, allow me to introduce you to an amazing pair of stockings. Also available in colours including black and emerald green, these feature an intricate pattern that's based around the Magic Garden fabric (see above), with hummingbirds, kitties and dragonflies subtly woven in. Also, they're 68% cotton – yay for stockings that aren't pure nylon!
What do you think of the brand Helen Valk-Varavin? Have you bought any of her pieces?