Disclosure: I purchased this slip myself.
If you'd asked me five years ago what my favourite lingerie garment type was, I would have said robes. I practically lived in them on stay-at-home weekends, since I could be comfy, warm, and glamorous all at once (and not to mention, dressed in seconds).
Lately though, I've found myself wearing slips more than anything else in my wardrobe – including bras! Like robes, they're easy to throw on in the morning as loungewear, but better suited to the warmer climate I now live in. I also frequently wear half and full slips under my skirts and dresses, in winter for the warmth and in summer as an opaque lining, as well as styling many of them as outerwear simply by adding a strapless bra underneath and a skirt on top. I'm told they look great paired with a slouchy cardigan too.
So naturally, I've amassed quite a collection of them. I have cheap-but-cute slips that I'm not precious about and will happily wear while cleaning or cooking, very basic-looking slips chosen because they disappear under slightly-sheer clothing, and some ultra-luxurious slips for when I want to want to feel fancy. My favourites, though, are my silk slips because they're just so breathable for this hot Spanish weather (it reached 46°C the other week here in Extremadura, and I was very glad I'd brought some silk loungewear with me).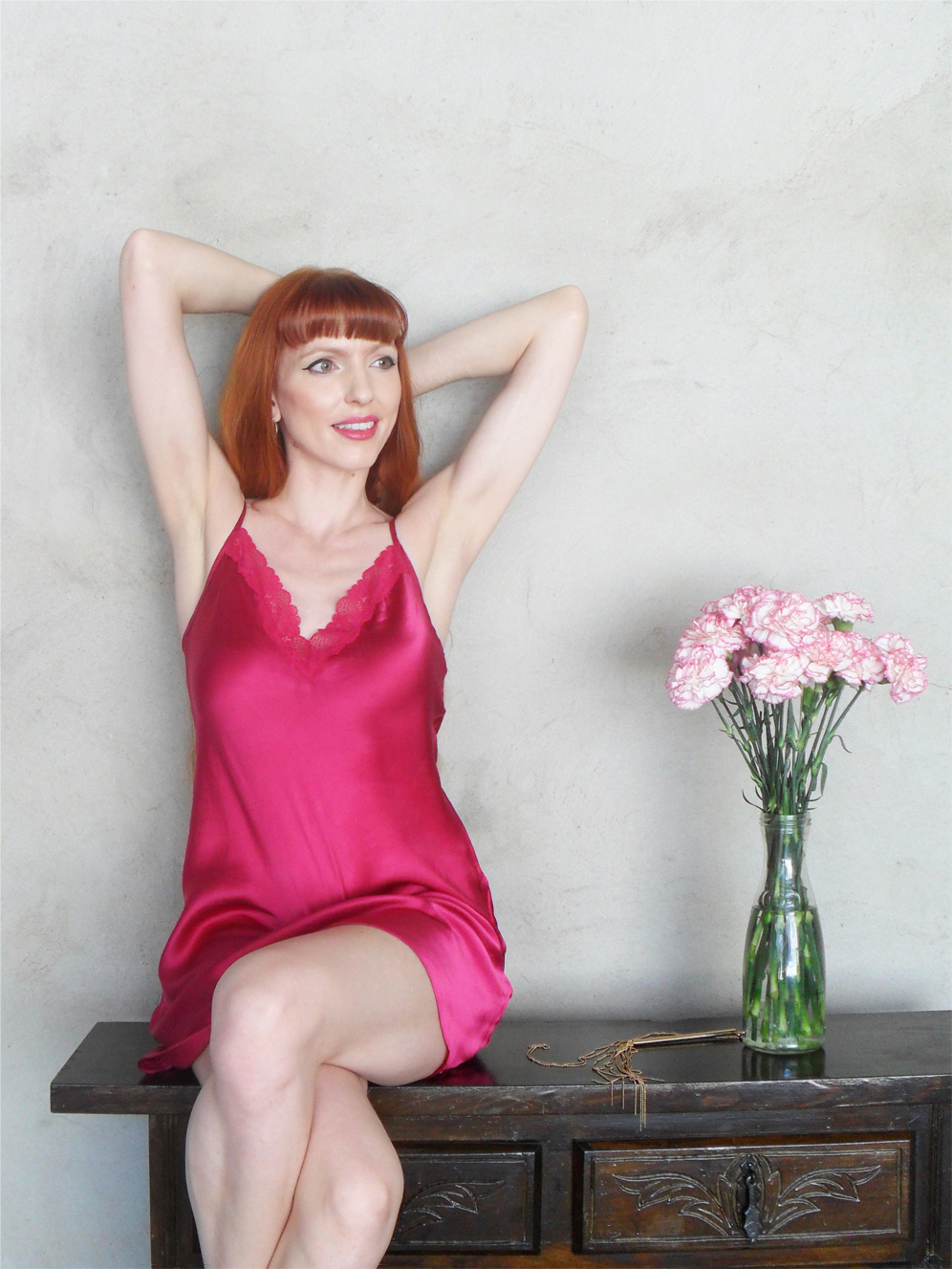 Recently, while buying something else from Etam, I saw this Milky slip on sale for 24.99€. I try to minimise impulse purchases nowadays, but when you see a 100% silk slip going for that price, it would be silly not to buy it right? So into my cart it went.
Unfortunately, it looks like the Etam Milky slip is only on sale on their Spanish site where it's not only reduced but part of a 3-for-2-on-sale-items special. However, the full price is still unusually low for real silk: £62 on Etam UK, or $80 on Etam US.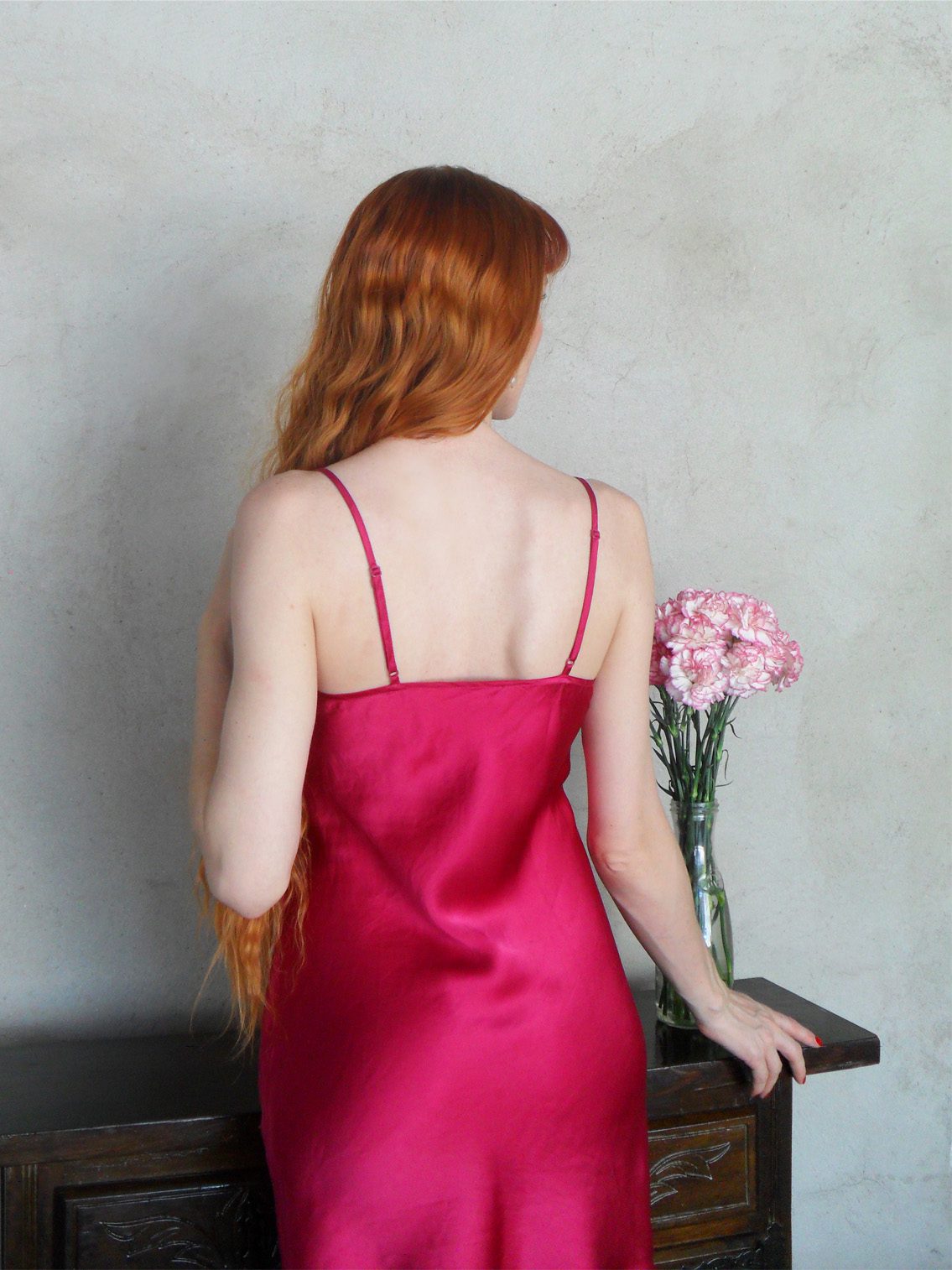 Appearance
Milky is a short satin slip with a lace trim around the V-neck which has been dyed to match, along with perfectly colour-matched coated hardware on the straps. It's available in five colours, and I chose 'fuchsia' which in reality is more of a deep, raspberry pink.
The main fabric is pure silk and has a lovely drape and a glossy lustre to it. The lace is regular high-street quality, but nice enough with its scalloped edges and subtle cording which gives it a bit of texture when seen up close. All in all, it's a pretty basic slip as far as aesthetics go, but the particular way that natural silk satin fits, flows, and reflects the light prevents it from feeling 'cheap', in the way that a similar slip made from polyester satin might.
Add in the vibrant colour, and well, I'm very happy with this piece for what it cost me.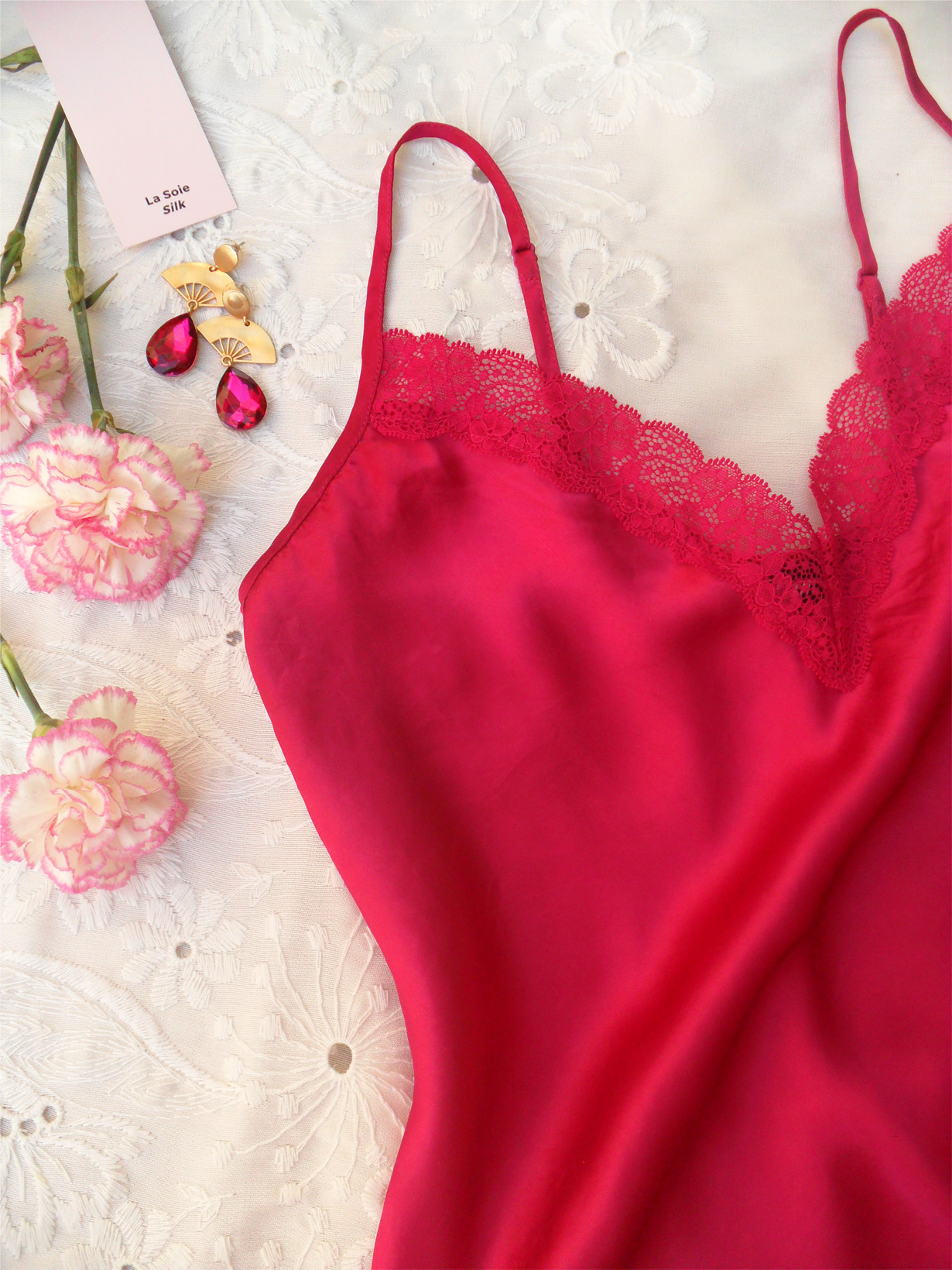 Construction & Fit
The Milky slip is made in China at an independently-audited factory. It's constructed from two pieces of material – the front and back – and has no bust darts, however the fabric has been cut with a very gentle curve and that plus the natural drape of the silk means it has quite a nice, flowy fit. I'm wearing a size S; I'm comfortably within the measurements guide for that size, and perfectly happy with the fit on me.
The side seams are overlocked together, as I would expect at this low price point. The hem is folded over twice so that the raw edge isn't visible, and the neckline is bound with a strip of the same fabric. The sewing is all neatly done and looks secure. The lace trim is a stretchy one and seems pretty durable (sometimes cheap laces deteriorate very rapidly, going bit 'fluffy' at the edges after a few washes, but that doesn't appear to be the case here).
The overall construction is nothing special, but there's nothing bad or 'wrong' about it either. Again, for a pure silk nightslip that costs what this one does, I couldn't really ask for more! It's a hand-wash only piece, but otherwise doesn't require any special treatment, and I've ironed it a few times with no problems.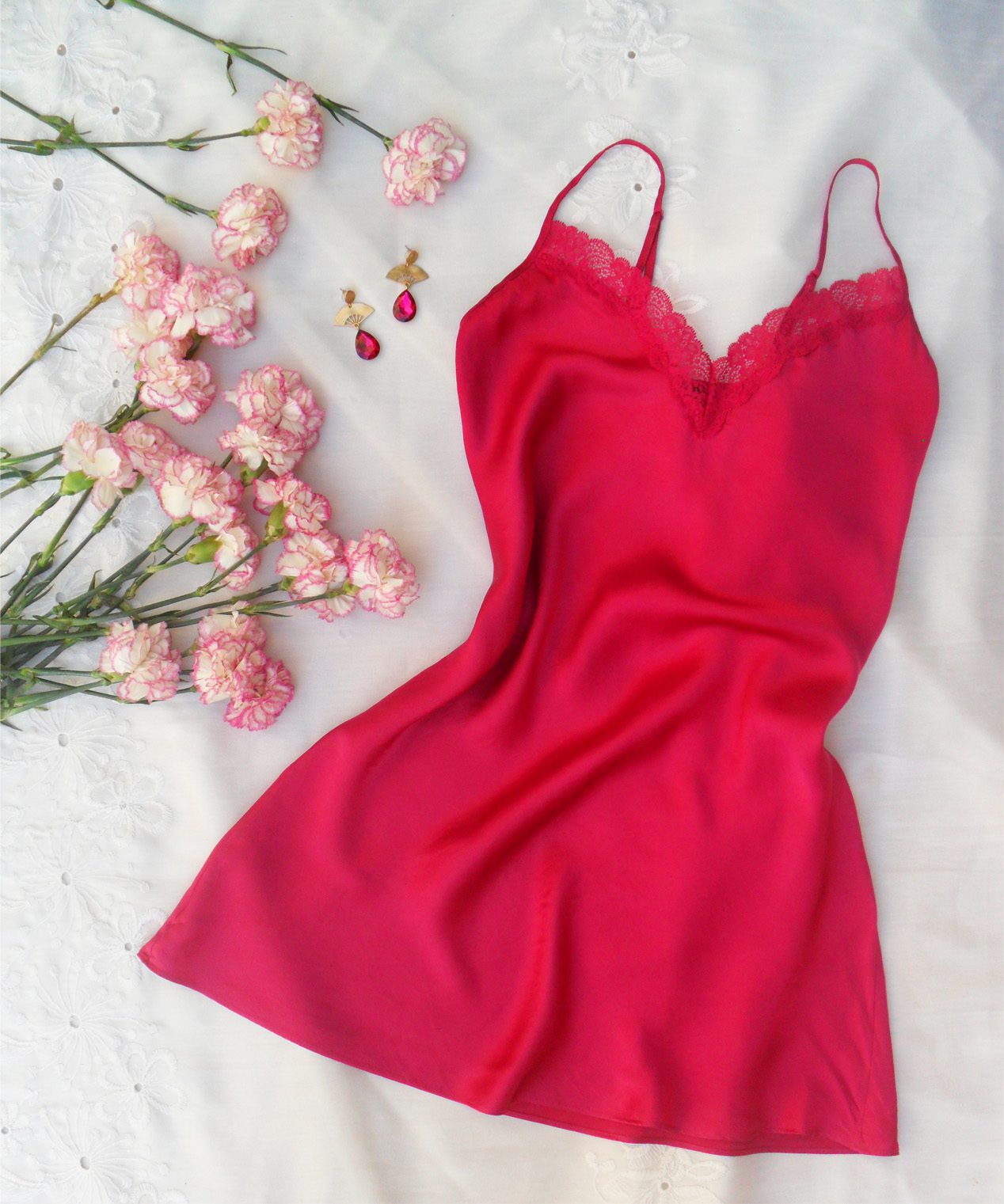 I love silk satin fabric, and if you appreciate excellent breathability and/or a slinky fit from your loungewear, I really think you should treat yourself to it if you can. But I know that it often comes with a hefty price tag, so for those looking for a more affordable way to begin building their silk lounge collection, I can happily recommend this slip dress.
The Milky slip is available up to a size XL, and there's also a cami set in the collection (amongst other pieces) which costs a similarly affordable £68 / $88.
What's your favourite brand for low-cost silk lingerie? Have you ever been lucky enough to snag an amazing deal like this on real silk?