Disclosure: I received this bra set free of charge from Lara Catherine Collections to review. All opinions are, as always, 100% honest.
When Lara Gilmour of Lara Catherine Collections got in touch with me recently, it was the first time I'd heard of her brand. British-born but based in Buenos Aires, she works with a small, local team to create her designs which she describes as mixing "a charmingly English and ladylike style with sexy and sensual".
I couldn't decide between a bra set or a bikini and asked Lara to surprise me, which she did by sending both! So there will be a follow-up swimwear review to come, but today let's talk about my first 'proper' bralette…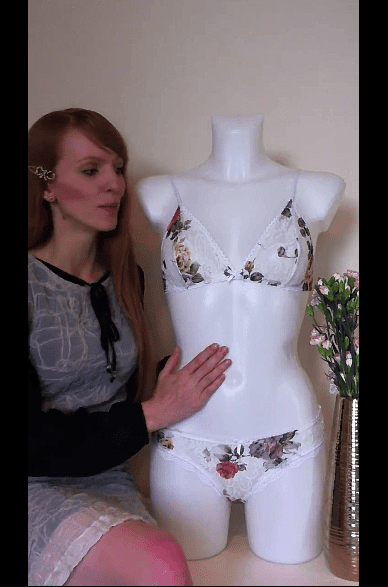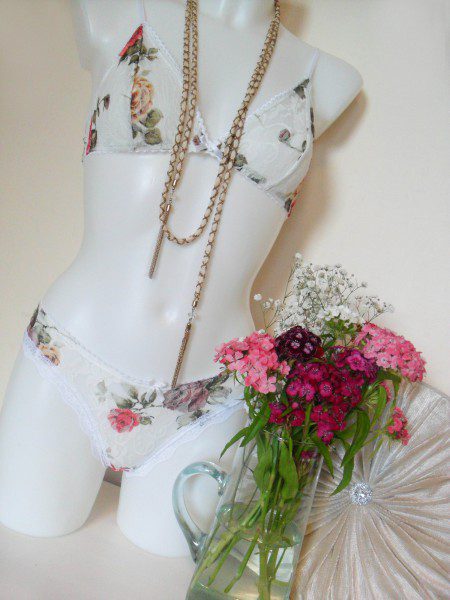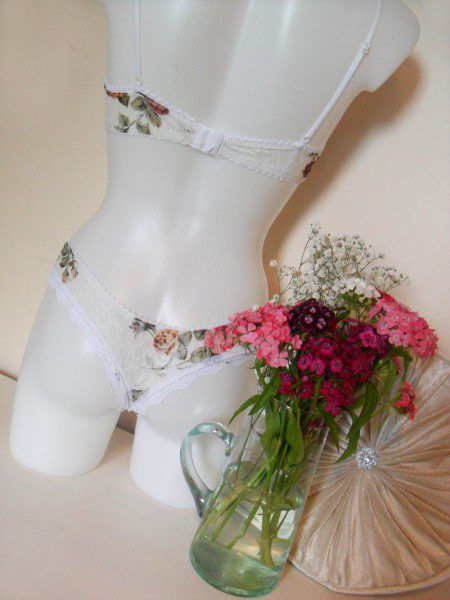 Appearance
Most of Lara's bralettes have very narrow elastic bands, which I didn't think would offer me the kind of support I like in a bra, so I was left with a choice of three which have wider fabric bands. I picked Josaphine because of her print. I want to call it 'quaint', though I'm not sure that's quite the right word. It makes me think of old porcelain teacups and Laura Ashley cushions.
I'd expected the set to be white from the product photos, but it's actually more of a cream/ivory which is nice because it adds to that vintage-y feel of the set.
The bottoms are called 'culotteless', which seems to be a word unique to Argentinian Spanish to describe a thong with a wide, Brazilian-style back. I preferred this to the standard Josaphine thong because of the wide, scalloped lace trim around the leg lines.
Verdict: 7 / 10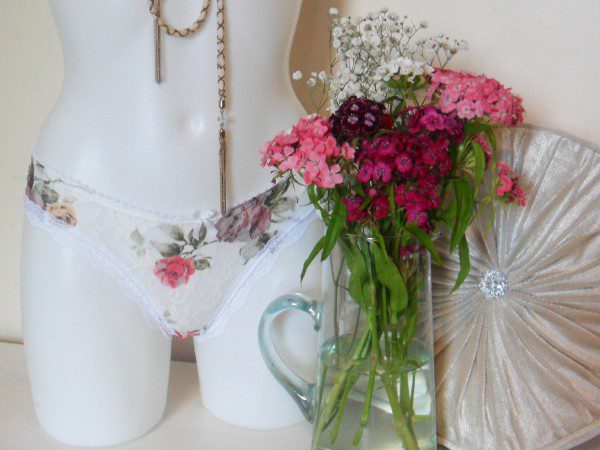 Construction
The Josaphine bralette has 2-part triangle cups, seamed all the way up the centre. At the front, there's no real 'band' to speak of – a centimetre-high strip of elastic runs along the inner base of the cups, which overlap the tiniest bit in the middle. The straps are super narrow 6mm satin elastic, with white plastic hardware.
Overall, this set is nice but definitely looks handmade. The edges of the gusset have been left raw for example (not visible from the outside), and here are there you'll find wonky stitches if you look for them. Personally, I don't mind these little imperfections as they just serve to remind me of the set's artisanal nature. That said, there is a seam to one side of the thong where the lace trims don't match up neatly, which is a more obvious flaw. Don't expect store-bought quality with this set, but it's wearable.
Verdict: 5 / 10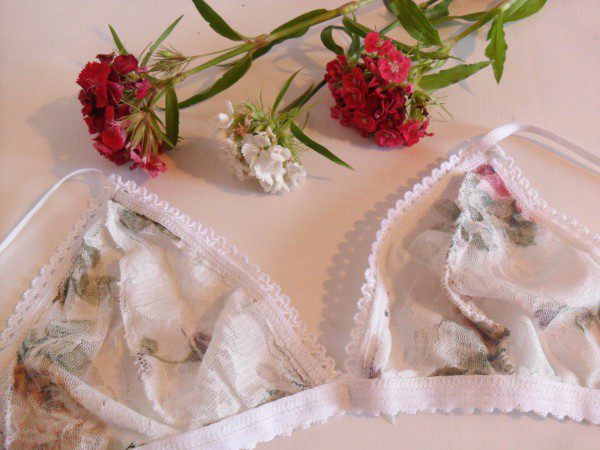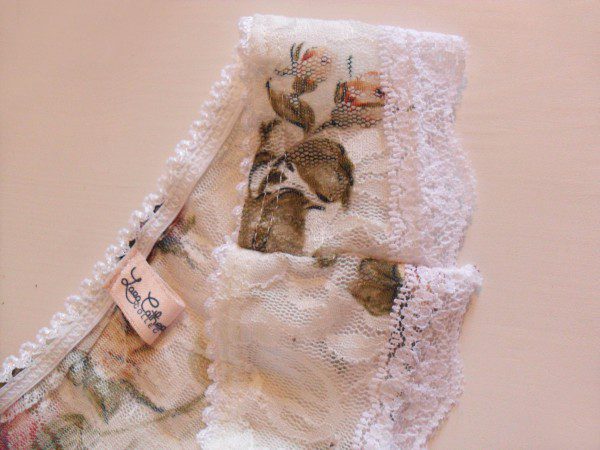 Fit
According to Lara Catherine Collections' size chart (which goes by overbust size only) I'm a Small but after mentioning I typically wear a 30E/32DD, Lara decided the Large would be the best fit.
She was right – the cups on the Large are a perfect fit for me. They don't offer any support, but they're comfy despite the inner seams. The band is not a bad fit either, it rides up just a tad like most of my 32DD bras do. So (based on my limited experience with this one bralette) I'm thinking Lara Catherine Collections maxes out at around a 32-band size.
The culotteless however is available in S-XL, covering UK 6-16. I was sent the size Small (UK 6-8) and it fits true to size.
Verdict: 5 / 10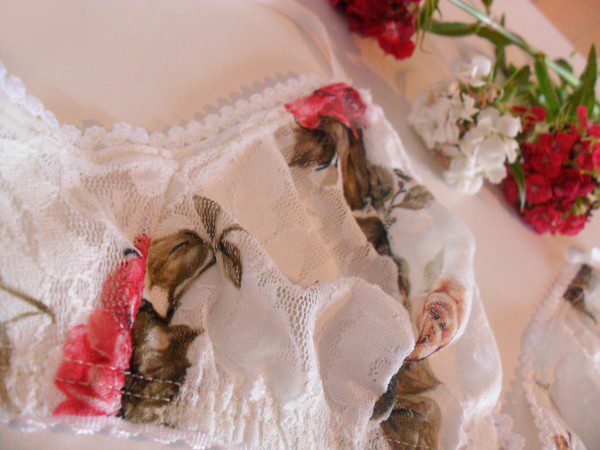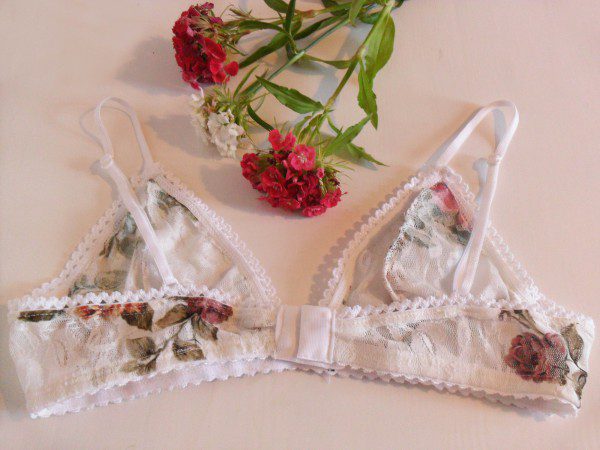 Durability
Lara recommends to hand-wash all of her pieces, and this is so far still in lovely, almost-new condition after a number of wears and washes.
Verdict: 8 / 10
Value for Money
The Josaphine bralette is £13.99 and the bottoms are £7.99. That is incredibly cheap, it's H&M kind of pricing but ethically-handmade. The set isn't perfect, it has its flaws, but for £22 you really can't ask for more! I'd be happy to buy another bra set by Lara Catherine Collections.
Verdict: 7 / 10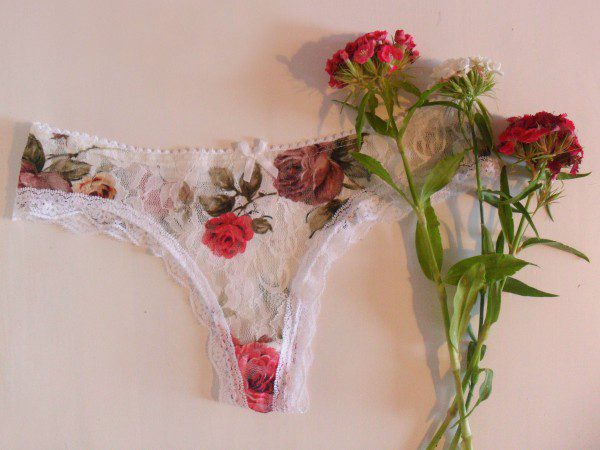 Final Thoughts
Lara aims to make "fun, highly feminine [lingerie] with an innocent but sexy appeal" and I think she's nailed that in this Josaphine set, where dainty print meets cheeky cut. There's certainly room for improvement in the construction and finishes, but despite that I really like this bra set. I've been wearing it pretty regularly lately!
What do you think of the Josaphine bralette and culotteless from Lara Catherine Collections? What kind of quality would you expect from a £22 bra set?