Disclosure: I bought this lingerie with my own money and was not asked to review it. This blog post contains affiliate links.

If you've been following me on social media for any length of time you've probably seen me swooning over La Lilouche on many an occasion. Liya's designs seamless blend the pretty and the risqué and are luxurious in the true sense of the word, with breathtaking attention to detail and only the finest materials used. Add to that the fact that La Lilouche is entirely handmade and well, there's not really anything more I could ask of my underthings!
I've been meaning to buy from La Lilouche for absolutely ages, so when lingerie blogger Write Me Bad Checks tweeted that she had a sale on it took me all of fifteen minutes to place an order. Being sample sale items, they're no longer available but the sale is still on with other gorgeous things still in stock! I've linked to some similar La Lilouche designs at the end of this post.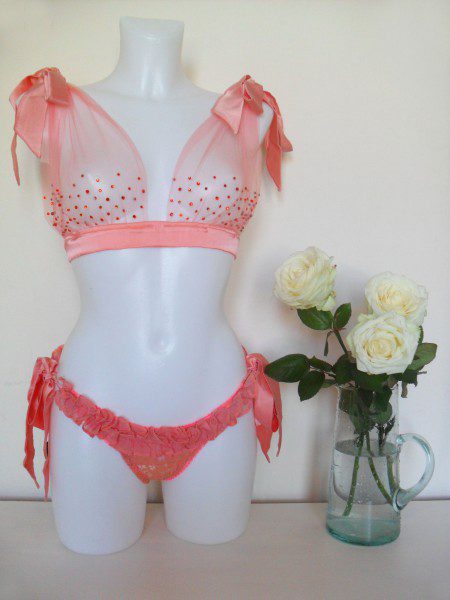 Appearance
I bought this set for the bra. The knickers are lovely but, well, look at that bra! It's incredible. The 'cups' are made from a fine, translucent (i.e. very revealing!) tulle with a swathe of sparkling crystal gems hand-applied across the bottom.
As if this feature alone wasn't striking enough, the straps are gathered in at the shoulder with oversized bows made from peachy-pink silk. They are attached to little silk 'tubes' so you can slide them up and down, wearing the bows at the front, atop the shoulder, or part way down the back. It's all finished off with an underbust band of ruched silk in a different orangey-pink.
The knickers are not actually meant to match this bra, but like the bra they too feature a mish-mash of shades that range from coral to blush pink, so the two work perfectly together as a set. Combining super soft silk, ruffled chiffon and thick lace (which has been carefully cut and appliquéd on to follow the lace's pattern, even though this feature is mostly hidden by the ruffles above it), it's just a really beautiful, detailed and decadent design.
Verdict: 10 / 10
Construction
La Lilouche is handmade in Israel, and the quality is excellent. It all starts with premium-quality fabrics which are sewn together beautifully – think things like double-sided, tapered silk bows, rather than the satin ribbon you'd find on a cheaper set. Even the gusset is lined with silk, talk about luxury!
A lot of threads do keep unravelling from the chiffon ruffles on the knickers however. It's not pretty, but it doesn't appear to be affecting the construction in any meaningful way (the ruffles aren't falling off or anything).
Verdict: 8 / 10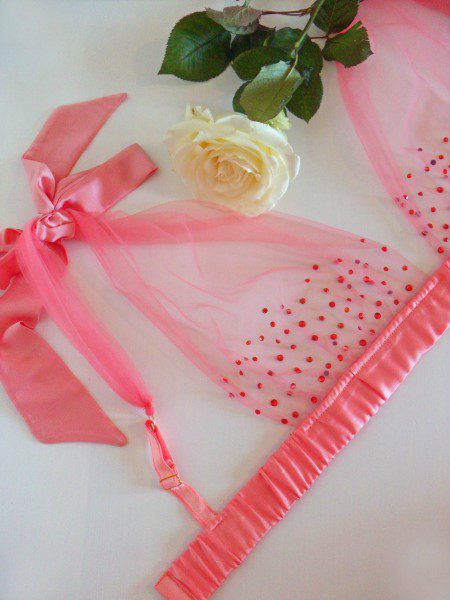 Fit
I bought the Adelle bra in a size M (32D/34C/36B) and the Lana knickers in an XS (UK 6-8 / US 2-4). The knickers are a perfect fit. The bra is a good fit but as a 30E a size S might have been better; the straps are a tad too long for me and sometimes slip off my shoulders.
Due to their design these cups don't really have a size as such, it's just loose fabric that sits on top of the breast (and therefore doesn't offer anything in the way of support). They're super flexible on sizing and the M would still fit someone a good few cup sizes larger than me, so for other bras in this style I wouldn't assume you're sized out if you're only one or two cup sizes above what La Lilouche recommends.
Verdict: 8 / 10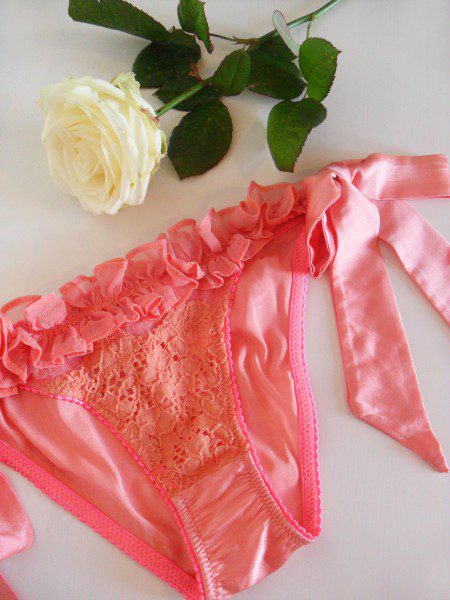 Durability
No surprises that this bra set is strictly hand-wash only. I don't even dare squeeze the water out of the bejewelled bra cups when I'm done soaking it, but luckily the fine tulle dries super fast.
Regardless, the diamanté gems do fall off, an average of about 1-2 every time I wear it. I don't know where they're going – they're not in the set's storage bag, they're not in sink post-washing. Perhaps I am just leaving a little trail of glittering crystals in my wake, like the fairy goddess that I feel like when I wear it! 🙂
I did buy myself some coral-coloured crystals online to repair the bra but when they arrived they looked awfully cheap compared to the ones Liya used originally. I contacted her to ask where I could buy more of the same, and instead she was super lovely and sent me some replacements for free! That's wonderful customer service, particularly considering I didn't even buy this set at full price.
So in summary, I'd say La Lilouche's diamanté-topped lingerie designs are pieces you'll need to handle with the utmost care. I'm not saying it's poor quality, I'm saying it's incredibly delicate – it's not for you unless you're prepared to invest a little time in the gentlest of hand-washing and the occasional repair job.
Verdict: 4 / 10
Value for Money
I'm not sure what the original RRP of these two pieces is, though I do know it's significantly more than what I paid in the sample sale. This set cost me $40 (~£30 / ~36€) for the bra and $30 (~£23 / ~27€) for the knickers, which was an incredible price for such a unique, beautiful, ethically-made and luxurious design!
Whatever the full price was though, I do believe this set is worth it. Similar La Lilouche designs retail for about £70-100 a piece, and whilst that is certainly not cheap, it's at the lower end of what luxury lingerie powerhouse Agent Provocateur charges – and I personally think La Lilouche is the more luxurious brand! Not to mention being ethically handmade.
Verdict: 10 / 10
Final Thoughts
La Lilouche's Adelle bra is a work of art, pure and simple. It's up there with my Agent Provocateur Verronika corset and Pleasure State Couture Glimmer set as some of the most beautiful and luxurious lingerie I've ever had the pleasure of owning. If you're going to buy one of La Lilouche's crystal- or bead-encrusted designs however, be aware they'll need some TLC to stay that lovely.
I wish I were writing this review whilst it was still available to buy, but she does have some current bras in a similar style – check out the Fiona bra, cream Belle bra, black Belle bra and Veronika bra. For other knickers with deluxe silk tie-sides, take a peek at her Alexina and Tonni designs. There's also one pair of high-waisted knickers from the Lana range still on sale here!
What do you think of this bra designs, and the knickers? Have you ever bought anything from La Lilouche, or wanted to?