Disclosure: I bought this lingerie with my own money and was not asked to review it. This blog post contains affiliate links.
So I did, I jumped on the lace bralette wagon! With so many of these things floating around the lingerie-o-sphere it was only a matter of time before one really caught my eye. I've also been drawn more to bralettes lately for various other reasons – because I think my cup size is going down and I feel like I need less support, because bralettes are generally cheaper, and because I recently tried my first proper, itsy-bitsy, no-support bralette and loved the comfort.
So when I made a rare trip to actual, offline shops and spotted this glorious pink creation in Ann Summers, I couldn't resist trying it on. And then buying it. I will point out though that had I been shopping on their website, I never would have bought this – the light, dusky rose colour shown on their website is not even close to the bra's actual colour. This bra is neon!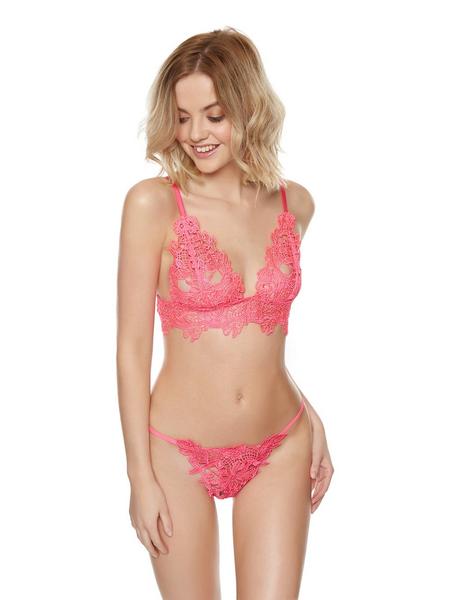 Above: the colour shown on the website.
Below: the actual colour.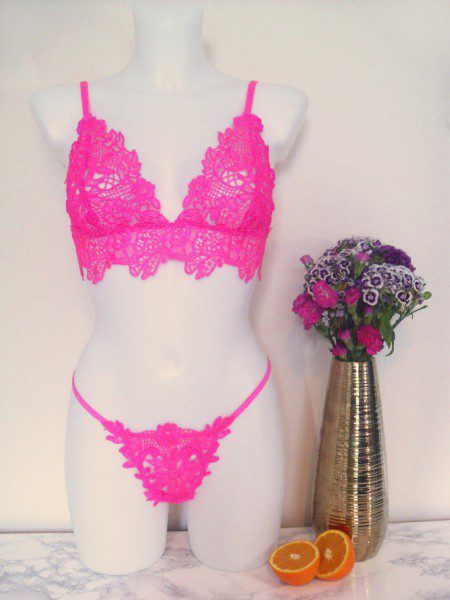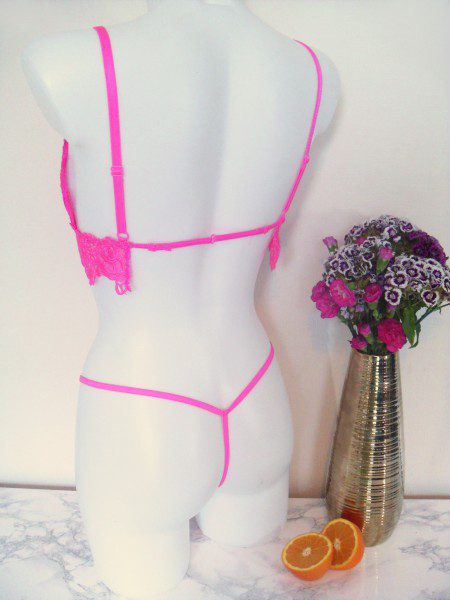 Appearance
Another reason that I wasn't drawn to this bra on the website is the way the lace contains big holes, which I wasn't keen on – you can see what I mean on the stock image above. However, my bra doesn't have them. The placement of the lace is the same, it just doesn't have holes there! So if holes or no holes is going to be a deal breaker for you, I'd recommend to buy this in store.
Speaking of the lace though, it's absolutely gorgeous! It's thick and wonderfully detailed, and I love that all of the edges follow the shape of the leafy pattern rather than being straight.
I don't love the back though. It's just a few basic straps, and not in a cool, bondage-esque way so much as a cheaply-made way. I wish the lace band continued all the way around, and even something as minor as a pink ring at the 'T' join of the thong rather than some messy stitching would have looked miles better without adding much to the cost.
Verdict: 5 / 10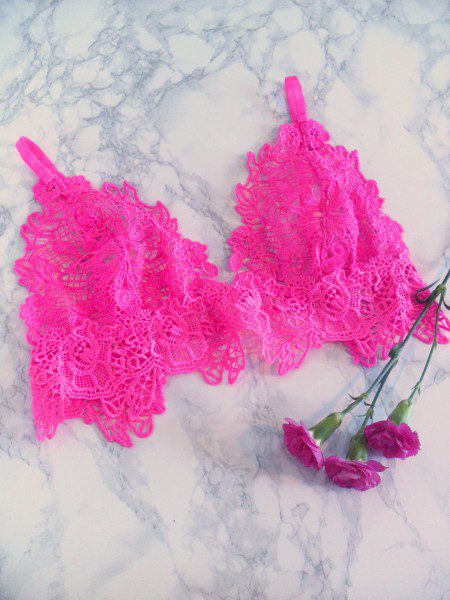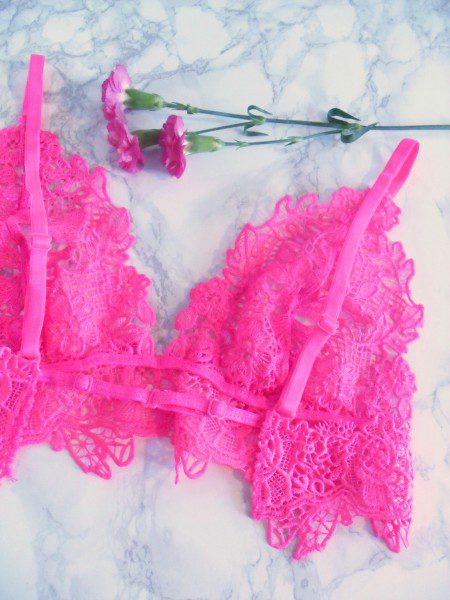 Construction
Ann Summers' Willa set is made from 100% polyester lace with a cotton gusset lining. I think the shoulder straps would have looked nicer if they were attached behind the lace rather than on top of it. They are however made from a nice, satin-finish elastic, whereas the strapping at the back is made from cheaper-looking elastic – on the thong it's already started to buckle.
The lace, though gorgeous, is very thick and unlined. Although I've not had any discomfort wearing it, the thong doesn't really mould to the body and lie flat against the skin. It's quite stiff as far as fabrics go! Overall the construction is pretty reflective of the price – it looks nice for the picture, but take a closer look and you'll see that the finish looks rushed.
Verdict: 4 / 10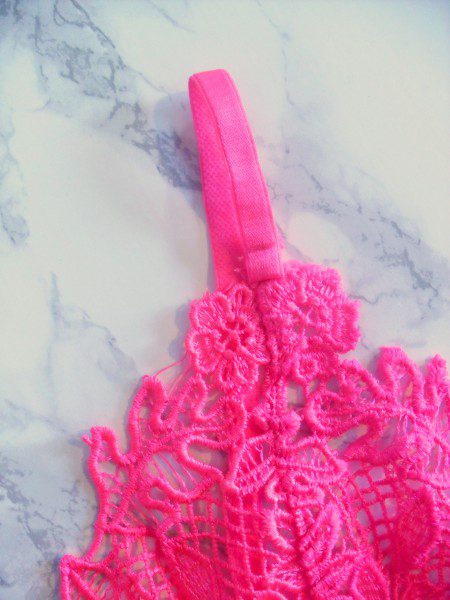 Fit
The Willa bralette and thong both comes in sizes Small to Large – I bought both in a size Small (UK 8-10). The thong fits fine and will work on a UK 6 also.
The bra also fits me really well – I tried it on in store and was really happy with how it fit me as a size 30E (or sometimes 32DD). It'll fit a cup size or two smaller as well, but not larger. The band I wear as tight as it'll go. It can be expanded by 4 inches so up to around a 34 band size.
Verdict: 7 / 10
Durability
Both pieces are hand-wash only, unsurprisingly with such delicate lace (because although it's a thick lace, yes, it's still very easy to snag). I don't expect this set will last for years, but it's not terribly made either – the hardware is coated metal, and all the stitching feels secure.
I just wish they'd used the same satin elastic for the thong as on the bra straps, because like I mentioned, the thinner elastic is already going a bit wiggly around the edges. This happens from overstretching a low-quality elastic (or from too much heat, but I've only washed this in cold water!).
Verdict: 6 / 10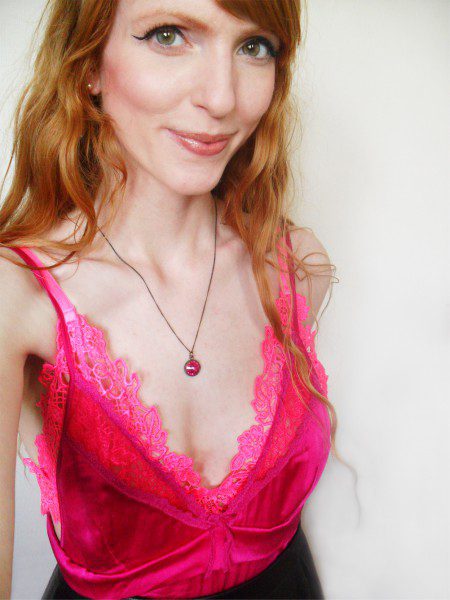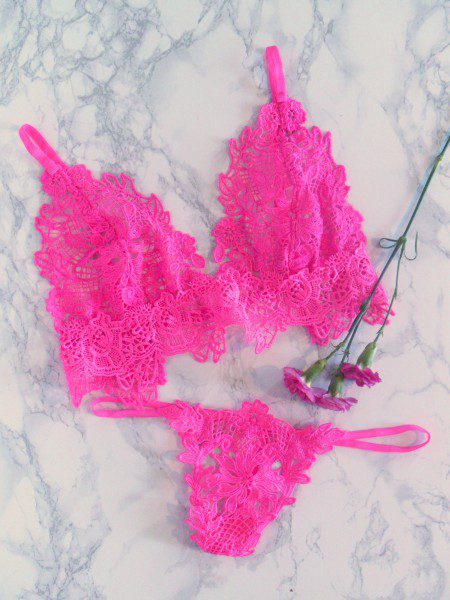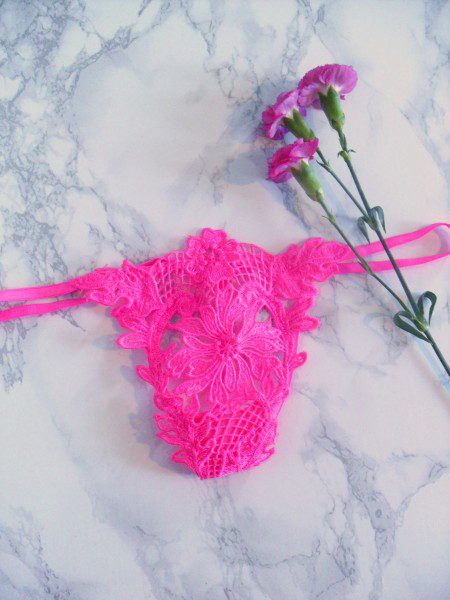 Value for Money
Ann Summers' Willa bralette costs £16, and the thong costs £10. I feel like I can't complain too much about the thong because it is only £10, but the bra is only £6 dearer and has lashings more lace, satin shoulder straps, 7 bits of hardware…
Basically what I'm saying is that with the thong you get what you pay for and nothing more, but the bra represents better value for money. It's not perfect, but for £16 it's a really great, affordable buy and so fun to wear in this glowing pink colour! If you're not in love with the thong or adamant you must have a matching set, I'd recommend just picking the bra up and pairing it with something else.
Verdict: 8 / 10
If luminous pink isn't your thing, Willa also comes in red, black, grey and white. A bodysuit or chemise are also offered in some of these colours – check out the full range of Willa items here. I just wish there was the option of some lace-backed knickers à la Belle et BonBon too.
Which colour would you buy the Ann Summers Willa bralette set in? And do you prefer that they've kept the design fairly 'cheap and cheerful' or would you rather pay a little extra for some nicer finishing touches?