Disclosure: This set was a personal purchase. This blog post contains affiliate links.
If you have any experience with handmade lingerie brands, you've probably heard of Sugar Lace Lingerie. I had, and, truth be told, before my first Sugar Lace order I was skeptical. People raved about the brand in a way that seemed too good to be true. Even if the pieces are as beautiful as they look online, I thought, they couldn't possibly be as great as I'd heard.
Well, now I've learnt my lesson. I believe the hype.
I placed an order for both the Lilac Dream Set and the Lilac Ruffle Babydoll on the tail-end of this past May, which arrived at the start of July. As soon as I pulled my new items out of the packaging, I fell in love. I was immediately struck with the fear that they wouldn't fit, thinking there was no way they could be as perfect as they seemed, no way I could actually own such beautiful clothing. But, to my immense pleasure, the pieces were wonderful in every way.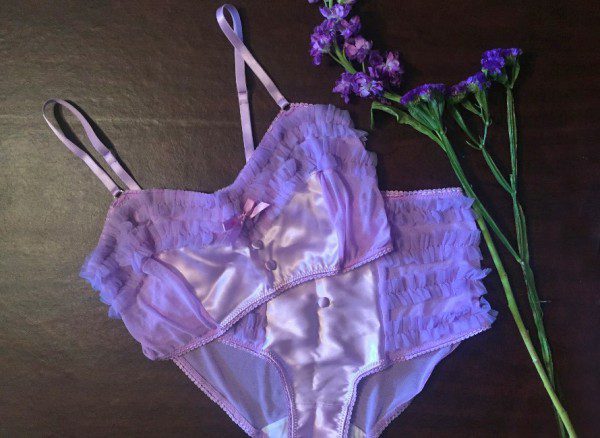 Appearance: 10/10
Both the babydoll and the set are exactly as the brand name would suggest: sweet, fun, and coyly sexy. The pastel lilac colour is gorgeous—it's what initially drew me to these pieces. The details are stunning, too: glossy satin buttons, ruffled sides, and lavender mesh on the Lilac Dream set come together to create a dreamy, delicate, sugary-sweet look.
Though not sold as a complete set, the Lilac Ruffle Babydoll matches the Lavender Dream set to a tee. It comes with optional marabou puffs for the perfect extra touch of softness and luxury. Adorable ruffles – a recurring ingredient in Sugar Lace products – add a playful element to each piece. Overall, I find Sugar Lace to be consistently original, a truly unique brand that mixes vintage styles with modern elements.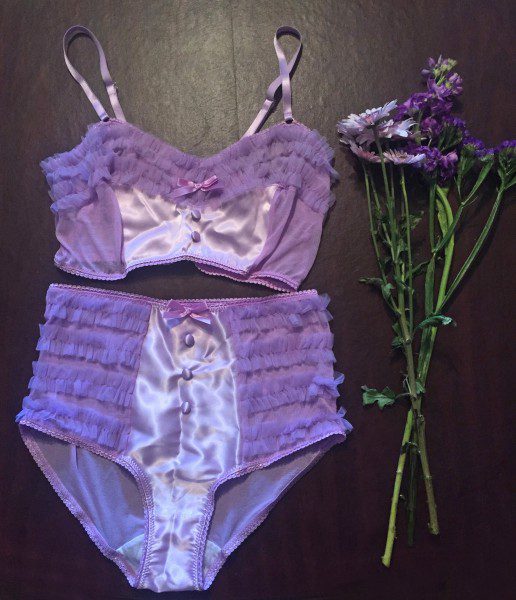 Fit: 9/10
I don't generally wear bralettes due to the lack of support, but sometimes I see one too gorgeous to pass up, large bust or not. The Lilac Dream longline bralette was one of these, so I had it custom-sized for a 32E (sizes range from XS-XL, but Adrianna, the woman behind Sugar Lace, was happy to custom-size it for me free of charge). It does fit me perfectly, but, as expected, there's minimal support and my boobs tend to fall to them bottom of the longline. As this is my usual problem with bralettes, I wasn't surprised or even really disappointed, which is why I've still given the fit an excellent rating overall.
As for the Lilac Dreams briefs, I'm a UK size 8 and the Medium are a perfect fit. For me, Sugar Lace is much more about beauty than utility. It's lingerie to lounge in, not necessarily something I'll wear out and about.
I ordered the babydoll in size Large, per Adrianna's advice, and it fits perfectly. The elastic comes in tight enough that the top fits perfectly without digging in. Before ordering a babydoll, especially if you're a larger bust size, I suggest shooting Sugar Lace a message to double-check sizing.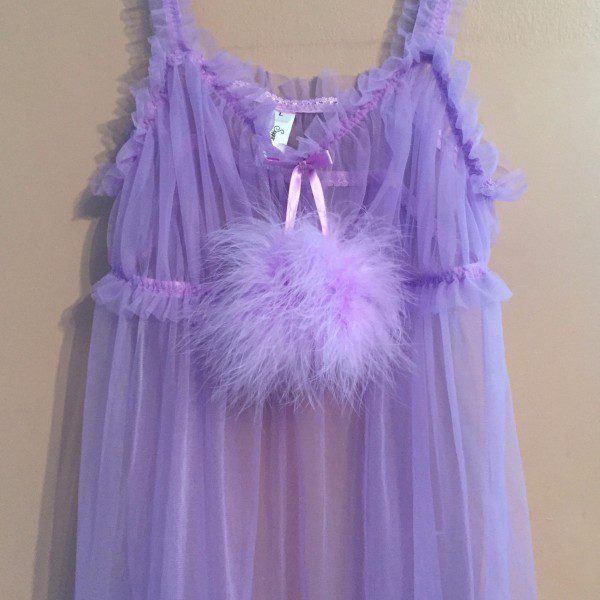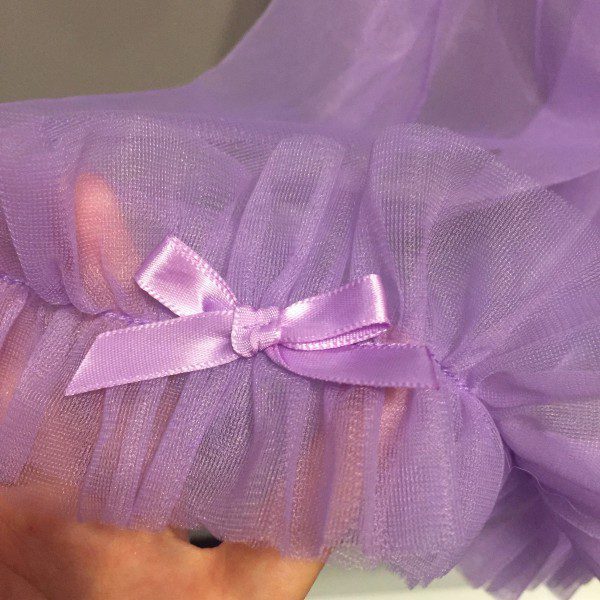 Construction: 10/10
The craftsmanship on these pieces is excellent. There isn't a thread out of place, and none of the fabric digs in or itches. Each button and ruffle is carefully, sturdily sewed on.
Customer Service: 8/10
I had a few questions about fit and sizing, and while the responses were quite helpful when they did come, I wasn't wholly impressed by the speed – and, in some cases, the lack – of response. However, more importantly, the products were exactly as I had requested. There were a few optional details I requested – straps rather than a halterneck ribbon on the Lavender Dreams set for a bit of extra support, and marabou puffs on the babydoll – and these were executed beautifully on the final product.
I also appreciated the response to my inquiry about ethical sourcing for the marabou puffs. As a general rule, I try to avoid fashion that uses animal products. So, while these puffs are drop-dead cute, I wanted to do some research before deciding on them. Adrianna was very open to the question and not only did she give me the name of the website she gets them from, but she also informed me that she's always on the lookout for more ethical options. I was impressed by her transparency, which is rare in the fashion industry.
Value for Money: 10/10
When I placed this order it was the most money I'd ever spent on lingerie at one time, as I'm on a student's budget. But I'd been eyeing these items for months, so when there was a 20% off flash sale, I took a leap and placed my order. It came out to around £120 including shipping with the discount – regular prices are $76 (~£58 / 67€) for the Lilac Ruffle Babydoll and $94 (~£72 / 83€ ) for the Lilac Dream Set.
I'm happy to say that I'm so satisfied with the resulting products that I would definitely buy more at full price. The quality, craftsmanship, and detail behind these pieces make them well worth it. However, if you're like me and you're on the lookout for sales, follow the Sugar Lace Instagram page where flash sales are occasionally announced. There's currently a sale on the brand's Cheeky Cactus Knickers.
Would I Recommend It?
Yes! Sugar Lace Lingerie makes me feel gorgeous and glamorous, and these products are some of my favourite lingerie.
Clearly, Sugar Lace has stolen my heart. What about you? Have you fallen in love with the pastels and ruffles, or do you prefer more utilitarian underthings?
Eliza.