Disclosure: This chemise was a personal gift (not from the brand).
I'm afraid I've been a terrible blogger and sat on this review for 8 months, so the chemise is now sold out on Chantelle's website. It is however still available in black direct from Chantelle in the US, or in the Milk colour shown here at Nancy Meyer (USA), BHF Online (UK) and Selfridges (UK).
This was a Christmas gift from my in-laws. I'd pointed it out briefly to my fiancé whilst shopping in Spain – it was my favourite thing in the Chantelle boutique – and he must have been consulted for gift advice because a few days later there is was with my name on it. Yay!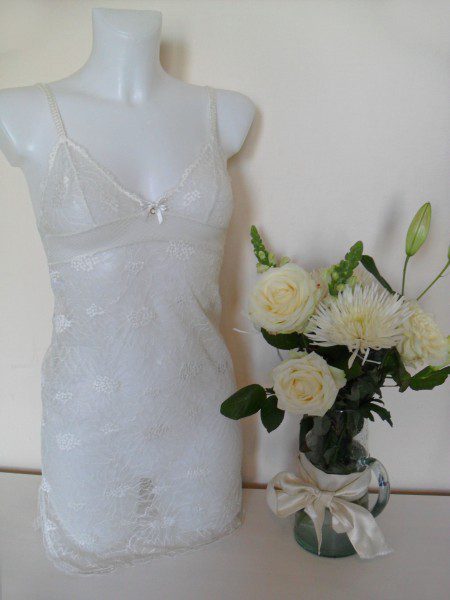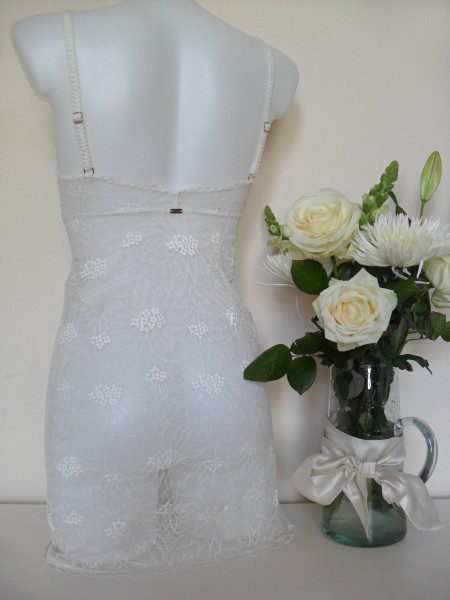 Appearance
The Opéra chemise is a slim-fitting style that hits about mid-thigh length, with a little slit at one side. It's made from all-over French leavers lace – a really beautiful, large floral motif over most of the body with a scalloped trim at the hemline and a band of sheer net below the cups. The straps are made from frilled elastic and gold metal hardware.
Although a relatively simple design, it looks expensive thanks in no small part to the gorgeous lace but also the finishing touches – I particularly like the discreet 'Chantelle' plaque at the back, which is a detail you could only expect to find on a luxury product. A timeless, elegant piece which is exactly what Chantelle specialises in.
Verdict: 8 / 10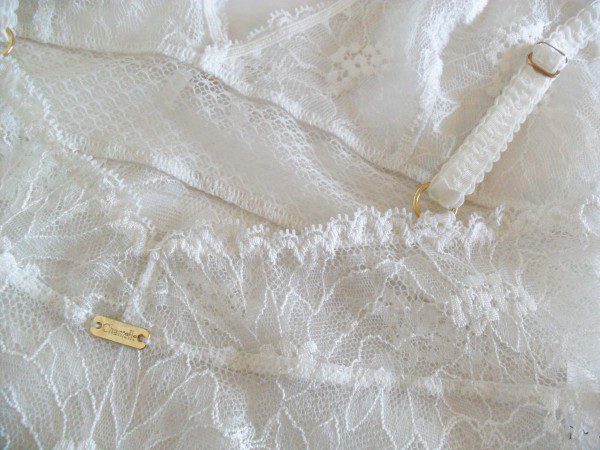 Construction
The main lace on the Opéra chemise is 84% nylon and 16% elastane, so it has plenty of stretch for a great fit. It's also a quality lace in that it's durable – even after 8 months, there's not a single snag or bobble on it.
Verdict: 10 / 10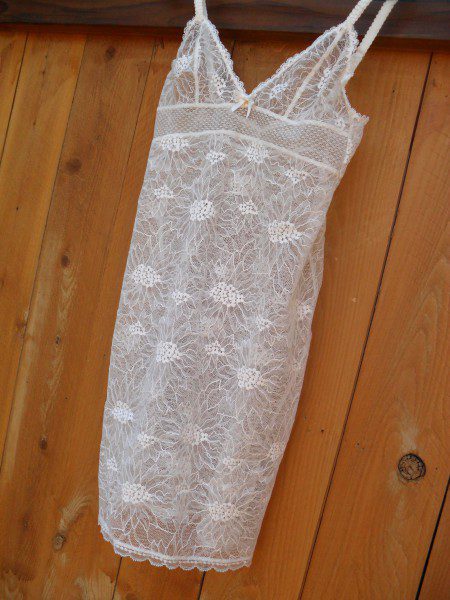 Fit
My chemise is labelled a size 1, I'm assuming that's a Small as I can only find it in S-L online. Chantelle doesn't give size advice for chemises/nightwear, but I'd say this is a UK 6-8.  I'm usually a UK 6 and it's a body-skimming but not overly clingy fit on me.
If I'd been able to try this on in store I probably have sized up, compromising on a looser body fit for more room in the cups. Like on my mannequin, my boobs end up sitting in the mesh band below the cups rather than in the cups themselves. I'm hovering between a 30DD and 30E (or 32D and 32DD) nowadays, so think the size Small would fit as it's intended to on a 30C/32B or smaller. Sadly I couldn't get back to the shop to exchange it!
Verdict: 6 / 10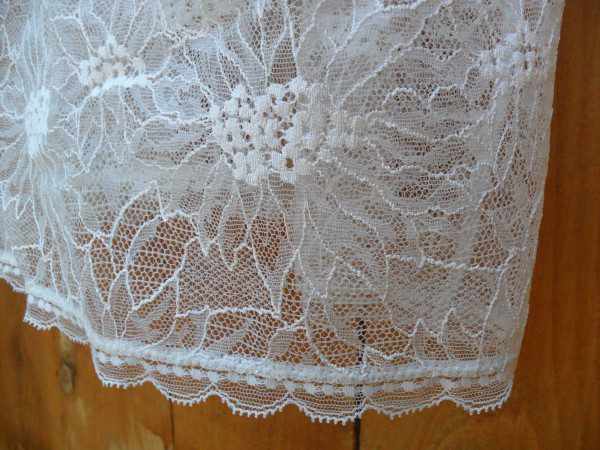 Durability
I've already mentioned that the leavers lace has held up incredibly well; the stitching is also still secure on all of the seams and decorative details. I've been hand-washing the chemise but the label says it can be machine-washed too – definitely use a mesh delicates bag if you're going to do that though!
Overall I'm really impressed with how the Opéra chemise has lasted – it's not just a timeless design in how it looks, but one you could feasibly be wearing a decade from now if you take good care of it.
Verdict: 10 / 10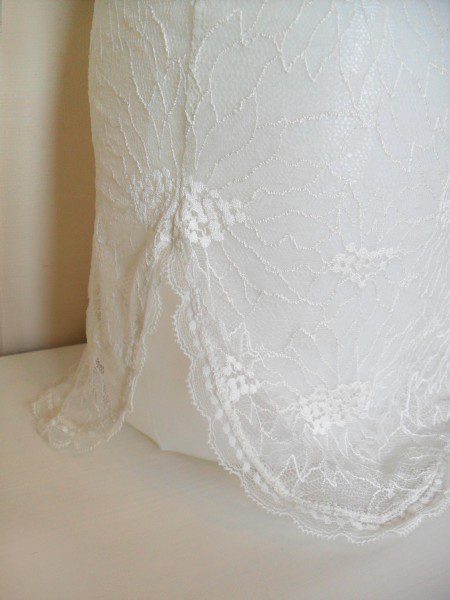 Value for Money
The Opéra chemise originally cost $150 on Chantelle's website (currently on sale for less) which is about £114 or 134€. UK stockists BHF Online and Selfridges are selling it for roughly 20% less than that though. If lace chemises are a staple of your nightwear wardrobe, this is one that's worth splashing out for – divine lace, elegant style and a construction that's built to last.
Verdict: 7 / 10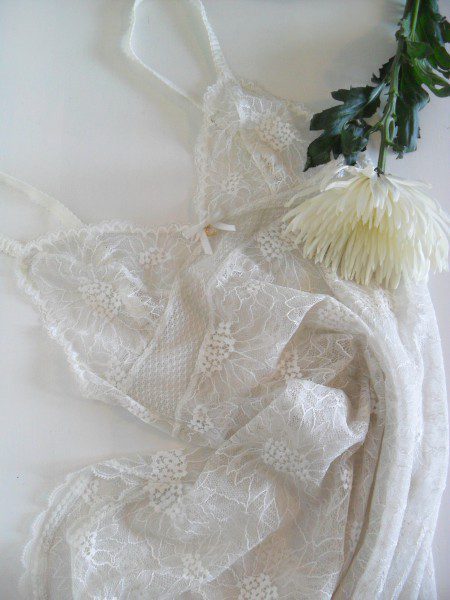 Final Thoughts
Honestly, this is a piece that's grown on me. Due to the cup fit issue, if I'd tried it on in store I know I wouldn't have bought it, especially not for £100ish. However having had it thrust on me (oh, woe is me!), I've been wearing it regardless and gradually I've stopped caring that the fit isn't quite right for me. I just love the lace and the chic styling too much to leave it hidden in a drawer.
Chantelle is a company rich with heritage (it was founded in 1876), but I'd never really paid them much attention before I received this. I had them in the back of my mind as designers of high-quality but rather plain basics, like beige t-shirt bras. They do make that sort of stuff, but as I've come to realise they also have some lovely lacy bits and pieces too and are great for classic, elegant lingerie that won't go out of style within a year or two. One I'll be keeping an eye on in future collections for sure.
Are you a fan of Chantelle? What do you think of this Opéra chemise design and the lace it's made from?