Disclosure: I received this bikini set free of charge from Lara Catherine Collections to review. All opinions are, as always, 100% honest.
Back in June Lara from Lara Catherine Collections sent me a couple of her designs to try out – you can read my Josaphine bralette set review here if you missed it. I've held off on reviewing the bikini until I could give it a proper test in the water – I've been meaning to start taking my son to the local pool at weekends but other plans keep getting in the way, so he finally got his first taste of swimming last week in the good ol' sea (and loved it, which I did not expect).
Lara Catherine Collections currently offers two styles of bikini top – a padded triangle and this underwired option – and three styles of bottoms of which two are thongs. There are no swimsuits just yet but she's working on them!
Rather than offering perfectly-matching sets, Lara has gone for a range of colours and prints in the tops which can be coordinated with a selection of block-colour bottoms. There is one printed bottom, which as it happens matches the lilac and green bikini top I chose, but it's a thong style which I don't wear so I went for plain lilac tie-sides to complete the look.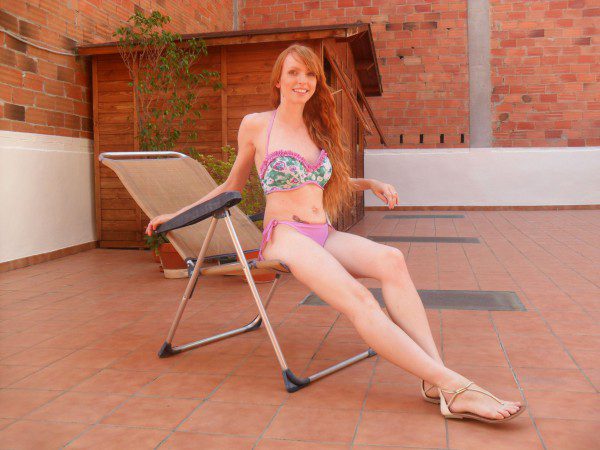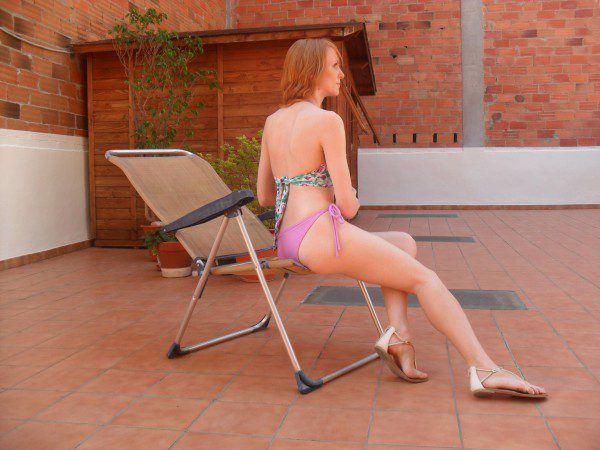 Appearance
I was instantly drawn to the wired bikini tops over the triangle ones (even though I typically wear the latter) because of the swathe of thick ruffles across the top – what a cool feature! I chose this print because it struck me as just abstract enough that it's not just yet another floral bikini top. It looks a little like paint splodges, and I think the lilac and green work really well together.
The bottoms have a very 'cheeky' cut, the back is much narrower than on any other bikini bottoms that I own. They don't look it on my mannequin or in my carefully-posed-to-not-show-you-too-much photo but they really are itsy-bitsy! Since there are already two thong options in Lara's collection, I'd love to see a fuller-coverage style added for people like me who prefer a standard brief cut, as she offers in her lingerie range.
Verdict: 6 / 10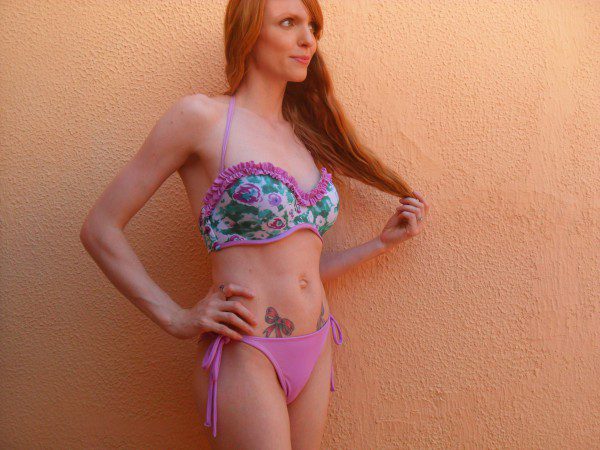 Fit
First, the bottoms. I received these in a size Medium which is a UK 10-12 on Lara Catherine Collections' size chart but perfect for me – the tie-sides close all the way without overlapping. They fit true to size though as they're intended to have even less-coverage at the back than mine do.
The bikini top I originally received in a size Large, the same as the bralette. However whilst the bralette fit is spot-on, the bikini top was way too big so I swapped it for a Medium. The fit isn't great to be honest – the cups gape a little and the gore floats a good inch or more away from my body. I think I'd have been best off with a Small (I wear a 30E for reference – smaller bra sizes may therefore be sized out), but I can get this one to fit more-or-less by pulling it in as tight as I possibly can at the back.
Verdict: 5 / 10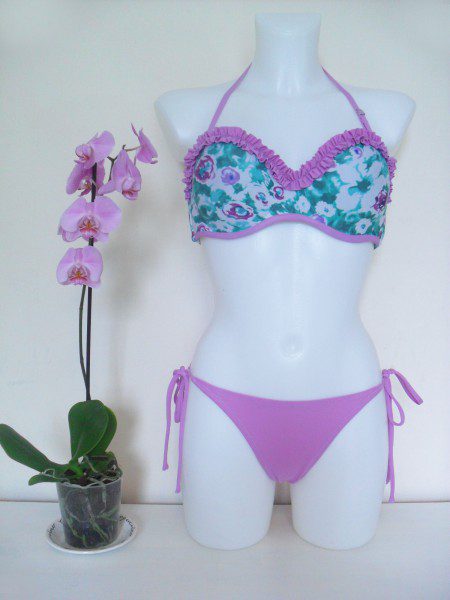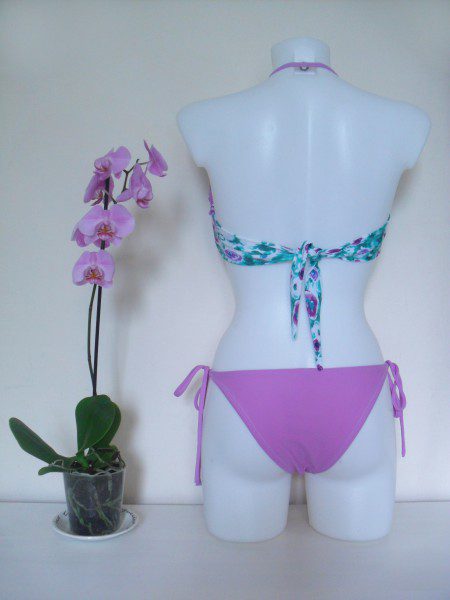 Construction
You might remember that I had a few construction issues with my Lara Catherine Collections bra set. Well, I'm happy to report that the bikini is much better made. The cups are thickly moulded with underwire and a ~1cm wide piece of boning at the start of the wing to help it hold its shape. There's also an adjustable, detachable halter strap.
The bikini bottoms are lined inside and nicely-made. The only thing that's perhaps not the best construction is that the thread hasn't been colour-matched. It's particularly visible inside the bra where white-ish stitching goes over black fabric – it doesn't make any difference from the outside but would give a neater finish overall.
Verdict: 7 / 10
Durability
It's recommended on the website that you hand-wash the bikini, which I've been doing. I've only worn it three times so far but it seems very durable and easy to keep clean.
Verdict: 9 / 10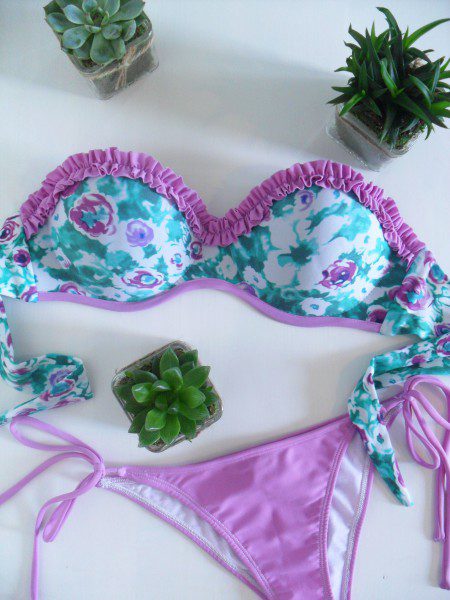 Value for Money
All Lara Catherine Collections bikini tops, regardless of print or style, are £22.99 (~$31 / ~27€) and all bottoms are £10.99 (~$15 / ~13€). That's a tad more expensive than shopping at somewhere like Topshop or New Look on the high-street, but is a great price considering that the set has been handmade. The quality is perfectly reasonable given the price point.
Verdict: 7 / 10
Final Thoughts
Lara Catherine Collections is a relatively new indie brand and I'd love to see her work on polishing her construction on future collections. The significant difference in sizing between the bralette and the bikini top means I'd also recommend that she review her sizing to make sure its consistent across the board. That said, her prices are affordable and from what I've seen her designs are fun, durable and comfortable to wear, so it's one to check out if you're interested in supporting indie designers but are limited by your budget.
What do you think of this bikini set? And what's your favourite bottoms style on a bikini – thong, brief, high-waisted, something else?