As usual, I'm ending the year with a round-up of my very favourite purchases from the past 12 months. Previously I've done a 'top 10', but when I was going through my purchases this year I realised just how little I've actually bought – perhaps my current one-item-per-month limit won't be so tough to stick to after all. Sharing my ten favourites with you would basically just be a 'here's everything I bought that I didn't dislike' list, so for 2016 I'm going with five.
As in previous years, only items that I've actually paid for myself are featured here. My reviews are always honest regardless, but this way the skeptics amongst you can be sure the picks below haven't been swayed by freebies! These are the five purchases that have really stood out to me this year for one reason or another…
5. Maison Lejaby Nuage balconette bra
I think this is the plainest bra I've ever bought, and I couldn't be happier with it. I'm not normally one for basics, so for a bra like this to get onto my best-buys-of-the-year post means it's something really special. It's well-made, the fit it spot on, I love the perfectly rounded shape it gives, and it's super comfy. Yeah, it's still pretty boring but that's an easy fix – I have about a squillion pairs of fancy black knickers to pair it with!
I'm in Spain right now and had to pack light (a suitcase full of Christmas gifts and over 80 nappies, because they're three times the price out here, doesn't leave much room left for clothes!) so I only brought two bras with me, and this was one of them.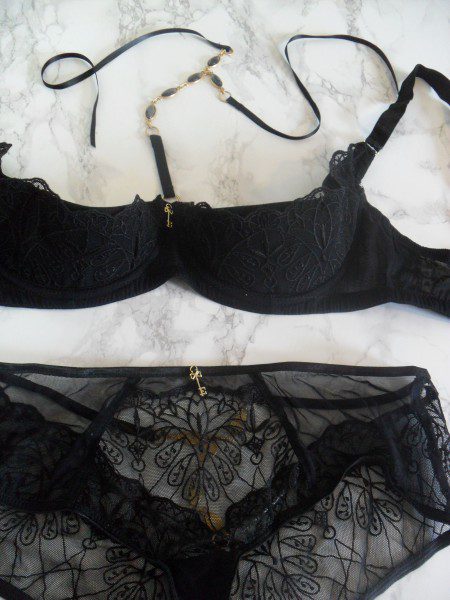 4. Escora Zohra quarter-cup bra set
I never would have bought a quarter-cup bra if I hadn't tried one on to write this post and realised just how supportive they could be. Since then I haven't been looking out for one exactly, but I stopped ruling them out at first glance. I'm glad, because this bra is really fun and different to anything else that I own.
The detachable choker is so 'me', as are the little Escora 'E' key charms which I pretend are Es for Estelle! I also love the embroidery on this set which is an unusual blend of floral and geometric. This set was my first purchase from a brand I've been eyeing for a while, and I'll definitely be back for more.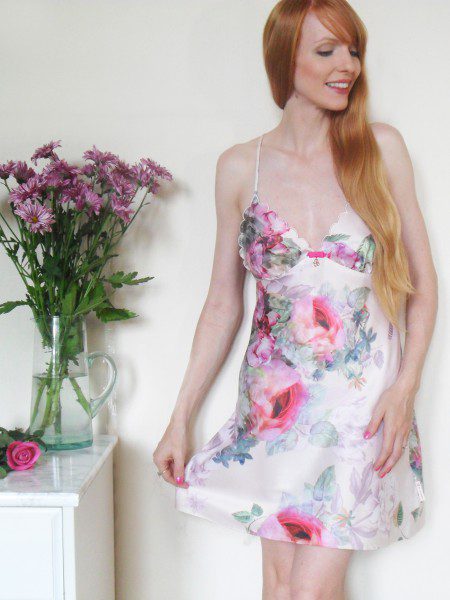 3. Ted Baker Peony chemise
The growth of digital printing has been one of my favourite things to happen to fashion lately. I've really noticed it in the lingerie world this past couple of years with floral prints that have a depth of colour and a realism that is just so much more interesting than your standard, vaguely-cartoonish looking floral. It's like wearing a bouquet.
As far as mid-priced lingerie and swimwear (and other clothing) goes, no one does realistic-looking floral prints better than Ted Baker. It wasn't just the print I liked on this chemise though, the glossy scalloped edging and rose-gold charm are really pretty too. I couldn't believe this was only £30 when I saw it in the shop, it looks like it should have cost more.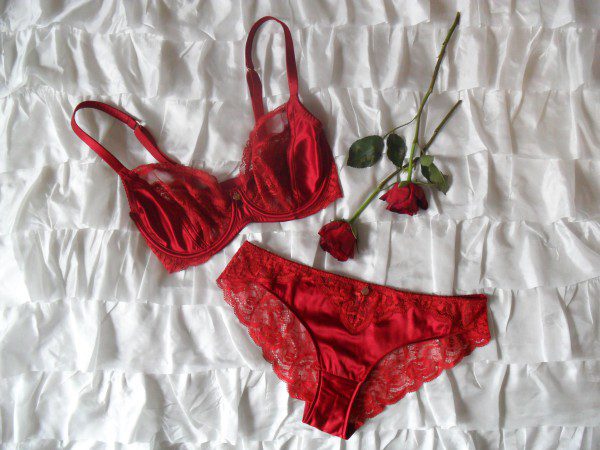 2. Rosie for Autograph silk bra set
If you read my review of this set then you knew it was going to be on today's list. I gave this set a 10/10 score for everything, which was a first for this blog, so yeah, I love it! I'd been hunting for my perfect red lingerie set for literally years – it would have to be beautiful but not too fussy for everyday wear, it would have to be just the right shade of rich, deep-but-vibrant red, and of course it would have to fit like a glove. I kind of thought it was a pipe dream, but no, that set was out there for me and this is it.
There's also the fact that all three pieces (all silk, I might add) totalled £58.50. Yes, I've owned fancier things, but none of them were so affordable as this. Best sixty-odd quid I spent all year as far as I'm concerned.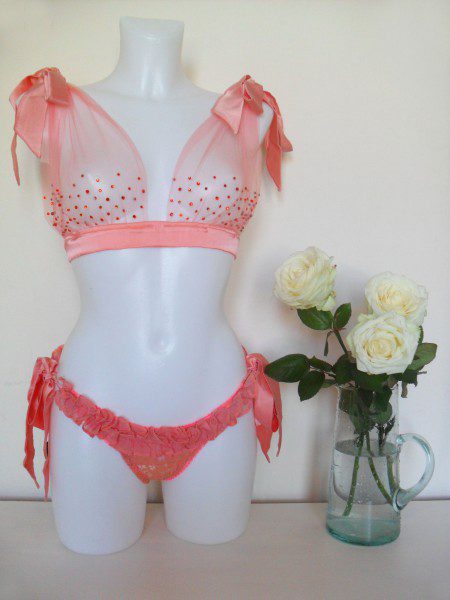 1. La Lilouche Adelle bra & Lana knickers
I like scoring things I review on different aspects such as fit and durability because it's helpful (I hope) for you as the reader to see, at a glance, where a piece stands out and where it falls down. But that on its own is a very mathematical way of approaching lingerie which ignores that one, much more important factor – how does the lingerie make me feel?
The M&S set above might have received my best review points-wise, but it wasn't my favourite thing I bought this year. This La Lilouche set was, because it makes me feel like an absolute princess! It's just so, so beautiful that I get that sense of awe every time I look at it, even after owning it for a while. Yeah, it's super delicate and not all that practical, but I value it more as a work of art than anything else. One day when I'm rich, I'll buy all my underthings from La Lilouche.
What was the best lingerie that you bought or received this year?