Happy New Year everyone!
2017 was a rather eventful year for me to say the least. I completely redesigned my website, quit my job to write about lingerie full-time, visited my first lingerie trade show, saw the inside of a lingerie factory for the first time, and was honoured to be named on Lingerie Insight's latest Power List of the 'biggest stars' in the industry right now. In my personal life, I also watched my wonderful little sister get married, and of course there's been the biggest change of all – I upped and moved abroad.
I have no idea what 2018 will hold, but before we get any further in, it's time to take a look back at my favourite lingerie purchases of 2017. This is the way I like to round off each year on my blog, because it gives me an opportunity to pause for a moment and really think about which brands and pieces really stood out to me over the past 12 months.
As usual, the lingerie featured below are strictly things I've bought myself, not been gifted by a brand, so you can know I'm only highlighting something because I really, really love it. Garments get included here for all different reasons, from simply being beautiful to being something I find myself wearing all the time. These are the top 5 lingerie purchases I definitely don't regret making in 2017: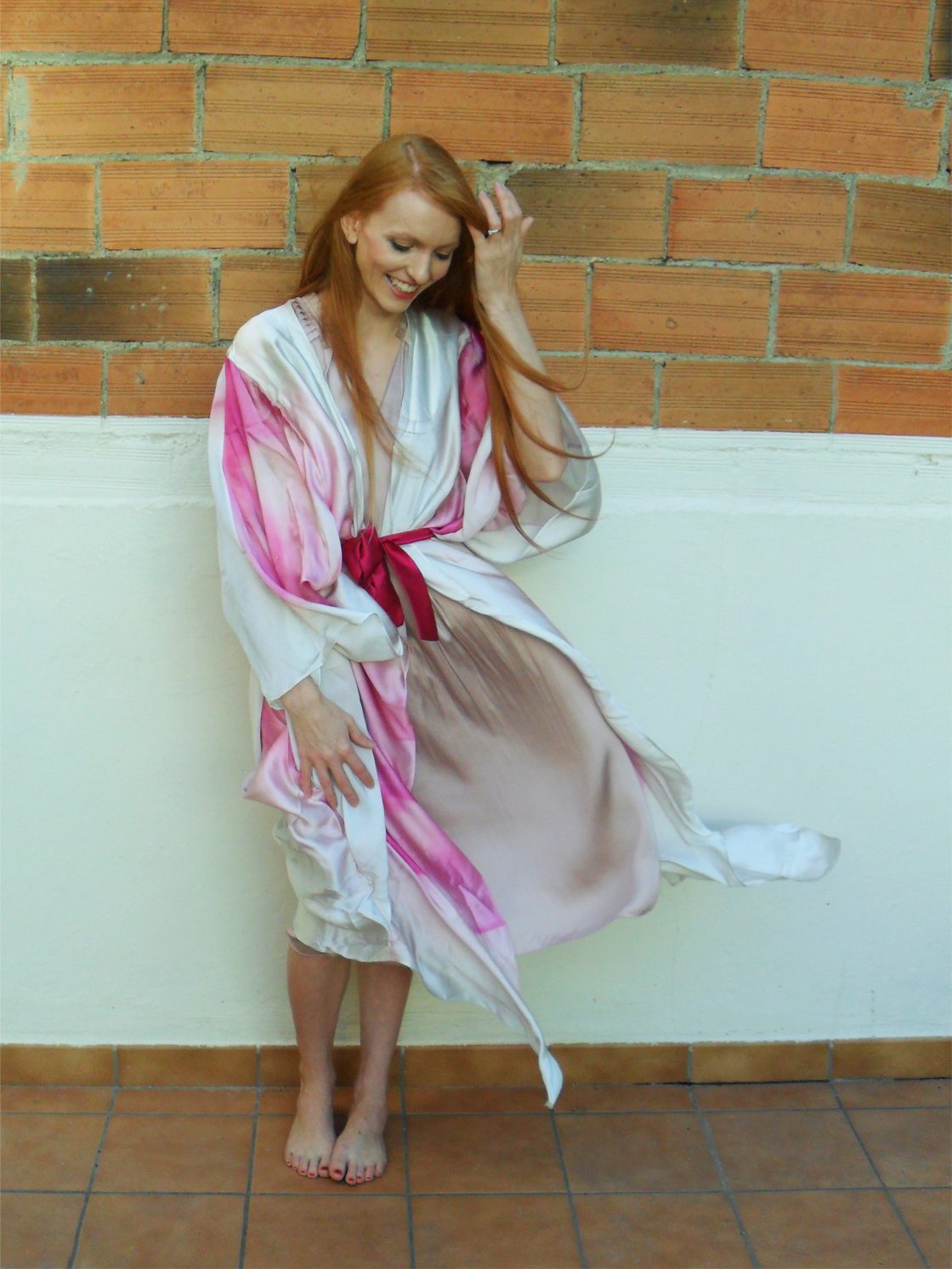 5. Gilda & Pearl silk kaftan
I snapped up both this kaftan and a beautiful silk and lace robe from Gilda & Pearl's ongoing Depop sample sale, both for incredibly tiny prices. The version of this robe that's on their website costs £850 which is just way out of my budget right now, so I simply couldn't resist a chance to try the brand out when I saw this robe going for much, much less.
Of course, it is a sample sale item so it's not perfect – it's missing the holes to thread the ribbon sash through, so I need to do some sewing work to get it to fit the way it's supposed to – but it's definitely worth what I paid and then some! I've never owned such a luxurious robe before. I can't decide whether it most makes me want to lounge indoors sipping cocktails, or run around outside taking photos of the way it floats so perfectly in the wind.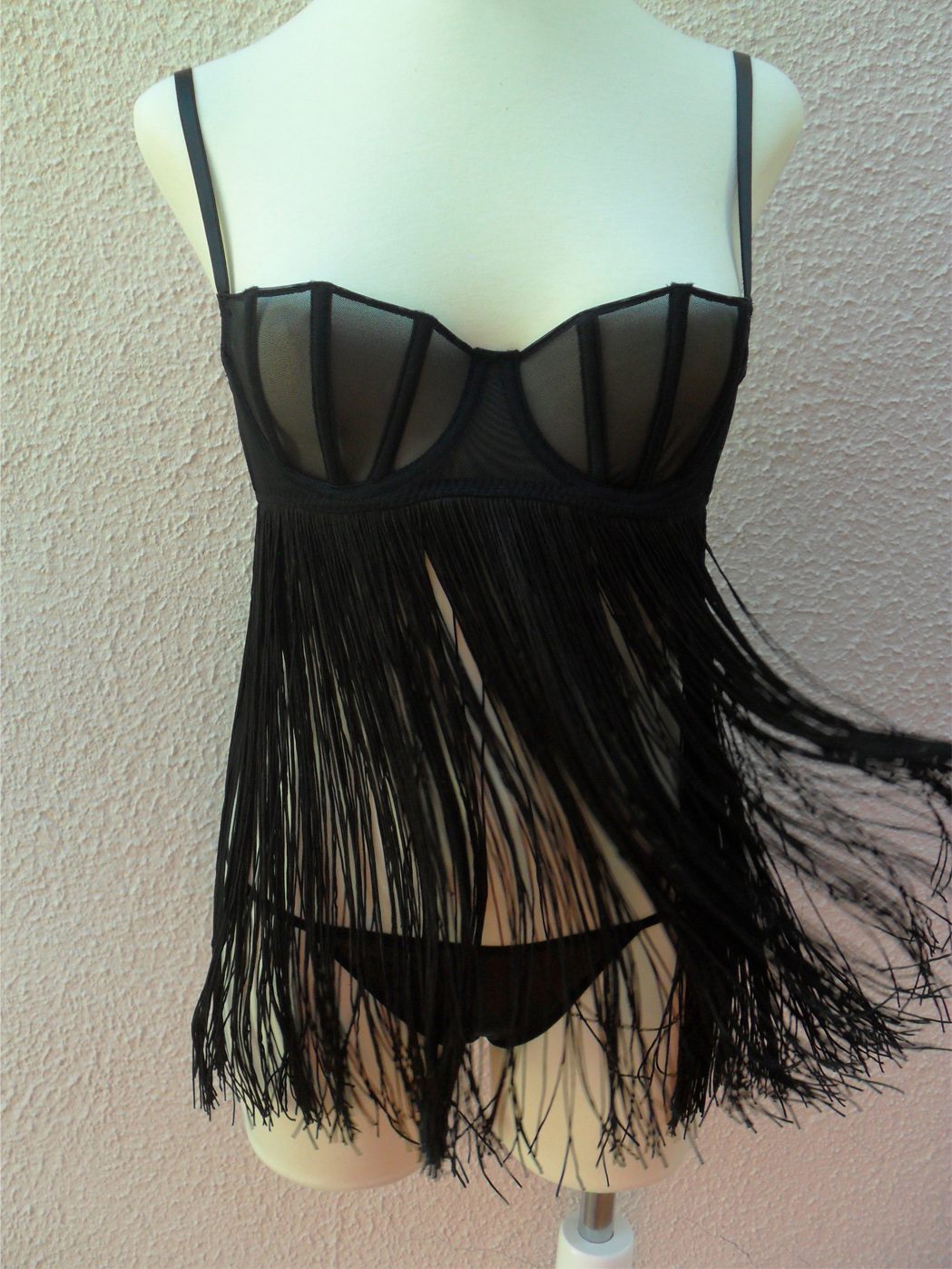 4. Jezebel Liz babydoll set
Here's another piece that benefits from a bit of movement to really come to life! I've had my eye on this Jezebel babydoll for some time now, so when I spotted it going cheap on Amazon I bought it in a flash. I'm planning to post a review later this month or in February, but I can tell you now that I like it. It's not the fanciest or the best-made piece of lingerie I bought in 2017, but gosh is it fun to wear. I mean, hello, fringing!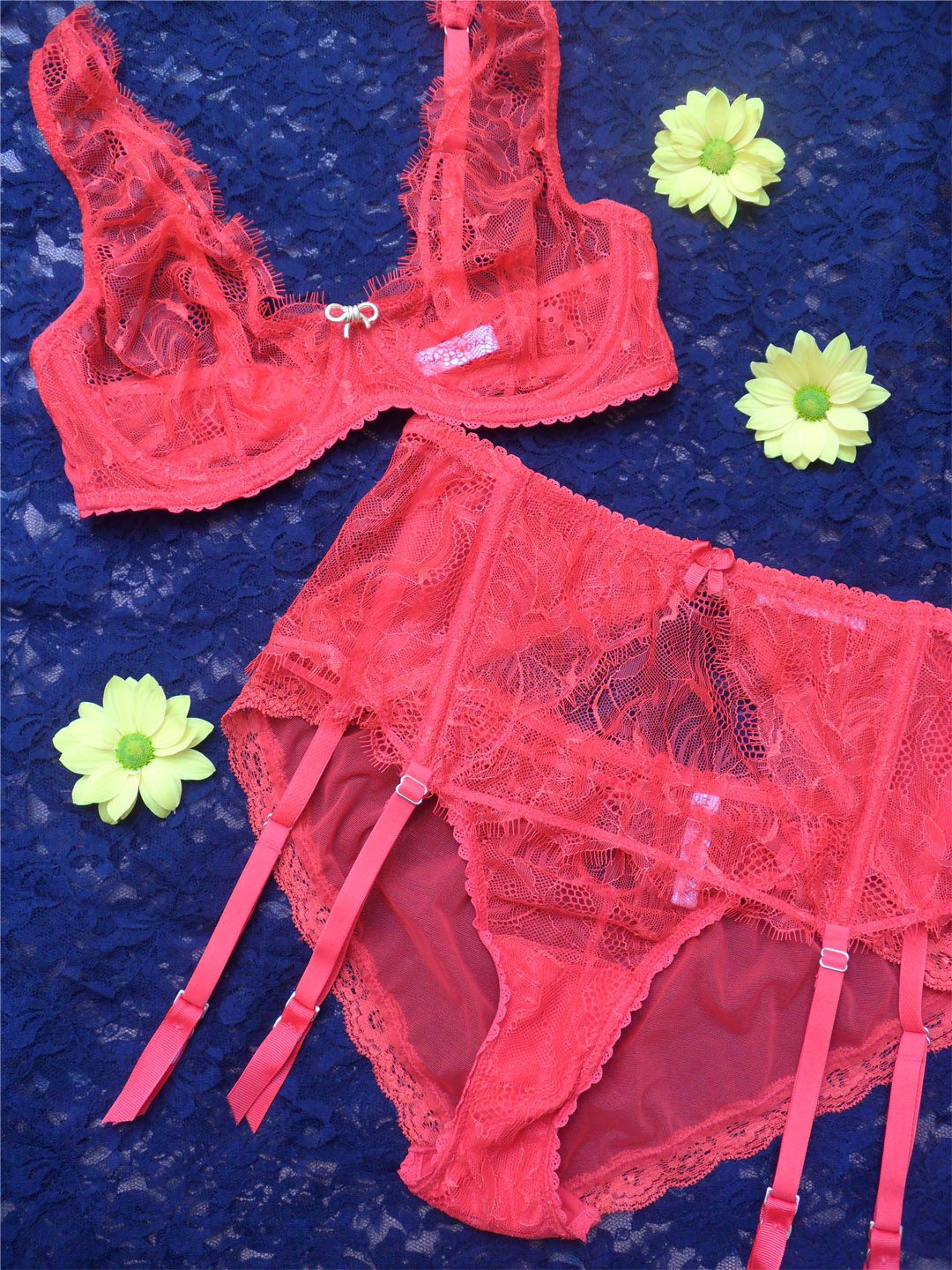 3. Mimi Holliday Hide and Seek bra set
Like the Jezebel look above, I bought this set recently and am planning to do a proper review at some point soon. However, it's made it onto this list today because of the bra. It just fits so perfectly and looks so good on that I fell in love with it the moment I tried it on, and it doesn't hurt that it's in my favourite colour too.
Most of all though, I love that metal bow at the centre. I'm an absolute sucker for anything with a prominent bow. Having a little ribbon one between the cups is so ubiquitous in lingerie that I rarely even notice it's there, but making it out of metal instead suddenly turns it into the most eye-catching part of the bra.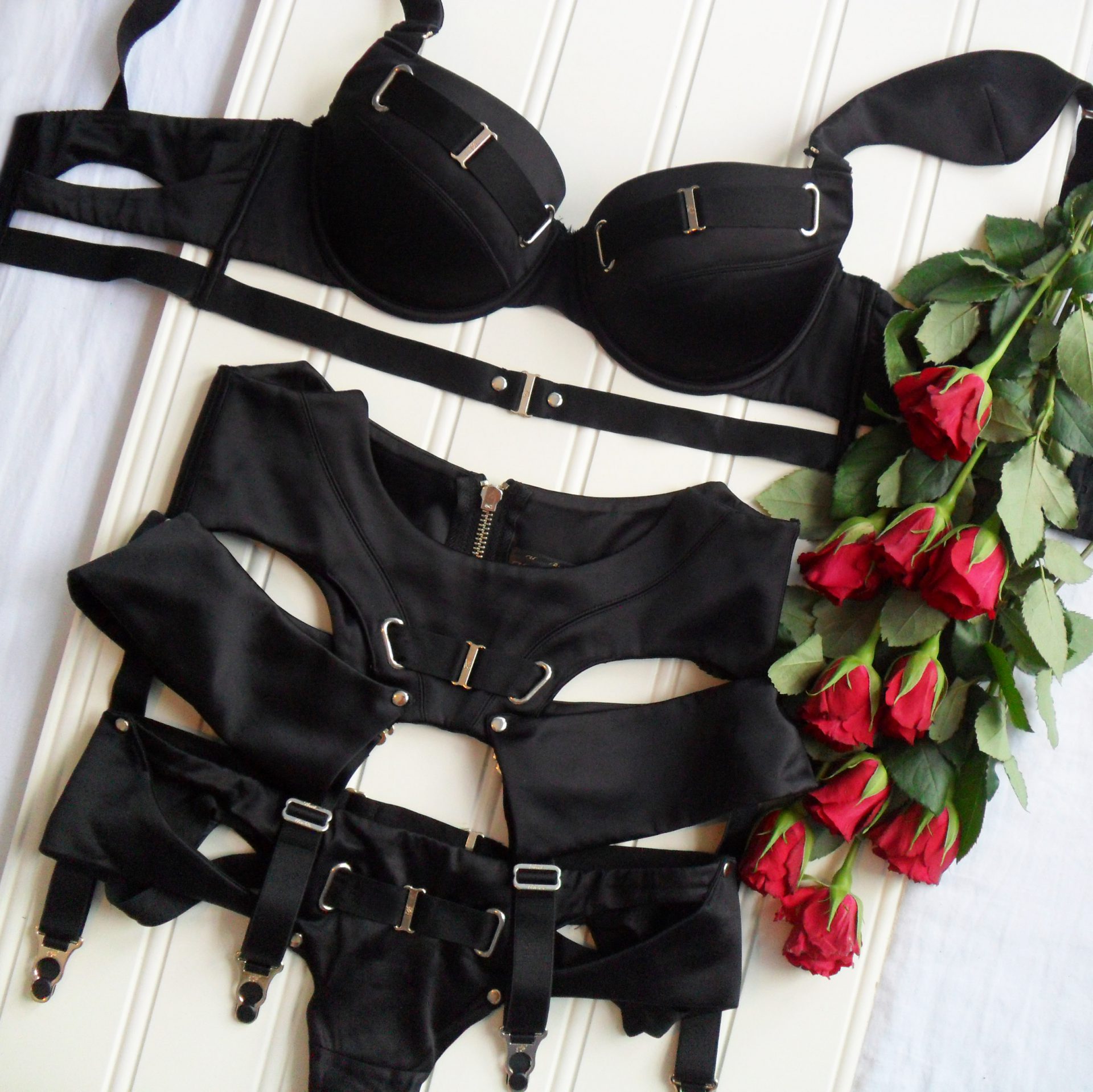 2. Honey Birdette Billie bra set
I wrote a mini review of this set earlier in the year. As I mentioned then, I'm torn between disliking this brand's business practises, and loving their lingerie. I decided though that I would be doing this set an injustice if I didn't include it in my list of top 2017 purchases, because it's been one of my most-worn bra sets of the whole year. I picked it up back in February and I'm not sure a week has gone by since without me putting it on.
It's early days yet, but now that Honey Birdette has come to the UK and Agent Provocateur is flagging, the latter could have some serious competition here. The quality of this Billie set really is exceptional, and it still looks as good now as it did when new. I don't know if I'll shop with Honey Birdette again, but I do know I'll be wearing this set until it finally falls apart.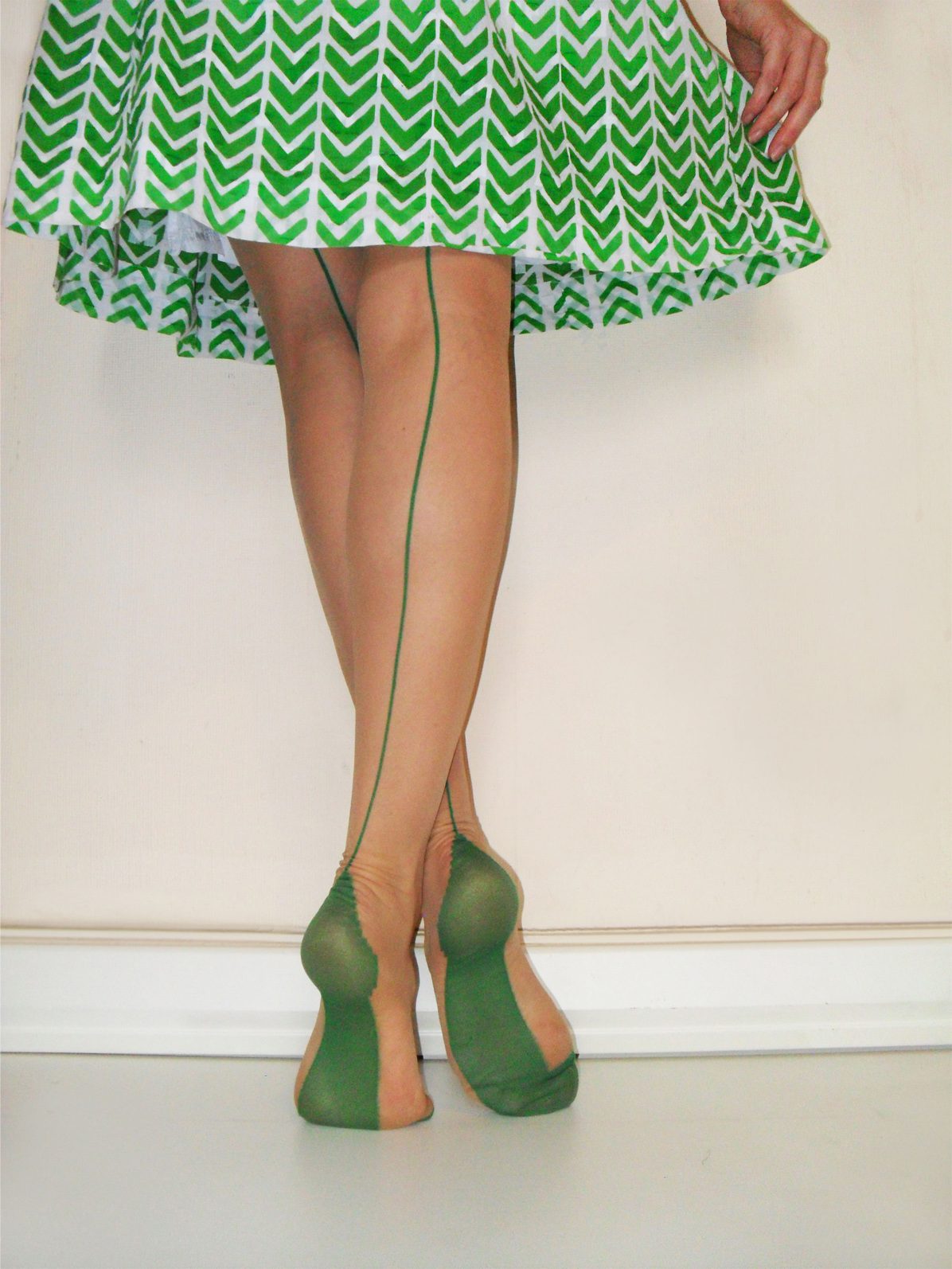 1. What Katie Did seamed stockings
My very, very favourite lingerie purchase of all last year wasn't anything big or expensive – it was my £10-a-pair What Katie Did stockings. I've loved the value-for-money factor on these ever since my first pair in black, but I really fell for them when the fun colours arrived. I currently own them in green, blue, pink and purple, and I wear all of them a lot. It's so great finally being able to match my hosiery to my underwear!
Now that I have my red Mimi set above, I'm definitely going to have to pick up them up in red. I'd also been hoping for yellow too, and it seems my wish will soon be granted – yay! May as well make a new wish then – if the brand ever releases these with in metallic silver or gold, I will be all over them no matter the cost.
Oh, and I would love to see a seam-free version, but I'm not sure that will be on the cards given the brand's retro-inspired aesthetic. Still, if you want budget-friendly, good-quality stretch stockings in colours it's almost impossible to get hold of elsewhere, I cannot recommend What Katie Did enough.
So tell me, what are your favourite lingerie purchases that you made last year?