Disclosure: Links with a * are affiliate links.
For a number of years, I had an end-of-year blog tradition of sharing my favourite lingerie purchases of the previous 12 months. Eventually, as I developed more conscious, quality-over-quantity shopping habits, I stopped publishing those posts because I simply wasn't buying enough new lingerie each year to make it very interesting. So I thought I'd try something a little different: sharing the 10 bras I wore the most through 2020. (Or at least feel like I've worn the most – I haven't actually been keeping track).
Some of these are indeed new, but others I've had for ages. And I don't even necessarily consider them to be my favourite bras, because to me that word makes me think of my fanciest pieces – the ones that I adore for their aesthetic, but which are perhaps not the best-fitting, or the most practical, or are simply too delicate to wear all the time.
Instead, I wanted to highlight the bras I consistently reach for in the mornings, because what better endorsement for a garment or a brand than to say I actually wear it a ton? So here, in no particular order, are 10 bras whose combination of fit, comfort and practicality have made them become my everyday staples.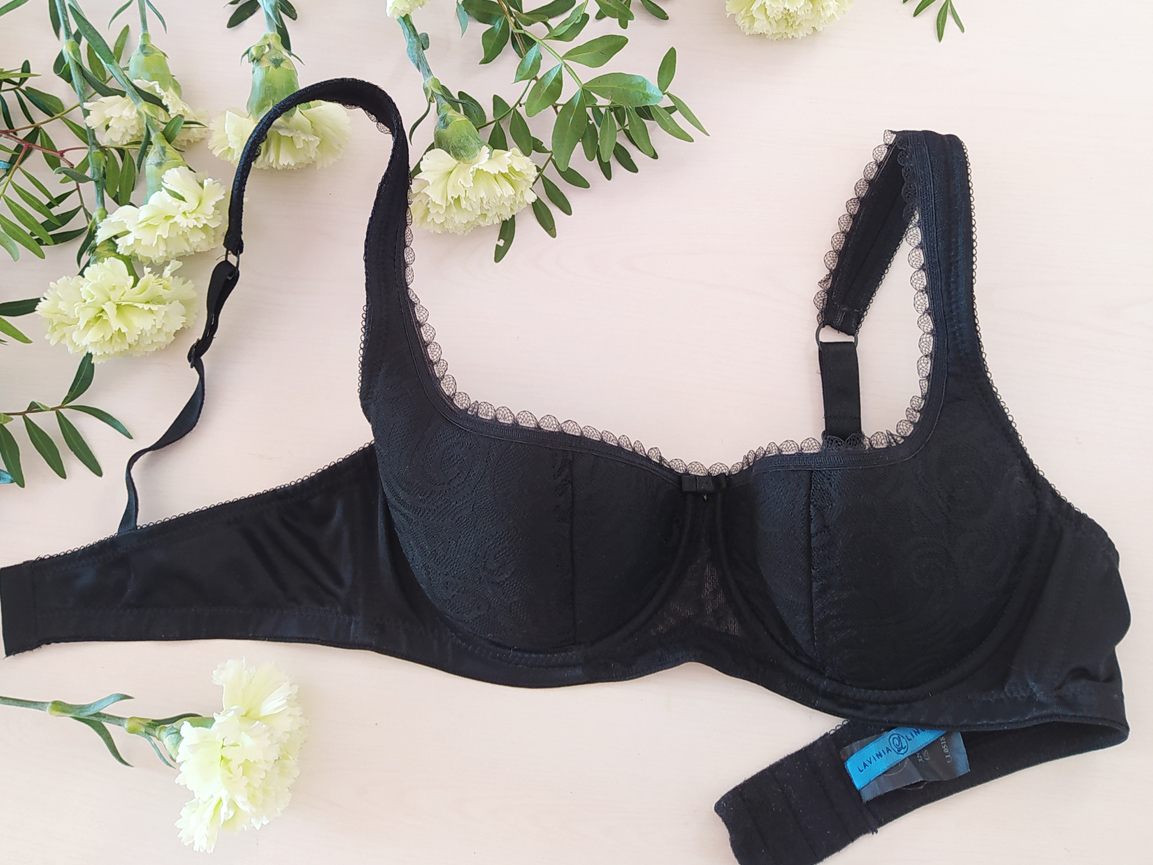 Mia balconette bra by Lavinia
Still available here*.
I was sent this bra by the brand earlier in the year, and it has become my new favourite 'plain black bra' to pair with all the assorted black knickers I don't own matching bras for. In a cup size down from my usual, the fit is excellent, and I particularly like that it has enough pretty details to not feel boring while still creating a smooth, rounded look under clothing like a basic t-shirt bra would.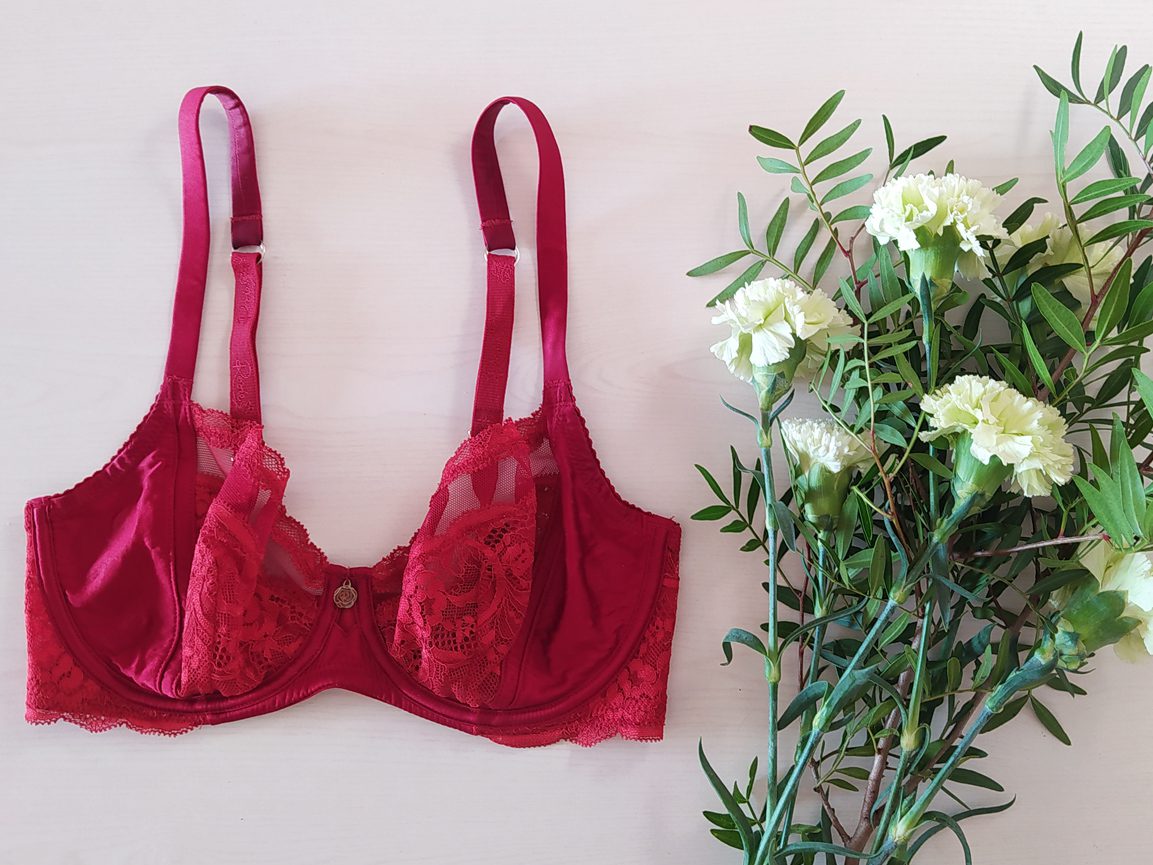 Silk & Lace unpadded balcony bra by Rosie for Autograph
Sold out, similar available here*.
I bought this bra back in 2016, and considering how little it cost me – £26 full price – and that it's still in fantastic condition after all this time, I can honestly say it's one of the best lingerie purchases I've ever made. It was the first set I ever gave 10/10 across the board in a review, and I still feel the same way about it. I'm kicking myself for not buying it in more colours!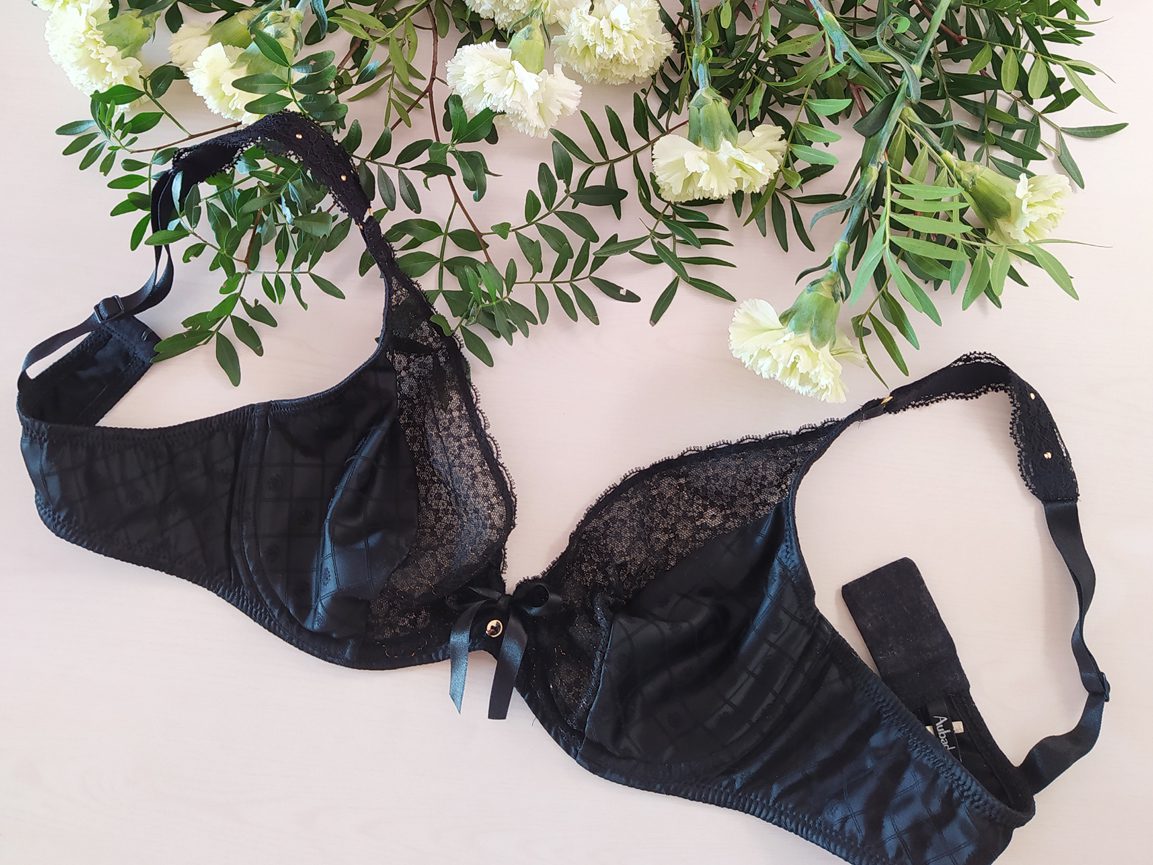 Femme Aubade triangle plunge bra by Aubade
Still available here and here.
This is one of the more high-end bras that I wear on a regular basis. It was sent me in 2018 by UK Lingerie for a review and it was a tad big for me in the cup, but and after a little manual adjustment I've managed to make it the perfect fit for me. That combined with the abundance of lovely details – glittering lace, studded straps, button details, etc. – makes it a personal favourite for adding a little elegance and glamour to my everyday life.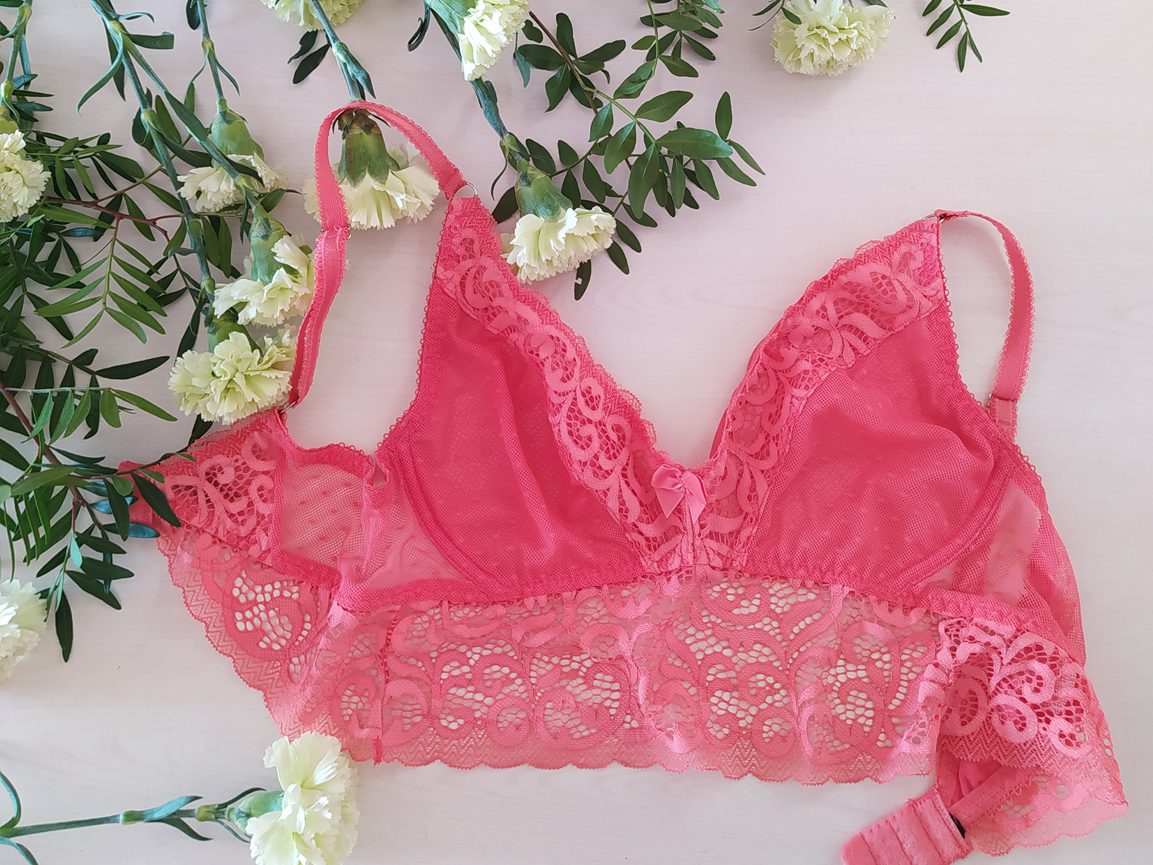 Reverie bralette by Blush
Still available here.
2020 has undoubtedly been the year of the bralette, and this is my favourite one that I own. When I reviewed it in 2018, I said I had been wearing it once or twice a fortnight, and lately I'd say that's been more like once per week. I'm really happy with the way this bralette fits me off the rack, and it's also super comfortable and still in excellent condition too. On days when I just want something cute and 'easy', I'm pretty much guaranteed to pick this set if it's clean in my lingerie drawer.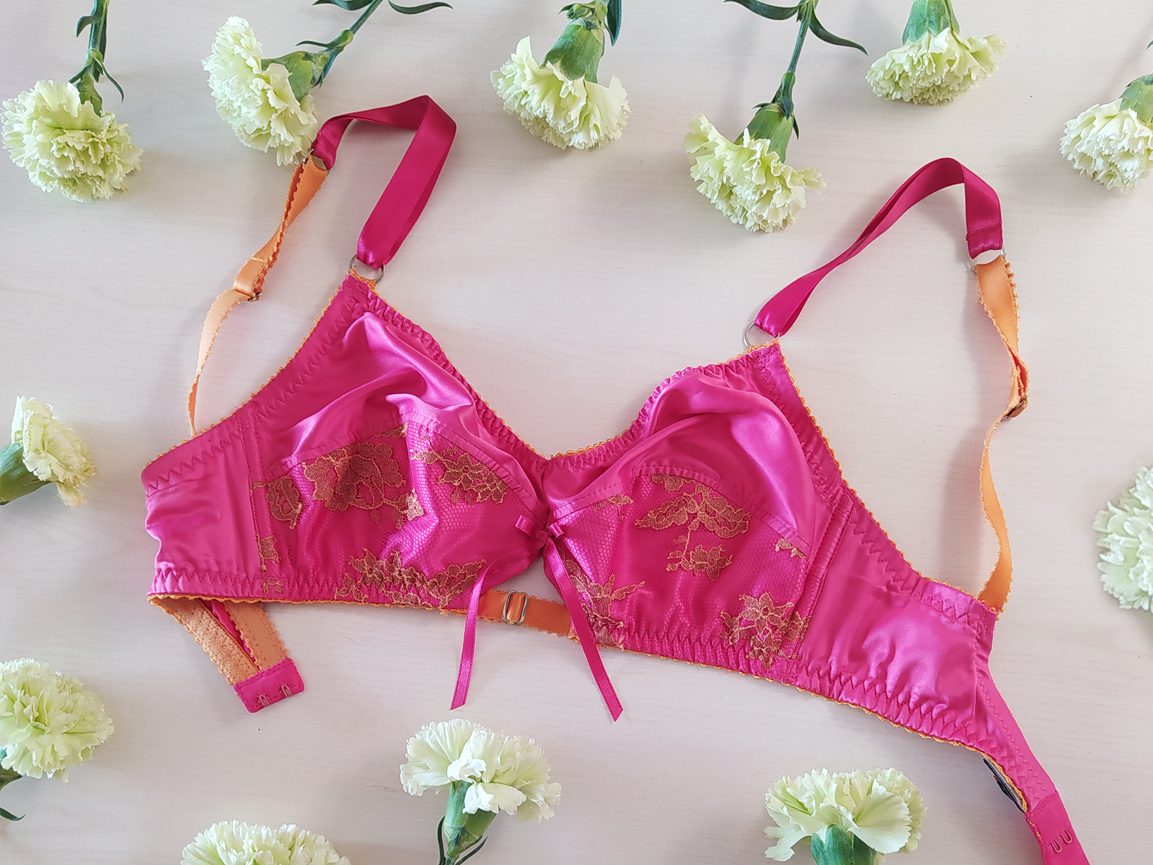 Fresh Foundations bralette by Made by Niki
Sold out, available on eBay here* or similar here*.
Made by Niki has been long defunct, but this bralette remains one of my lingerie favourites. I actually picked it up on eBay a couple of years back, after my original one (in purple) started to fall apart from how much I was wearing it. Besides the fun and unusual colour combination, what I love most about this design is the shape – the horizontal seaming creates a retro-esque silhouette, like a subtler version of a bullet bra, that I'm a huge fan of but which is hard to find from modern brands.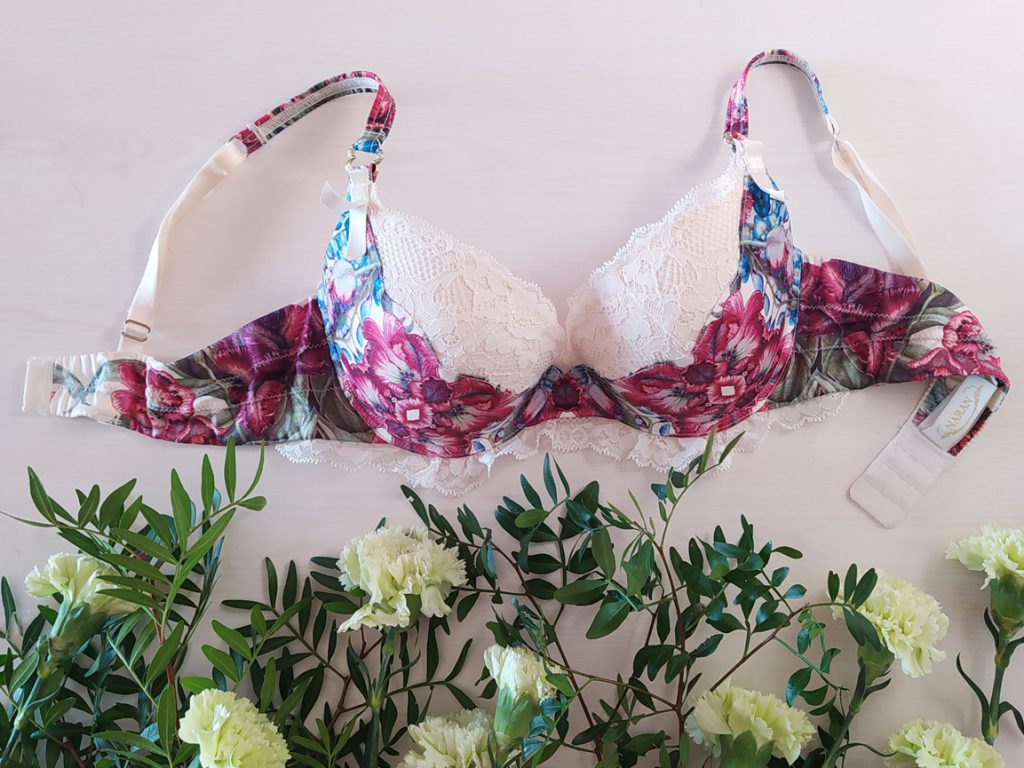 Contour plunge bra by Naran
Sold out, similar available here.
Although I have been especially loving bralettes this year, sometimes an outfit – or just my mood – calls for a very smooth, lifted-and-rounded shape, and this is one of my current favourite bras for achieving that. When I reviewed this bra last year, I said I particularly liked the "fresh and vibrant" floral print, and it really is an excellent mood-booster. Like the Lavinia Mia, it's another pretty-meets-practical piece that I'm very glad I added to my collection.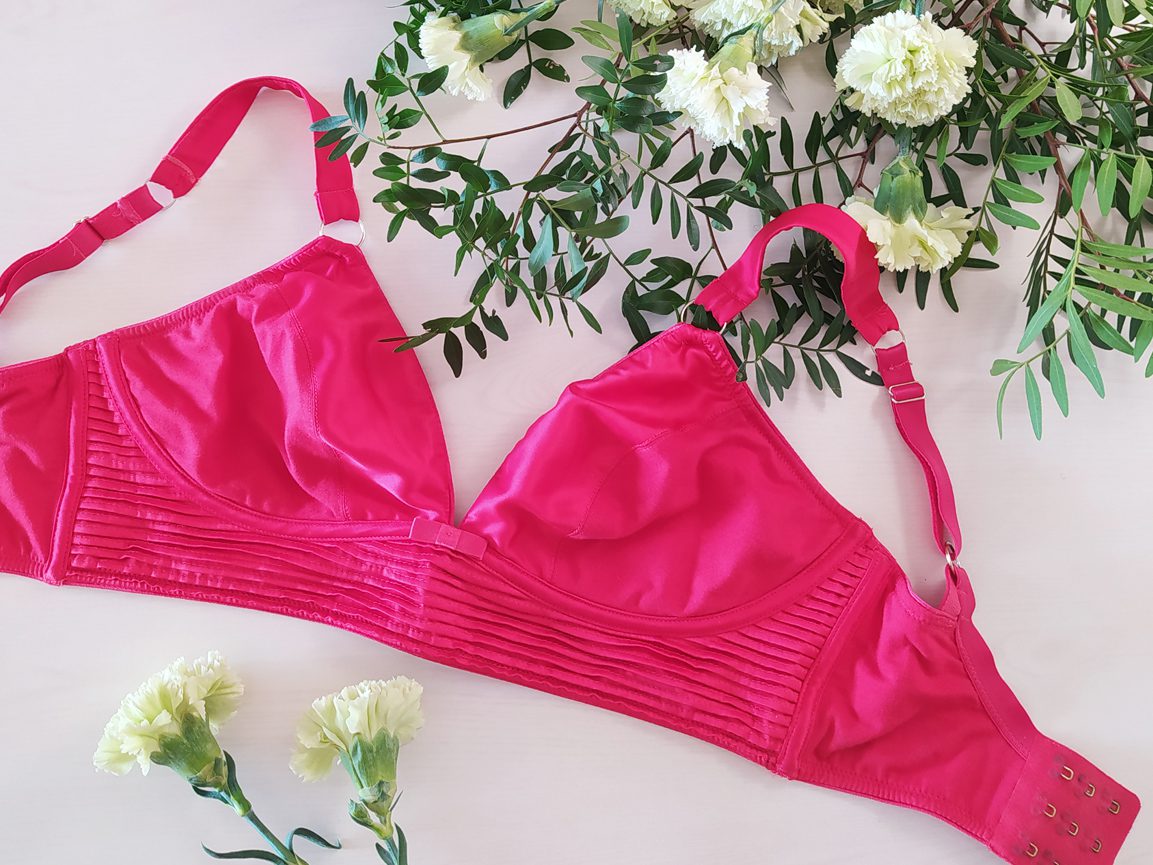 Retro Ruby bralette by Bras Without Wires
Sold out, similar available on eBay here*.
I've raved numerous times about this brand on my blog and social media, but sadly it has now closed down. I'm still gutted about it because I love all of my bralettes by them, but especially this one due to the colour and pintuck detailing. I keep coming back to my Bras Without Wires sets because of two things: the comfort level, and the fact they provide a very secure feeling (and a modicum of support) despite being wireless. If this sounds appealing, the founder now runs a different lingerie label called The Very Good Bra, making similarly-shaped (though somewhat plainer-looking) bralettes that are fully biodegradable.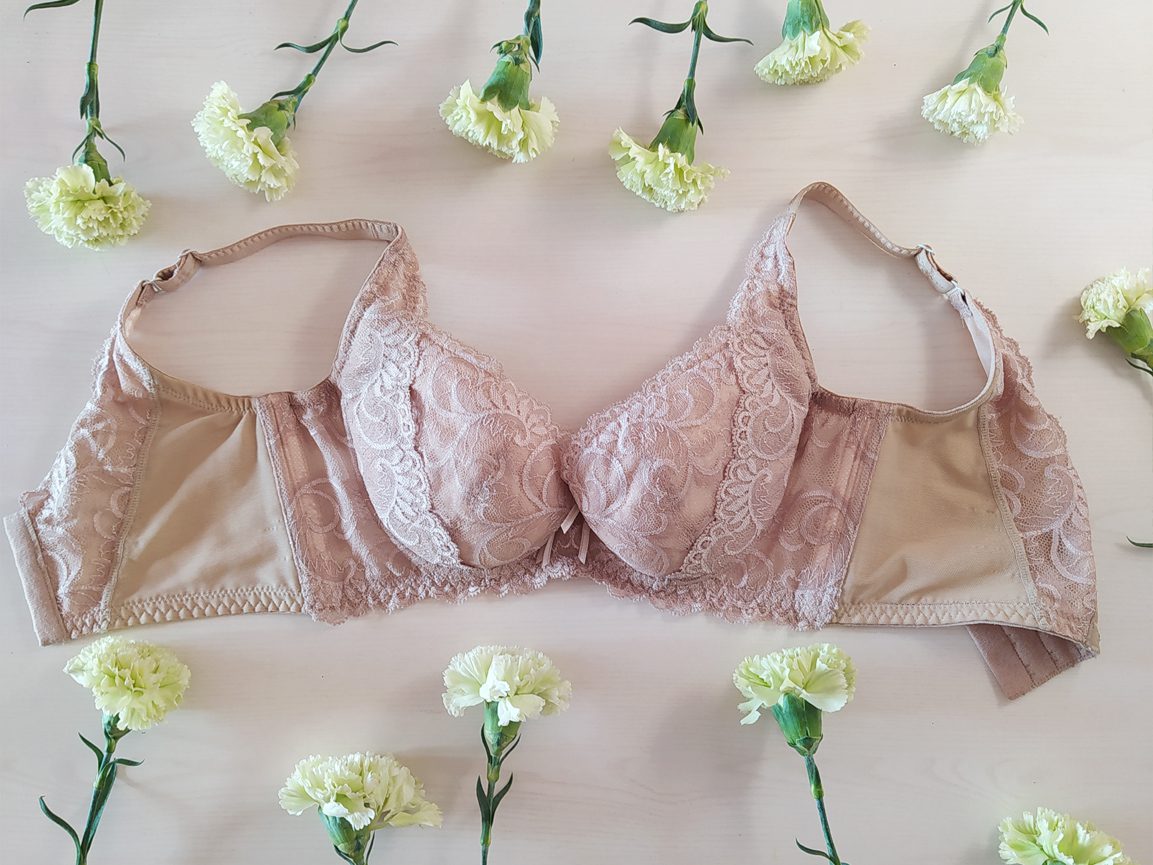 BR-02193 bra by Satami
Sold out, similar available here.
I was sent this bra by the brand in 2017 for a review. It's really not one of my favourite bras from an aesthetics standpoint; the reason I wear it so much is simply that it's the only one I own in my skin tone, and I also like to wear white. I keep meaning to buy myself a moulded beige bra that I like the design of more, but until then, this is my go-to when I need a bra that isn't going to show through my outfit. (I will say though, the fit of this bra is absolutely spot on, so that's one reason I haven't been that motivated to find a replacement for it).
Hyacinth bra by Agent Provocateur
Sold out, available on eBay here*.
Alongside the Aubade, this is the other 'fancy' bra that I wear regularly. I bought and reviewed it way back in 2015, and it's one of my very favourite bras I own, and surprisingly practical! Usually I'll wear my luxury sets a lot when they're new, and then gradually less as they begin to show signs of wear because I don't want to destroy them. This bra however looks delicate but has held up surprisingly well to frequent wear and washing – the lace hasn't deteriorated at all.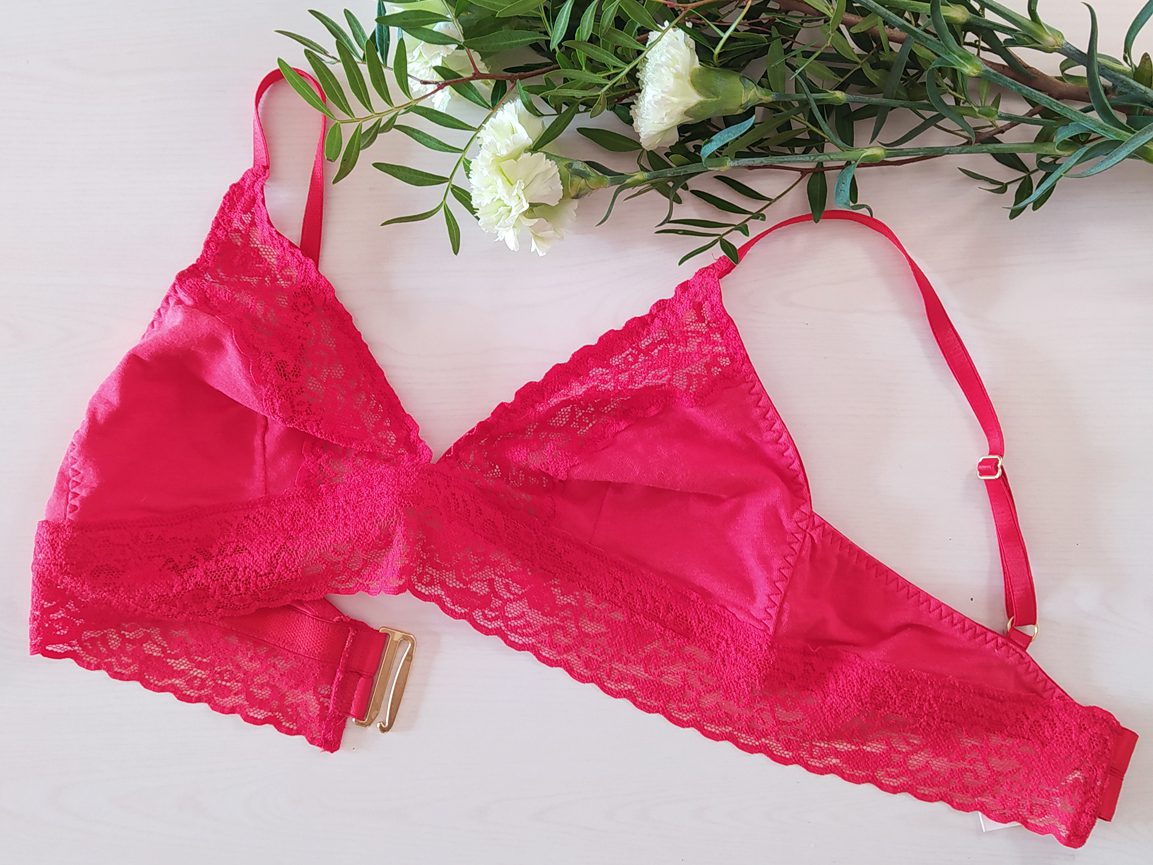 NoHo cotton triangle bralette by Love Suze
Still available here.
This is my newest bra on this list. I was sent it by the brand this summer for a review, and ever since it has been in my regular rotation. The fit is perfect, the soft cotton and stretch lace are very comfy, and it's one of the few bras I own where the neckline is low enough to not show below some of my V-necks.
So those are my top 10 most 'wearable' bras of 2020, but I'd love to know which one(s) you've been living in this year. Leave a comment below and let me know!