Disclosure: I purchased this knicker myself. Links with a * are affiliate links.
When Playful Promises' emailed me their Bettie Page lookbook last year, I just could not resist buying myself a pair of these Retro Lace French Knickers*. I mean, look at them!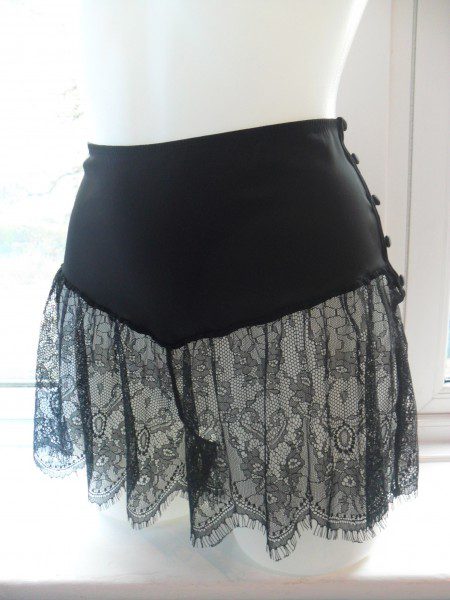 Appearance
Whilst lacy tap pants may not be what I readily associate with Bettie Page (speaking from my limited knowledge of the pin-up star that is), they definitely have a very retro vibe going on and they're definitely 100% 'me'. Black? Check. Lace? Check. Scalloped lace? My favourite. Little fabric covered buttons? I chose a wedding dress with 83 of the things down the back because I think they're just the prettiest design detail ever.
I quite like the contrast between the opaque top and the sheer bottom too (and yes, they are completely sheer at the crotch). Also, random observation, if you stand with your legs together they look more like a mini skirt than a pair of shorts.
Verdict: 10 / 10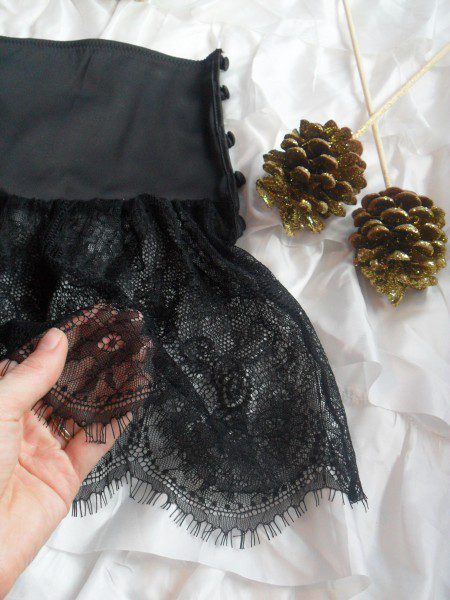 (Excuse the Christmas cones, I meant to publish this in December).
Construction
Not much to say here except that they're nicely-made, to a quality level you'd expect at this price point. There's no gusset at the crotch, but the crotch on these isn't actually touching the body anyway. It hangs an inch or two lower.
The buttons seem securely attached but just in case, I've been thinking of them as a decorative rather than a functional feature, and not undoing them to take these on/off. That's fine because the waist is elasticated and very stretchy, though if you're also eyeing up the satin-only tap pants* those are elastic-free for a more authentic retro fit. Personally, I prefer the modern convenience of the stretch waistband, so they sit nice and flush against the skin.
Verdict: 7 / 10
Fit
These tap pants run from a UK 8 to a UK 18, but if you're a UK 6 the 8 will fit you fine. My waist right now is 25″ for reference, and they'll stretch to larger. They sit right over the belly button on me.
The lace is slightly gathered where is joins the satin, for a swooshy, spacious fit over the hips, so it's really just the waist measurement you need to take into account for these. They're plenty roomy enough to wear over a thong or other knickers by the way, worth noting with the gusset that they have. On the other hand, if you like knickers that feel like going commando, these work just fine on their own!
Verdict: 10 / 10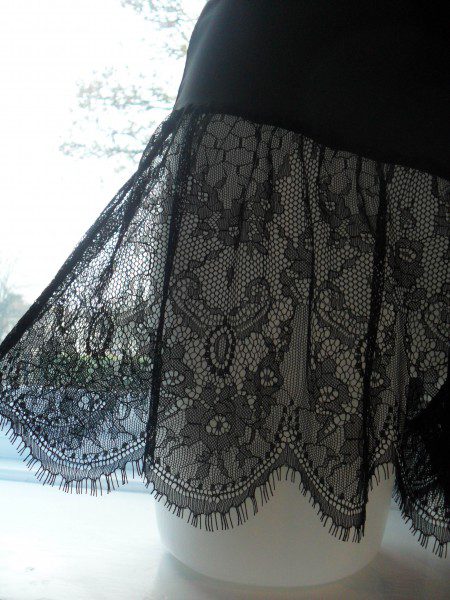 Durability
The Retro Lace tap pants are hand-wash only, although I will confess to machine-washing them on a cold setting a few times over Christmas – I was staying with my fiancés family and didn't think they'd appreciate me filling up their sink with knickers!
So far, having worn them maybe six or seven times, they still look brand new. The lace of course is delicate though, so you'll need to handle and store these with care to avoid snagging.
Verdict: 7 / 10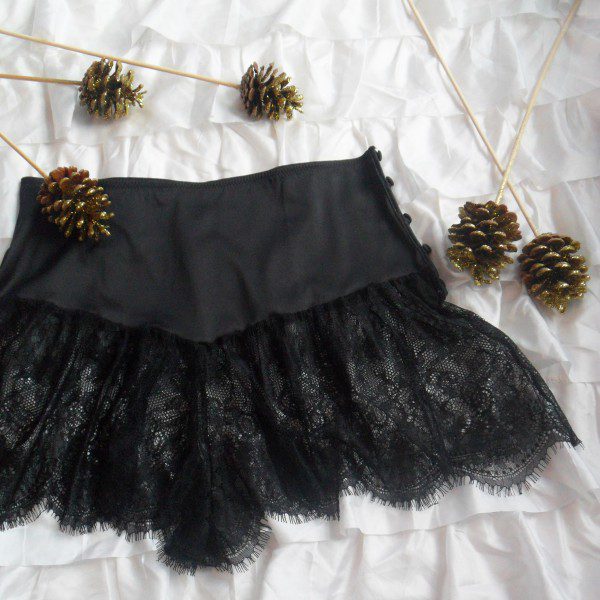 Value for Money
These tap pants are £35, and I think they're worth it! They're just glorious, and whilst the fabrics may only be standard, mid-quality stuff, when a pair of tap pants in silk and French lace an easily run past the £100 mark (or, you know, closer to £500) these are a much more affordable alternative that's still pretty.
Verdict: 10 / 10
Have you tried anything from Playful Promises' new Bettie Page collection? What do you think of these Retro Lace tap pants?