Disclosure: I bought this lingerie with my own money and was not asked to review it.
Loveday London is a luxury lingerie and boudoir accessories brand, which was founded by Luisa Loveday and launched in January 2014. It won several lingerie awards and is known for using Italian lamb Nappa leather in its designs.
With three different ranges presented each season, the motto "hardcore romance" is implemented in pieces like ouvert bras and thongs, demi-cup bras, briefs and suspenders, but also robes/dresses, babydolls and teddies. Additionally, the brand also offers boudoir cushions and candles which match their lingerie collections.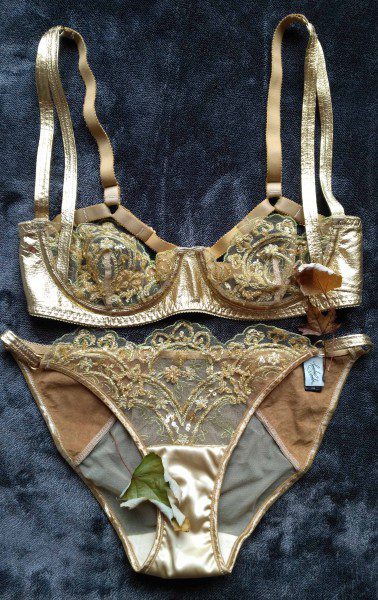 Appearance
The Goddess range is unfortunately not available on their website anymore, however their Oncilla range in black is similar in design and shape (though the suspender looks different). When I discovered the Goddess range, I quickly fell in love with it. The golden leather is combined with detailed embroidery on the cups and the brief.
The embellishments consists of little gold-toned pearls which are matched with light green thread, the leather is shiny and soft, and the back of the brief features a sheer tulle panel. The front and back of the brief are connected with golden leather straps and complementing hardware, which you can find on the bra as well. The adjustable parts of the straps are in a light brown/beige colour and complement the design well.
Verdict: 10 / 10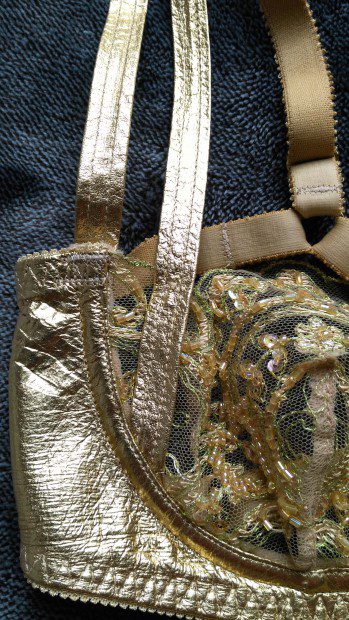 Construction
The main material used is 100% Italian lamb Nappa leather, which feels really soft against the skin. The cups and front of the brief consist of 50% rayon and 50% nylon and so far it hasn't felt scratchy at all, which was my initial concern when I saw the set online.
Whereas the overall stitching is quite secure, I found that the embellishment on the set is as delicate as it looks. With some rather loose threads on the cups, pearls regularly fall off – even with very, very gentle washing and careful wear only under loose clothes, it seems inevitable to me.
Verdict: 6 / 10
Fit
Loveday London uses a cross-grading system in sizes S, M and L for their bras. You can adjust the underband (and shoulder straps) for your needs, i.e. size S should fit the sister sizes 32C/34B/36A according to their size guide. I found that it runs pretty true to size, even if you are a smaller 32C like I am, as the unpadded cups are a little bit forgiving. The demi cup is a part-seamed bra, so it provides a little bit of support. There is a little bump on the cup where the seam ends, but the overall shape is pretty rounded.
I chose a size M for the brief. Although M is recommended for a UK 10-12, I think it is a very comfortable fit for me and I usually wear UK 8-10. If you are between two sizes or prefer a more generous fit, I would advise to order one size larger.
Verdict: 7 / 10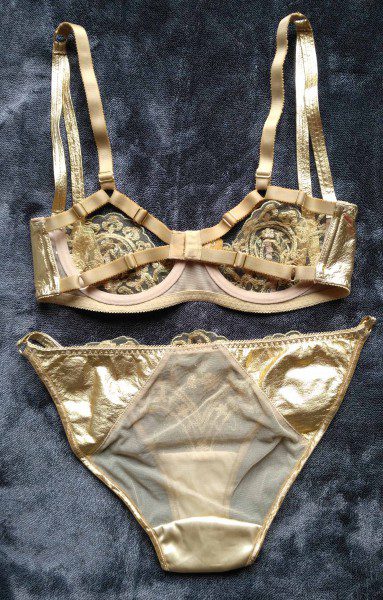 Durability
As I already mentioned, this set is quite delicate. I strongly recommend hand-washing the pieces, otherwise all the pearls will probably come off immediately. However, even if you are very careful and gentle, you should be prepared for some loss of pearls.
I do not advise squeezing or wringing out the embroidered parts of the bra or the brief, but the leather parts are sturdier and have held up very well to washing so far. After letting the set dry in the shade, you can condition the leather to keep it soft. I would not recommend skipping this step as chances are the leather will otherwise get dry and maybe even get little cracks at some point.
I chose an extra box for storing this set. If you are thinking of buying a similar design from Loveday London, please be aware of its delicacy. I don't consider it bad quality, but you might have to deal with sewing pearls on again occasionally, and spending a little extra time caring for the leather.
Verdict: 5 / 10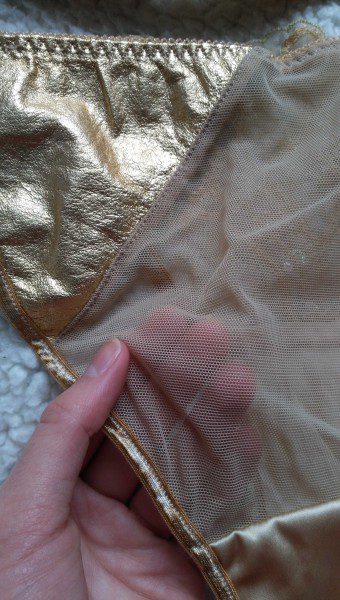 Value for the money
The original RRP for the set was £300 (~$374 / ~352€), the bra itself retailed for £185 (~$231 / ~217€), the brief for £115 (~$144 / ~135€). This certainly is an investment to think twice about, but to put it into context some of Agent Provocateur's Soirée bras alone are at the same price range. I love this set wholeheartedly and it is quite honestly one of the most beautiful sets I have ever seen.
The name gives it away, but I kind of feel like a goddess wearing this set – it just looks incredible on. If you are in love with the design and willing to spend some extra minutes to care for it, I would definitely say it is worth it.
Verdict: 8 / 10
Final Thoughts
These are two of my favourite pieces I own, and I fall in love with them every time I look at them. So far, I've bought four of Loveday London's sets from different collections, and I am very content with them! For me, they combine an extravagant yet risqué look with very luxurious-feeling materials and shapes.
Their new Titania collection in metallic rose and especially the Oncilla collection are very similar looking, so if you missed out on the Goddess range those might be an alternative.
Have you ever bough anything from Loveday London? What do you think of their styles and their collections?