Disclosure: I received a significant discounton this lingerie set in exchange for this review. 
Colette & Sebastian is a new US lingerie brand by Colette Khalil. The brand has debuted with a fairly narrow 32-36 B-DD and S-L size range, but it's no wonder when you see how many products there are – there are 59 bras alone! There's a little bit of something for everyone, from lined balconettes to sheer bralettes and super-strappy pieces. I was offered a set from Pure Temptation, a collection of classic, unlined bra and suspender sets, and obviously went for the one with sparkles.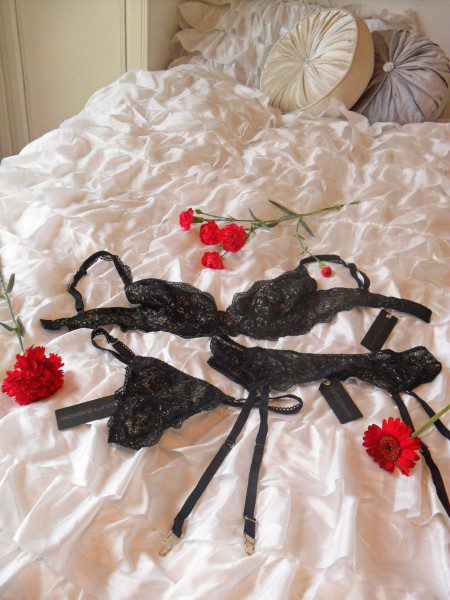 Appearance
Black and gold is one of my favourite colour combinations, it always adds a sense of opulence no matter how simple the design it's a part of – and Elise is a fairly simple bra set, not one that would have caught my eye in plain black. I know that because it's also available in black as the Alexandra set, which is nice enough if you just want a simple, lacy bra, thong and suspender set – but when you can add a glittering gold shimmer for just $11 extra, there's no question in my mind over which to go for!
Not only is the Elise metallic, it has my other favourite thing in a lace, scallops, which continue all the way around the base of the band and trim the cups and thong. They adorn the straps too all the way to the shoulder, which is a pretty touch. I like it when bra straps don't get forgotten about.
There are no bows as you so often find on lingerie. The decor details all very subtle – the gold rings breaking the suspender straps in the middle, for example – making this a classic, timeless design, and minimalistic despite the lace. It's one that works just as well for daytime as it would for special occasions.
Verdict: 7 / 10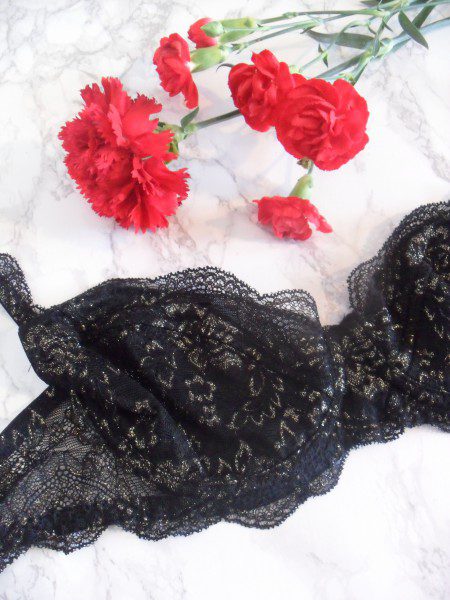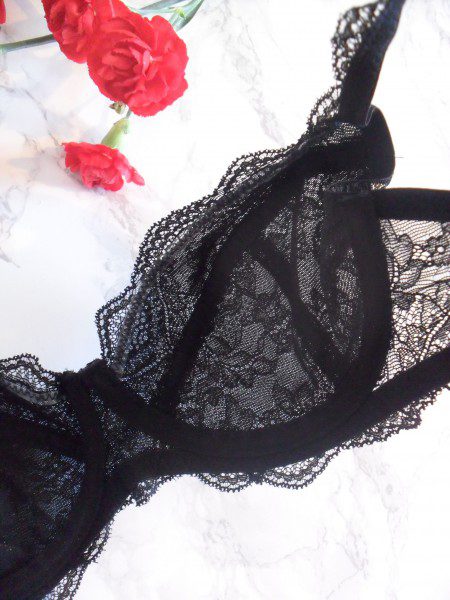 Construction
Continuing the subtly-done decor theme, the lace pattern is symmetrical throughout, which I appreciate. It's not something you notice right away, but it is one of those small details that sets higher-end lingerie apart from the cheap stuff.
The bra is a 3-part cup with a silicone trim along the cup edge to keep the lace flush against the skin. The hardware is metal and the fabrics and elastics used are all very soft, including a mesh lining inside the bra's cups.
Verdict: 8 / 10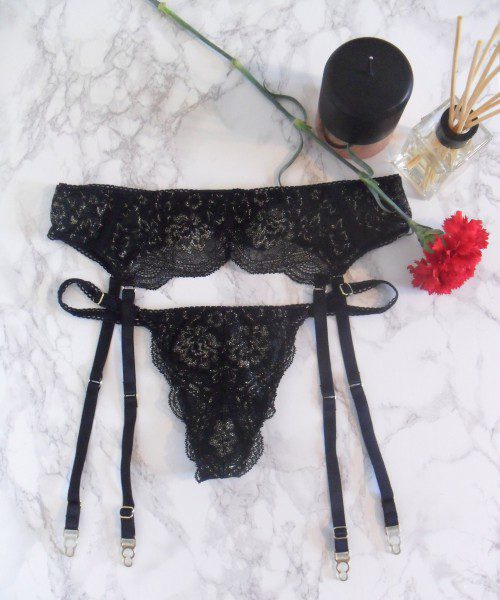 Fit
I received the bra in a 32D, a sister-size up from my current usual size of 30DD, and the thong and suspender belt in a S (UK 10 / US 6) so a couple of dress sizes bigger than usual. I'd therefore expected that they'd need some alterations to fit me, but the thong has sliders at the side and is so adjustable that it wasn't an issue at all.
The suspender belt on the other hand kept slipping down to my hips so I took 4″ off (tutorial here if you missed it) and it now fits much better, though it didn't solve the slipping-down problem. The lace and elastic are both fine, soft and stretchy, so it just won't stay put at waist-height. The suspender straps are also not fully adjustable due to the gold ring detail, so it doesn't keep my stockings quite as high as I'd like. It's more of a boudoir piece really, or for someone tall.
As for the bra, the band is true to size as a 32 and the cups are just my size. It's not a particularly supportive bra – the vertical seam is on the lining layer only and feels unsubstantial so it doesn't do any aggressive sculpting – but it's comfortable and fits well.
Verdict: 6 / 10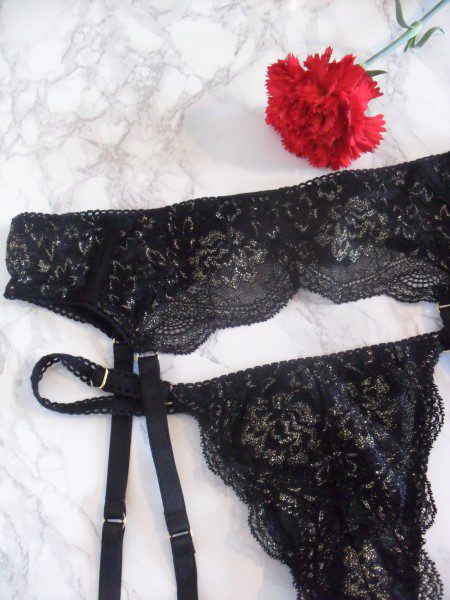 Durability
Colette & Sebastian's Elise set is hand-wash only, though you'd probably be fine popping it on a delicates cycle in a mesh lingerie bag. I've worn it about five times so far and haven't noticed any issues, it still looks practically new.
Verdict: 9 / 10
Value for Money
The Elise bra is $114 (~£92 / ~107€), the thong is $61 (~£49 / ~57€) and the suspender belt is $72 (~£58 / ~68€). That's more than I would have considered paying for it personally if I'm honest. I like the set, but I tend to value trend-led design and more striking materials (like the embroidery on the beautiful Allegra suspender belt), and would be looking something more unique if I were going to drop a couple of hundred pounds on a lingerie set.
It is pretty though and very comfy to wear. It's worth considering if what you want is a classic, elegant set that will look just as stylish five or ten years from now.
Verdict: 6 / 10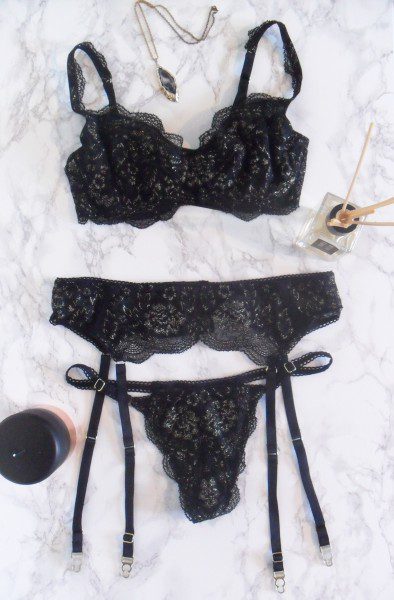 Colette & Sebastian also makes a plunge version of this bra called Andriele, which has a tanga bottom and slightly different suspender belt, and there's a Madison balconette and brief also in the same lace, so you can mix and match between the three ranges to create your perfect set. The slightly cheaper, non-metallic Alexandra version of this Elise set also comes in red and white.
What do you think of this Elise bra set, and the rest of Colette & Sebastian's debut collection?