Note: Many of the images below are NSFW.
Under Thy Skin is a newly-launched, independent lingerie brand based out of Belgium and founded by Neri De Meester. Now usually, I am one for fancy lingerie – lace, prints, intricate bead-work etc. Plain and simple just isn't my thing. Under Thy Skin's minimalist aesthetic is so refreshingly different though that I can't help but be captivated by it.
Embroidery is a huge trend in lingerie right now (in womenswear, even) and I think it's beautiful, but it does tend to all look very same-ish. Colourful florals, mostly. Don't get me wrong, I love a good floral embroidery, but at the same time it's nice to see a bit of variety. Having spent years now looking at lingerie day in, day out, it's rare that I see something genuinely unique, and Under Thy Skin definitely is.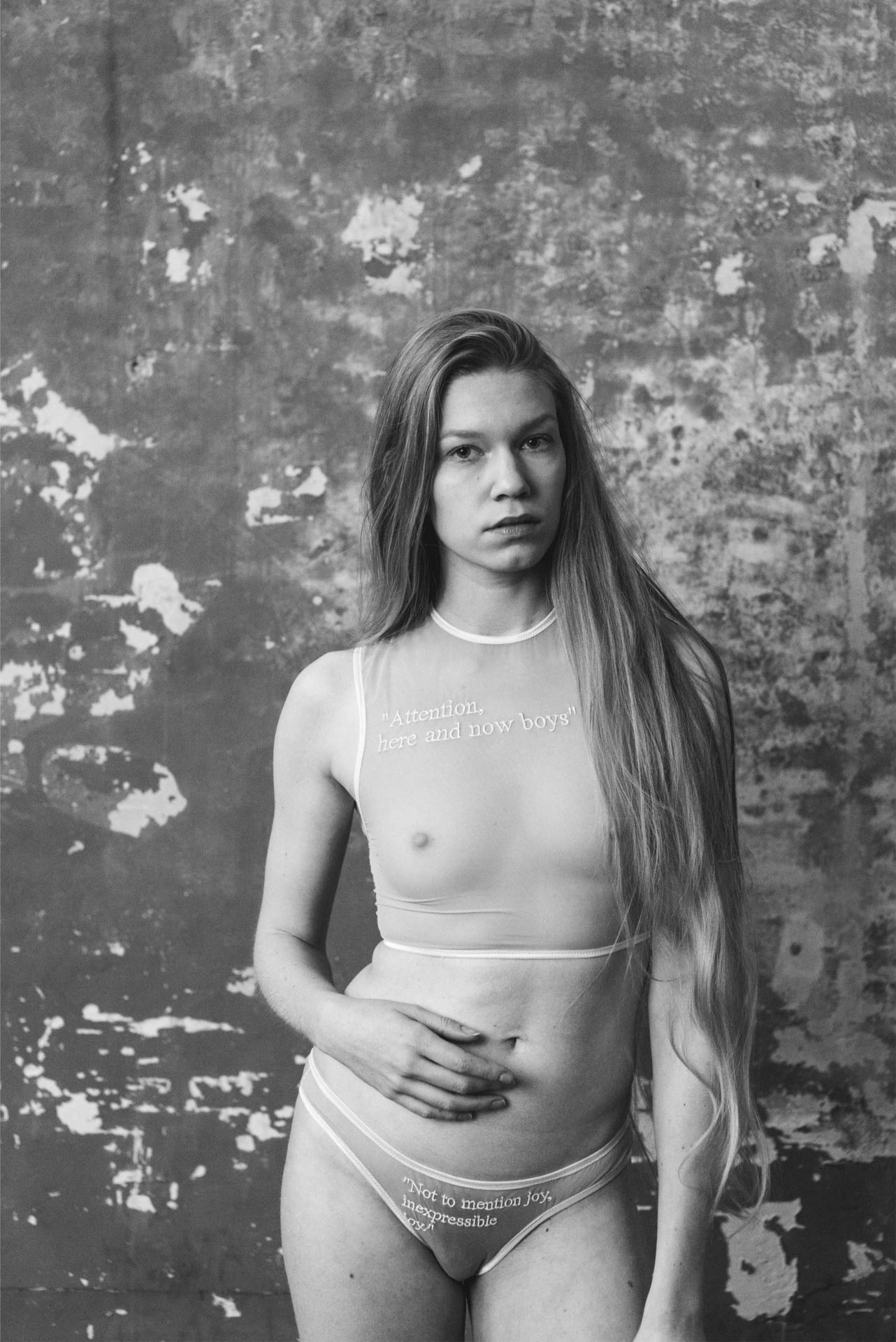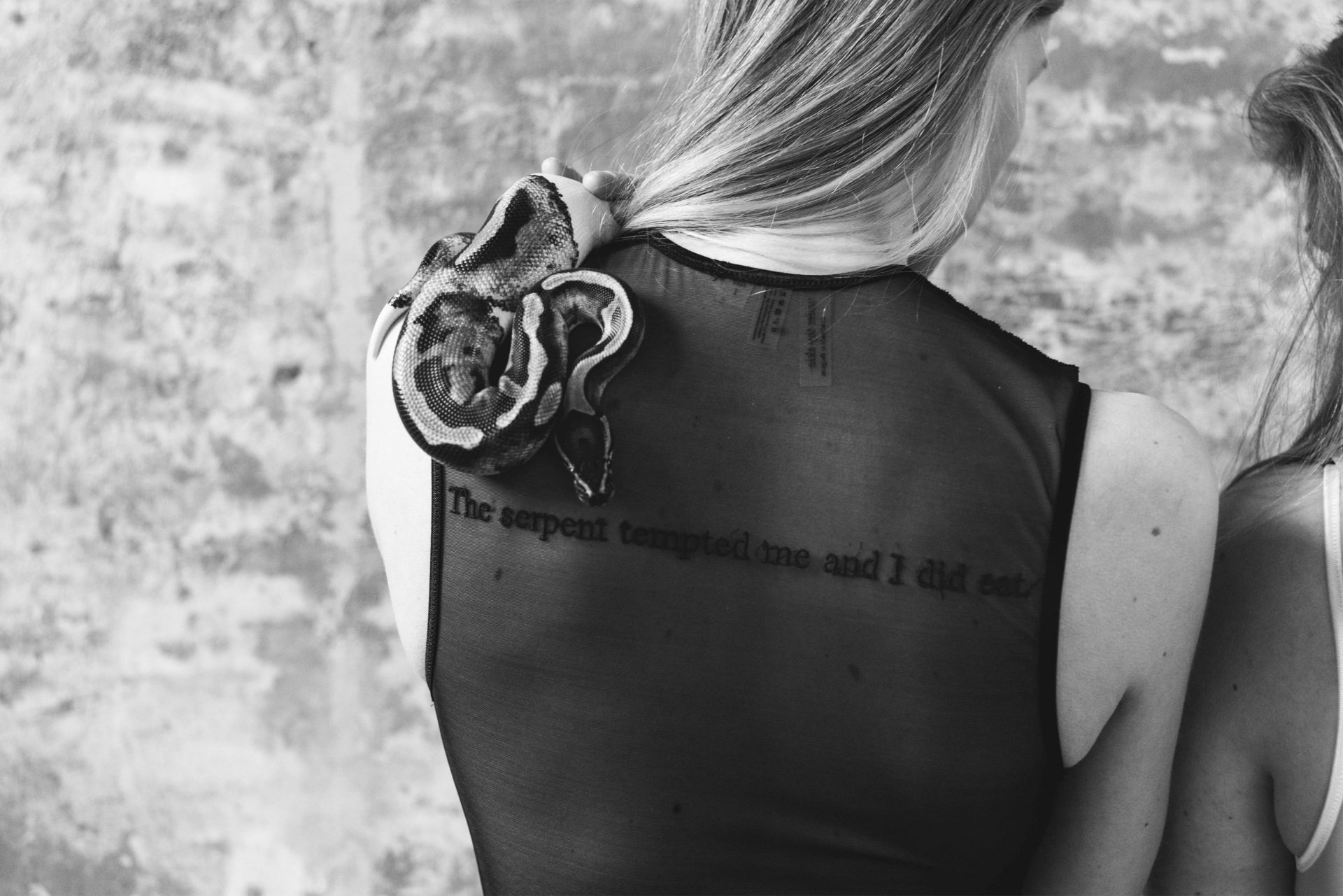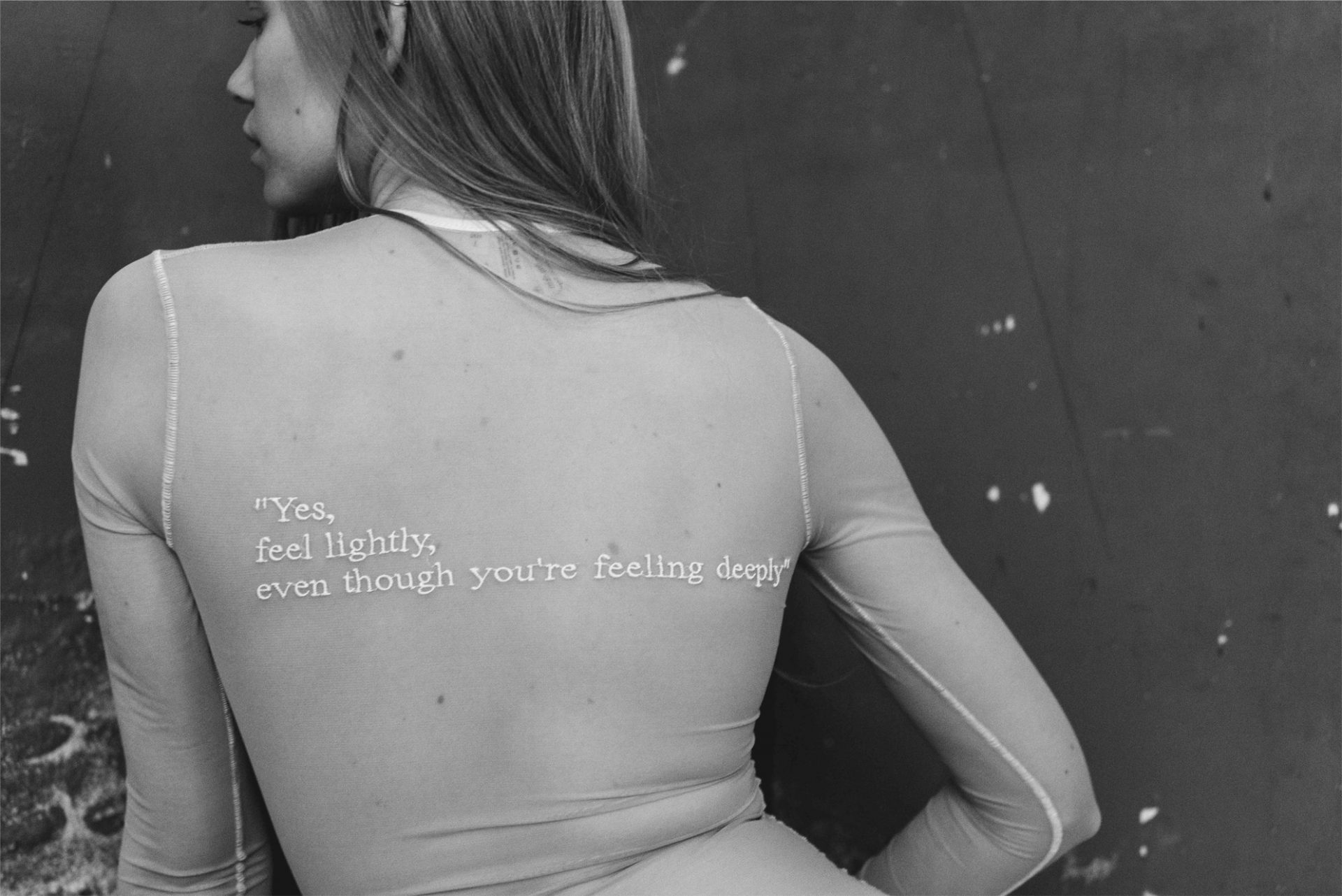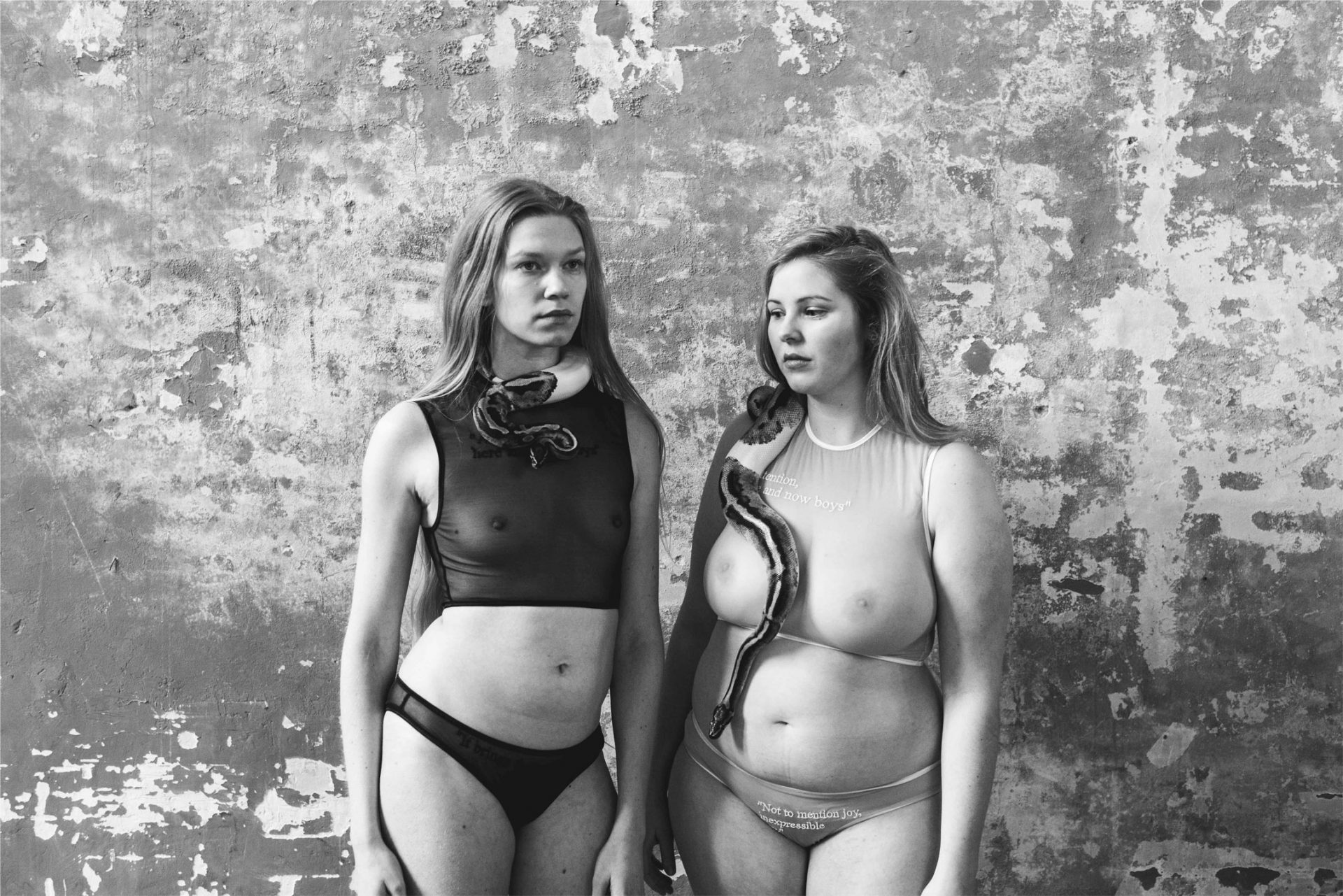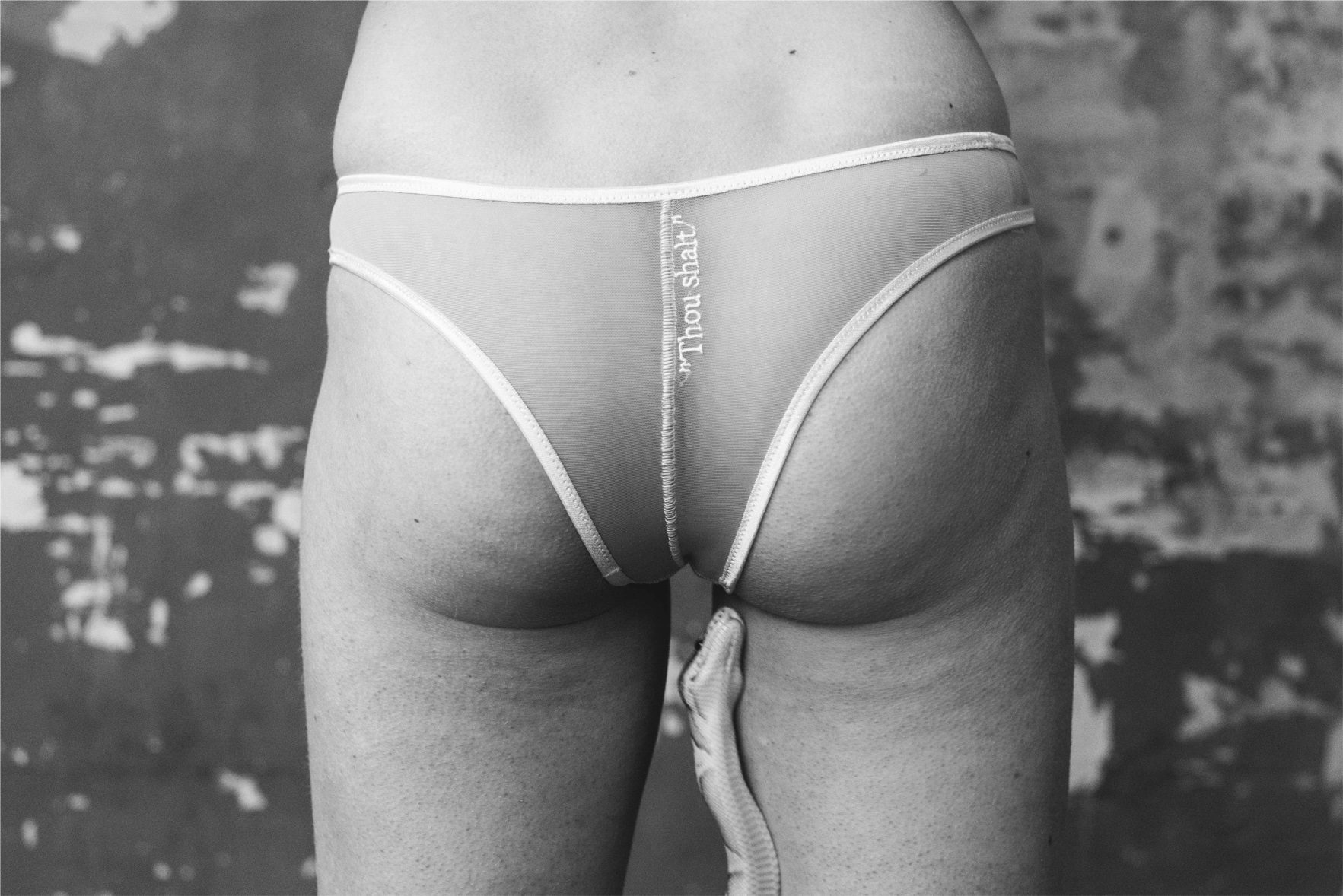 De Meester draws upon Aldous Huxley's utopian novel Island, amongst other great literary works, for inspiration in her debut collection, Lusciously in the Locus Amoenus. A locus amoenus is a beautiful, idyllic landscape that often has connotations of the Garden of Eden, and sometimes of fertility and sexuality too – think of it as a setting where a romantic encounter may occur between two lovers. De Meester has chosen quotes that were innocent enough in their original context, but when cut out and pasted onto intimate-wear take on an altogether more erotic meaning.
"Yes, feel lightly, even though you're feeling deeply" is embroidered across the back of a bodysuit. "Attention, here and now boys" reads a sheer mesh crop top that leaves very little to the imagination. "Not to mention joy, inexpressible joy!" says the front of a pair of knickers, whilst the back features the words, "Thou shalt". That symbology of the serpent encouraging one to give in to desires and temptations is a key theme in this collection – I mean, there are even real snakes in these lookbook images!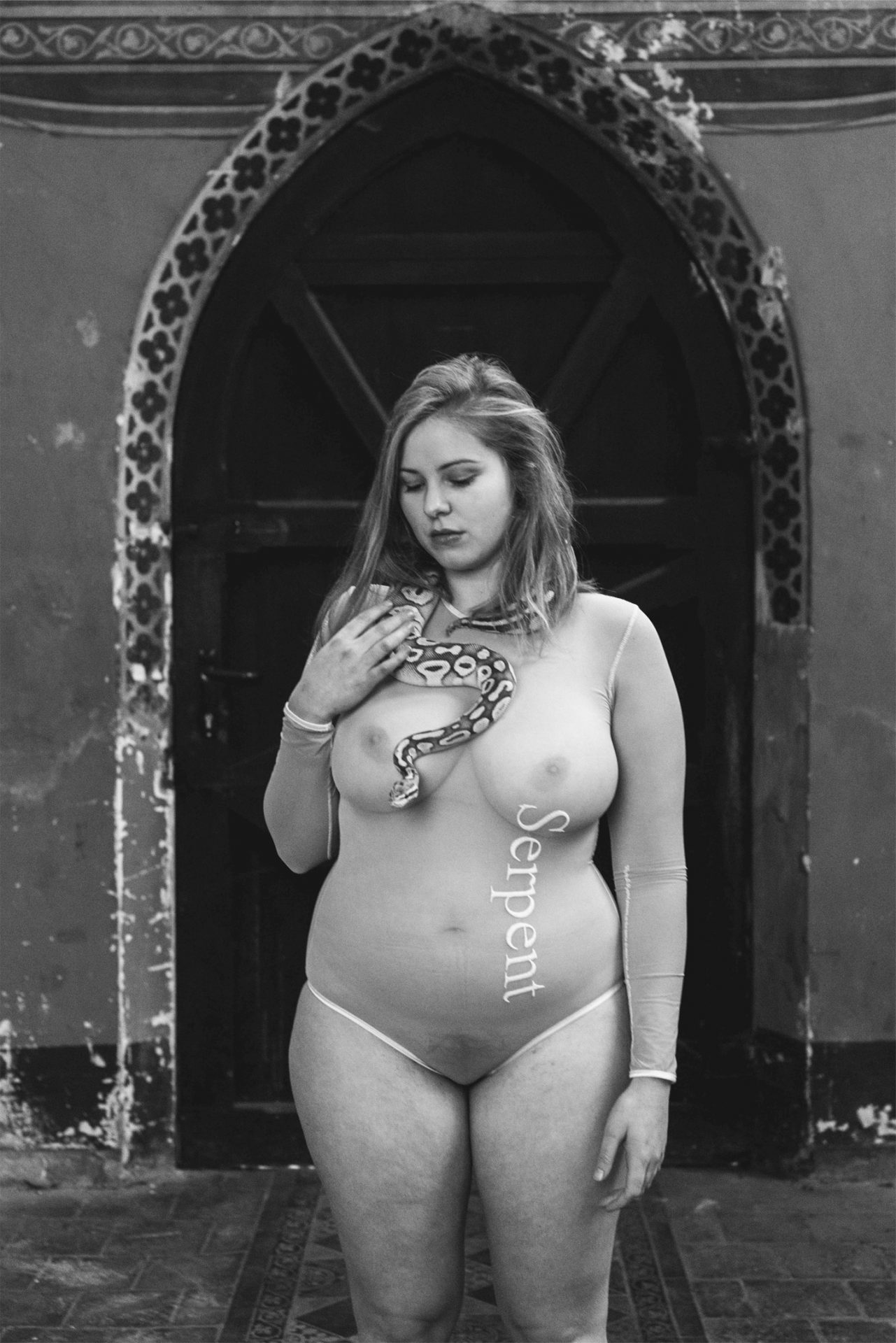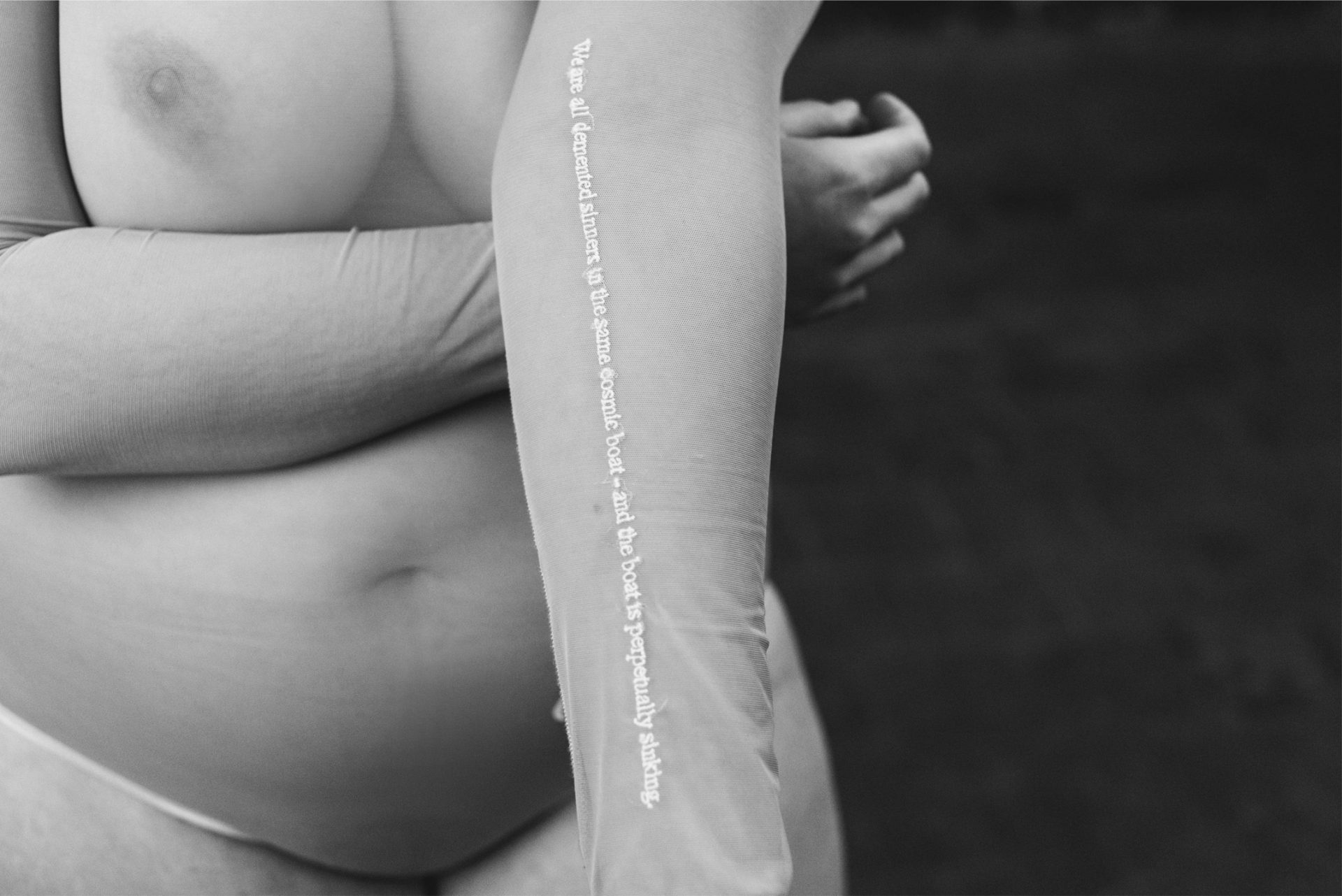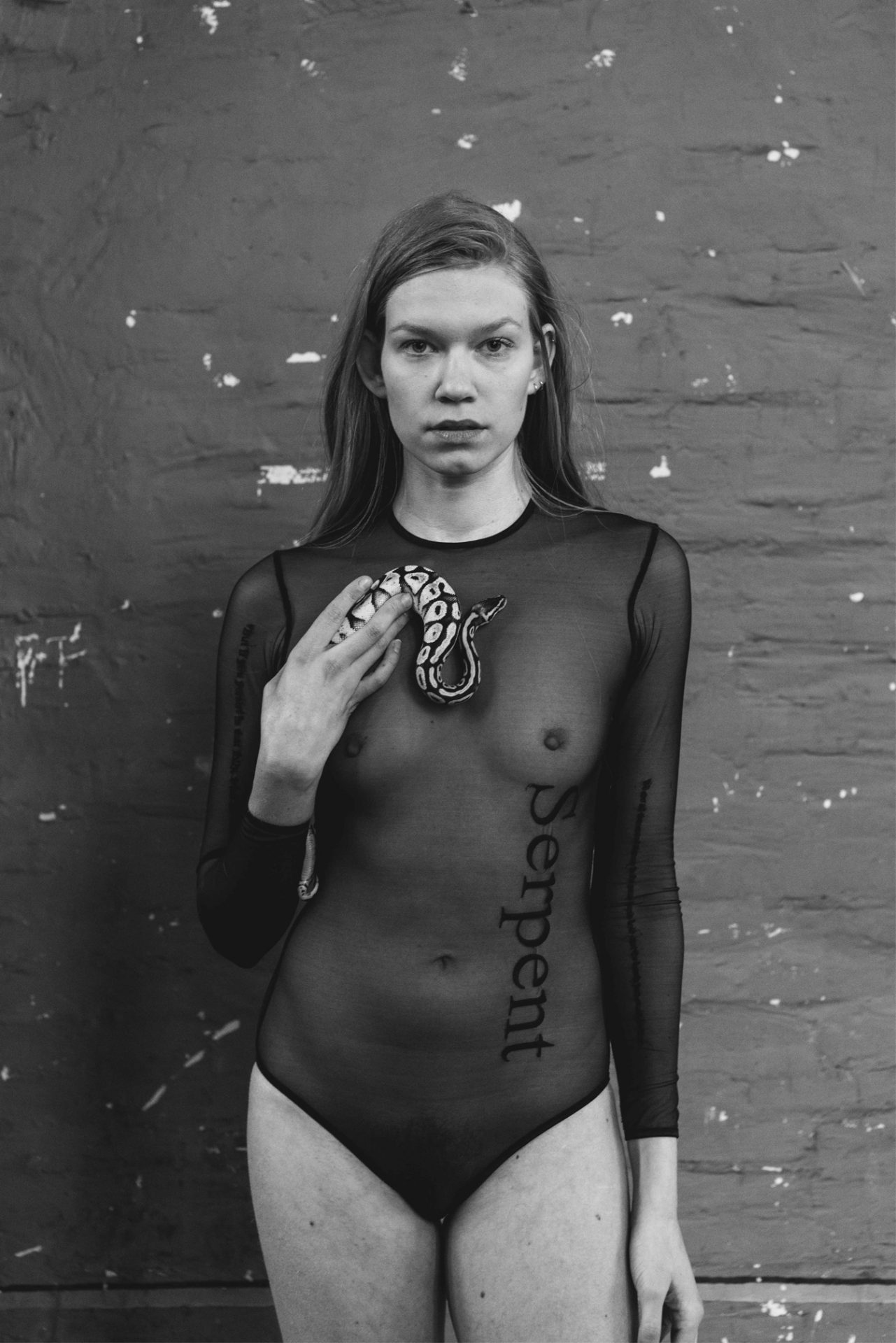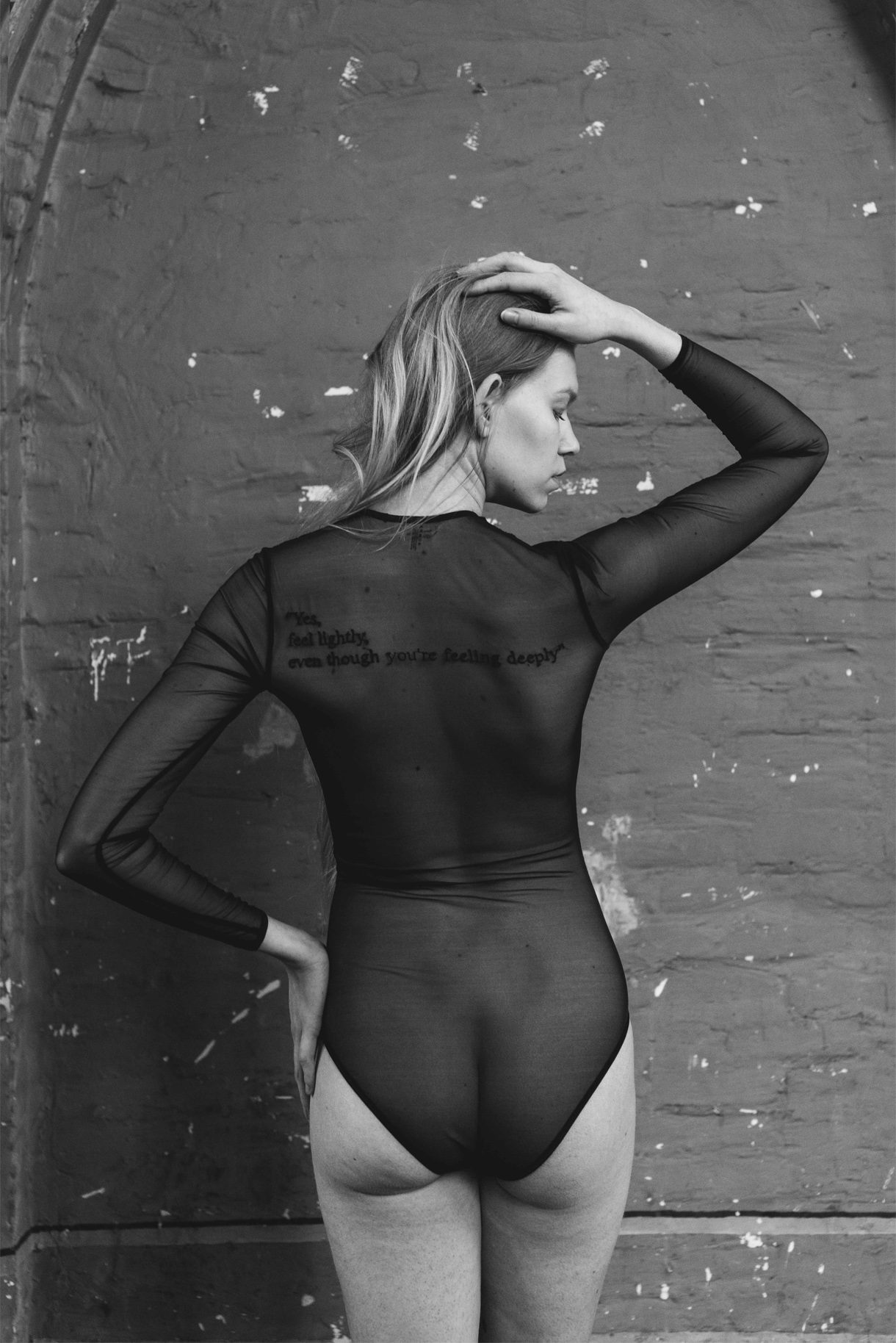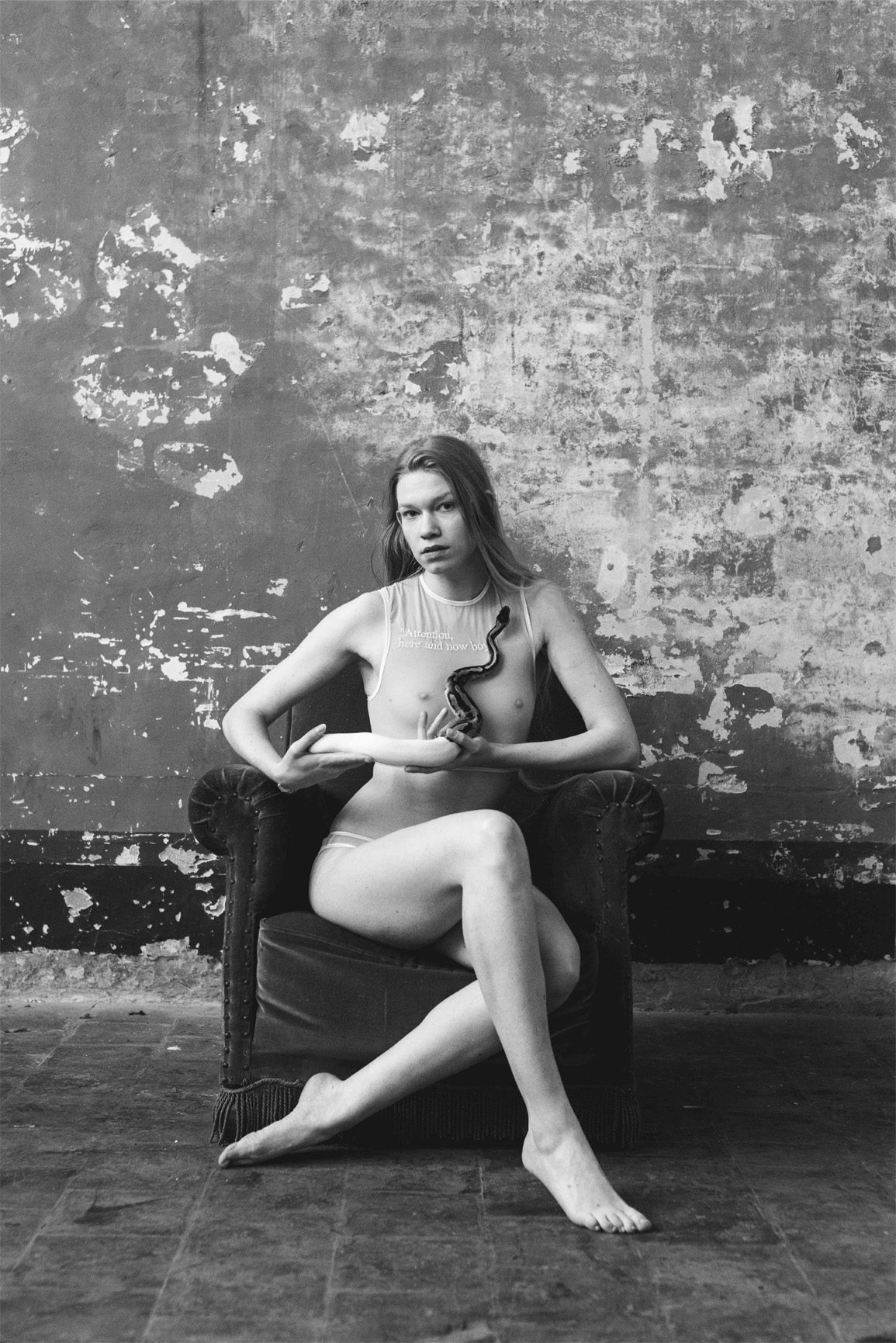 De Meester strives to tell a story through her lingerie, quite literally, and the result is as artistic as it is beautiful. I love the juxtaposition of the message to indulge oneself and to live 'lusciously', with the starkness of the actual design – just plain, sheer mesh and embroidered text, nothing else.
Under Thy Skin is handmade in Belgium using end-of-stock and recycled materials, to be as sustainable as possible, with embroidery work by Bernadette Brassine. Five sizes are available roughly covering UK 6-18, or you can select to have your pieces made to order with custom sizing. The debut collection includes the bodysuit, crop and two knicker styles, each available in a contrasting choice of innocent white (on beige tulle) or sultry black. Prices range from 110-220€, roughly £97-194 or $123-246.
Hair and makeup for the lookbook images is by Laetitia de Vos, with photography by Jana Germanus.
What do you think of Under Thy Skin's debut collection, Lusciously in the Locus Amoenus? Which embroidered phrase resonates the most with you?