Disclosure: I purchased this activewear set myself. Links with a * are affiliate links.
Wolf & Whistle was launched in 2012 under the umbrella brand of Playful Promises*. Notable for their inclusive size range and relatively low prices, I've been buying Wolf & Whistle lingerie and bathing suits for a while. When I saw their new activewear collection, launched in January of this year, it immediately caught my eye.
This activewear collection* initially drew my attention for its style, but it wasn't until I saw that this collection is made from recycled plastic bottles that I knew I had to buy it! I've been working on making a smaller environmental impact with my fashion, buying fewer things and trying to get others second-hand. So I loved that I could get sexy, fashionable, and relatively inexpensive activewear while keeping my commitment to the environment.
Wolf & Whistle uses textiles from Repreve, a company that makes sustainable fabrics by recycling plastic water bottles. To date, they have recycled over 14 billion bottles. I haven't tried other clothing made from this type of fabric, though it's a growing trend, but I am very happy with the comfort of these clothes. They definitely don't feel like they're made of plastic! The material is soft and flexible. It wicks moisture well, making it ideal for workout gear.
I ordered the Cross Back Bra*, £25 (~$32 / ~29€) and Mesh Panel Crop Leggings*, £38 (~$49 / ~44€), both also available in black, and waited eagerly for their arrival. Luckily, I didn't have to wait long. Even though I made my purchase during a sale, my order arrived within 2 days. This speedy shipping is proof of how Playful Promises has grown as a brand in the past decade. I can remember buying from them five years ago and waiting two weeks for my package to arrive from the UK. Now they have US warehouses, and the fast delivery is a wonderful result!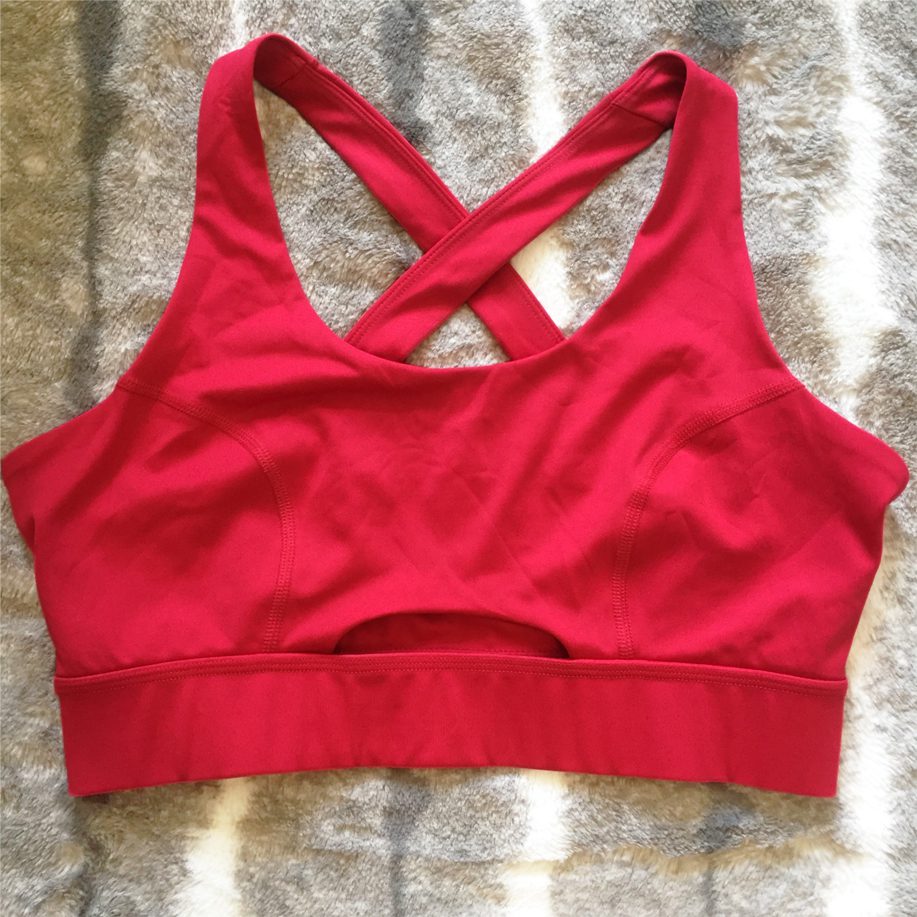 Sports bra fit: 9/10
Sports bras need such a delicate balance of support and comfort to be useful, especially for those of us with bigger busts. I've had too many experiences with ill-fitting sports bras – ones that either provided no support, or flattened my chest to the point where breathing during workouts was difficult. Even sports bras made specifically for bigger busts don't always work.
Knowing that, I'm impressed by this bra. I wear a size 32E (US 32DDD) and I ordered a size Large rather than an XL, though I was debating between the two. It was the right call. The bra is tight enough to provide support and prevent chest pain from constant movement during workouts, but I don't feel squeezed or suffocated. The thick band at the bottom and the sturdy straps add additional support. Overall, it remains comfortable even during runs that last a few kilometres.
Word to the wise: on the model, and the model of the Curve version of this bra, the cut-out at the bottom of the bra sits flush against the skin, revealing a flat stretch of abdomen. However, on me the cut-out does not sit flat, but rather acts like a window exposing a few inches of underboob. I don't have a problem with this; it doesn't interfere with the supportiveness of the bra, and I always wear a shirt when I work out. But if you have a bigger cup size and don't wear a shirt over your sports bra when exercising, the underboob exposure might be too revealing for your comfort.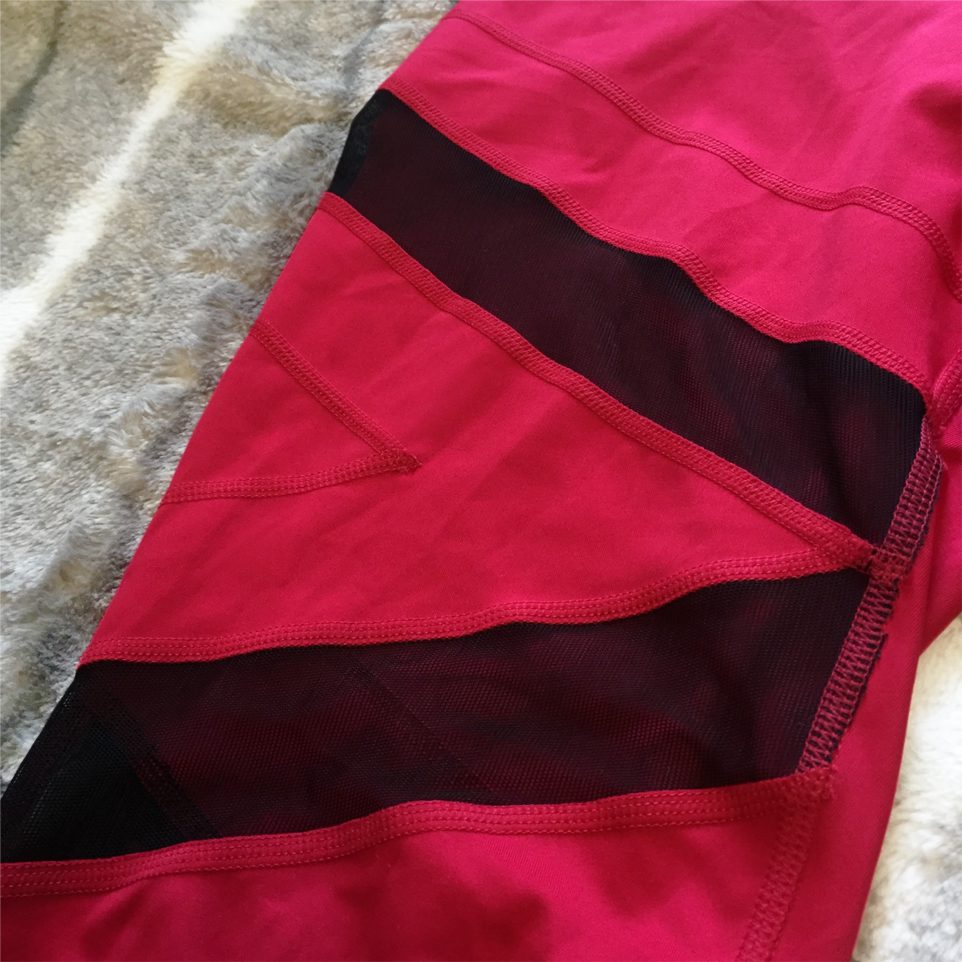 Leggings fit: 7/10
The leggings run on the smaller side. I wear UK size 8 bottoms, so I purchased size Small per Wolf & Whistle's size chart. These leggings aren't uncomfortably tight, but they would better fit someone in-between sizes 6 and 8, or on the smaller side of a size 8. If you are on the larger end of a size 8, I would recommend sizing up, particularly if you prefer workout clothes with a looser fit.
These leggings are out of stock in most sizes right now, but it seems like Wolf & Whistle plans to restock them in the future. You can sign up via email to be alerted when more sizes are in stock. Long leggings* are also available, and in stock in all sizes.
Quality: 9/10
This set feels quite sturdy. The fabric of the sports bra is thick, which helps with support, but could potentially feel uncomfortably heavy if you are exercising in the summer heat. It's perfect for cooler weather or indoor gyms. The stitching is strong, and after a few weeks of wearing and washing it has held up well. After a handful of washes, and hanging it out to dry, this set still looks new.
The leggings are easy to move in and wick moisture well. I like how the mesh panels let a breeze through. Mesh panels are currently in fashion, so you can find them on all sorts of workout gear, but Wolf & Whistle adds a unique touch by making the panels asymmetrical.
Overall, this is one of my favorite activewear sets. From the recycled fabric to the style and comfort level, this set stands out. Here's hoping Wolf & Whistle continues to release activewear.
What do you think of using recycled plastic for textiles? Would you buy from Wolf & Whistle's activewear collection*?