Disclosure: I purchased this lingerie set myself.
I've recently noticed that all of my favourite bras which have lasted me through the past couple of years have been wireless. This is for obvious reasons, such as flexibility when it comes to sizing, but also because after two years of wireless bras throughout pregnancy and breastfeeding, I've never been able to truly go back to underwires.
With that in mind, I've been particularly drawn to the relatively new Rougette designs by full-bust brand Tutti Rouge, many of which are bralettes fitted by cup and back size. Ideal for someone like me who has a large cup and small back!
Tutti Rouge always have really good deals running on their website and social media, and it was through one of these offers that I decided to purchase the Sasha bralette and matching pants. I'm afraid I don't have the order information anymore, but Paypal tells me I spent £22.90 and that would have included postage, which is slightly cheaper than the £25 this set would normally cost.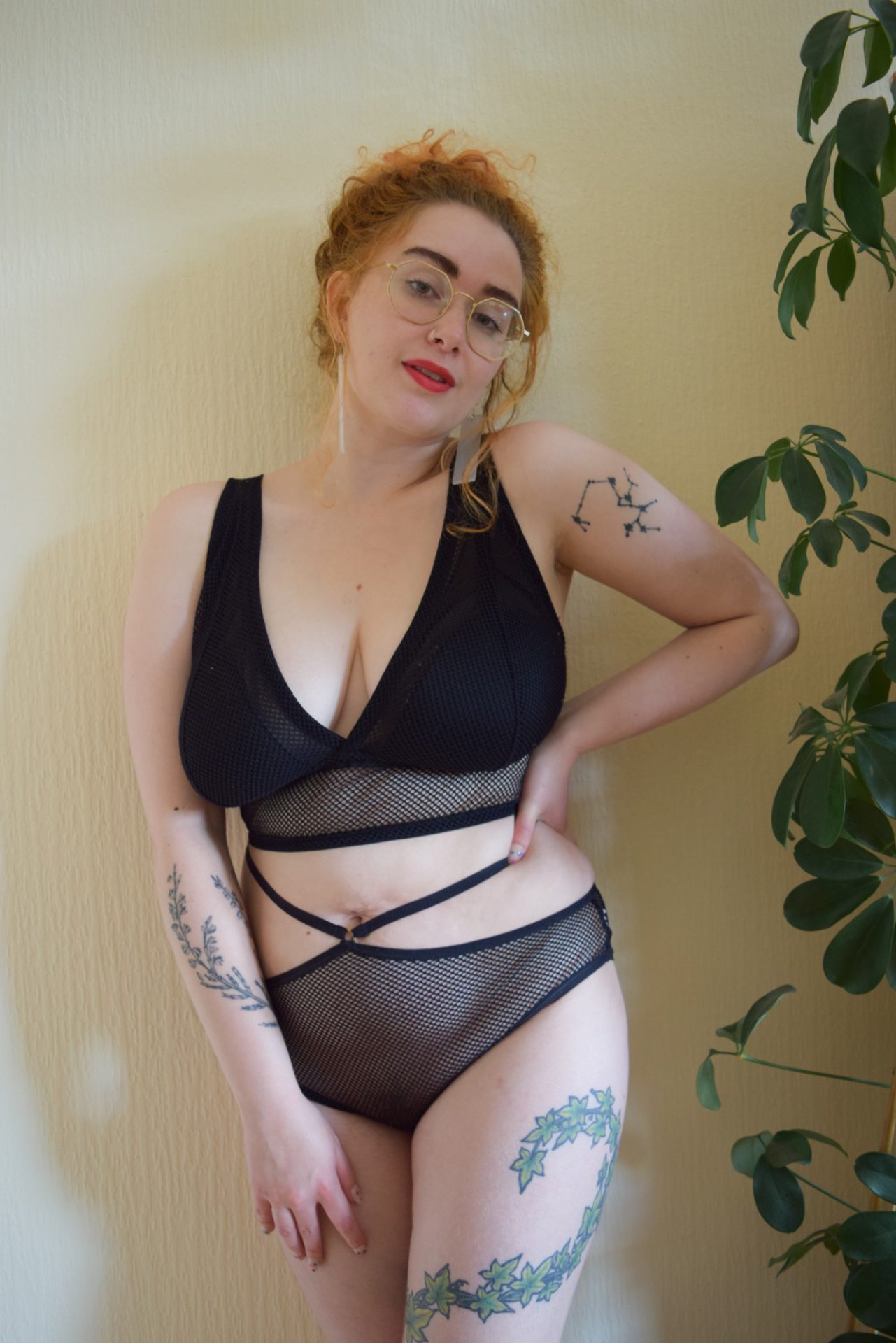 Construction
The bralette is a pretty simple design compared to other fuller-bust bralettes currently on the market. It has no fastenings, so you have to pull it on overhead or step into it. It's pretty easy to do so as the fishnet is very stretchy. However the underbust panel is firm enough to offer some support, which I think is also aided by it's longline design.
The cups are lightly padded and have quite thick, non-adjustable straps. The back of the bralette is pretty full coverage, which again adds support, as well as acting to reduce pressure on the shoulder straps.
The pants are made of the same very soft, stretchy fishnet. They also have two non-adjustable straps creating a cut out effect over the waist, and a gusset. Unfortunately I've cut the tags out of my set and can't find any information about the fabric composition on the product listing.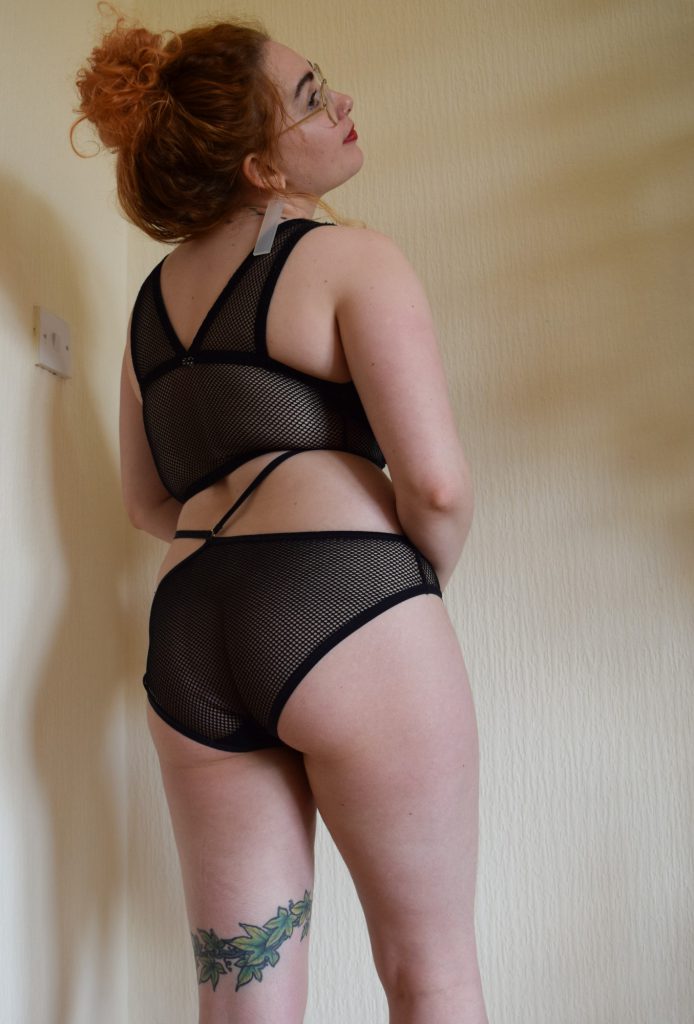 Fit
I purchased the bralette in a size 32FF/G, and the pants in a Medium. This was in line with my usual go-to UK 30GG bra size and UK 12 pants size.
I'm really happy with the fit of both items. I've tried a lot of wireless styles in my time across various sizes and designs, so I know not to expect too much in terms of support. But I genuinely really like the gentle lift this bralette offers.
I do wish I could adjust the shoulders as I have quite a short torso, and I imagine I could get a little more support from the bralette if this was possible. In the same way, I'm sure many would like the straps on the pants to be adjustable. However I am fortunate enough that the super soft elastic fits my body without moving around too much or cutting in at all.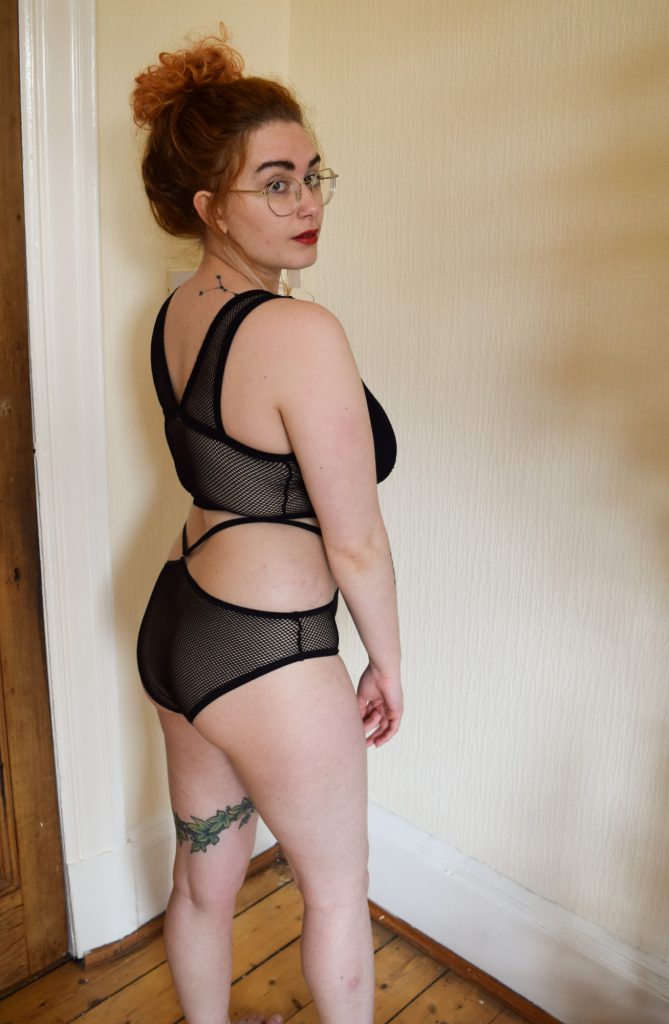 Wearability
I think I wear this set, or certainly the bralette, at least twice a week. As a self-employed person who does most of her work from home, I get to live most of my life in dungarees and baggy tops, minimising how often I feel the need to wear underwires. This set is incredibly comfortable, and I love how it manages that while looking quite constructed, with it's strappy style and fishnet material.
Being black, I find it really easy to mix and match the pieces with a lot of my lingerie collection. I also really appreciate the padded cups (something none of my other bralettes have), which minimises dreaded nipple incidents if the temperature dips, and also offers nice shaping under outfits. The pants are also quite discreet under tighter clothing.
Although the back and straps of the bralette are quite covering, the plunging neckline makes it quite wearable. Sometimes I style it so you can purposefully see the bralette under tops, as it looks like it could be a camisole, and I've even just worn it out as a crop top before.
Most of the time I put this through a delicate wash cycle on my washing machine along with my other more hard-wearing lingerie items. So far it's holding up very well to regular wash and wear, and my only complaint would be that the fishnet traps fluff and has begun to pile in places – particularly where the padded cups are.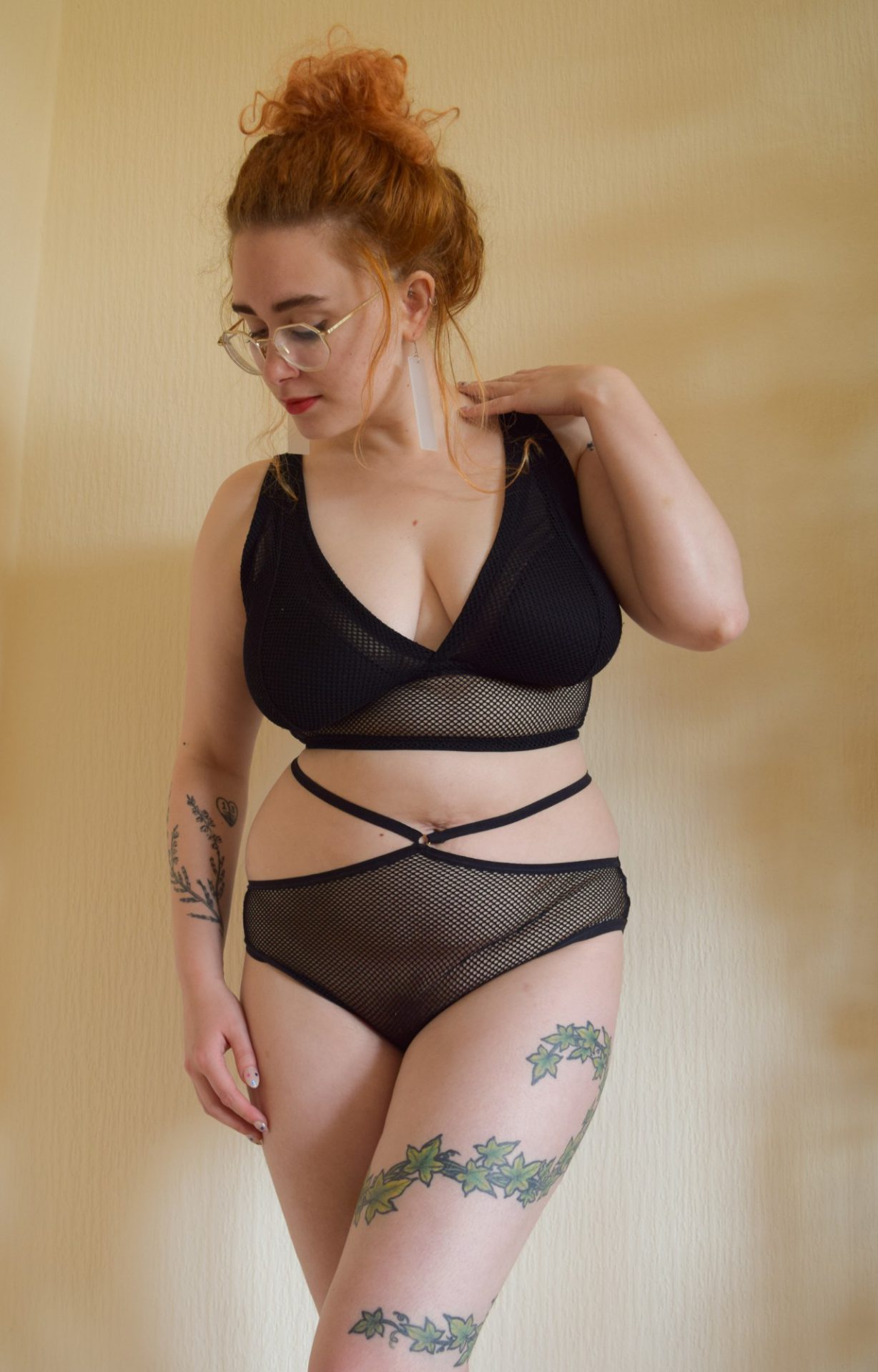 Conclusion
This set is super versatile, and I'm really happy I decided to buy it. I've never had a bralette of this particular style and fit, so now I'm very happy I've found something that works so well with my body and lifestyle. I'm definitely looking to purchase a couple more sets from Tutti Rouge, as they have a number of bralettes in very similar styles to this. But I'm also really intrigued to see how their other fits would work for me!
Do you prefer wired or wireless bra styles? Which are your favourite designs for support without underwire?