Disclosure: I purchased the Cheeky Wipes period briefs. The other garments were provided free of charge for review purposes. Links with a * are affiliate links.
Since 13, when I had my first period, I have never had regular cycles apart from when I was taking hormonal contraception. For various reasons I now choose to eschew that, and so I live in constant fear of my period randomly starting at any moment. When they do arrive I have a few days of very light spotting, a couple of days of very heavy period, followed by a few more days of light spotting.
I never liked having to throw out disposable pads that had hardly been used on my lighter days, or going through several pads in a matter of hours on heavier days. Therefore, I've been using re-usable pads for the past few years, which are great for long wear but not overly comfortable and kind of conspicuous under tight clothing.
As well as this, because of various reasons, I struggle with inserting things like tampons and re-usable cups inside myself. So for all of these reasons, the idea of period pants has always highly appealed to me, but for a long time they weren't readily available to us in the UK.
However, I came across British brand Cheeky Wipes a few months ago and couldn't say no to such low prices. Wuka, ModiBodi and Ruby Love all kindly offered to send me underwear to try out too, to compare and contrast. I've decided to rate these across three criteria:
Absorbency will encompass their performance as period underwear, taking into consideration the actual level of absorbency each pair is designed to withstand as not all period pants are created for the same level of flow.
Comfort will include fit as well as general wear-ability throughout the day and/or night.
Quality will be my judgement of materials, how long-lasting they seem to be, how they held up in the wash etc.
The Period Underwear Reviews
Brand: Cheeky Wipes
Product 1: Feeling Sporty pants – £10.50 (~$14 / ~12€), available in sizes UK 4-6 to 16-18
Product 2: Feeling Sassy pants – £10.50 (~$14 / ~12€), available in sizes UK 4-6 to 16-18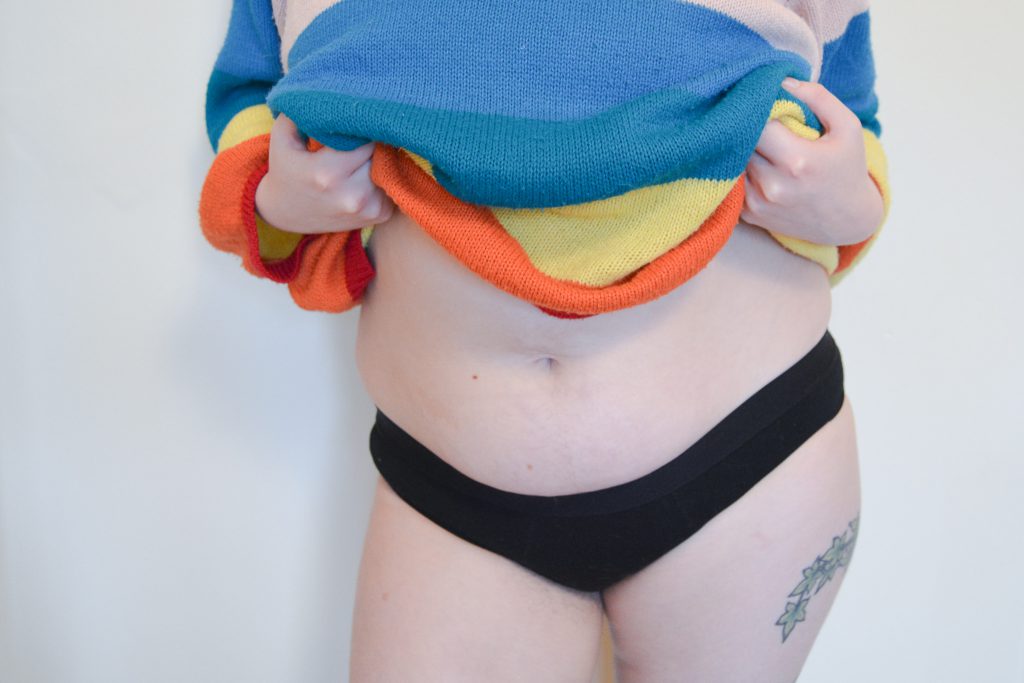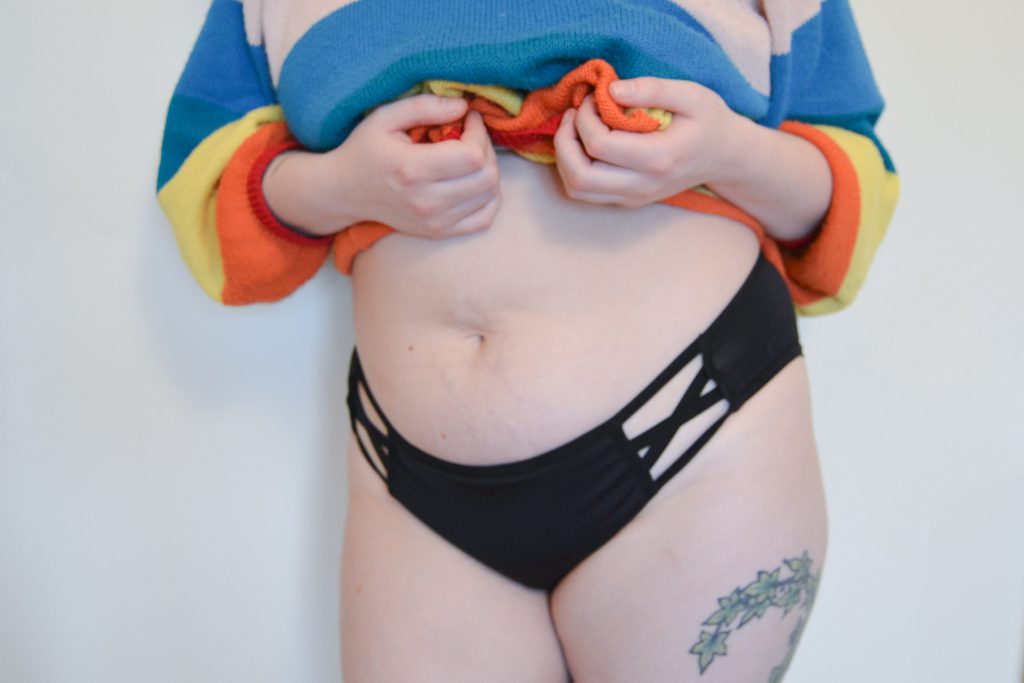 Cheeky Wipes offers an amazing range of re-usable cloth products on their website, as well as a growing selection of pants designed to be worn on your period. I ordered the Feeling Sporty and Feeling Sassy pairs, both with 4-layer absorbency and in a UK size 10-12. These are some of the cheapest period pants I've ever came across, and I would definitely recommend them for anyone who isn't sure if they're going to like this method, just to try it out without investing too much.
These last me 3-4 hours on a heavy day (as long as a reusable pad does), and half a day when spotting, which meets the expectations laid out on the website. They could probably hold enough to last a full day on spotting, but I get worried about smells and such after a while. Speaking of, after putting these through the wash (30°C with other coloured clothing, the same way I washed all the underwear in this review, as stipulated by the wash instructions of each), I was aware that they still didn't quite smell fresh. For some reason this was especially prevalent for the Sporty pants. So now I make sure to clean the gusset with soap and cold water before putting them in the machine, which is something I do with my reusable pads anyway.
After the first wash the fabric had already started pilling on the Sassy pair, which was very disappointing, and makes me wonder how long they will last. The thick elastic combined with the low-rise of the Feeling Sporty pair does not work well with my body-type and cuts in to my stomach a lot throughout the day. However the Feeling Sassy pair is much more forgiving, and I particularly enjoy the amount of stretch in the nylon body of these.
Overall Cheeky Wipes rating: 10/15
---
Brand: Wuka
Product 1: Medium Flow pants* – £19.99 (~$26 / ~24€), available in sizes 2XS to 2XL
Product 2: Heavy Flow pants* – £24.99 (~$33 / ~30€), available in sizes UK 4 to 20
(Get 10% off at Wuka with code Esty10)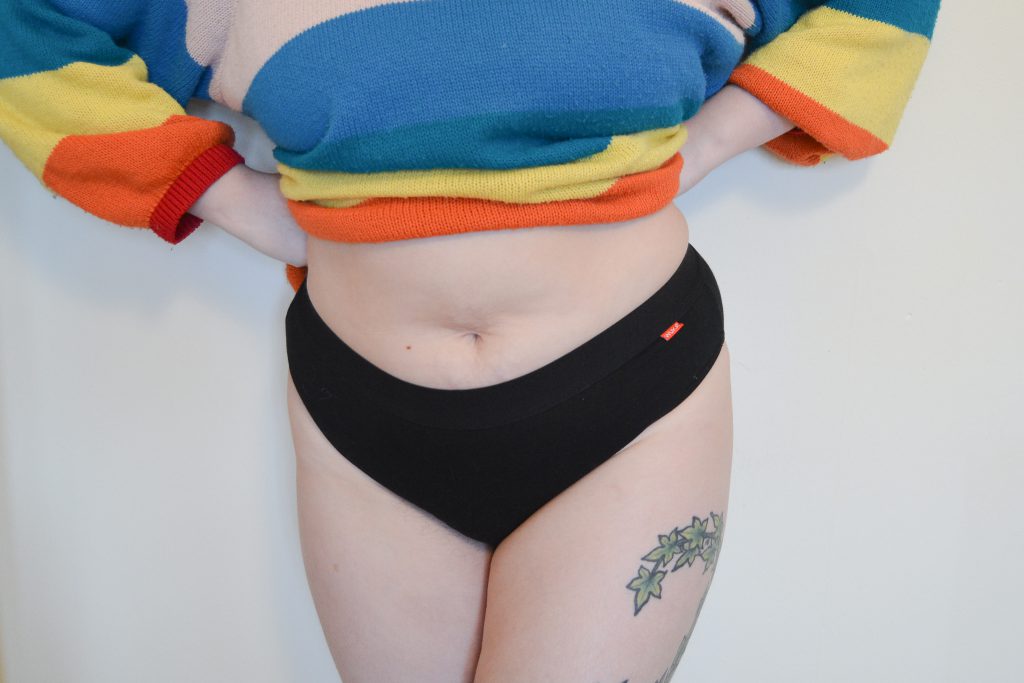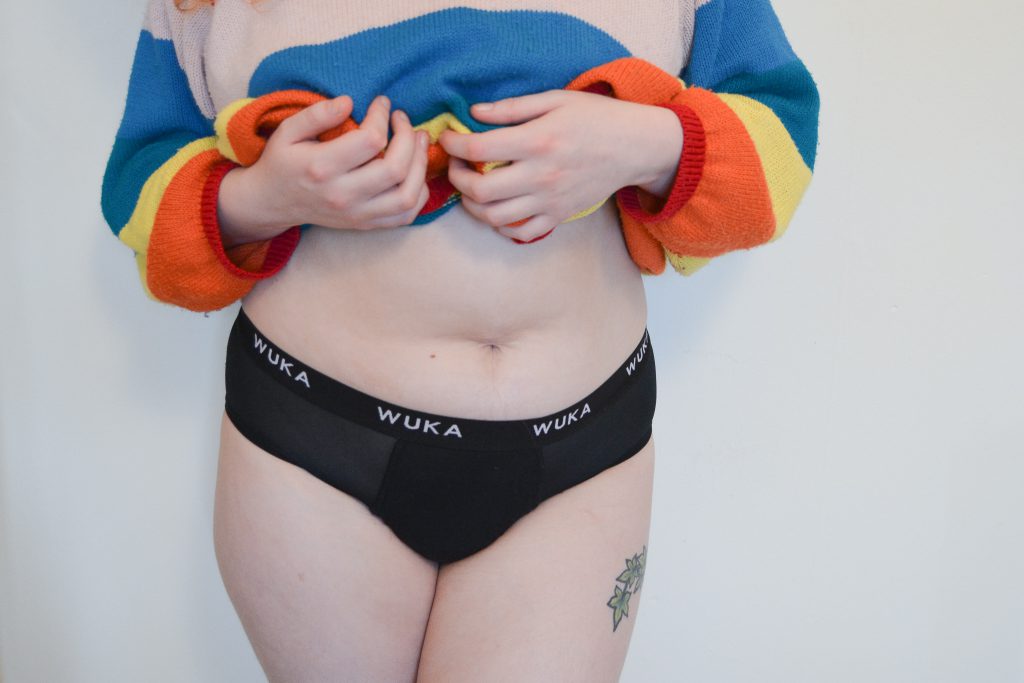 After giving them my measurements and preferences, Wuka* sent me two pairs, the Medium Flow design in black and size Medium, and Heavy Flow in a UK size 10. These have been the most used of all the pairs I was sent. Both were incredibly comfortable; I love the mid-rise waistbands and soft but secure fabrics, as they had this sort of compression effect which aided with soothing my cramps.
The gussets were definitely the thickest of all the pairs I tried out, which meant that they were super absorbent and lasted all day with no other pads or tampons needed, but it did mean that I was definitely aware that I was wearing period pants throughout. However, they never felt wet and I wasn't aware of any odour. They washed really well, but took a long time to dry. Overall I just felt really secure while wearing these, which was great as I went away for a weekend with them and didn't have to worry about constant bathroom breaks or having to pack loads of extra underwear and trousers.
Overall Wuka rating: 14/15
---
Brand: ModiBodi
Product: Sensual Lace Full Brief* – $30.50 AUD (~£16 / ~$21 USD / ~19€), available in sizes S to 6XL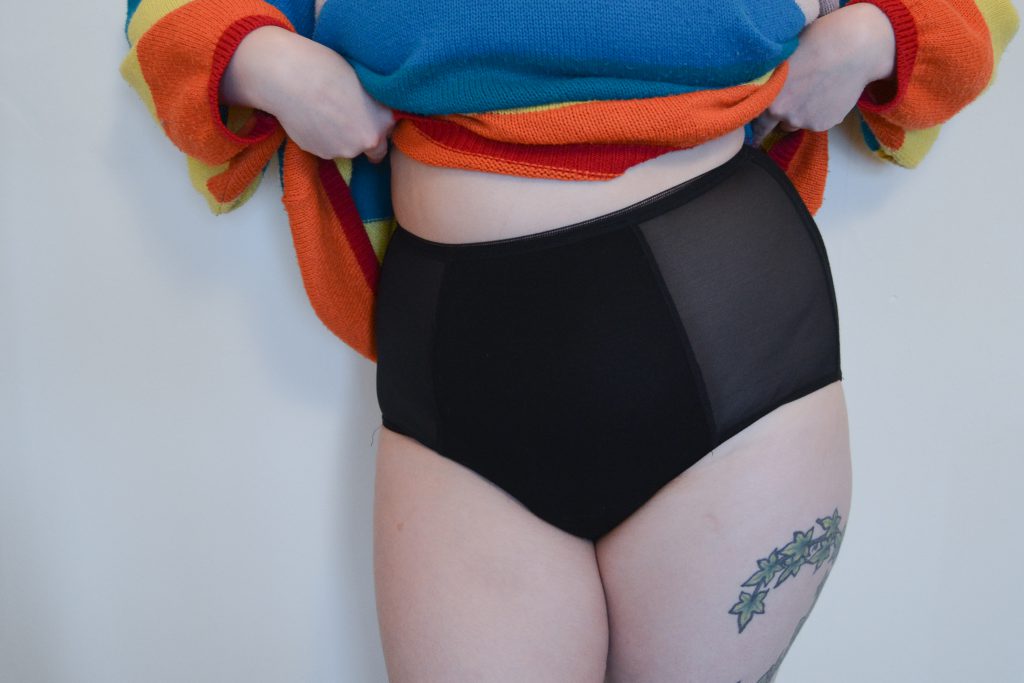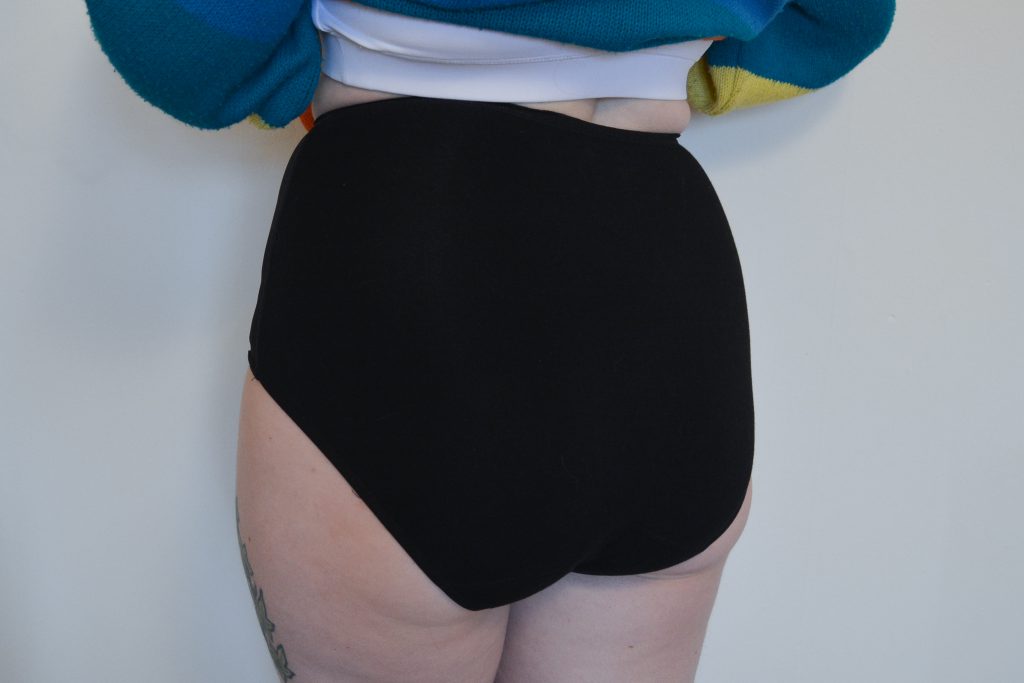 As they were sold out of all of their Heavy/Overnight absorbency pairs, I opted to have ModiBodi* send me their Sensual Lace Full Brief for Light-Moderate Absorbency in size AU 12/M. Even with the lighter absorbency I was still super impressed by these! I managed an hour of yoga, plus half an hour on either side of walking to the gym and back, on a heavy day without any leaks – but I was definitely pushing the limits by the time I was home!
On a lighter flow, these lasted me a whole working day without any discomfort or odour. These were also the pair that I enjoyed the design of the most, because sometimes I still want to feel stylish and sexy while on my period. The high waist was definitely my favourite cut of all the designs, and I honestly don't understand why all period underwear designers don't do high-waist pairs because they are so much more comfortable and secure, particularly when you're cramping and bloated.
I definitely want to try some of ModiBodi's heavier absorbency styles because they seem to be of a similar quality level to Wuka. If anyone is interested in using period pants just as a back-up with another method, then I would definitely recommend ModiBodi's lighter absorbency styles.
Overall ModiBodi rating: 15/15
---
Brand: Ruby Love
Product: High-Waist pants – $22.99 (~£18 / ~21€), available in sizes S/M to 3XL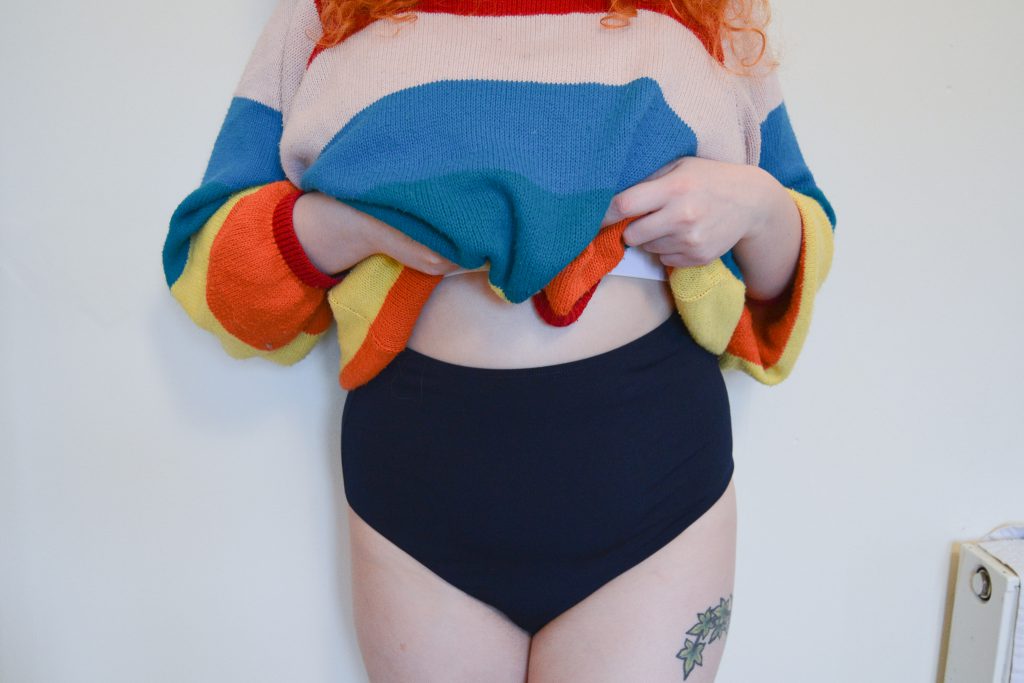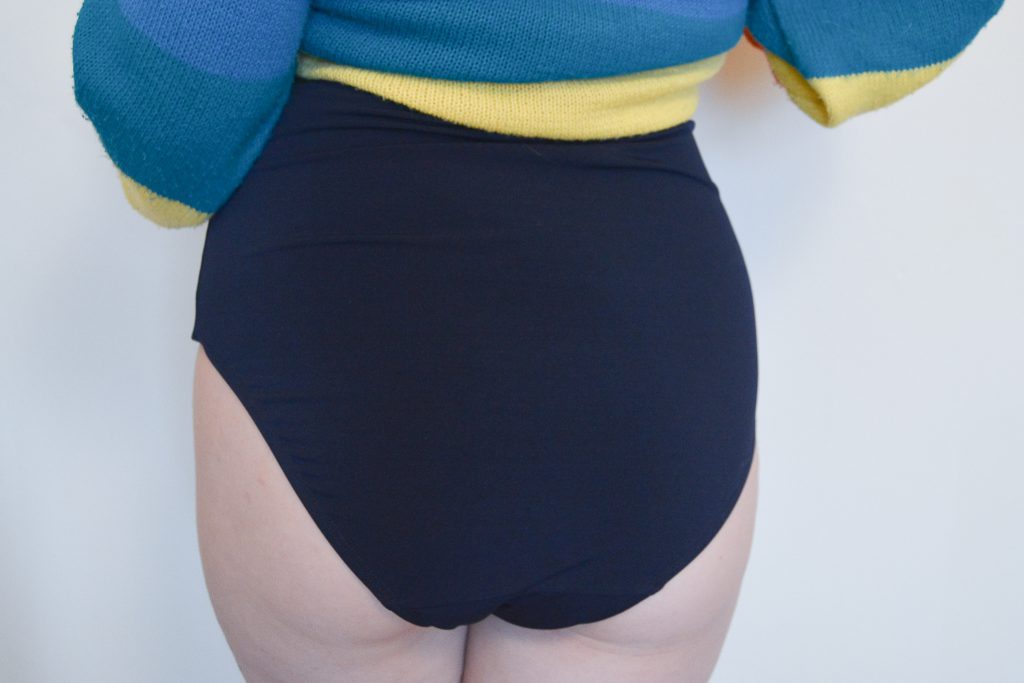 Unlike the other pairs I was sent, I think Ruby Love aren't necessarily designed to be worn as stand-alone period protection. Their size chart put me in an XL (bizarrely the only measurement they account for is lower waist), and I asked if they could send me their High-Waist design. I wouldn't say these are too big per-se, but I feel like I could have got off with sizing down one or even two sizes as the fabric is very stretchy and the waist band comes up very high on my short torso, so take that into account if you're deciding on your own size to order.
I wore these with no other period products on a light day and they worked well for the few hours I did. However, Ruby Love's designs incorporate a mesh pocket (not sure if this is the best word, you can view a diagram here to gain a better understanding) which holds a pad in place, but can be a bit uncomfortable if, like me, you're sensitive to chafing. When this is immensely useful, however, is for night times when you can double up with a pad and the pants. Having a pad in the pocket stretched the elastic enough that it reduced the chafing, as well as securely – and miraculously – holding a cloth pad in there for my 8 hours of restlessly kicking and turning in bed.
The soft, stretchy material and cut of these pants overall made them ideal for sleeping in, but I imagine someone with very heavy periods would highly benefit from Ruby Love's designs for day-wear as well, as an easy way to double up on protection.
Overall Ruby Love rating: 11/15
---
More period knickers*
Have you tried any period pants before? And if so, which have been your favourite brands so far?