Disclosure: I received this lingerie set free of charge to review. Links with a * are affiliate links.
I've been following Primrose & Pixie* for years now, ever since I first discovered this "lingerie and sleepwear for modern daydreamers". The designer behind the brand, Sarah Richards, creates beautiful, unapologetically-girly lingerie inspired by nature, fairy tales, magic and Gothic styling.
Richards knew she wanted to be a fashion designer right from age 7, but it wasn't until she was made redundant during the recession some years ago that she started her own brand. (A rather inspiring story for the difficult economic times many of us face right now!). Luckily for us, she decided her signature feminine style of design was perfect for lingerie and sleepwear, and the rest is history.
When I think of the perfect lingerie for springtime, Primrose & Pixie is among the first brands that come to mind. Richards knows just how to pick the most dreamy, delicate, and often adorable prints. Her lingerie is decorated with flowers, butterflies and cute woodland animals — fun fabrics and whimsical designs that make me want to throw a garden party!
What's better, Primrose & Pixie favours organic and chemical-free fabrics as much as possible, using the OekoTex Confidence in Textiles certificate as a way of measuring if there are chemicals in the fabric. Every product is handmade to order on the west coast of Scotland, and the fabrics are bought in small quantities to reduce waste. So if you're looking to shop from a small, woman-owned business that is consciously trying to shift the fashion industry into becoming more sustainable, Primrose & Pixie is a great choice.
Now, onto my review of the Rose Print bralette and French knickers set*…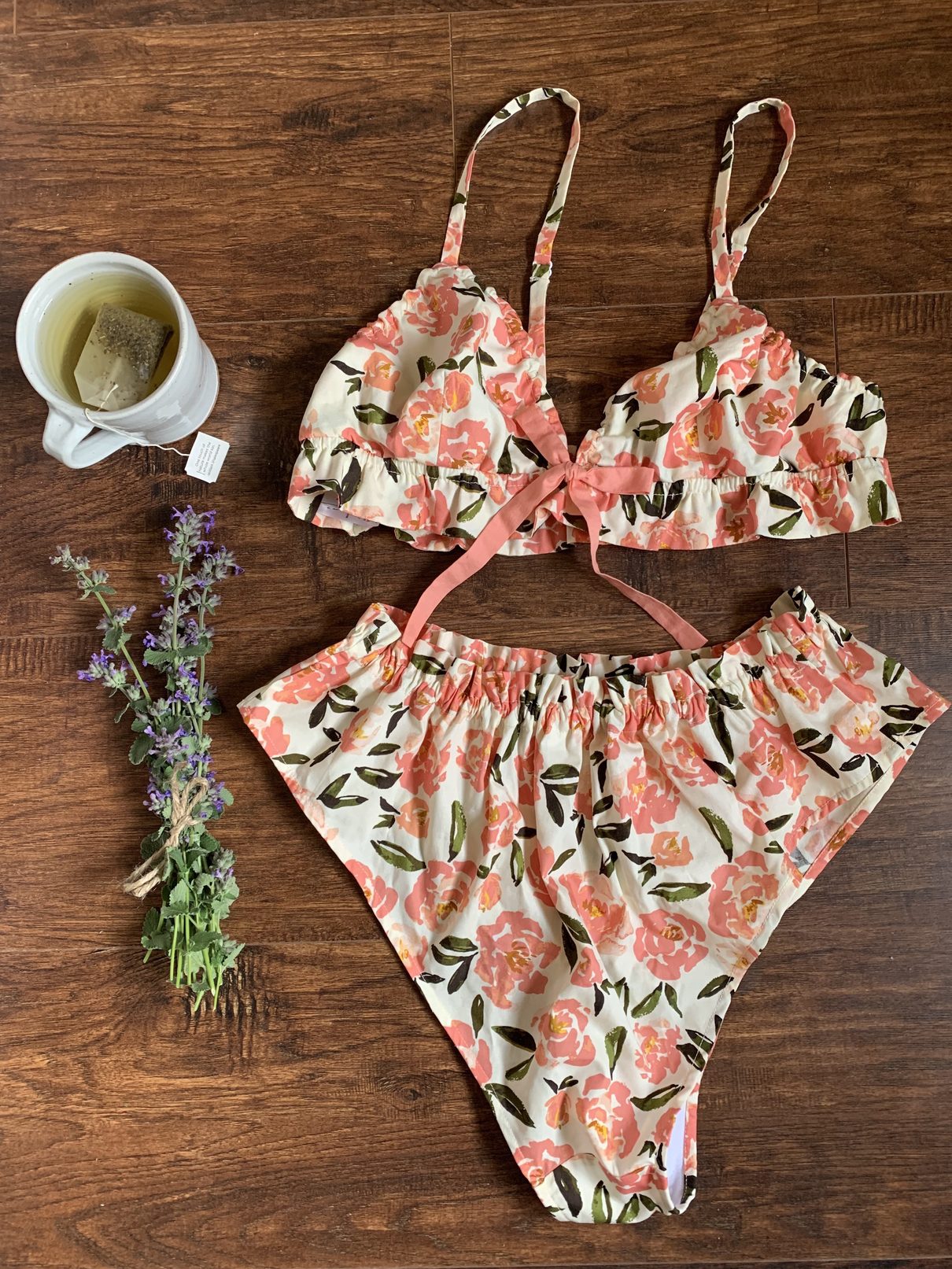 Appearance
The fabric is what first drew me to this set. The rose print, paired with the ruffles along the bralette and knickers, creates the most gorgeous feminine design. The roses are soft shades of pink with hints of yellow and green, standing out beautifully against the white background, and the pink cotton bow in the center of the bralette ties the whole look together. It looks exactly how it's pictured on the website, so you can be confident you're getting what you paid for.
This is the first pair of French knickers — also called tap pants in the US — that I've owned. I love that it's a mix between shorts and knickers. Because it's kind of lingerie and loungewear at the same time, it's the perfect attire for lounging around the house – this set has become my absolute favourite for pairing with a light robe while I sip my tea in the mornings.
Construction
This set is soft and comfortable, but it also feels really sturdy. It's remarkably high-quality as well, with each stitch perfectly in place. I don't feel like I have to treat it delicately for fear of damaging it. Instead, I feel like I can put it to good use and wear it all the time without worrying about it losing elasticity or otherwise prematurely deteriorating.
This fabric is 100% cotton, which means it's on the thicker side. It's perfect for those spring months when it's still a bit chilly but slowly warming up. If you're looking for something light and airy to wear in the very hot months however, you might want to check out Primrose & Pixie's sets made with a more breathable mesh fabric, such as this one*.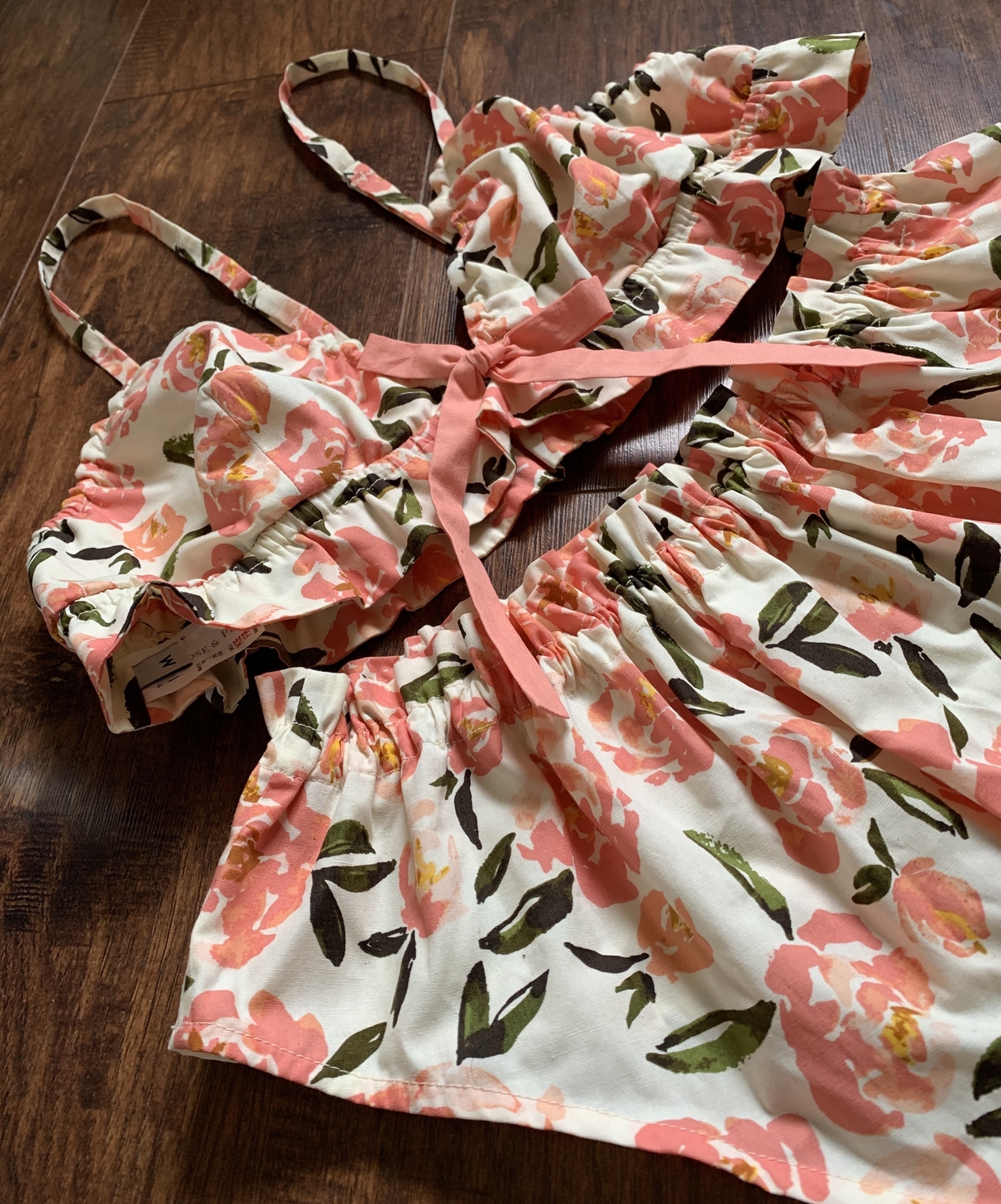 Fit
One of my favourite things in lingerie is adjustable straps on bralettes (not very sexy, I know, but important!). Many of us with fuller busts know it can be difficult to find bralettes that fit well, and having those adjustable straps can provide greater comfort and support. Luckily, this bralette has them.
Primrose & Pixie states their bralettes should fit comfortably up to a C/D cup, but I took the risk anyway. I can't say no to a cute bralette, even with my 32E (US 32DDD) measurements! I almost always size down in bralettes because I appreciate the added support that comes with the band hugging a little tighter, especially for a bralette like this with no support features or fastenings (Primrose & Pixie also makes a Vintage-Style Tie Bra* in this same fabric if you're looking for something more adjustable).
Happily, the bralette in size Medium fits quite well. The band is comfortable going around, and it's loose enough that it doesn't leave impressions in the skin after being worn for a few hours. I'm right on the edge of fitting in the cups, so if you're a cup size bigger or have a bigger band size, I would go for the size Large.
It might be worth sizing down in the French knickers if you're of a shorter stature. I'm a UK size 10 and ordered the size Small as the size chart suggested. The waistband fits well; it's just the right size to be tight enough to fit, but loose enough that it's still comfortable to sleep in. But because I have a short torso — I'm petite at 158cm or 5'2 — the French knickers are a bit long on me.
Overall
After a handful of wears, I still love this set and this brand. Primrose & Pixie's designs are excellent quality, very sturdy, and absolutely stunning to look at. In summary, this is a great set if you're looking for something that can double as lingerie or loungewear. As a bonus, there are matching pieces available such as the Lounge Pants*, Robe*, and Camisole and Shorts Set* if you're craving more of this fabric.
What do you think of Primrose & Pixie's designs? How do they compare with your other favourite consciously-made lingerie companies?