Disclosure: I purchased this lingerie set myself.
I first discovered Australian brand Stonemen several years ago whilst looking for comfortable, stylish men's underwear as a gift for my partner. I was so impressed by the quality of the briefs that came for him that I knew I had to get my own pair of Stonemen one day.
This year, I finally did! Several months back, I bought the Essentials Cheeky Brief in Indigo ($29 AUD / £17 / $22 USD) and matching Essentials Bralette ($33 AUD / £19 / $25 USD), and I've worn them regularly since then.
Stoneman originated as a small, local brand in the sun-soaked beach town of Byron Bay, Australia. As the company has grown, they've maintained the same beachy, laid-back styles inspired by nature that set them apart from other brands. They continue to design their lingerie in Byron Bay and craft their products ethically around the world.
They have stockists across Australia and one in continental Europe, in Paris. And good news for North American customers: 2 years ago when I first ordered from Stonemen, I had to wait for the product to ship from Australia. Since then, they've opened up a warehouse in the US, which makes shipping cheaper, quicker, and more sustainable! Exciting news if you're hoping to order a set for the holidays.
Appearance
I absolutely love the colour of this set, a gorgeous shade of indigo that perfectly captures the essence of the coastal beach town it comes from! Stonemen's line of essentials comes in several other colors, including Mustard, Moss, Rust, Grey, and Black (and I adore the neutral earth tones), but I'm so happy with the colour I bought. I love the combination of the indigo with the grey waistband as well — they work nicely together.
The name "Stonemen" stitched into the briefs and bralette is an on-trend take on the waistband branding made popular by Calvin Klein and which I've seen so many times over the past year. I don't always love such obvious branding, but it lends a sportiness to this set that I think works quite well.
This set does an excellent job at looking athletic and delicate at the same time, with the thick elastic trim on both pieces, the Y-shaped straps, and the clear plastic hardware on the bralette. The lovely indigo colour transforms what would otherwise be a relatively ordinary design into something beautiful. The end result is that it's a great basic set to wear with almost anything.
Comfort
Stonemen's tagline is "Damn Fine Cotton Underwear", so I was expecting comfort from this set, and they definitely delivered. The fabric is an incredibly soft and supple stretch cotton. The size and care instruction tags are also made of a material that is soft and light, and doesn't itch or dig in at all.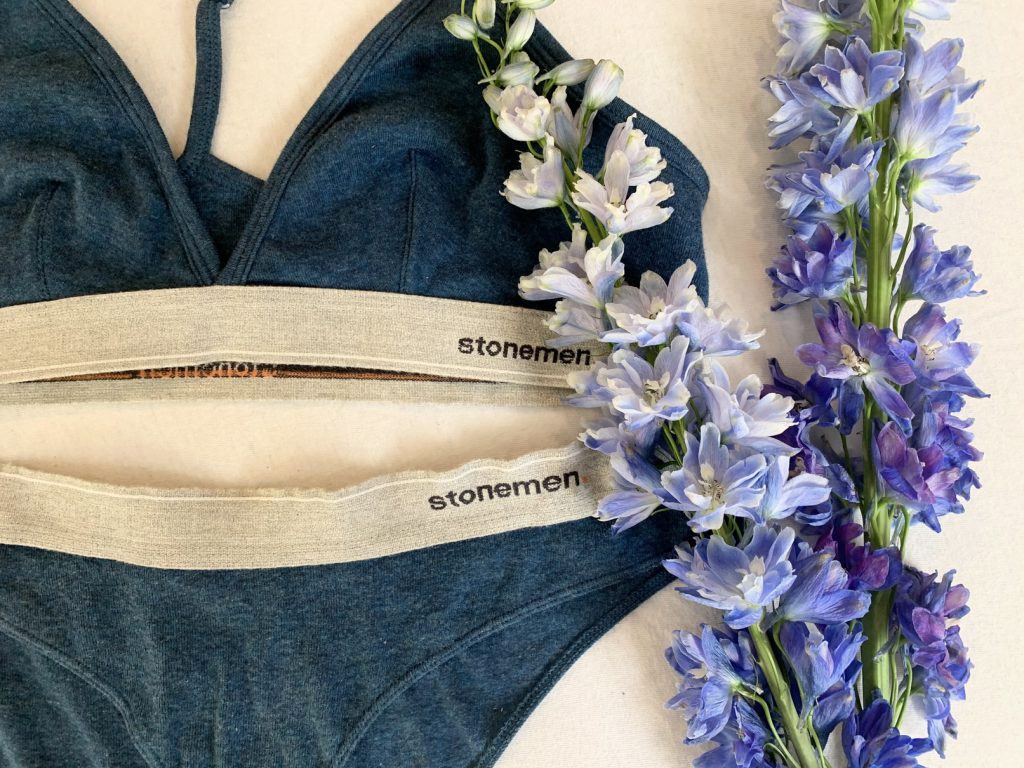 Fit
Unfortunately, there were some issues with the fit of this set. My bust is a size 32E (US 32DDD) and I ordered the bralette in XL, the largest size they sell. I have a combination of issues — the band is slightly loose which doesn't provide much support, but there's not enough fabric in the cups. I think if the straps were adjustable, it would make a world of difference. It's a Y-strap design and the vertical strap going down the back is adjustable, which does help improve the fit slightly, but the shoulder straps are not adjustable and they're too long on my frame.
It works fine for wearing around the house. For how sporty it looks, I had thought there would be more support provided, but it's definitely more for aesthetics than anything else!
As for the briefs, Stonemen recommends that people sized UK 8-10 should order size Large. I'm a UK size 8 so I ordered a Large, and though they fit comfortably, I expected them to be loose and they're actually snug. If you are on the larger end of a recommended size, or if you want a little extra wiggle room in the briefs, then I would size up.
If it weren't for these issues, I would probably buy the same set in multiple colours, because of how cute and comfortable it is. I still might buy the briefs in more colours. But the bralette is best left for smaller busts.
I'm also disappointed in the overall sizing — if someone who is a UK size 10 needs to order the maximum size of XL, that means there are so many more people who can't fit into any of the available sizing! I would love to see Stonemen improve their sizing by accommodating larger bodies, and perhaps re-doing their current sizes as well since the current size Large only fits up to a UK 8.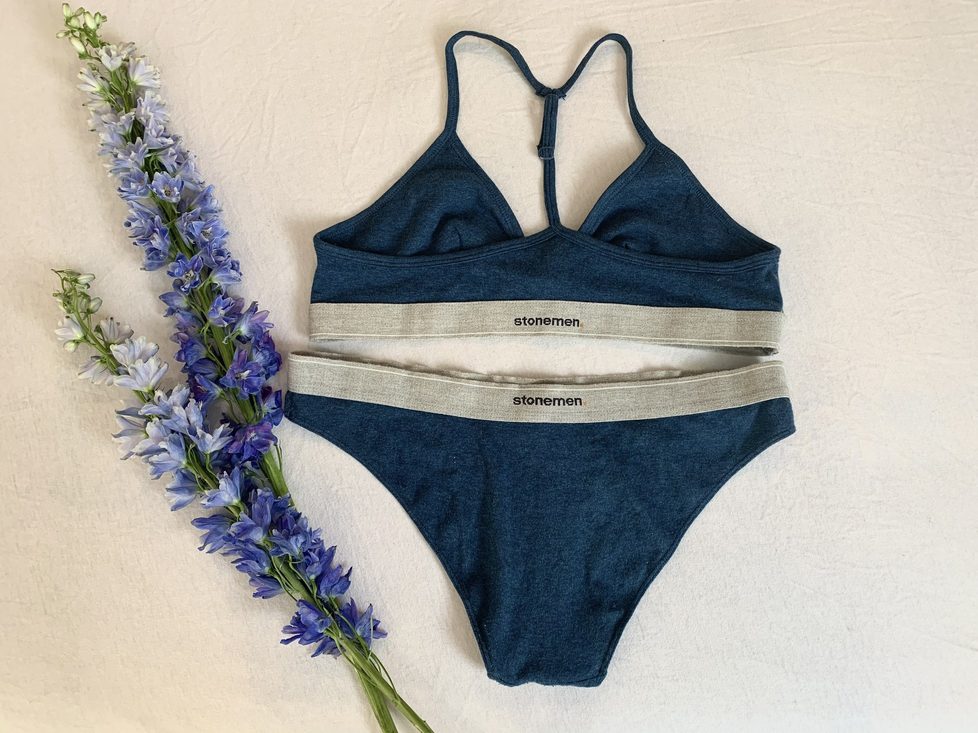 Quality & Durability
The quality of this set is good — the fabric is very comfortable and each stitch is perfectly in place. It's a very well-constructed set.
I followed the washing instructions to wash in cool water and line dry in the shade. But after just two washes, the trims were beginning to lose their crisp shape (see the slight waistband wrinkling in the below photo?). This is common with cotton, but I was surprised at the speed with which it happened here. After those initial two washes when the shape started to go wobbly, I started hand-washing them and they've been preserving much better since.
Overall Thoughts
I absolutely adore the simple, relaxed appearance of this set, and the gorgeous indigo and grey colour combination. The cotton fabric is soft, comfortable, and breathable.
I really wanted this set to become my go-to for comfortable lingerie, but there are some fit issues with the bralette that limit how effective it is. I still wear the briefs all the time, but I generally reach for a different bralette. I would only recommend this one for people with small-to-medium bust sizes. It just doesn't seem as though it's made for larger busts. And if you are on the bigger end of the size chart for the briefs, I would recommend sizing up!
If you do fit within those smaller sizes, though, the comfort and quality of this set — for a very affordable price — definitely makes it worth investing in.
What do you think of this Stonemen Essentials set? What brand makes your favourite everyday cotton lingerie? Comment below, I would love to hear it!