Disclosure: I received this lingerie free of charge to review.
Girls Will Be Boys, also known as GWBB, creates loungewear inspired by today's modern tomboy. Launched in 2013, the US-based brand blends streetwear designs with the comfort of activewear. Their designs focus on breathable fabrics and unobtrusive cuts, for maximum comfort and durability.
I'll be honest: I've lived most of 2020 in loungewear, with the goal to be as comfortable as possible while working from home (and rarely leaving the house) during the pandemic. In line with that, I kept meaning to buy myself a pair of women's boxers — so when GWBB contacted me about reviewing their brand, I was excited to see what they had in store! They sent me the Signature Boxer Briefs in Red/Black in two sizes, Large and XL, and the Signature Booty Briefs in Purple/Gray and Red/Black in size Large.
GWBB is very affordable: the Boxer Briefs retail for $18.99 (~£14 / ~16€) and the Booty Briefs retail for $16.99 (~£13 / ~14€). They come in a variety of colours, and they definitely live up to their main selling point: comfortability.
The first thing I noticed about these briefs is that they arrived in discreet packaging. After living in apartment buildings where anyone can see your mail for far too long, I always hate when packages say something about lingerie right on the label! I was happy to see that my products came simply and discreetly labelled from "GWBB Inc." and nothing more.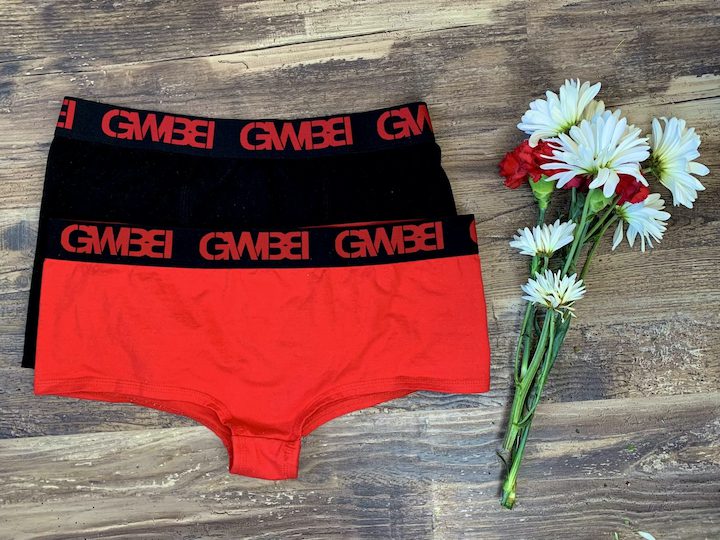 Comfort & Fit
GWBB uses a blend of 95% cotton and 5% spandex for a soft and snug design.
The listing for their Signature Boxer Briefs says the size runs small, so I ordered up and got a size Large. I'm currently a size US 6 (UK 10) with a waist at 29", and it fits comfortably. The Booty Briefs in size Large also fit well without being tight. The size Extra Large Boxer Briefs are big on me, as I would have expected. However, be aware that because they are cotton, all the briefs shrunk slightly in the drier. So if you are on the larger end of a size, I would air dry them instead.
The boxer briefs don't ride up, which is something I was concerned about as I'm not used to wearing longer briefs. There is triple stitching on the waist and leg to make the fit secure, and this does prevent them from riding up the leg. However, the fabric edge on the legs curls up slightly, which makes them unseemly to wear under tight garments such as leggings. The booty briefs are a good solution to this because they have the same comfortable cotton feel without the extra fabric.
Design
The waistband logo has become nearly ubiquitous at this point, but I like the style on athletic lingerie like this. While many brands print their logos, GWBB actually embroiders theirs to resist fading.
They also use fun, bright colours to add an element of playfulness to their designs. You can choose from neon green, neon pink, bright red, or light blue — or choose a more muted tone such as hunter green, black, or navy. Though the number one priority of GWBB is comfort, I appreciate the personality that such vivid colours bring to designs that are otherwise quite simple and basic.
I also like the way the seams are placed on the back of the design, which you can see in the above photo. In the words of GWBB, this puts them around your sensitive areas and not on them. I didn't think I'd notice this, but it does make a difference in comfort compared to some other knickers I've worn where the seams are right under the gusset, which can sometimes ride up and become annoying or uncomfortable.
Quality & Durability
Overall, these are sturdy but the construction isn't flawless. There are a few areas along the waistband that arrived with some loose threads, which you can see in the photo above. For the price, I don't think these loose threads are a huge deal. The stitching does seem well-enforced (you can see the double rows of stitching above) so I'm not concerned about it coming loose anytime soon — but obviously it's not as aesthetically-pleasing as a neat stitch.
I've washed these briefs in warm water and dried them on low heat four or five times each, as directed in the care instructions, and they've held up quite well. They haven't lost their shape or faded and look essentially the same as they did when I first got them. With how much lingerie I have to wash by hand, it's really nice to have underwear like this that I can throw directly into the washing machine and not have to spend extra time on.
Overall
Like I mentioned above, I had been meaning to buy some women's boxers before GWBB came along. I just didn't know where to start. Now, I can confidently say that if you're looking for boxer briefs or athletic loungewear — or even just comfortable cotton knickers — this is a great brand to try. I will likely be ordering from them again in the future!
What do you think of GWBB? What has been your go-to lingerie during the pandemic?