Disclosure: I received this lingerie free of charge to review. Links with a * are affiliate links.
I wasn't sure what to expect from California-based brand WAMA*, who make hemp-based underwear, but their Racerback Bralette* ($38 – approx. £28 / 32€) and Bikini Brief* ($20 – approx. £15 / 17€) have quickly become a casual staple in my wardrobe.
I've been curious to try hemp underwear for a while, but I've had less-than favourable experiences with hemp clothing in the past. I often find the fabric itchy, and it can feel thick and heavy against the skin. Obviously, that's not ideal for something you're wearing on sensitive parts of your body. At the same time though, hemp is naturally anti-bacterial and breathable. It would be an ideal fabric for underthings, if only it were more comfortable.
Enter WAMA Underwear. Not only do they create super-comfortable hemp-blend underwear, but they also incorporate sustainability into their business model. They are a Green America Certified Business, meaning they meet a high standard for social and environmental impacts as judged by this non-profit group. They're also OEKO-TEX certified, meaning that their products are free from chemicals that can harm our bodies.
Also, while WAMA products are made in China, the brand ensures their products are ethically-made by partnering with factories that have fair wages and quality working environments – plus having an employee in the country to oversee production more directly.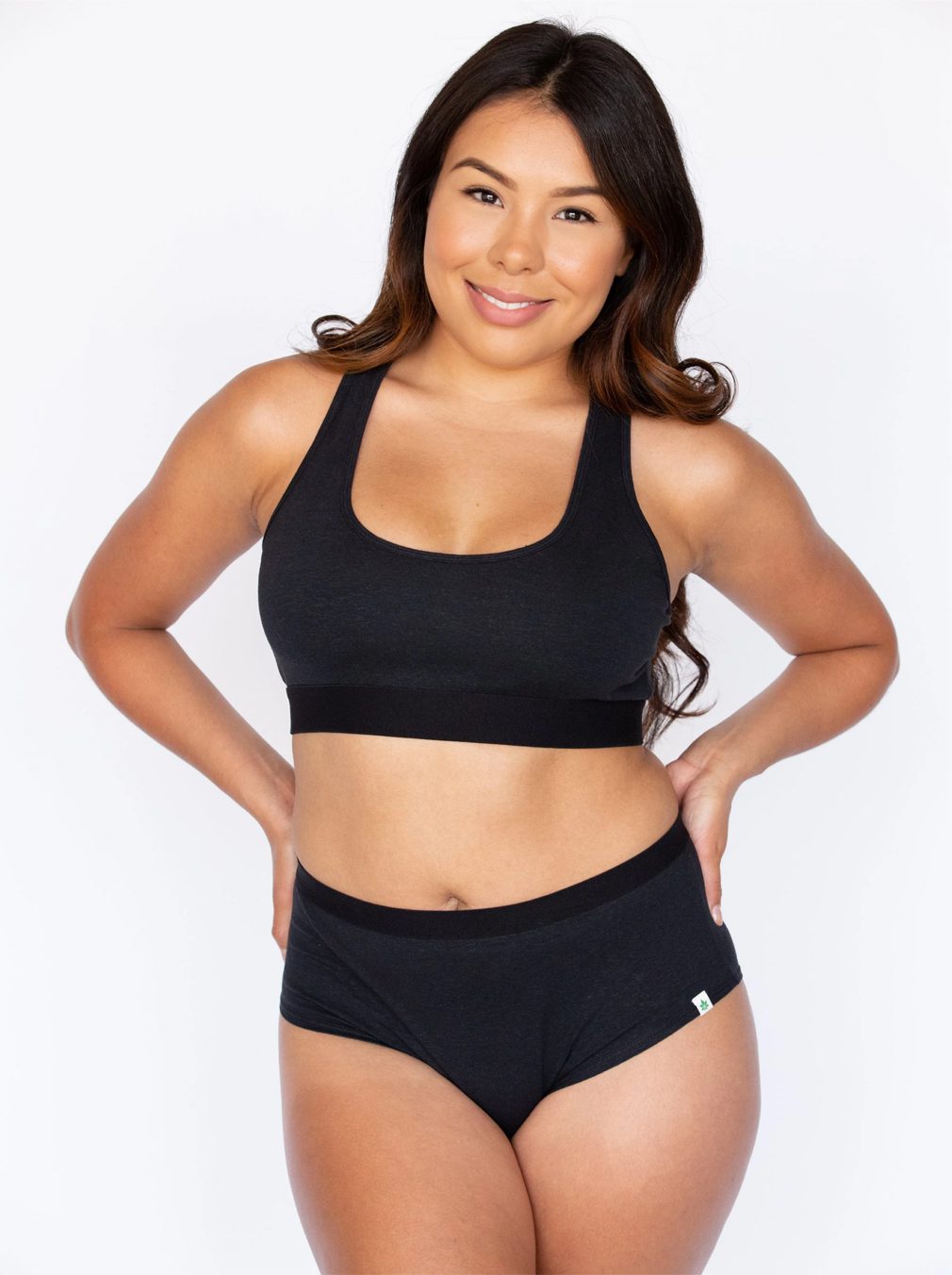 Hemp isn't a fabric often used in mainstream fashion. I usually think of hemp in tandem with new age and hippie style, not casual everyday wear for most people. But that is exactly the shift WAMA is trying to make with their products.
On their website, they speak specifically to the experience of people wearing hemp for the first time. They want to bring awareness to hemp as a great fabric option. So far, they're doing a great job of incorporating this fabric with modern styling to create a new wave of hemp underwear for people who might not have thought to wear it before.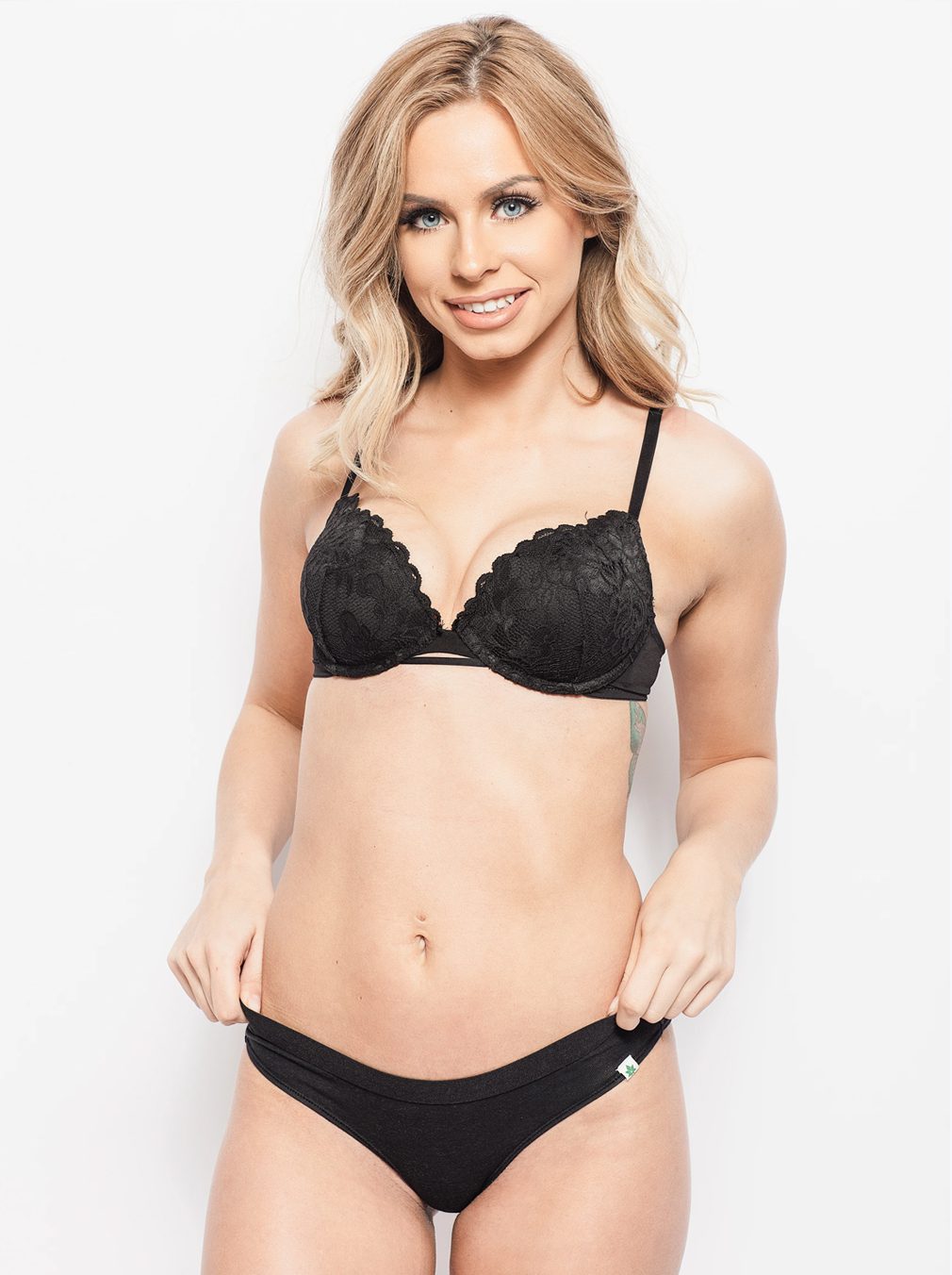 Appearance
I love this set for its simplicity. The design is clean and fairly basic. The black colour makes it easy to mix-and-match with other items in my wardrobe. You can see in the photo above how these briefs look with a non-WAMA black bra.
My favourite way to wear this bralette is with the straps peeking out from under a wide-neck shirt to create a sporty look. A pop of green in the inner lining adds a dash of flair, but isn't visible from the outside so it doesn't take away from the overall appearance.
I will likely be back for this set in other colours! The bikini brief is also available in green already, and both pieces are coming in four shades of nude in October. I'm hoping they create a wider range of colours and patterns in the future.
Fit
WAMA sizing goes from XS to 3XL. For the briefs, I recommend sizing up if you are on the larger end of a size. I'm between a UK size 8 and 10 and I ordered a size Medium. While the briefs are still wearable, they are slightly tight. Sizing up would be more comfortable.
For the bralette, I tried both the size Large and XL. The Large fit well for my bust size, which is a 32DDD (UK 32E). The band is tight enough to provide minimal support without being too small. I wouldn't recommend the XL for someone with a 32 or lower band size, as the band is just too big.
Support
WAMA advertises this bralette as giving full support, but that wasn't my experience. This may look like a sports bra, but it definitely isn't! Even if you're not working out, the support is minimal. Be aware of that, especially if you have a fuller bust.
This set is great for lounging around the house or running errands, but I wouldn't wear it to work out. Trust me — I learned that lesson the hard way!
Comfort
As I mentioned above, my main concern with hemp was that it would be itchy. Fortunately, that wasn't an issue. The fabric isn't itchy – it's actually very comfortable! I've often spent multiple days in a row wearing this bralette, and I never get tired of the way the fabric feels against my skin. I also love that it's made without harsh chemicals, so I feel great about wearing it.
The elastic bands on both the bralette and briefs are also comfortable. They are wide enough that they don't dig in, even though the briefs are on the smaller side.
While WAMA's selling point is that it's made with sustainable hemp, their signature blend is actually only 53% hemp, with an additional 44% cotton and 3% spandex. WAMA markets itself as "pioneers in the hemp underwear industry", so I was surprised to see that their fabric has only slightly more hemp than cotton. But perhaps that's why this set doesn't come with the challenges I've often encountered with other hemp clothing.
Quality & Durability
I've washed this set on cold by machine multiple times. I was concerned it would lose its shape as cotton undergarments often do, but that hasn't been a problem. However, you'll notice in the image above that there is some slight pilling in the fabric.
This set has gotten softer with every wear, which is normal according to the WAMA website. The first few times I wore it the fabric was more stiff, but it's getting more comfortable the more I use it. The band and the rest of the fabric has loosened slightly, so the fit has become more comfortable with each wear.
A lot of knickers at this price point fall apart after just a handful of washes, so it's nice to see this set has become more comfortable over time and remained in good condition.
If you're looking for comfortable lingerie to add to your collection, I recommend this set. It's soft, sustainable, and great quality for the price. Just be aware that it lacks support for larger busts.
As of now there are just a few products on WAMA's website*, but I hope they'll create a wider variety in the future. I'd love to shop new styles. The hemp revolution is here!
Are you curious to try hemp underwear?