Following on from our interview with Charlotte Moroney who won 3rd place in the Esty Lingerie 2013 design competition, today we're interviewing Divya Gupta who came in 2nd place. Both Charlotte and Divya were voted for by you in the public voting stage, meaning that Divya got the most public votes out of the 16 finalists' designs we posted on Facebook with a whopping 358 votes!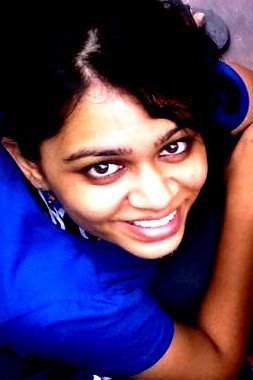 How did it feel to hear you'd won 2nd place in the 2013 Esty Lingerie design competition?
I felt really honored to get selected in the top 16 finalists. And then winning was like a dream come true. I have always liked the Esty so much; they are are a big inspiration bank with all the great designs.
Tell us more about the inspiration behind your 'black calla lily' design…
Black calla lilies are true wonders of nature. They not only rare and mysterious but also elegant. A shock of black is sexy, edgy, super-sophisticated and all-out gorgeous. My design is inspired by the mystery of the calla lilly.
The design consists of a halter triangular bra with the cut from the lower bust till the beginning of areola. The panty also has a cut from the side seam towards the gusset. The whole set is also completed by a mesh bodysuit with a red leather belt to add a Gothic touch.
Did you have any previous experience in lingerie design?
I was very lucky to get a break at a Indian domestic giant at the very beginning of my career. There I learned all the technicalities of lingerie design, pattern making and grading. I was involved with all the aspects of product development , right from the conceptualising to production, even marketing sometimes. All this experience helped me later to launch my own brand Aah! Intimates.
As the owner of a lingerie brand, what advice can you give to others who are aspiring to start their own brands?
Well, starting a lingerie brand is a much more difficult task than starting another fashion label. So be passionate about it , no matter how much difficulty you might face – just love the product. The second most important thing is to be technically sound. I mean, know your patterns, know your raw material, gain full knowledge of grading and bra fitting. Also keep yourself updated with all the latest innovations across the globe.
Last but not the least, build a good team – get people who specialise in all the aspects of lingerie. I was very luck to find Antra as my business partner; our working styles and designs philosophy always compliments each other.
Is there anything you feel the lingerie marketing is lacking in right now, in India or worldwide?
India is still in it's nascent stage when it comes to intimate apparel. It is still highly dominated by age-old domestic brands. The major part missing in the Indian market is options for bigger cups. Sadly, even the customer lacks knowledge about the right fit, so they end up buying wrong sizes throughout their lives. But now with the coming of good international brands to India, I can hope for a good change.
What is your favourite part of designing a new lingerie piece?
To see it turn into reality! I feel so happy and content to get positive customer feedback.
Finally, what is your one top tip for aspiring lingerie designers who are applying to a university course?
Just be passionate about the product and select your area of specialisation well.
What do you think of Divya's black calla lily inspired lingerie set?