Disclosure: These stockings were sent to me free of charge by Stockingirl for review purposes.
These Stockingirl Tessa stockings at one of the items I'd featured in my post on hosiery for sensitive skin, and one that I most wanted to try. Before finding these I hadn't actually realised that silk could be made into a thick knit like this – I'd only ever seen silk satins, silk chiffons, and in hosiery, sheer silk stockings – so I was really curious about how they would compare to standard opaque hosiery.
They arrived fairly quickly from the US and in gorgeous packaging – a pretty cardboard box with a ribbon bow which I've kept to store them in.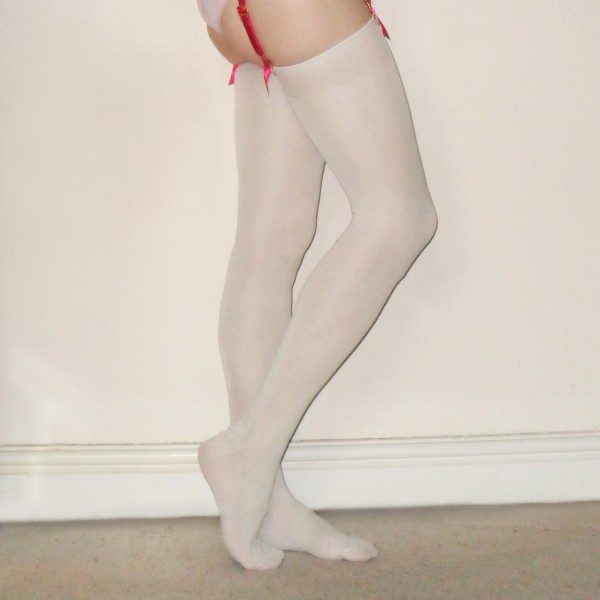 Appearance
The Tessa stockings are available in black, grey and ivory. I own a ton of black hosiery and I'd recently received a pair of opaque grey stockings from Foot Fetish Socks, so I went for the ivory just to have something a little bit different. They're made from a smooth, medium-weight knit with a sheerer welt at the top.
The stockings have lovely 'clocked' details at the ankle, on both the inside and outside of the leg, which you can see at the top of this post – this is a mechanical decoration technique developed hundreds of years ago to imitate lace, at a time when that was still painstakingly made by hand. It's not as nice as lace, but gorgeous nonetheless!
Verdict: 6/10
Construction
The Stockingirl Tessa stockings are 75% silk and 25% nylon, so they're not completely nylon-free, but the nylon is there to enhance the fit. I know that when I last wore 100% silk stockings they got horribly baggy around the knee, but these ones only wrinkled the slightest bit there.
The knit is very smooth and even, and the band of thinner fabric at the top makes them easy to attach to suspender grips. They have a reinforced heel and toe section too for added durability.
Verdict: 9/10
Fit
The Tessa stockings come in two sizes, S/M and M/L. I went for S/M which is intended for 5'0-5'4 and 43-59kg. I'm 5'3 and roughly 45kg, so very comfortably within that size range, but unfortunately I did have some problems with the fit.
As you can see in the first photo, the foot section was too large for me (I wear a UK 4 shoe size for reference) so that the reinforced heel kept getting pulled up towards my ankle. The stockings were also quite tight around the thigh and dug in a little at the top, which was surprising given that they're supposed to fit someone up to 14kg heavier than me. On the plus side, the length was perfect – something I often have problems with being short!
Verdict: 4/10
Comfort
(An additional little score I'm adding in for these hosiery-for-sensitive-skin reviews)
So, the important question – how did these fare for sensitive skin? Now, they are not as smooth or silky feeling as I was expecting – I suppose I thought they'd feel like very fine cashmere does – but I'm glad to say that they were comfortable and didn't itch at all, despite the 25% nylon content.
The slightly open knit and the mainly natural, silk fabric made these very breathable and I've been wearing them just fine on warm, even quite hot (for British standards), days without overheating or feeling like I'm getting sticky legs.
Verdict: 9/10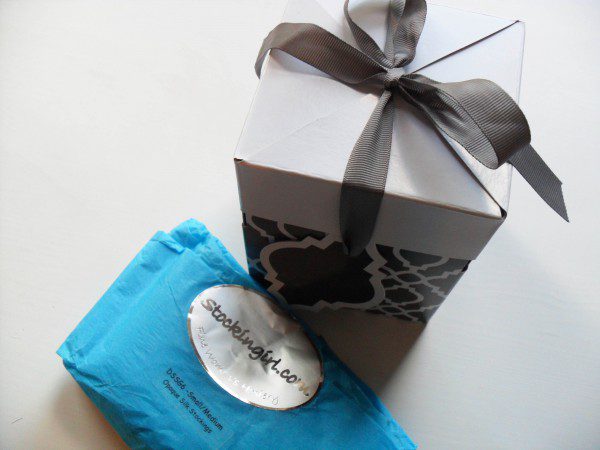 Durability
The Stockingirl website doesn't give any washing instructions for this product, but as they are primarily silk I would highly recommend hand-washing them, or at the very least using a cold, quick setting in a washing machine – silk can shrink in hot water or if just left to soak for very long.
So far these stockings have held up very well – the soles are starting to get a lot of dirty marks but this is a problem I've had with every pair of white hosiery I've ever owned. If you're concerned about longevity, opt for the grey or black versions!
Verdict: 6/10
Value for Money
Stockingirl's Tessa stockings cost $62, which works out at roughly £40, so they're not cheap as far as hosiery typically goes. However, if you can get a good fit I think that the combination of the luxury fabric, unusual clocked design and comfort make them worth it – particularly when you factor in that these are thick stockings that could last you for years if well cared-for.
Verdict: 7/10
Would I recommend it?
Yes, if you can get a good fit. My upper thigh, where the tops of these stockings sit, measures 18.5″ – if yours are anything above this I think you're going to find the S/M cuts in too much to be comfortable. I would love to see these stockings improved with a little more stretch or added circumference at the top.
I would recommend these for sensitive skin – they are breathable, non-irritating and the smoothest-feeling opaque stockings I've tried to date!
What do you think of these Stockingirl Tessa stockings, and the historical clocked design at the ankles?