As has become my little blog tradition, I'm finishing the year with a round-up of my very favourite purchases over the past 12 months. Aside from the corset, I wear everything on this list very regularly – whether it's a basic bra set or a luxury one, nothing says "great purchase" like something you actually want to wear week-in, week-out and which holds up well to all that use too.
Everything on this list I've purchased myself, but a special shout-out to Cervin's Boetie suspender belt (brand-gifted) and Lascivious' Liana bra set (fiancé-gifted) which I'm really happy with too.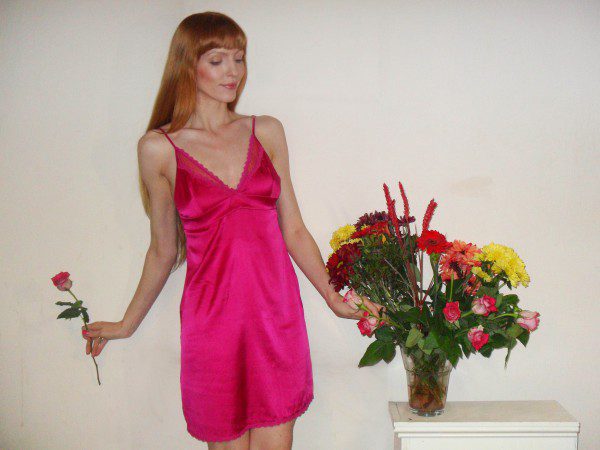 10. Mimi Holliday Raspberry Ripple slip
First up is this silk slip that I reviewed yesterday. I've lost count of how many times I've worn it since I received it less than 2 months ago – in fact, I'm wearing it right now. It's well-made and oh-so-comfortable – the only reason it's down at number 10 on my list is because I've since bought another silk slip that I like aesthetically a lot more.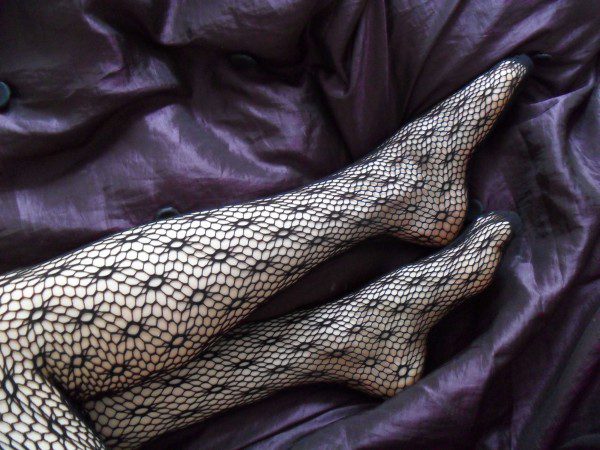 9. Fogal Peony tights
Words cannot express how much I love these tights! I didn't realise net tights could be so pretty and come in designs that weren't just diamond-style fishnet. I wear these regularly to work, but they'd be perfect for a night out too.
I only added these to my basket because I didn't want to pay £5 postage for just one pair of tights, and I'm so glad I got them – the quality is simply outstanding and much better even than my Wolford net tights, a brand that is supposedly the crème de la crème of the hosiery world.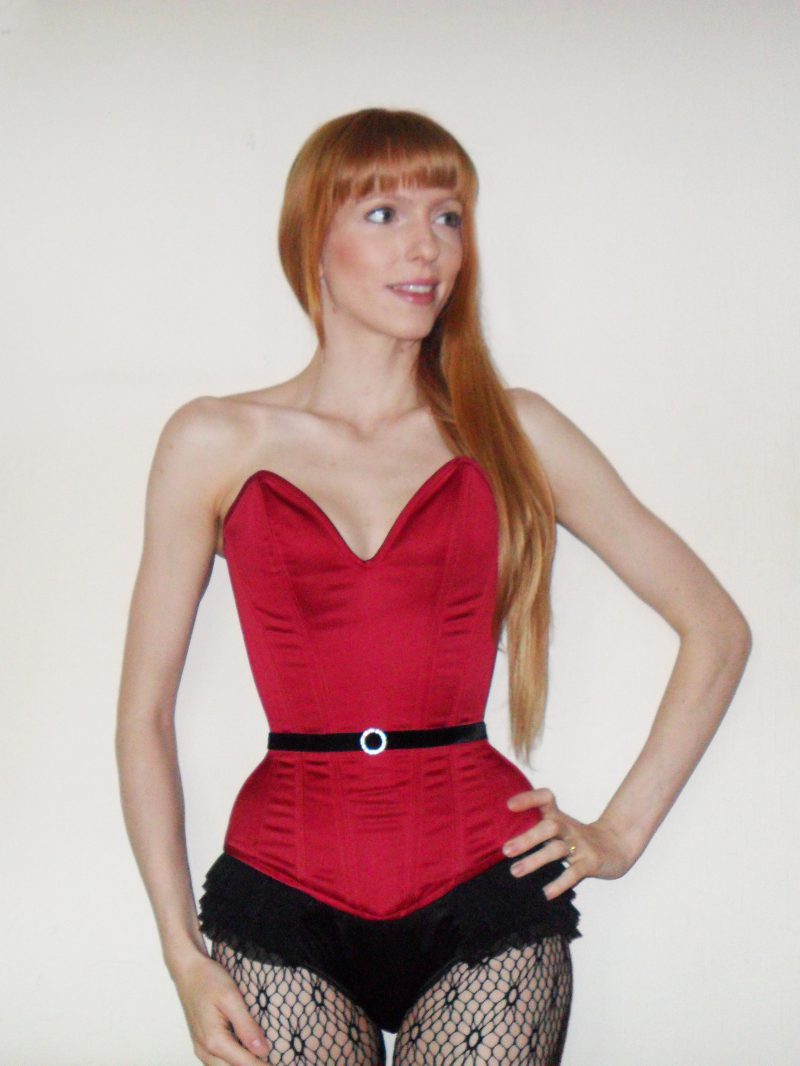 8. Ava Corsetry Audrey overbust corset
This handmade piece is by far the highest-quality corset I've ever bought, from the premium duchess satin to its incredible shaping abilities. I just wish I'd opted for a style with a busk at the front instead because this takes me forever to get on and off, which is precisely why I rarely wear it and why it's down at number 8 on this list.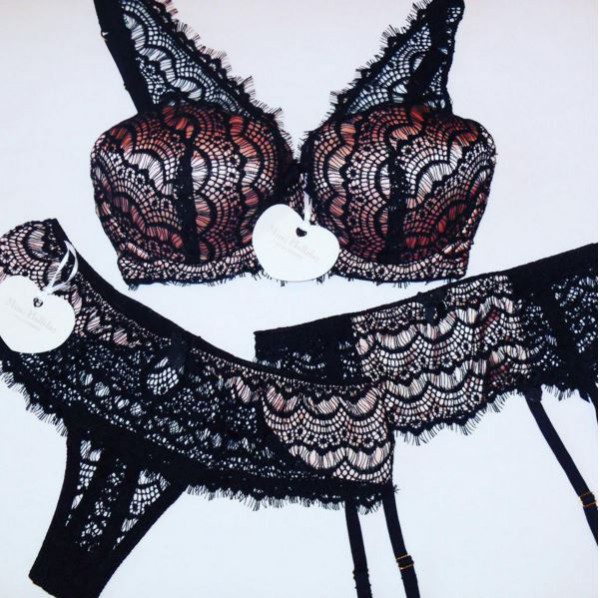 7. Mimi Holliday Bisou Bisou shoulder bra set
One of my more recent purchases, I plan to review this one soon but suffice to say I've been really impressed by it. Bisou Bisou is one of Mimi's most iconic styles and I sort of felt like it had been done to death, released in a lot of colours over the seasons, but now that I've seen it up close I do get the appeal. It's gorgeous!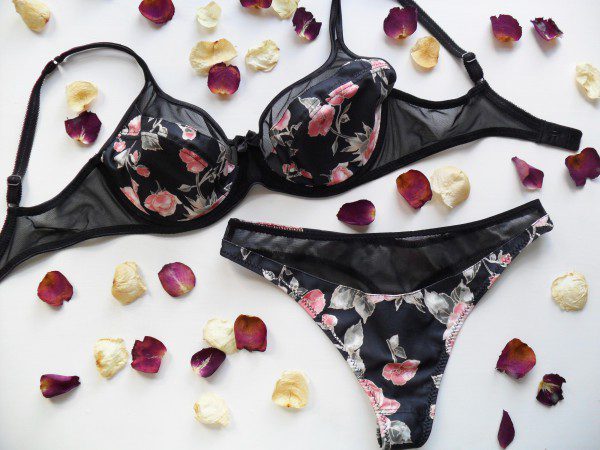 6. Vivi2Anna rose print bra set
Although not the most exciting or groundbreaking of designs, this bra set has nonetheless gotten as much wear as my luxury favourites because it's just so comfortable and so practical. With the bra's smooth cups and the thong's flat edges, it's great for a smooth line under tight-fitting clothing, and its way prettier than most solution-wear.
It was also a bargain at about £20 for a handmade set, and I've been so happy with how it has lasted that I've just placed another order with this designer.
5. L'Agent by Agent Provocateur Marisela bra set
Like the Vivi2Anna set above, this set gets worn at least once per fortnight because it's a great, comfortable 'basic' that stays hidden under clothes, but looks gorgeous too. The fit is also spot-on. I found I was wearing it so often that since writing my review, I've completed my set with a thong and suspender belt (the one pictured above is by another brand, Arabelle).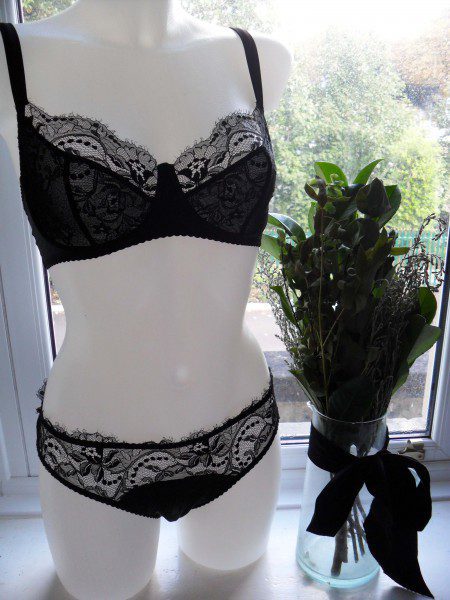 4. Fleur of England Signature bra set
The lace on this British-made bra set is just incredible – definitely check out the back of the knickers in my review linked above if you haven't seen it! It's a really elegant, classic design and I've been wearing it non-stop with my simple black suspender belt from Cervin.
3. Belle et BonBon Emilia bra set
This bra set is not a perfect fit – the knickers are a bit baggy and the bra has a flattening effect which I'm not a fan of – but I honestly don't care because it's such a beautiful, beautiful bra set! From the divine purple and gold lace, to the crossover straps, to the way suspender grips have been used for decoration, it's just exactly my aesthetic. It's beautifully made too and I look forward to trying more Belle et BonBon in 2016.
2. Sapphire Bliss Audrey Kiss chemise
Another very recent purchase, I am hoping to write up a review of this towards the end of the week. As with the Mimi Holliday slip at the start of this post, I've found it so versatile that I've been wearing it all the time, day and night, and found it wonderfully comfortable.
The only reason it's much higher up on this list is because of its visual appeal – rich, navy silk and black eyelash lace combine for a look that's decadent and oh-so-expensive!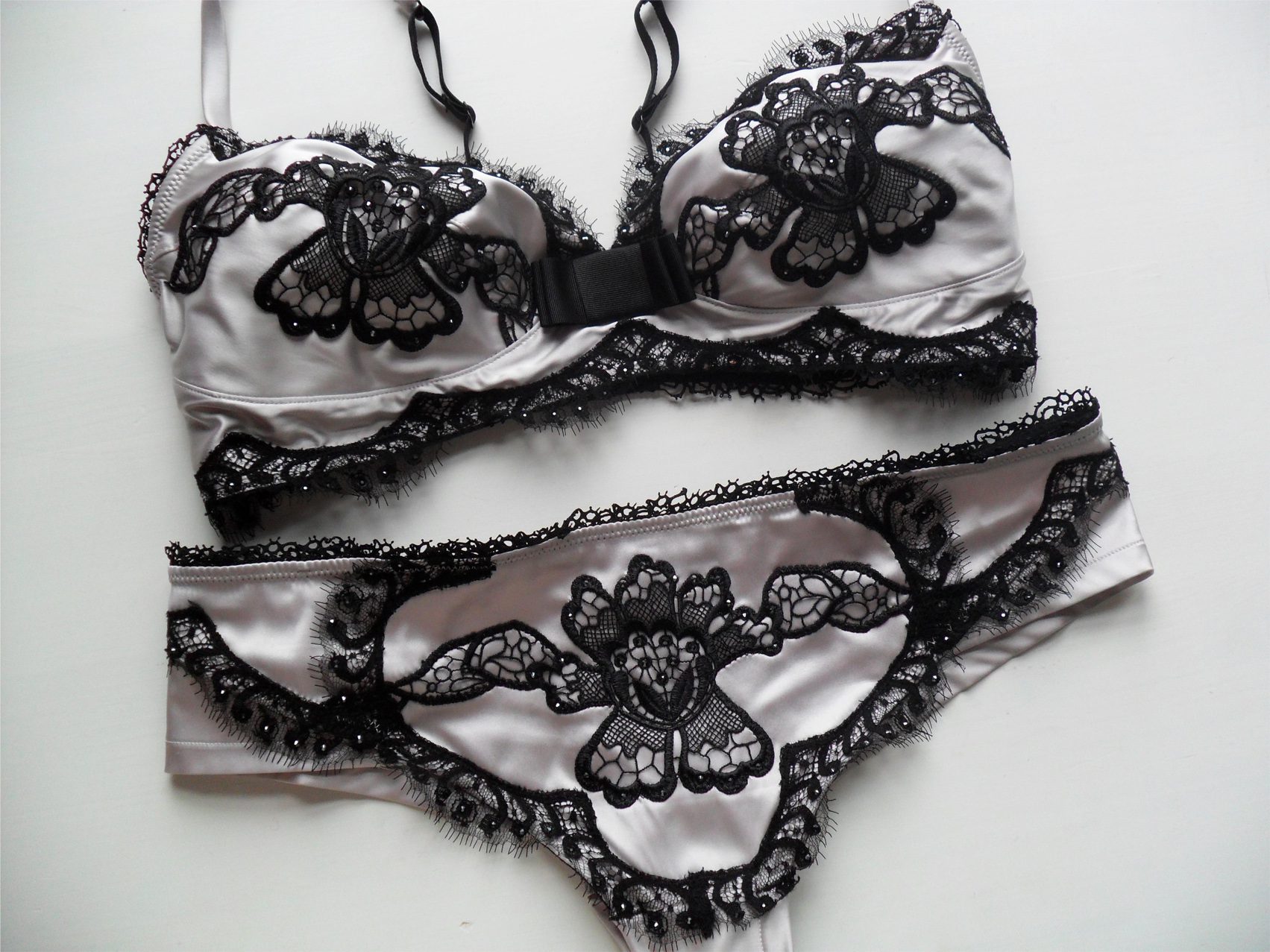 1. Pleasure State Glimmer bra set
My very, absolute, mostest favourite lingerie purchase of all? This divine bra set from Australian brand Pleasure State which I picked up in a sample sale. I knew as soon as I started writing this blog post that this piece would be at the top of the list because 10 months after buying it, my heart still beats a little faster every time I get it out of its box to wear.
The Swarovski crystal details on this set – they are just sprinkled everywhere – are incredible, and its one of those pieces that looks even more impressive in real life because of the way these sparkle when they catch the light. This is the reason I love lingerie so much.
And now, I am off to pack for a little spa retreat in the Pyrénées. I expect I won't have any internet where I'm going, so I'll catch up with you all in 2016 – until then, have a fantastic New Year!
What was your favourite lingerie purchase of all this year? Do you own anything on this list?