Disclosure: I received both sets here free of charge from Satami to review. All opinions are, as always, 100% honest.
This is part 2 of my Satami reviews – if you missed part 1, you can check it out here. As I mentioned in that post, the brand picked these bra sets out for me, so I didn't think it would be appropriate to rate them on appearance but I will mention a few points.
I think the Rococo-style embroidery on the hot pink BR-01215 bra set is really pretty. As far as looks go, this set was the most 'me' out of the four Satami sent me and is definitely something I would have considering choosing myself. The straps on this bra are lovely too, with a raised pattern that mimics the edges of the embroidery – I wonder if the strap elastic is a custom one produced especially for this design.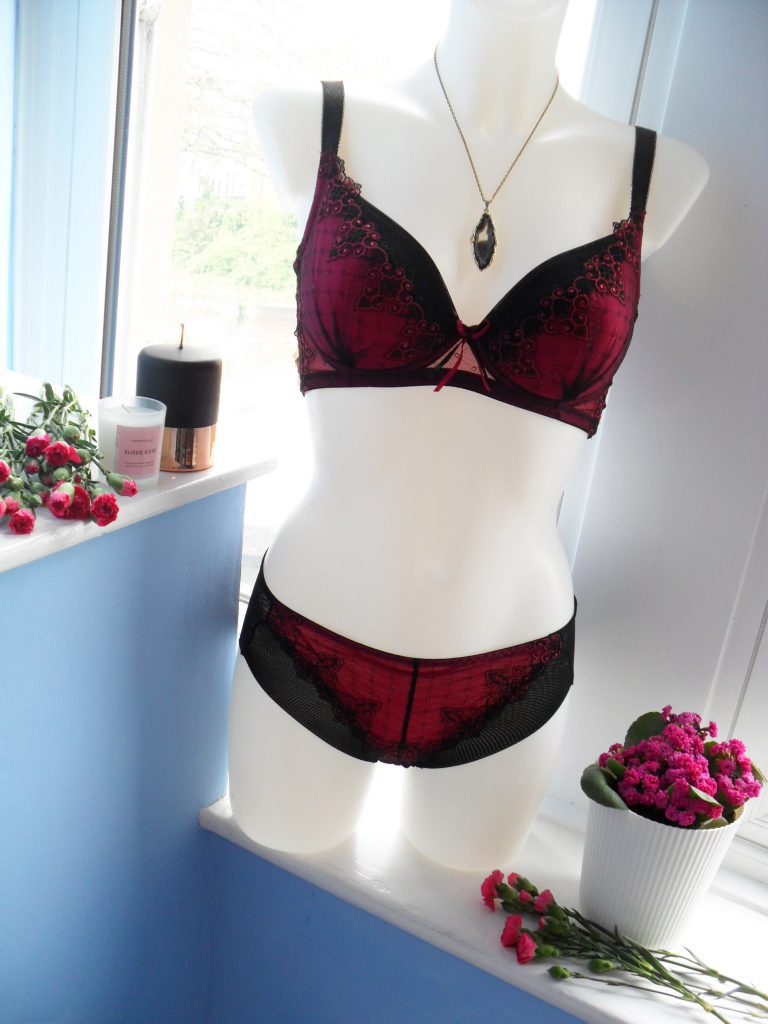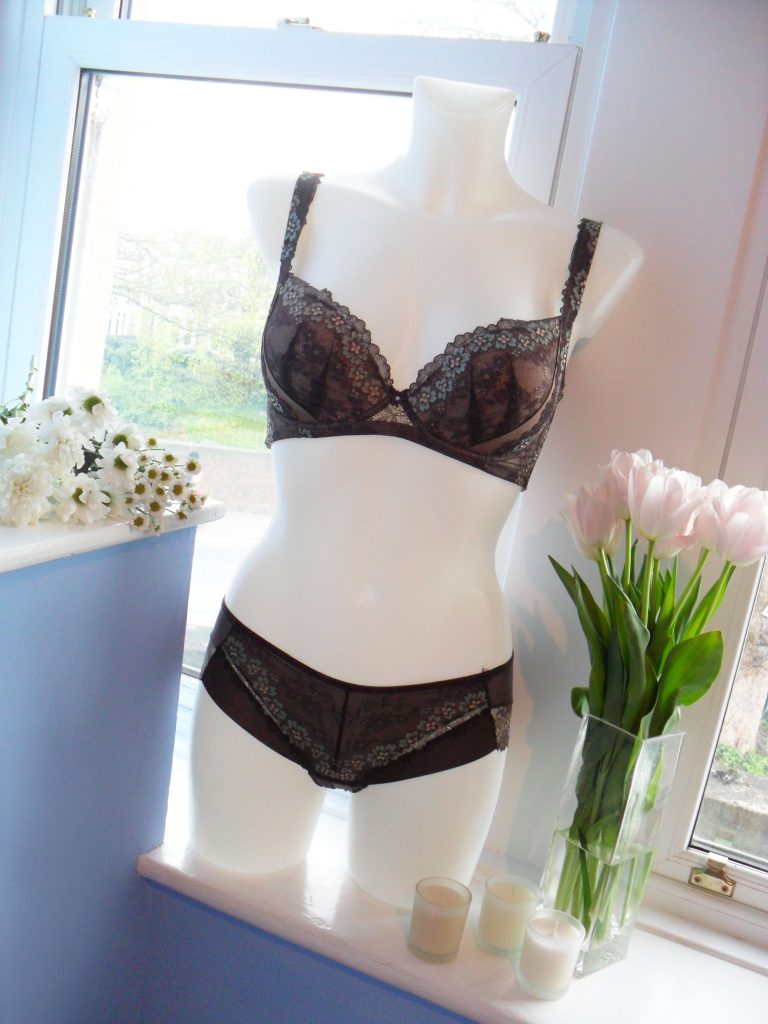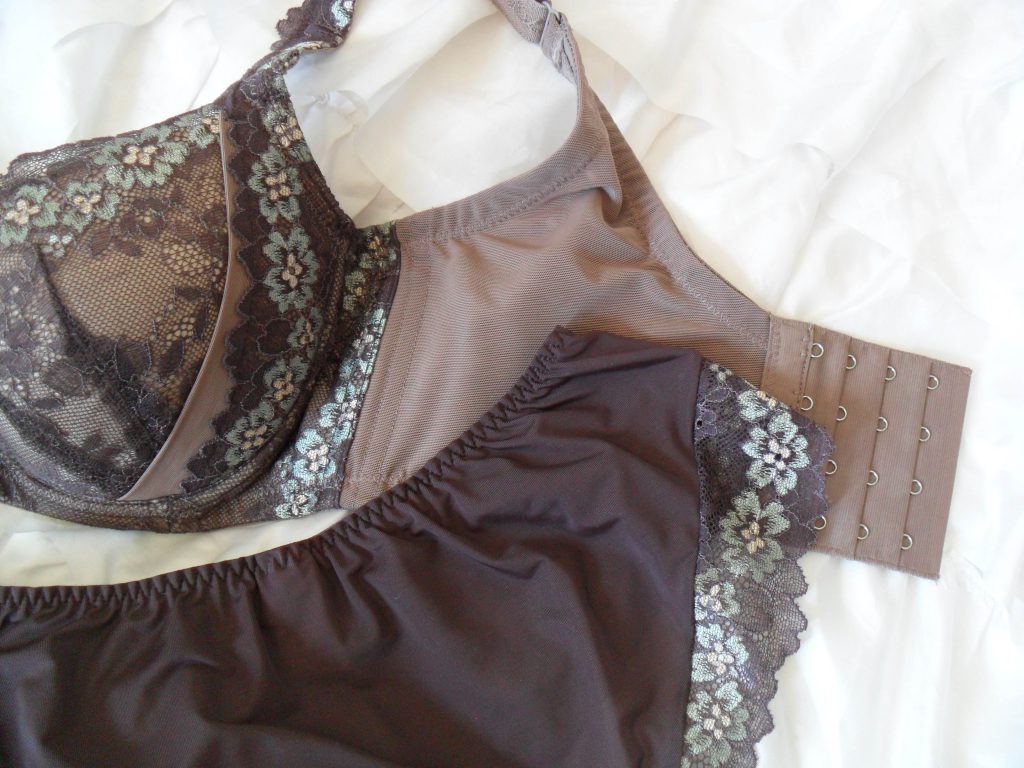 The brown BR-02179 bra (which is by Sheree, a sub-brand of Satami that uses more luxurious fabrics such as European laces, and high-performance fabrics for its activewear) also has embroidered strap elastic, and the way the lace continues up the front of the straps is a nice touch. However one thing I don't like is that the fabric at the back of the knickers is the same colour as the lace detail, but that lace is only on the front of the bra. From the back, I look like I'm not wearing a matching set, and you all know how much I like my lingerie to match!
Satami chose these sets based on what they thought would work best for my measurements, my body shape, and my needs/wants from a bra – information they got when I filled out their Get Fitted calculator – and so what I'm really reviewing today is how well the two bras lived up to that.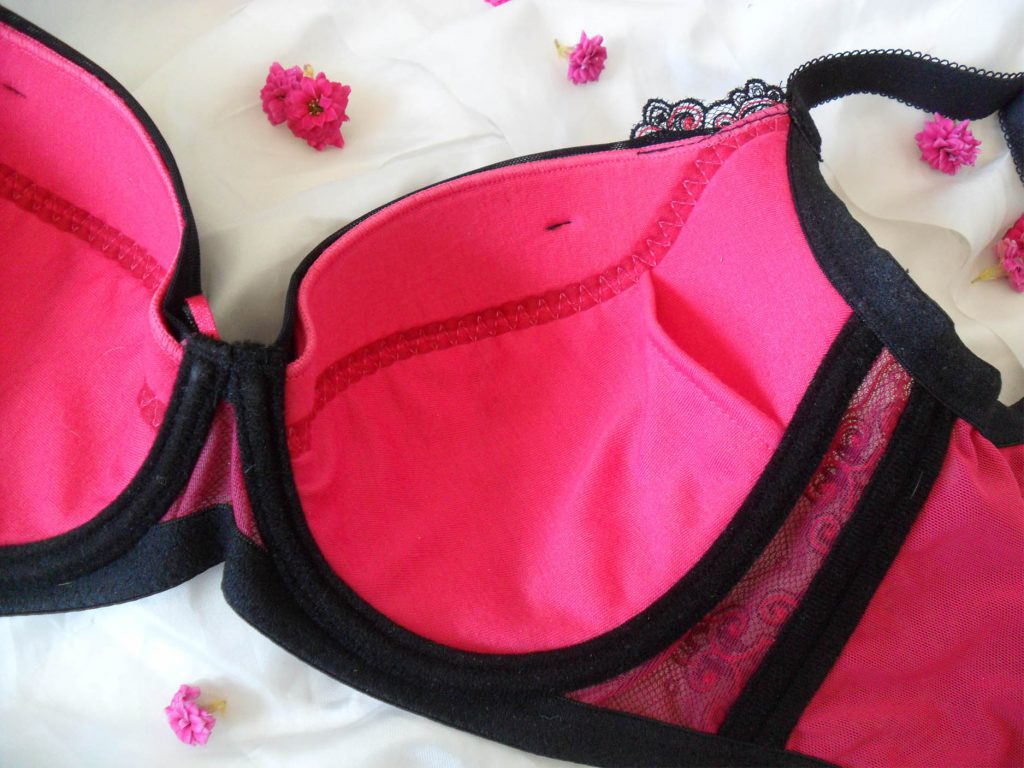 Bra Construction
Both of these bras are described as 'unpadded soft cups'. I am not an expert on Hong Kongese or Chinese lingerie but I've heard that the bras there often come with a lot of padding, and this cultural difference may explain why Satami describes these as unpadded. In the UK, 'unpadded' is generally taken to mean 'unlined', but these bras do both have a thin layer of foam. They're what I'd call 'lightly lined'. They also both have pockets for you to optionally added padded inserts, and the brown BR-02179 came with a pair included.
Both bras have a 'medium centre gore' which is to say that they are plunge bras, but not extreme plunges. They both have extra wide bands, with 4 rows of hooks. The BR-02179 feels like more of a 'heavy duty' bra with slightly wider straps and a sturdy band made from double-layered powernet, whereas the pink BR-01215 has powernet overlaid with stretchier mesh.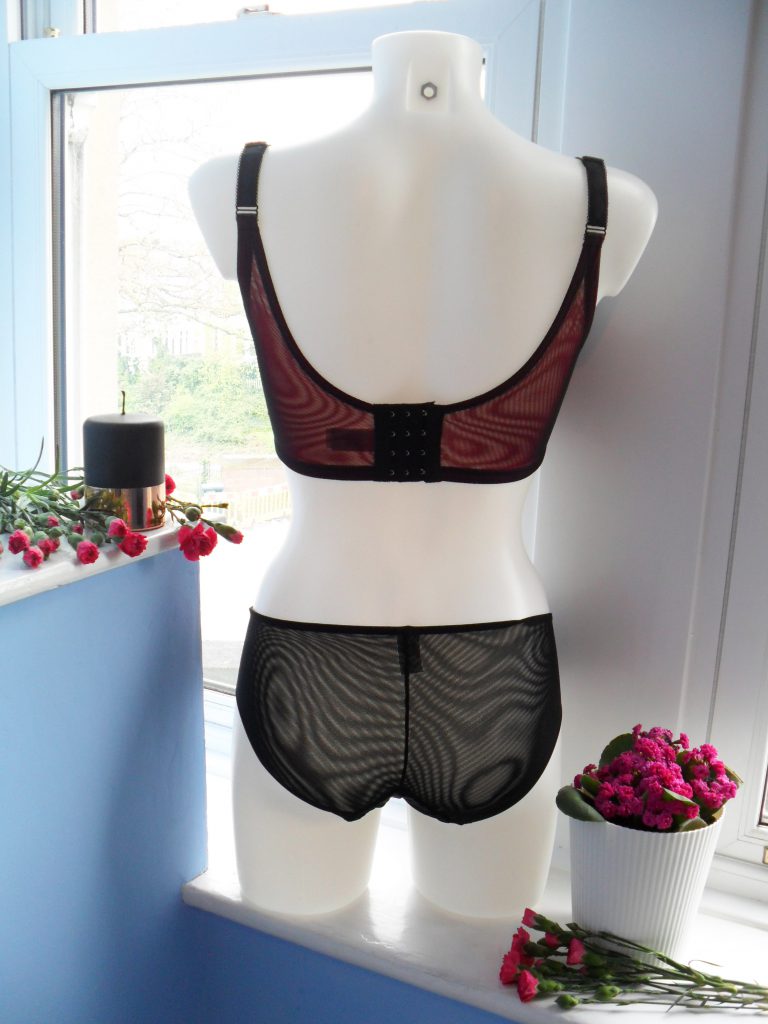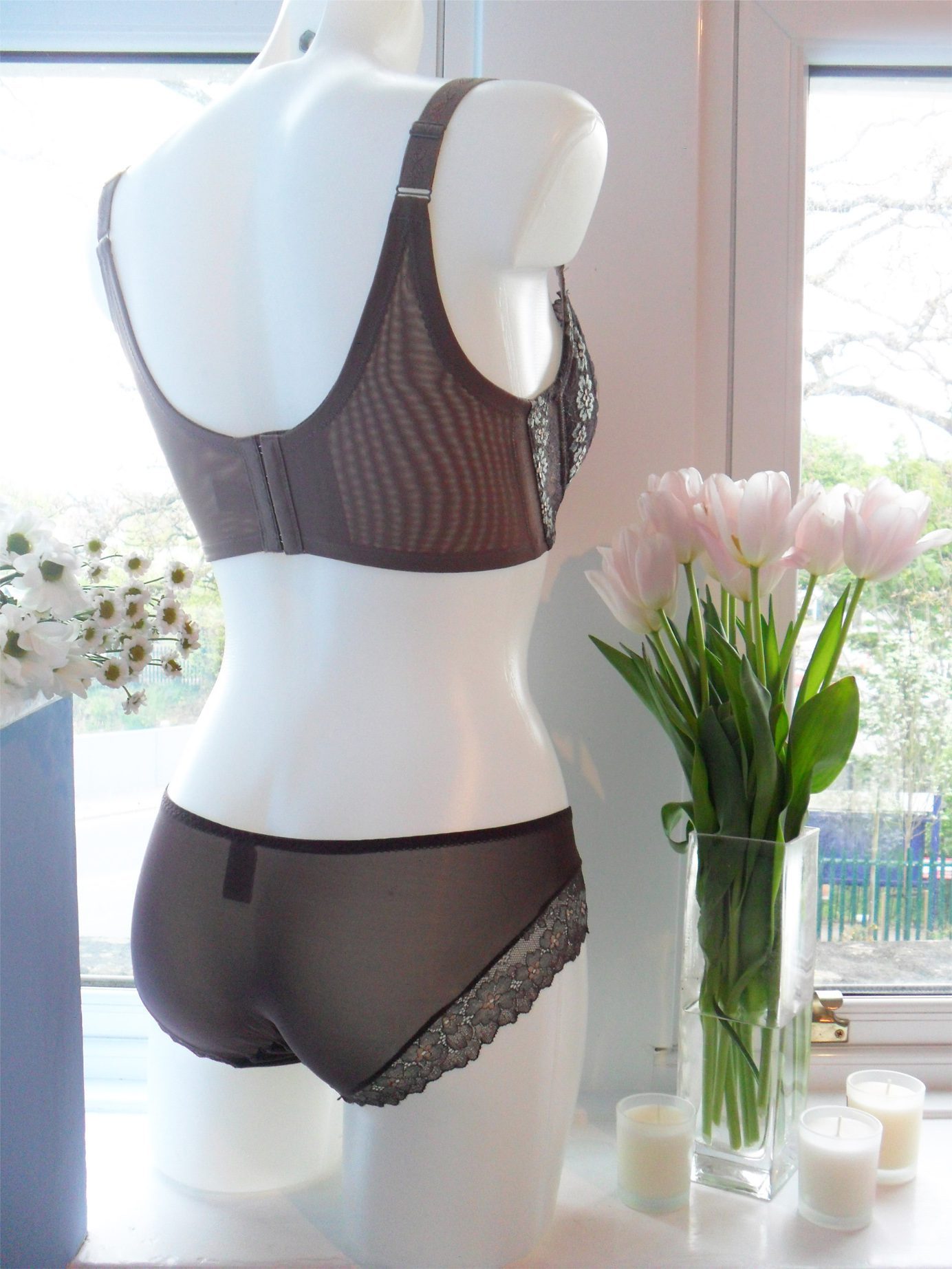 Bra Fit
Well, this bit's going to be short because I don't have much to say except that I am very impressed with the fit of both bras! They sent me the two in a 32D, one of my usual sizes, and the fit is spot-on for both.
The bands, like those of the two bras I reviewed in part 1, do feel more like 30s but that worked in my favour as I prefer a 30DD to a 32D when it's available. If you want these bras to fit how you're used to, go up one band size and down one cup size.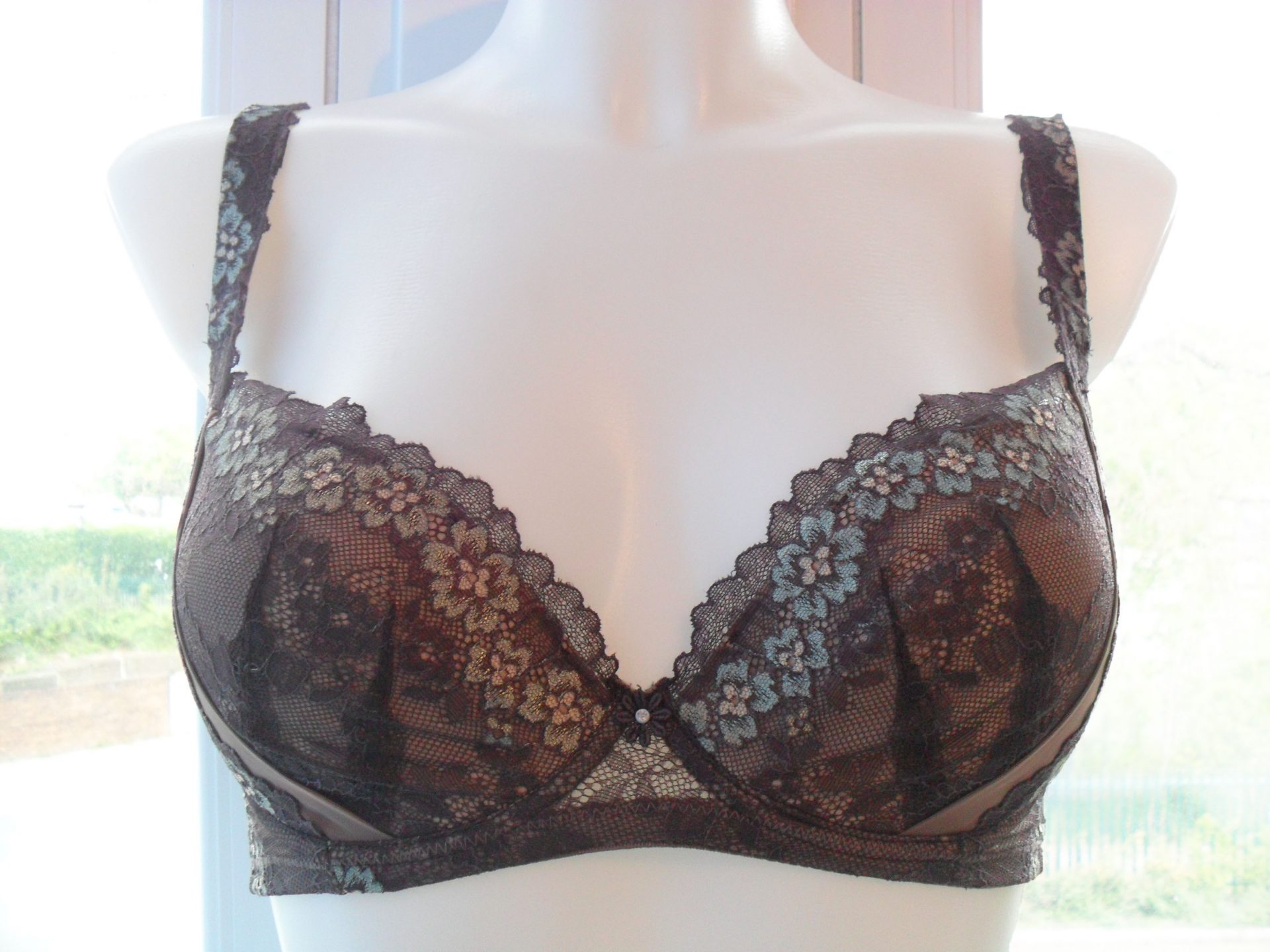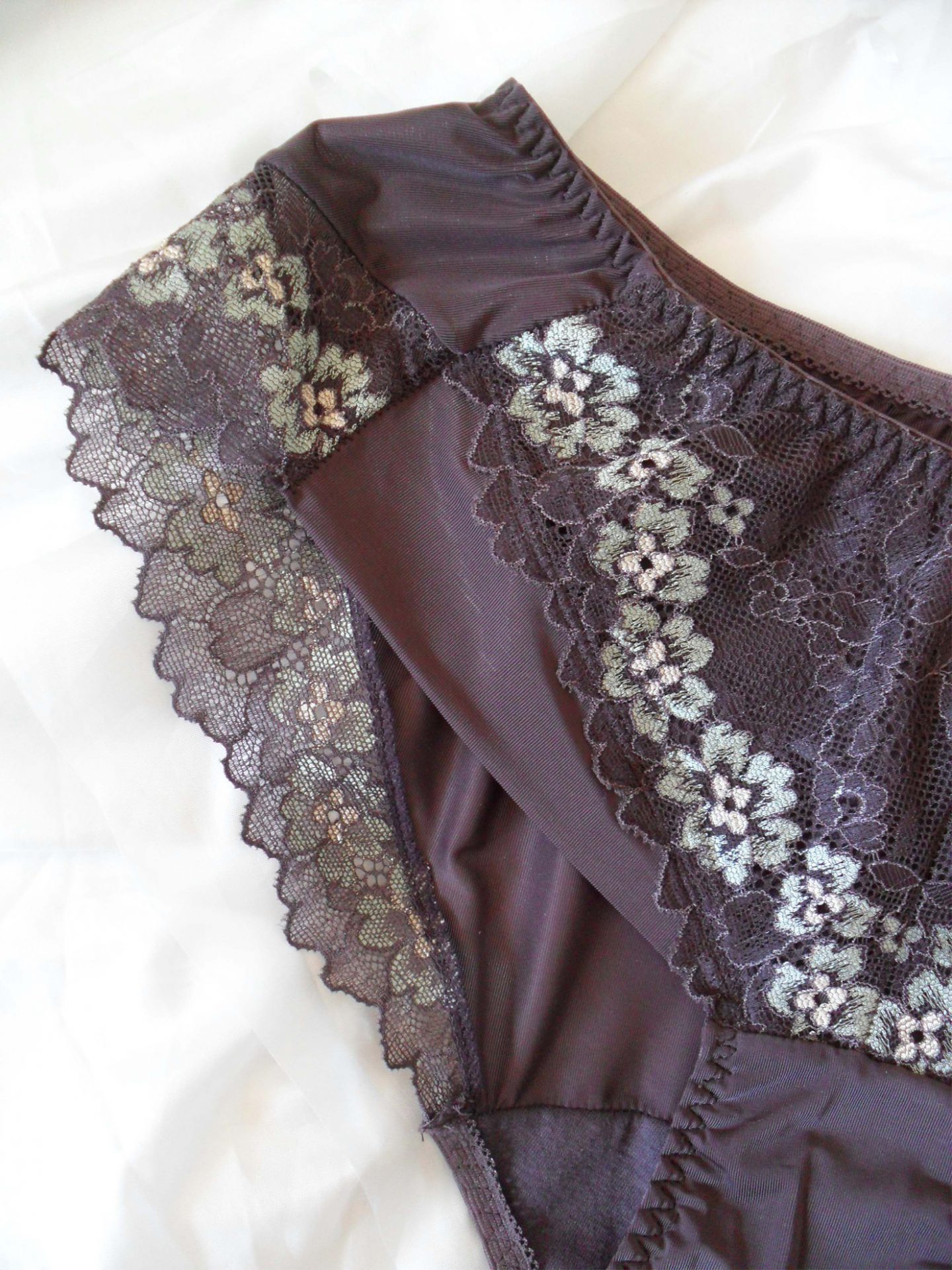 Knicker Sizing
As I mentioned in the earlier article, Hong Kong sizes do not equal UK sizes. Whereas I wear an XS over here, I am a Medium on Satami's size chart.
3 of the 4 size M knickers have fit me perfectly, but I really needed an L for the pink ones. The waistband elastic on these is less stretchy than on the brown pair and although they feel comfy once on, it's a bit of a squeeze getting them over my hips. So do be aware that you'll need to go up between 2 and 3 sizes in Satami's knickers if you're accustomed to UK/US/EU sizing, and definitely check the size chart if it's your first time shopping with the brand.
Final Thoughts
Satami is a very fit-focussed brand and, compared to most bras in the UK, they do have something unique to offer with their extra-wide bands and the high level of support that comes with that. I couldn't get their size calculator to work for me, but when I stuck with my usual size I couldn't have been happier with the way these bras fitted me.
Although the bra sizing is excellent, one thing that I'd like to see the brand work on is its knicker sizing. Especially when they're offering bras up to a 44 band, having matching knickers that top out at around a UK M / size 10 seems odd. (Shapewear and 'basics' knickers do go a few sizes larger).
The BR-01215 also comes in a lovely blue colour and costs £39.97, or £54.19 for the set. The BR-02179 by Sheree is also available in rosy pink or pale grey, and costs £50.27 or £62.43 for the set.
Update 15/05/17 – A note on Satami's knicker sizing. After publishing this post, Satami got in touch to tell me that their knicker sizing varies by style, i.e. an M to match a bra available in 32-38 bands will be smaller than an M to match a bra available in 34-44 bands. However, the two bras reviewed here come in 32-40 bands and the largest knicker size, XL, is still only intended for 97-102cm hips or approximately a UK 12-14. In a 32-38 sized bra I checked, the XL knicker was made for 86-94cm hips. The same though was true for a bra set available in 44 bands. Definitely check the size chart when buying Satami knickers, not just once but for every pair that you order.
I wouldn't expect Satami to adjust their knicker sizing to match with the UK or US – they are a Hong Kong-based brand after all, with a customer base there – but I stand by my point that if you are selling plus-sized bras, the matching bottoms should be able to fit plus-sized people. 
So, what is your impression of Satami? Is this a brand you want to try out?