Disclosure: I received both sets here free of charge from Satami to review. All opinions are, as always, 100% honest.
Satami is a Hong Kong-based lingerie company that has been around since 1985. Describing themselves as "the bra and shapewear expert" and with the strapline "to refine your body", the Satami brand is all about functional, body-sculpting, and perfectly-fitting lingerie.
Their website features a 13-question Get Fitted survey which determines your breast shape, what you want from a bra (e.g. a natural look vs. a push-up effect) and your ideal Satami bra size(s), and then builds you a personal shop showing only products that fit your criteria, work for your shape, and are available in your size.
On the one hand, I like the idea of a personalised shopping experience. On the other, I really don't trust online bra size calculators. The first time I tried Satami's one it told me I needed a 32A/B, so I tried again in a different bra and got a 32B/C result. These were so far out from my usual cup sizes that Satami and I agreed I would just stick to my regular sizes and it was the right decision (detailed fit review below). If you're new to lingerie and are unsure which styles will work for your breast shape or give you the look you want, it can help narrow their huge product selection down a bit, but do take the size recommendations with a big pinch of salt.
I would really have liked to have tried this bra or this one but as they didn't appear in my personalised shop, a fitting specialist from Satami said they weren't a good match for my body. I decided to let the brand pick the bra styles out that they thought would work for me and focus this review on fit, i.e. does Satami know its stuff?
Satami generously sent me 4 bra sets so I'm splitting the review out into two halves; today's piece looks at the BR-02196 and BE-02193 styles which are effectively the same design in different laces, and which I received in two sizes to compare. Neither of these are bras I would likely have chosen for myself (definitely not the beige one, as nice as the swirly lace is), so I'm breaking from my usual review format that covers aesthetics, and diving straight into the nitty gritty of construction and fit.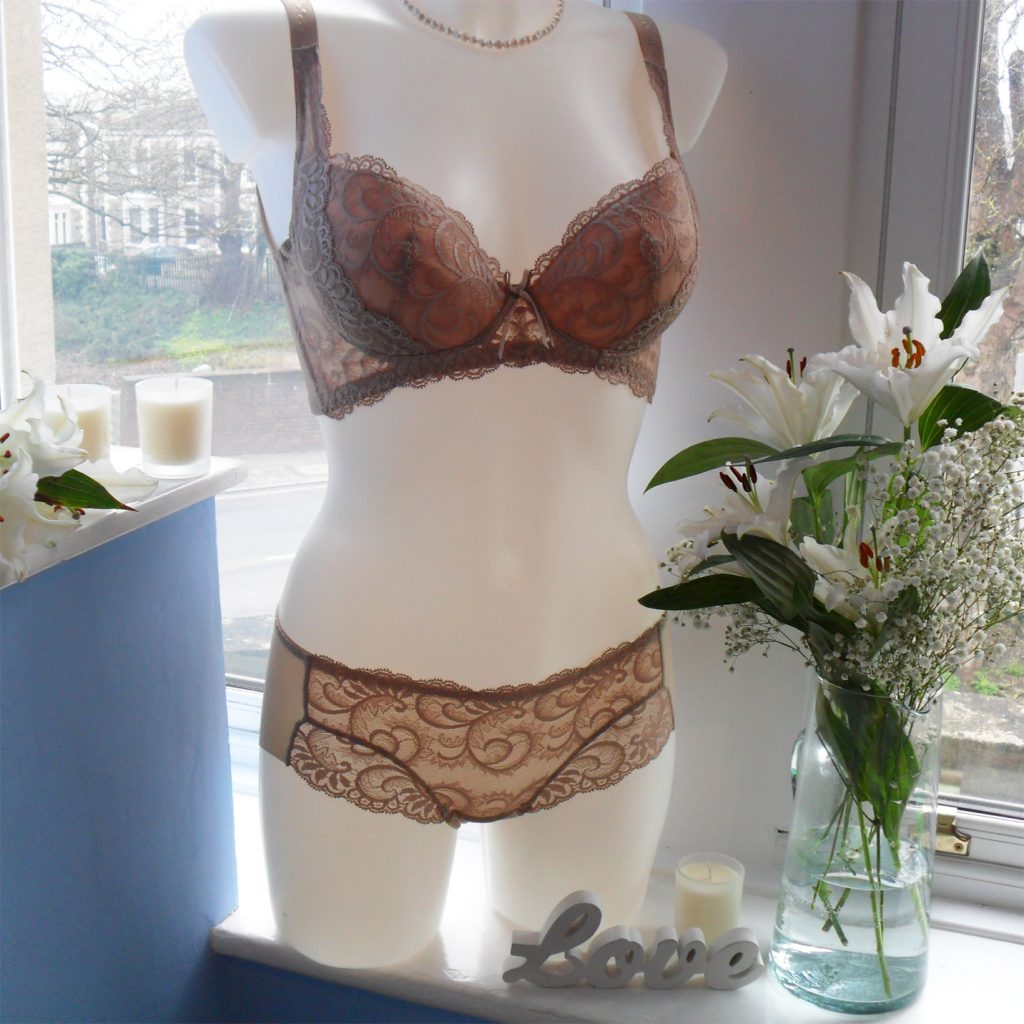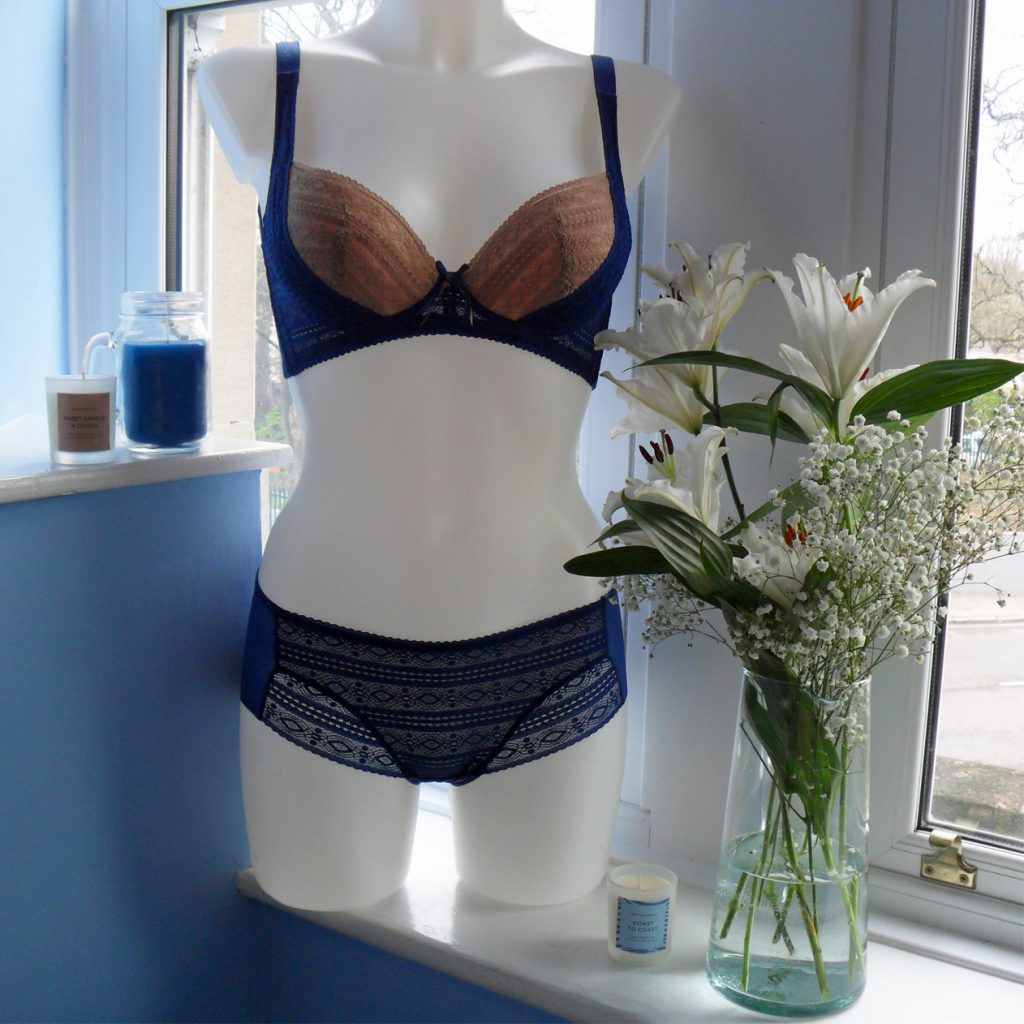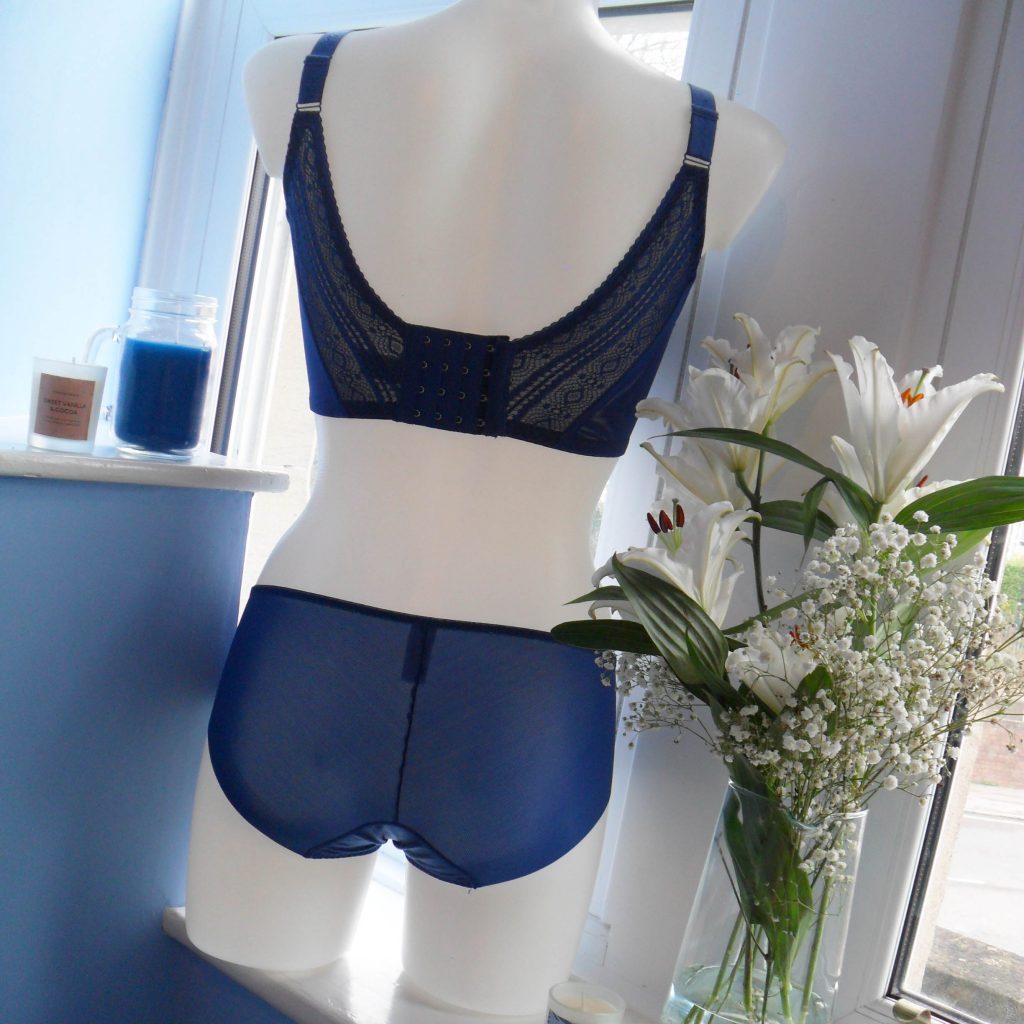 Bra Construction
Firstly, let's get one thing straight – despite the name, these are not minimiser bras. A minimiser bra is one designed to make your breasts look smaller. Satami's BR-02196 / BR-02193 is a push-up plunge bra with optional padding, so pretty much the opposite. What it is intended to minimise is any kind of back fact or underarm bulge (though that's true of the majority of Satami's bras including many they don't label minimisers).
To achieve this effect, the sides and back of the bra are extra tall – by far the tallest of any bra I've ever owned, but not so high that they dig in at the underarm. There are two flexible, plastic bones at either side, just beside the cup, to strengthen the wide band and avoid it rolling up. It's also made from powernet (as you might find on some shapewear), double-layered in some places and overlaid with lace in others.
Now, I don't have much squish at my ribcage so I can't comment on whether this bra does in fact have a smoothing effect. What I can tell you is that the extra-wide band leads to a lot of support. I've actually never worn a sports bra but I imagine this is how they feel – obvious compression but not in an overly-constrictive or uncomfortable way. This bra was fixed very firmly in place through the day!
Verdict: 8 / 10
Update 22/04/17: I've spoken to Satami's team who've clarified why they call these minimiser bras, and it's not to do with the tall side wings. These two bras are designed to have a 'push in' effect so that all breast tissue is front and centre, and your breasts appear less wide from the front. Note that this is very different to what we call a minimiser bra in the UK or US.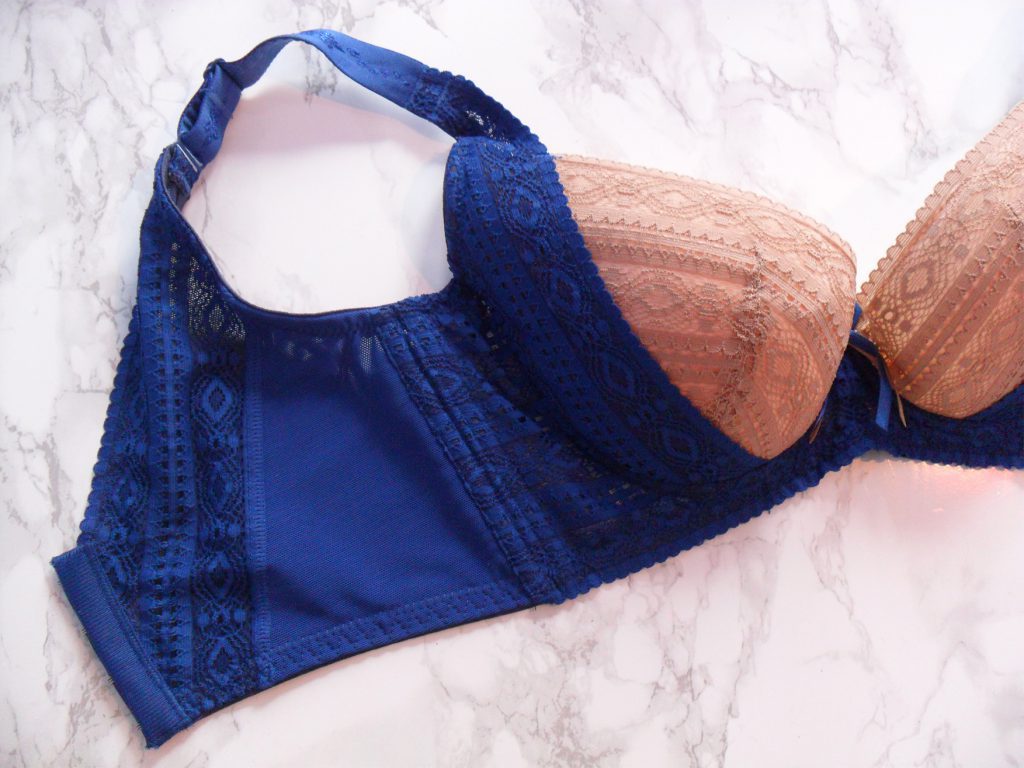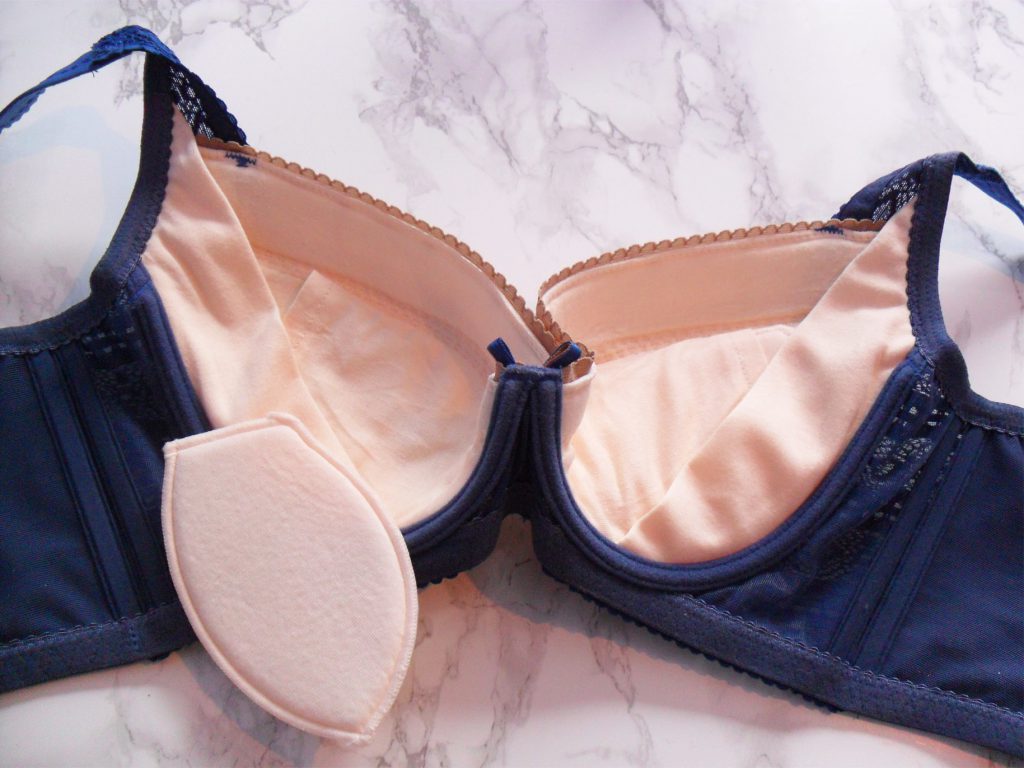 Bra Fit
I received the blue and beige BR-02196 in a 32D and the all-beige BR-02193 in a Satami 32E (equivalent to a UK 32DD). First, let's talk about that band. Because it's designed to smooth (read: squish) you, it feels small. I measured these against other 32s I have and the Satami ones are the same length, but the strong powernet has less horizontal stretch. I felt like I was wearing a 30 band, but remember that sizing up would negate the intended smoothing and 'minimising'. If you want a shapewear effect, expect a shapewear feeling.
Now, the cups. Um, I did not know my boobs could do cleavage like that! The cups feature removable padding inserts to push upwards, inner side slings to pull inwards, and a rather low-cut plunge shape to show the resulting effect off. Whilst I'm not personally into the über-cleavage look, it's good to know there is a bra out there that can manage that even with my shallow, wide-set, averagely-sized breasts, for those of you who do want that. Why didn't teenage me know about Satami?!
Satami recommends to buy a cup size larger than usual for "better coverage" and "better stability". I'm currently wearing 32Ds when I choose a 32-band, and this 32D fits me like a glove. Seriously, it is spot-on. Despite the plunge shape, I feel completely secure and I could probably do a hand-stand without falling out of the cups.
The 32E on the other hand still fits me pretty well but gapes just very slightly, and the 'dramatic cleavage' effect is less pronounced. I suppose choosing whether to size up or not depends on just how cleavage-y you want to get, but from a fit perspective I'd say stick with your regular size.
Verdict: 10 / 10 for the 32D, 8 / 10 for the 32E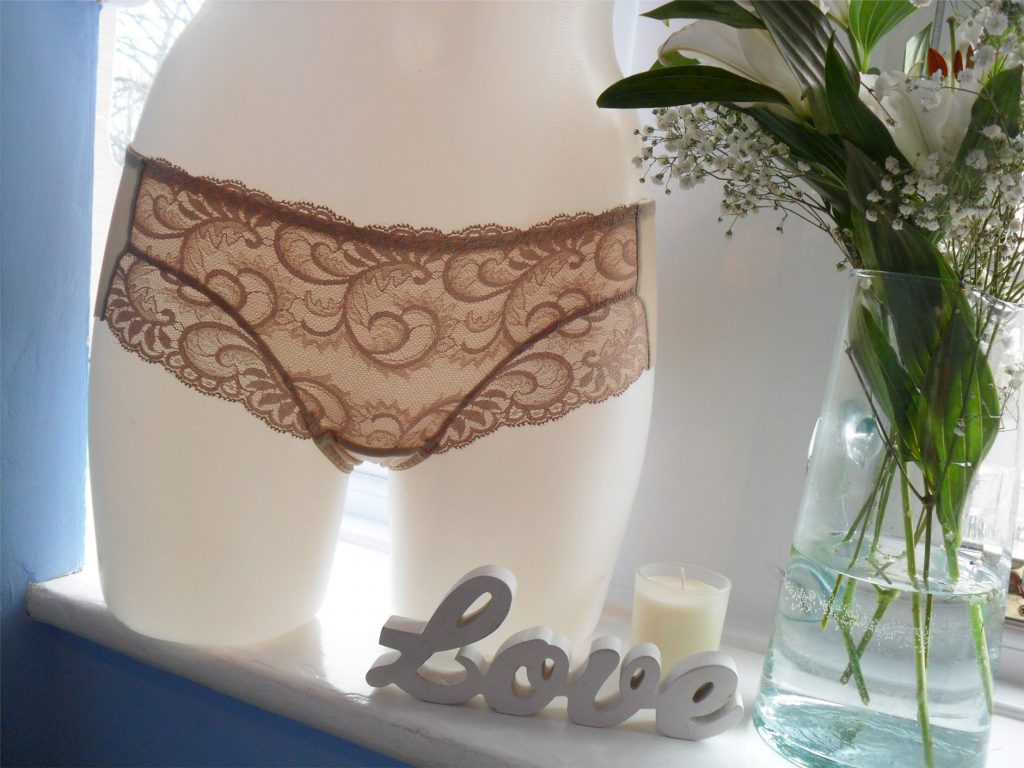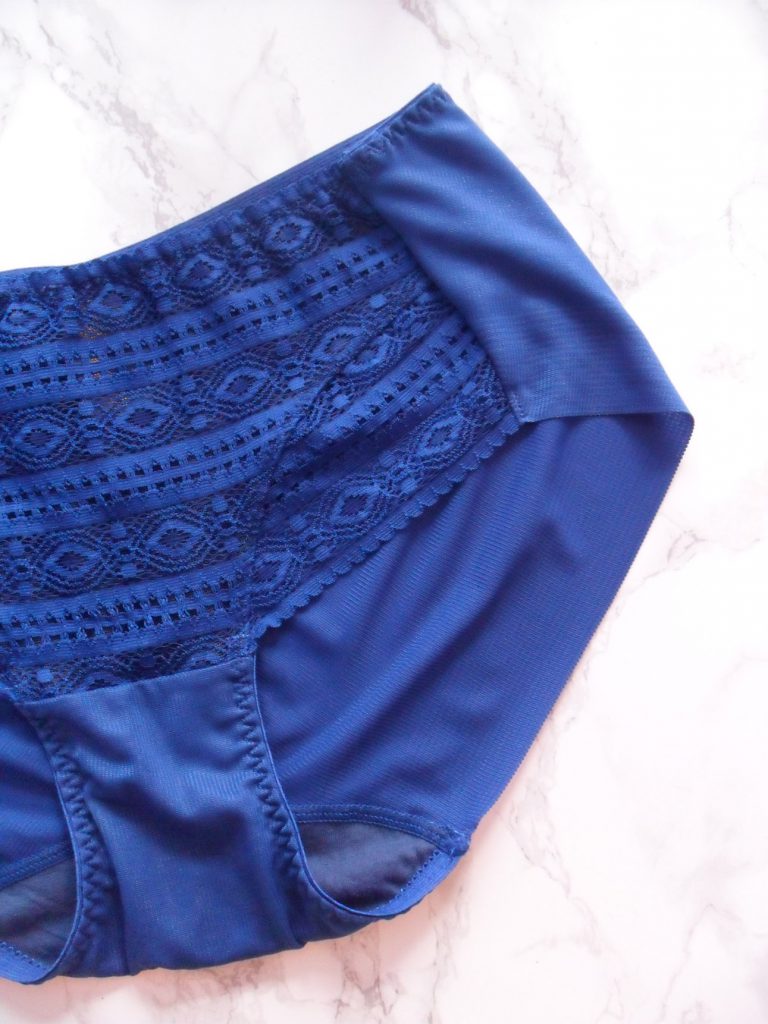 Oh, and the Knickers…
Like the bras, the knickers from the two sets are constructed identically but with a different fashion fabric. The material at the back is a soft, smooth, stretch knit, where the leg openings are made from the uncut, un-hemmed edge for a seamless fit. They have a classic , full-brief fit with lots of coverage at the back.
Although I would normally take an XS in UK or US brands, Satami's knicker sizing starts at an M. Clothing from Hong Kong and China is known to run small compared to European standards however, and a look at the size chart confirmed that the M is made for someone my size; both pairs of knickers are a perfect fit. Do be sure to check the measurements guide if you're not used to buying lingerie from Hong Kong.
Final Thoughts
I can't bring myself to love these bras because they're just not my style, although the blue one is growing on me. However, I do appreciate the fit which was impeccable in my usual bra size.
The construction was also impressive – whilst neither of these are luxury bras (the lace on the beige one has that kind of fuzzy-around-the-edges quality that cheaper laces have), Satami certainly know how to construct a bra that's going to sculpt the body. If what you want is a pushed-up, pushed-in look, I can recommend either of these bras.
The extra-wide bands on these also make them ideal for when support is your main goal, and they're both available up to a 40E (UK 40DD). Again, I'm not really a fan of how it looks – there was just so much bra at the back that I felt a bit matronly, despite the 'sexy' front – but I can't deny it functions well.
You can buy the BR-02196 here, which also comes in all-blue and all-beige. The BR-02193 is available here, and also comes in dark navy blue (why oh why did I not spot that earlier?).
Stay tuned for my Satami review Part 2! In the meantime, what do you think of these bra sets? Are you intrigued to try out the extra-wide bands?