Disclosure: This piece was sent to me free of charge to be reviewed, and this review contains only my own candid opinions. Links with a * are affiliate links.
At this point, strappy black elastic harnesses have basically become a staple in the lingerie world. Most brands have their own version of the trend, but after so many seasons they can all start to look quite similar.
So I was excited when Estelle hit me up to review a piece from Liquid Red Design*, an Etsy shop with some fresh takes on the harness. Because 'edgy woodland nymph' is a look I'm constantly going for, I asked to try the Fanciful Floral Cage Harness Top*.
Appearance
The embroidery on this piece is gorgeous. The colors are much more vibrant in person than they appear in the photo on the listing, which was a lovely surprise. The hardware is gold, which suits me just fine (particularly with these colors).
This may technically be a note on fit, but it directly affects the appearance of the piece: The placement of the elastic straps is really beautiful. The designer, Megan Andrus, is a graphic designer and it really shows here. I appreciate that there are no extraneous straps in back to disrupt an outfit or swath of skin. The double straps on the inner chest make a nice, geometric frame that plays against the softer, organic shape of the embroidered lace.
Verdict: 9 / 10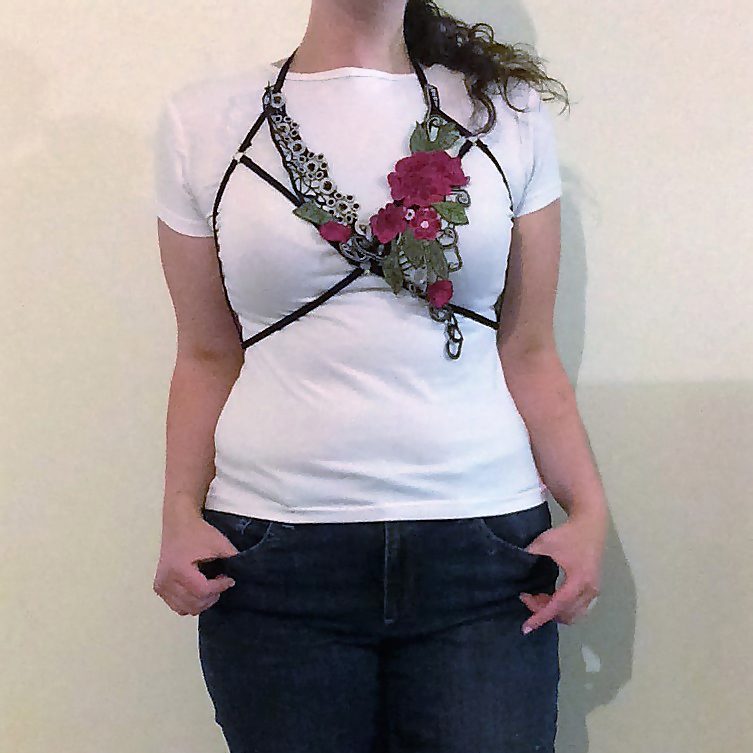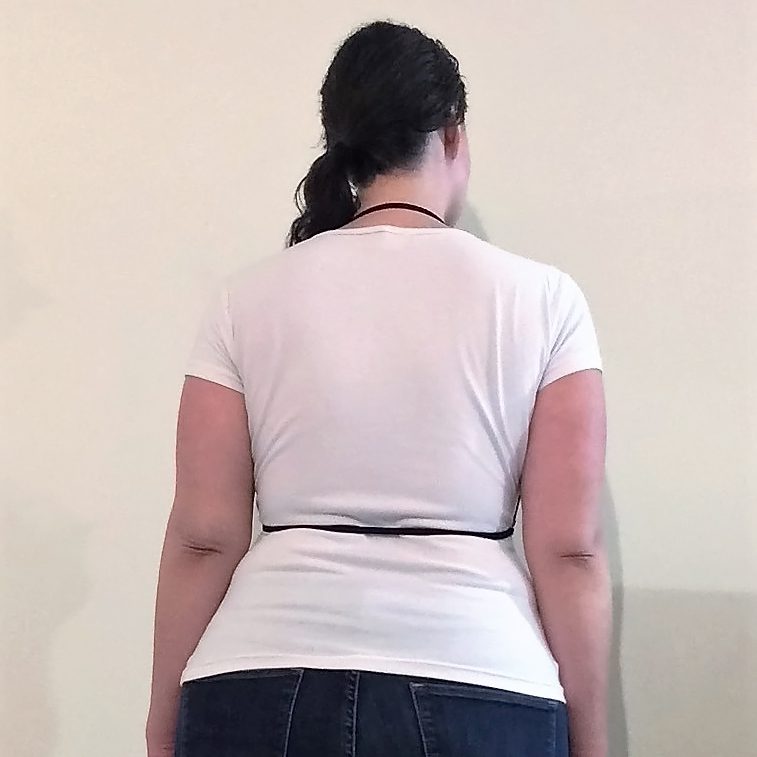 Fit
Now, I don't really believe that 'one size fits most' is a real thing unless we're talking about bags or scrunchies. But I understand that it doesn't make sense to make in different sizes what can accommodate most shapes in a single size. I believe this harness would look gorgeous on people of a broad array of shapes and sizes, but of course it can't fit every single one of them perfectly.
Depending on the brand and piece, I wear anything from a Medium to an XXL (for context, my underbust measurement is 36″ and my waist is 32-33″ depending on the week's pizza intake). On me, the elastic fits well. It's soft and lightweight so it stretches easily without any digging in – this also makes it very comfortable to wear.
The piece measures about 30″ around the underbust/waist. Given the stretch of the elastic and the ability to position it wherever you wish (it can be worn high like a bra band, or dip down into one's natural waist), it could easily fit someone significantly larger or smaller. I would agree with the designer's statement that this can fit people between a size S and XXL.
My only minor complaint is some of the lace needed a little help laying flat, especially on very '3D' areas of body. This little curlicue in particular: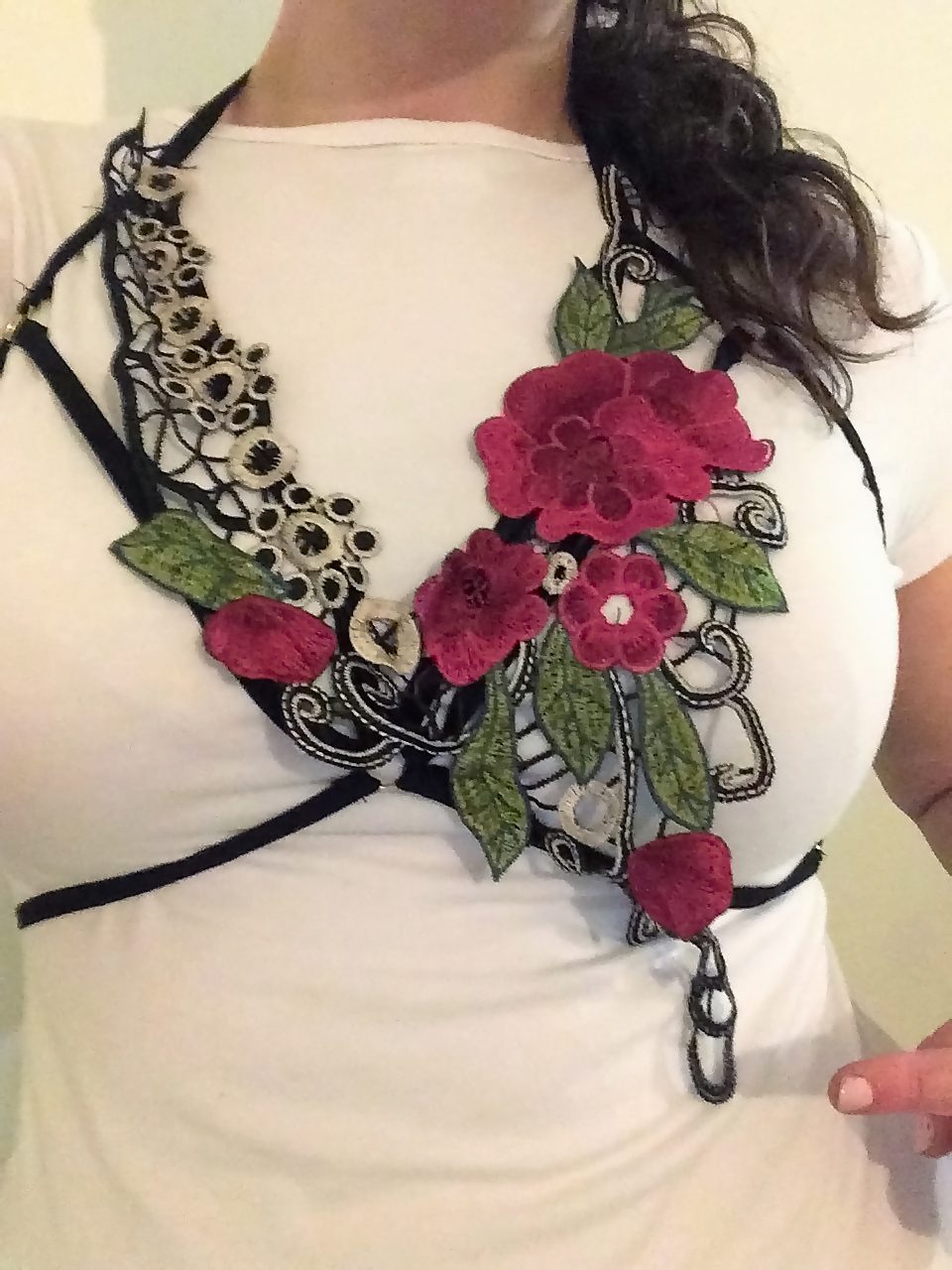 The curve of my chest essentially twisted the lace and made it droop, which is not a word I ever really want in the same neighborhood as my bra. Fortunately, it's an easy fix with some body adhesive or double-sided tape. For a better fit on a range of bodies, I think a couple of bra strap style adjusters would be a stellar addition to this piece.
Verdict: 8 / 10
Construction
I am not (yet) an expert on construction, but I pored over this piece thoroughly and, by all signs I know to look for, it appears very well made.
This piece is hand-sewn and the seams on the elastic are all aligned correctly and stitched securely. I've tried several elastic harnesses in my day, and the quality of stitching on this one leaves them all in the dust.
The lace is stitched along the entire length of the straps, except where it hangs loose at the bottom. Being anchored to the elastic keeps the lace in place and helps it lay nicely. The construction and quality of materials are at a level I would expect from a piece handmade with care as opposed to mass-produced in a factory.
Verdict: 9 / 10
Durability
After countless times pulling it on and off, I'm confident in its construction. I've had several other harnesses come undone where the stitching was weak or pop a jump ring from being tugged on, but this piece is put together well. Obviously, I would not wear this piece for extreme sports or toss it into the washing machine.
I'm not planning to wash this after every wear, particularly if it's going over clothing (is that gross? Who cares!), but it is certainly sturdy enough to survive thorough hand-washing.
Verdict: 9 / 10
Value
Indie lingerie costs money, and it's well worth it to feel great about something you buy. This piece retails at $54.99 (~£42 / ~48€) which is definitely not cheap. While it's possible to find harnesses that cost much less (I've snapped through my share of them), this is a totally appropriate price for the uniqueness and workmanship of this piece. I do wish it had a slightly more adjustable fit at this price point, but that's a nitpick.
The harness' versatility gives it a real boost in this category. There are plenty of ways you could wear it in or out of the boudoir. It's gorgeous on bare skin, over a matching or contrasting bra, or outside actual clothing. I threw it on over an LBD for dinner with girlfriends and they all fawned over it. Or how sexy would this be peeking out under a breezy top in the summer?
Verdict: 8 / 10
This and other gorgeous harnesses (like this beauty*) can be found at Liquid Red Design on Etsy*. They also sell custom-printed bikinis, so BRB while I go get one covered in Dwayne "The Rock" Johnson's face.
What do you think of this softer take on an edgy icon? Weigh in below, or just tell us whose face you'd put on a bikini.