Disclosure: I purchased this lingerie myself. Links with a * are affiliate links.
I gushed over the two halter bras from the Fifty Shades Darker by Coco de Mer lookbook earlier this year, and eventually I settled on this silver version because I preferred the organic embroidery edge over the satin band on the Red Room bra* – plus I liked the embroidery itself more than the flat red lace.
As I mentioned back then, this bra shape is based on a sold-out piece by Coco de Mer, but the Fifty Shades Darker collaboration is considerably cheaper than the mainline collection. Some of the Fifty Shades designs fell flat, with cost cutting leading to a few boring and unimaginative designs, but not so with these halter bras! The sheer originality of the design they're based on means they can't help but look a little bit luxurious and special, even when made less-fancy fabrics. I was sold the moment I first laid eyes on them online.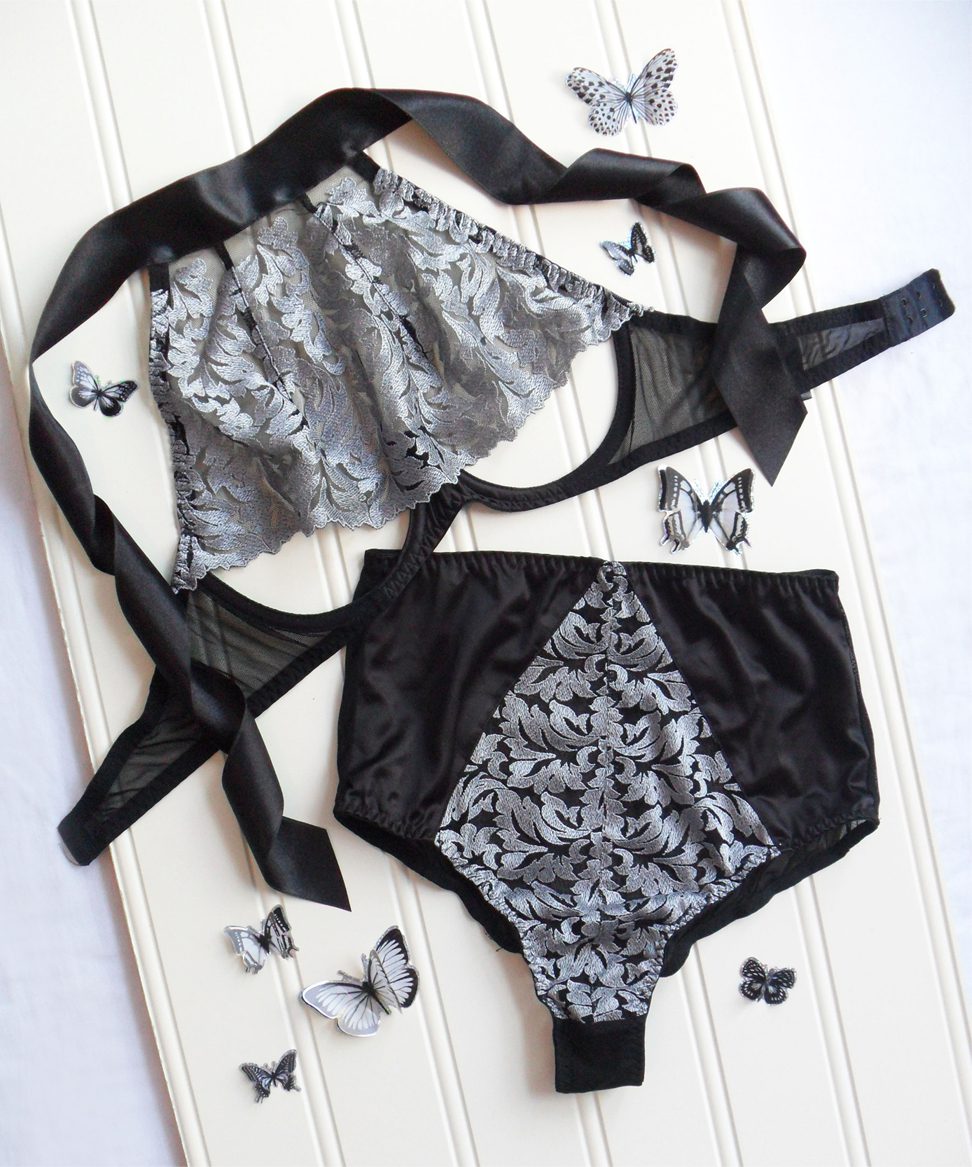 I bought this Masquerade bra set from House of Fraser* a month ago during a sale, and it's now been reduced even further – a mere £17 for the set if you're fast! Note that it's only available in a few of their physical locations (and only in London I believe, but don't quote me on that) so you're better off trying to get it online. You can also purchase this set direct from Coco de Mer where it's currently on sale for £30 (down from £60).
I also discovered after buying that Masquerade comes in what I think is an ASOS-exclusive gold and white colourway too, available here* and on sale for £31.50 with a thong (no high-waisted knickers available). But on with the review!
Appearance
As I've mentioned, I love the overall shape of the bra. High-neckline bras have been a trend for a while but still feel relatively fresh (the lingerie industry moves slow!), and this design in particular stands out because it combines the high neckline with a cupless construction. Like its namesake, a masquerade mask, it conceals without totally covering up, making it both demure and tantalisingly revealing all at once.
The embroidery is not quite so silver as I was expecting. Up close it just looks grey, but the thread has a subtle sheen so that when it catches the light just so, it looks metallic. I do like the big, leafy motif which is a bit more unusual than what you'd typically find on the high-street.
I have no strong feelings on the knickers either way. I only bought them so I'd have a matching set to be honest, but they're okay – pretty embroidery and satin on the front, plain mesh on the back. They'd have been nicer without the big seam down the front-centre, but I can't really fault them for the price.
Verdict: 6 / 10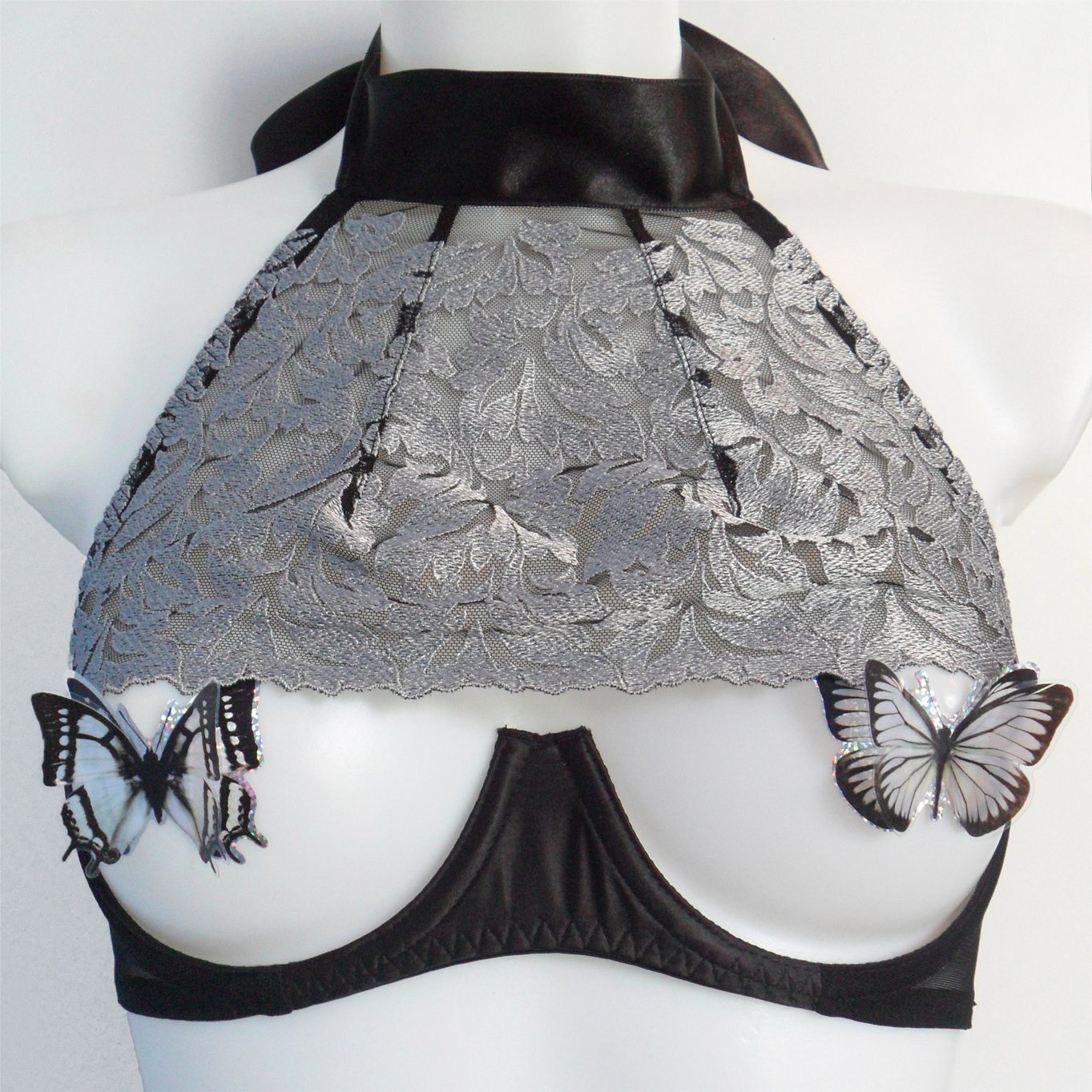 Construction
You may be surprised to learn that despite the significantly lower price tag, the Fifty Shades Darker by Coco de Mer range is still made in Europe, in Portugal to be exact (I don't know where the mainline Coco de Mer stuff is made by the way. Anyone care to enlighten me?).
The whole set is nicely-made to a typical high-street standard, with perfectly neat, even stitching and no construction flaws that I've found. The symmetry of the embroidery on the two knicker panels is a bit wonky, and the strip of satin ribbon around the neck looks cheap. Not that I'm expecting folded fabric at this price†, but I'd personally have liked to have seen a much longer ribbon. Ribbon is inexpensive and oversized, trailing bows always add a touch of extravagance!
Also, lingerie pet peeve alert: why oh why is the label under the sheer mesh when there's a perfectly good bit of opaque satin at the front to hide it behind? I wish brands would stop doing that!
Verdict: 7 / 10
† That said, I was just taking a closer look at that gold-and-white version of this bra on ASOS* shortly after publishing, and am pretty certain the neckline and bow are made from folded fabric, not just ribbon! I bought the wrong one it seems 🙁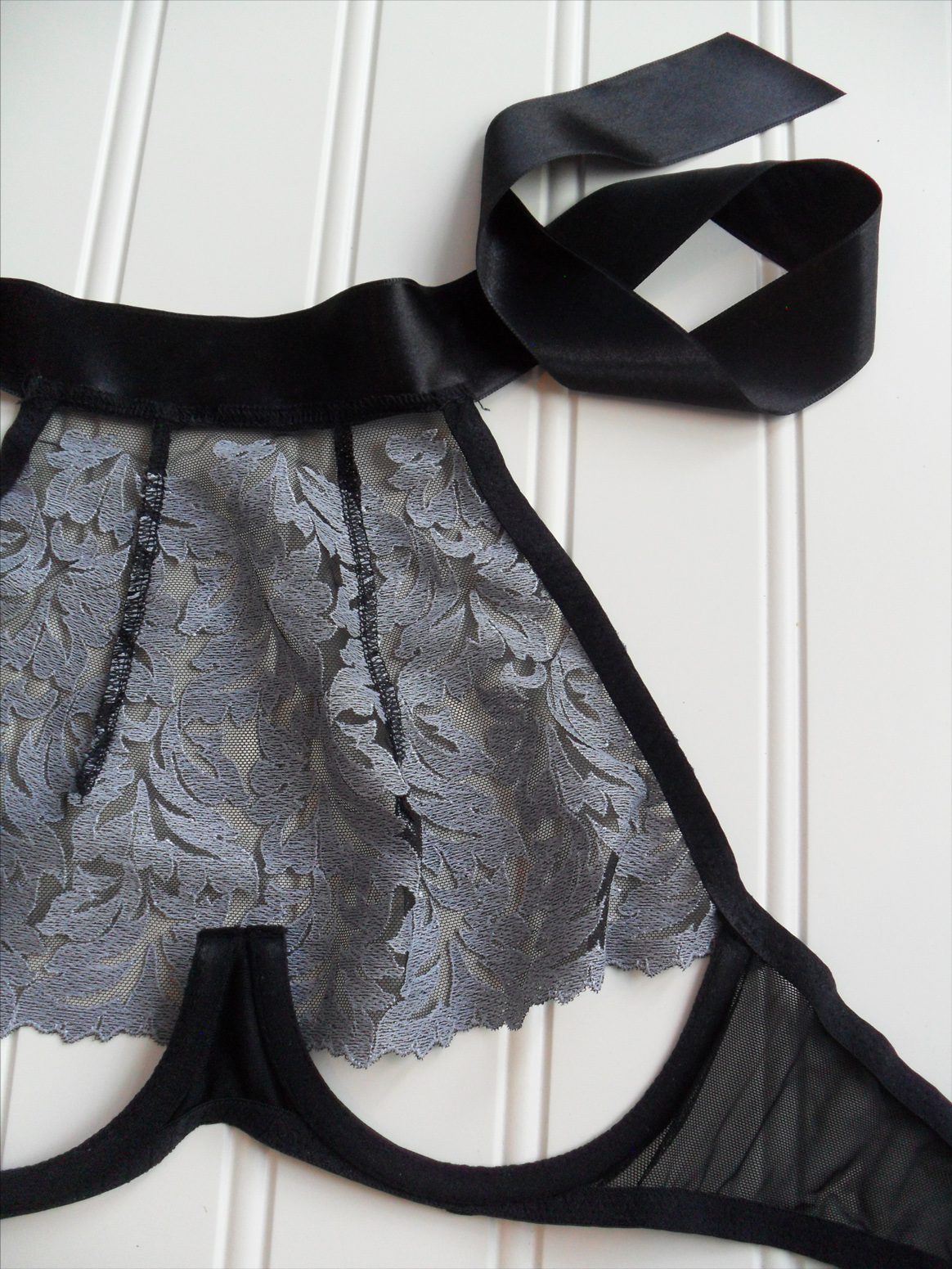 Fit
The Masquerade bra comes in S-L sizing, the knicker in XS-XL. I purchased an XS brief and guesstimated I'd be a S in the bra.
The knickers fit me just right, putting them at around a UK size 6 / US size 2. The bra fits, but it doesn't fit me the same way it does the model. In both the lookbook images and the product images, the silver embroidery is covering the models' nipples, and the description does say "falling to just beneath your nipples" so I assume this is the intention and not just the result of strategic lingerie tape to make the images more marketable.
However, as you've probably guessed, the embroidery stops above my nipples (which are just, like, averagely placed on my boobs I guess?) even with the neck tied fairly loosely, making the bra considerably more ouvert and revealing than I was expecting. The fit on me is similar to the fit on my mannequin, pictured further up the page. Maybe the M would have a longer fabric panel, but the S underwires are fitting okay; I wish I'd been able to try it on in store to compare. I'm a 30DD (often found in a 32D) for reference.
Verdict: 7 / 10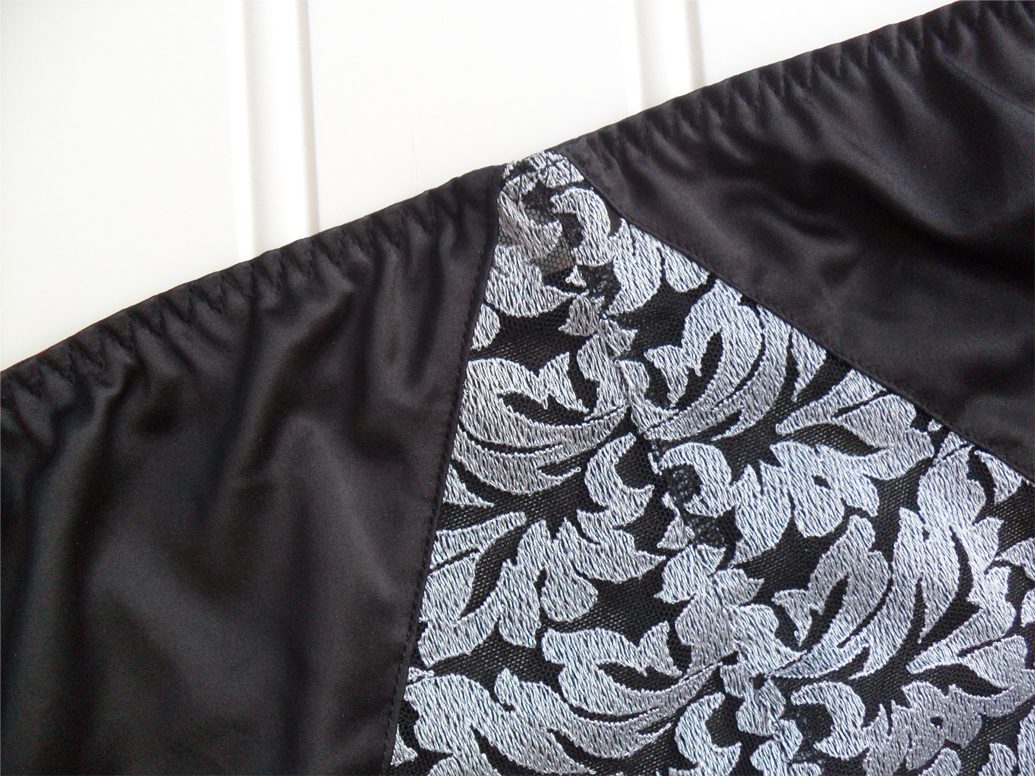 Durability
The Masquerade bra set is hand-wash only and whilst I haven't worn this set a whole lot yet, maybe three times, it's in perfectly good condition so far. The embroidery edge is nicely done and the ends of the ribbon tie are neatly heat-sealed, so neither should fray.
Verdict: 8 / 10
Value for Money
As mentioned you can currently pick up the full set for £17 at House of Fraser* which is an incredible deal, but based on the original retail price of £60 I still highly rate it. Quality-wise, it's 'okay', but okay is all I was expecting given the price point. And whilst you can find cheaper sets of similar quality on the high-street (think Ann Summers, whose fancier bra sets come in at £40-45), the design of this Masquerade bra is unusual enough that I think that makes it worth that little bit extra.
Verdict: 8 / 10
More high-neck bras*
I'll be really interested to see whether Coco de Mer collaborates with the Fifty Shades franchise to release another collection for the third film (or releases any other kind of cheaper diffusion range) now that Coco de Mer has separated from budget-friendly lingerie retailer Lovehoney, who owned it when this collection was released. I guess it depends on whether the collaboration was influenced mainly by a desire to introduce the Fifty Shades fan base to the Coco de Mer name and all of the related erotica that it sells, or if it was just Lovehoney seeing an opportunity to bridge the gap between its own ultra-cheap products and Coco de Mer's rather pricey ones. What do you think?
Would you buy this bra in the Black/Silver or White/Gold colourway? Or perhaps you prefer the Red Room bra? Let me know what you think of halter bras in general too!