Disclosure: I purchased this lingerie set myself. Links with a * are affiliate links.
If my reviews seem to have been drying up lately, it's because I've become a much more practical and careful shopper. Not just with my lingerie, but everything. I'm really thinking hard about what I want or need, doing lots of product research, and only handing over my money once I'm totally sure it's something I'll use.
My lingerie buying plans for the year ahead are currently just to find a pretty nude bra and a totally sheer one (because I am obsessed with that aesthetic), and that's about it. There's nothing else that feels like its lacking in my collection.
But then I went and saw this Hermiona bra set* by loveJilty on Etsy, and that all went out the window. This was absolutely one of those love-at-first-sight impulse purchases, and I'm happy to say I don't regret it. It ticks two of my biggest lingerie style boxes: unusual texture and vibrant green. It was incredibly budget-friendly too, at just $35 (about £26 or 31€).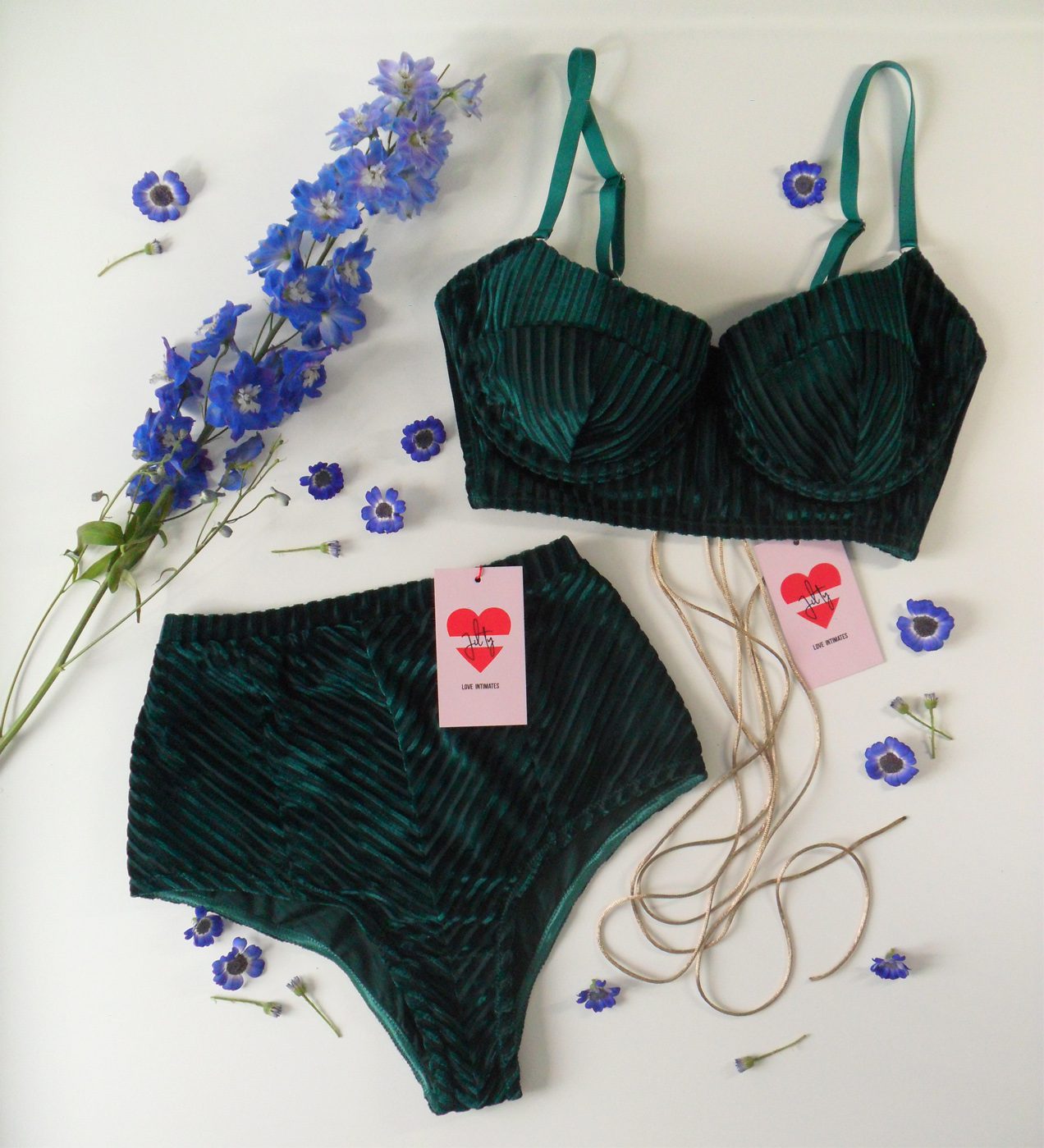 At the time of my purchase, loveJilty* was brand new to Etsy, with only a handful of prior sales and next to no 'about' information. All I knew was that they are based in Ukraine, which explains the low prices – average wages and the cost of living are significantly lower there than here. There are numerous Ukraine-based lingerie sellers on Etsy with prices that, compared to what we're used to elsewhere, seem too good to be true.
loveJilty's products are all pre-made, which would also help them keep their costs down. It does unfortunately mean no customisations. I'd hoped to get one of their swimsuits made up in the glitter fabric from another design, but no such luck. On the plus side though, it only took 2 days for my parcel to be dispatched.
I've since learnt that loveJilty is owned by retailer yesUndress. They also make Keòsme, a premium brand, and three other low-cost labels. Two of which have launched in the past few weeks alone, so this is definitely a company under rapid expansion! It's not exactly the 'handmade' setup I typically expect from an Etsy seller, but as far as I can tell, it is an independent brand.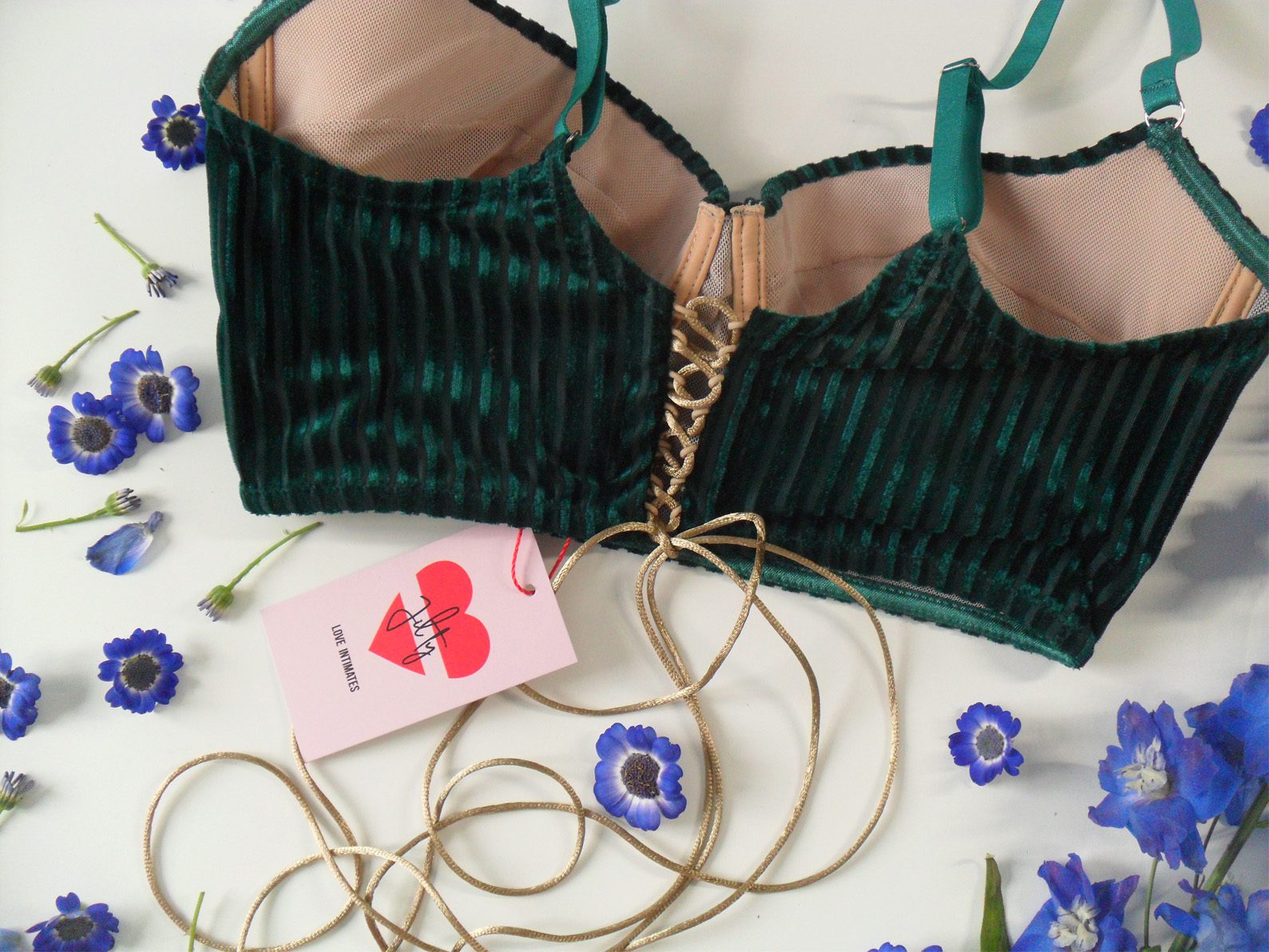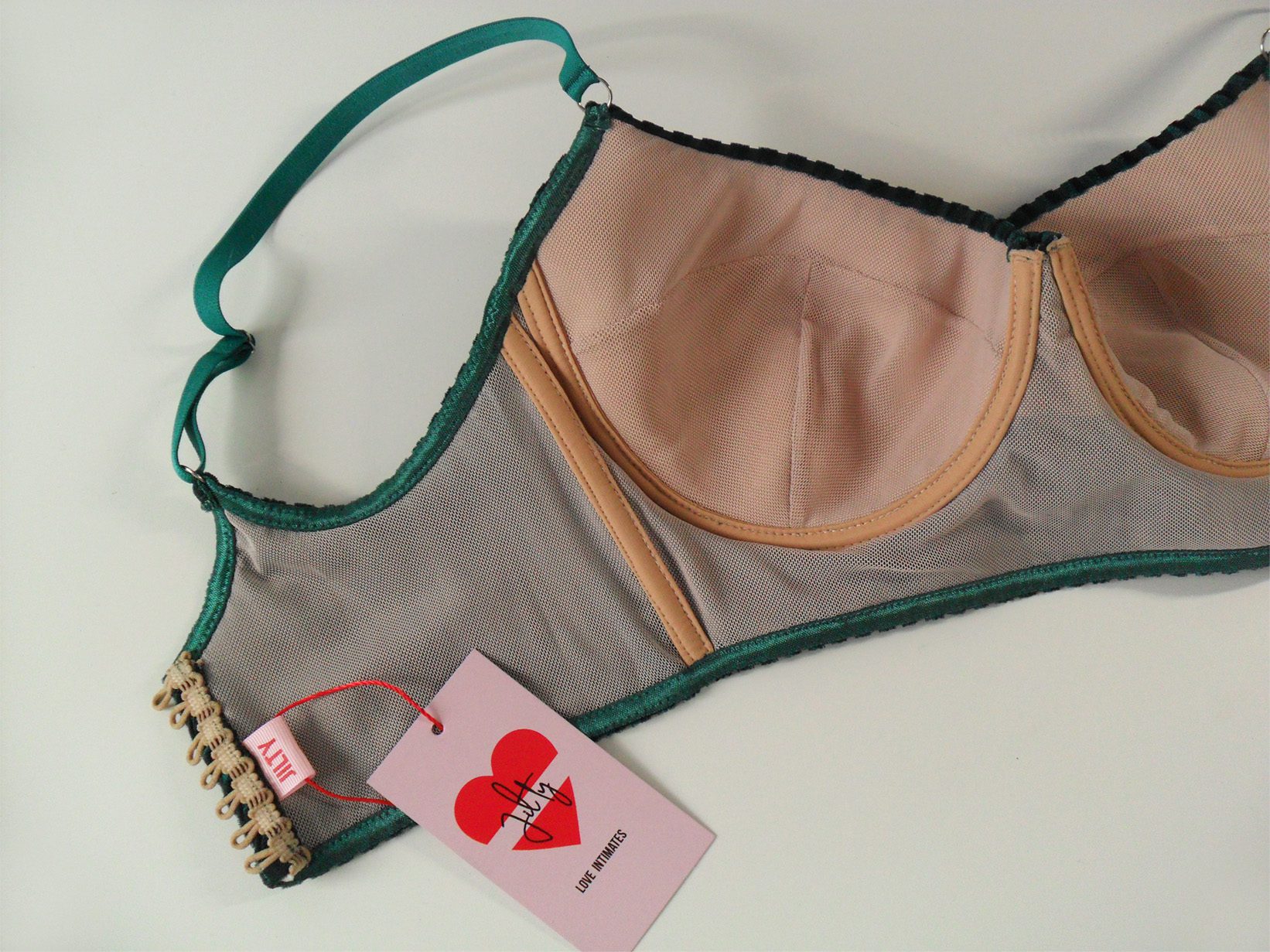 Although I had this bra set sent to my Mum's, she sent me a photo and first impressions were promising – it arrived in a cute gift bag, something I definitely don't expect at this price point. Not only that, but when it finally reached me a scented drawer sachet and a plastic yesUndress card with a raised stamp of my name were included too.
As for the lingerie, well, I can tell you that you're unlikely to find better quality at this price point! It's nicely made, with neat stitching and a mesh lining throughout the bra for comfort. Yes, if you go looking for them, there's the odd raw edge or loose thread, but it doesn't feel 'cheap'. It's pretty on par with what I'd expect from a high-street set costing twice the price.
And that fabric. The stripy velour is equally gorgeous close up as it looks online. Rows of velvet and sheer mesh give it its textured appearance, and on most of the seams special care has been taken to line the pattern up. I especially love the chevron effect down the front of the brief. It's a brighter, more emerald-y green than my photos have made it appear, by the way.
I would though say that the bra strap elastic is not the best, because I've only washed this set twice and it's already slightly fluffy down the edges. The straps are also fixed, not detachable at the back (to convert them into a crossover style) as was pictured.
In terms of sizing, I went with a 32D and XS-S. I would normally wear a 30DD, but this bra doesn't go below a 32 band size so I had to compromise. Overall, I'm happy with how it fits me, but I do think it comes up large in the band. I have to pull the lacing at the back completely closed, and it's still a bit loose. Even if the band were an inch or two shorter, I'd still end up lacing it fully closed to get a snug fit.
So, if you want that pretty criss-cross effect from the product photos, you should really buy a band size, or even two, down from your usual. Good news for those who wear a larger one than is available. And you won't have to worry about running out of cord if you want a wide lacing section – it is literally trailing-on-the-floor long! I guess they made it that way so that you can cut it down to measure.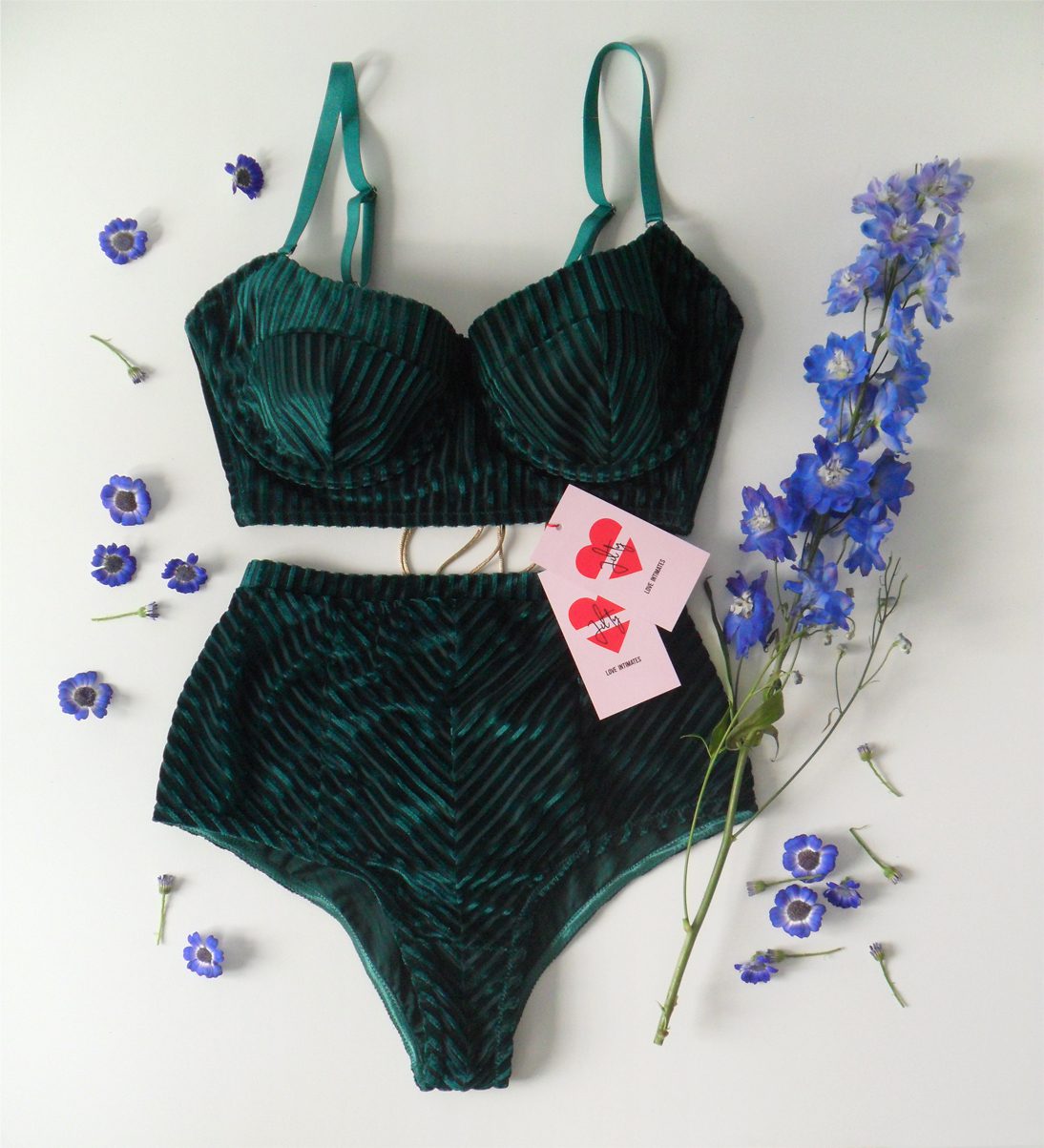 The high-waist knickers fit a little small, more of a perfect XS than an XS-S. My waist right now measures 24.5″ and these are exactly my size, any tighter and they'd be uncomfortable. They're also slightly cheeky cut at the back, which unfortunately just rides up on me. They're not as full coverage as they appeared in the product photo. Because loveJilty letter sizes are repeated (e.g. M is in both S-M and M-L), I'd probably advise going for the larger one.
Sadly, the Hermiona bra* is almost now sold out. The Stella* and Vega* longline bras have a similar construction however, just in sparkly lurex fabric instead of the stripy velvet. The Hermiona high-waist brief* is still available in a range of sizes.
[Edit March 2019 – just spotted the bra is listed on Etsy as available again in all sizes]
[Edit July 2019 – they've added more sizes! The plus-size knickers* go up to a 2X/3X and a modified version of the bra* is available in 36-38 band sizes]
Overall, for what this set cost, I am close to 100% satisfied. I love the way it looks, and the quality is more than acceptable. There's a very good chance I'll be buying from loveJilty again, or one of its sister brands. I actually already have a Keòsme review to follow, because they got in touch after I'd purchased this set and offered to send me something. So stay tuned for that!
What do you think of this Hermiona bra set? Anything else by loveJilty you're feeling tempted to buy?