Disclosure: I received this swimsuit free of charge to review.
I recently stumbled across the brand loveJilty on Etsy, and ended up purchasing a very budget-friendly bra set. While researching the company for that review, I found out that they were owned by the Ukrainian retailer yesUndress who also make some other brands. One of them is Keòsme, and I instantly fell in love.
Keòsme is yesUndress' original label and, overall, their most high-end one. The prices are pretty varied however, with everything from 35€ bralettes to lingerie-inspired mini dresses costing hundreds. I especially love the Agath bra set and Cymothoe corselette. With an upcoming holiday planned though, when the brand offered to send me something it was the swimwear I thought of trying.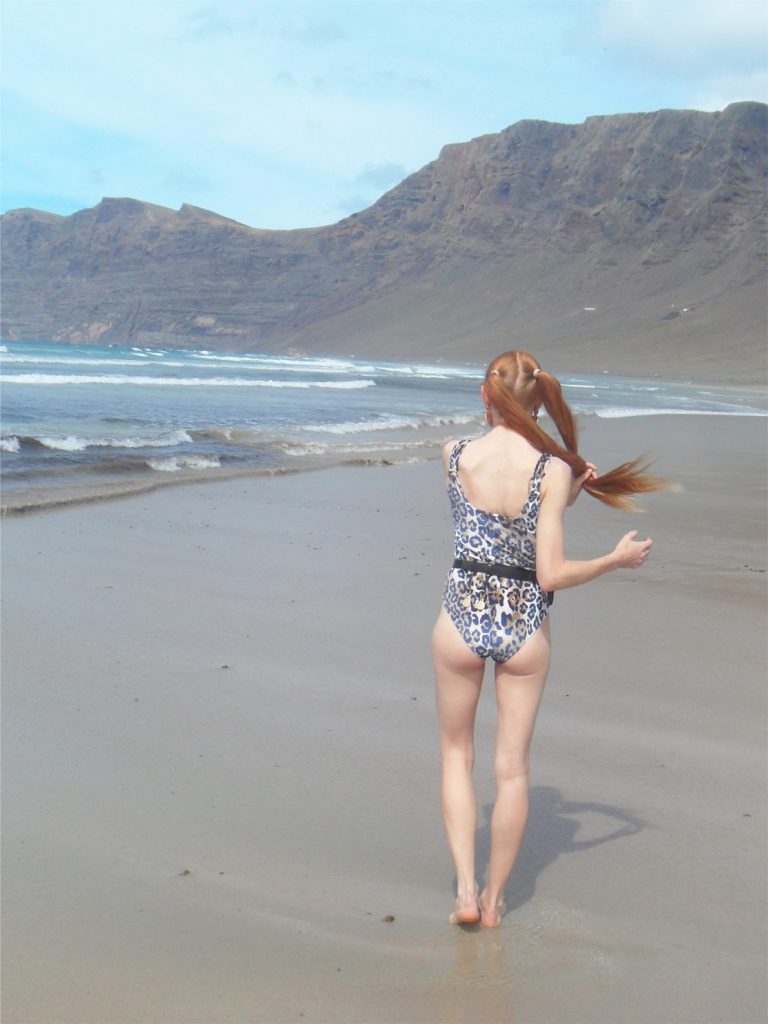 I love the Floralle swimwear range which features 3D flowers, some made from irridescent sequins and others adorned with crystal centres. But I also really liked the Dominata Bersèra velvet swimsuit, which comes in a choice of red, black, baby pink or this leopard print. Still debating if I should have gone for lipstick red, I really can't pick a favourite!
The Dominata Bersèra swimsuit is essentially a set comprising the standard Bersèra swimsuit and the beige Cobra belt. So you can get this swimsuit without the belt, and at a significantly lower price, if you prefer. I had a bit of fun styling it with other belts as you can see – leopard print is very versatile! Currently, the two-piece set will set you back 133€ (~£118 / ~$150), down from an original price of 171€.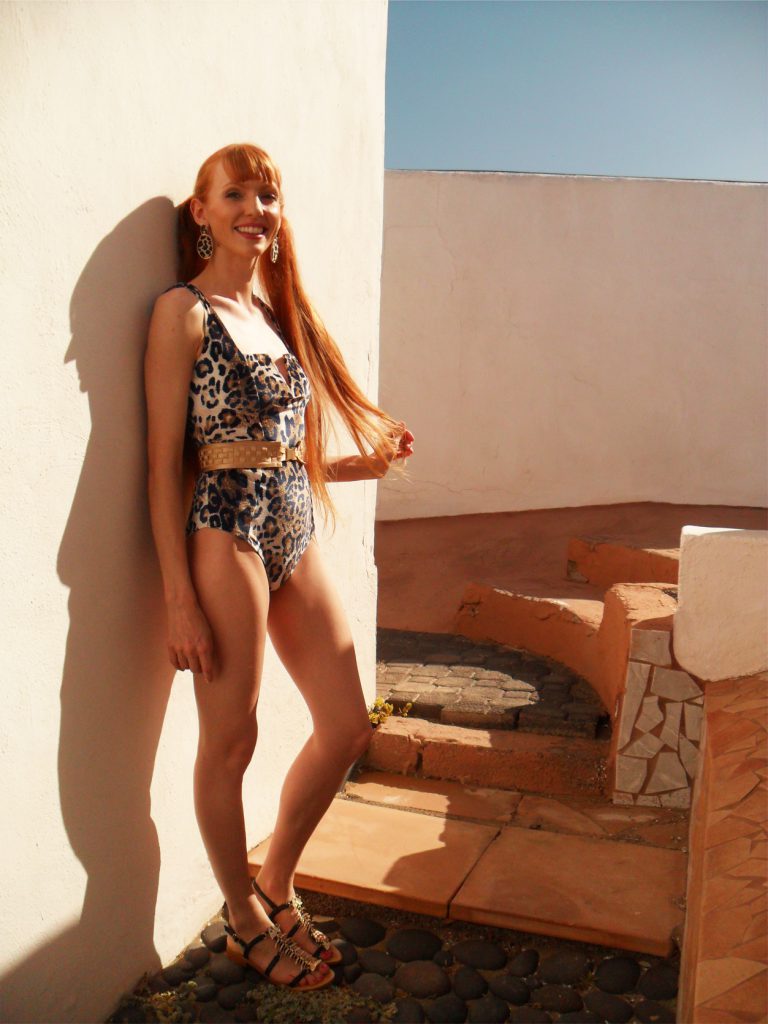 One of the things that really makes this swimsuit unique is the sizing. Not only do you choose a clothing size option (ranging from XXS-XS to L-XL), but you also select one of 6 height options covering people 4'8 to 6′ tall. I know that one of the most common complaints of one-piece garments is the torso length – too long and it's baggy, too short and it digs in at the crotch – so to be able to have a differently-sized swimsuit from someone who is the same clothing size as you but 3″ taller is almost like buying made-to-measure.
I opted to order the swimsuit and belt as separate items, because I wanted different sizes. Going by the brand's size guide, I got the swimsuit in an XS-S for 5'3-5'5 and the belt in an XXS-XS for up to 62cm waists. I wear a UK 6 or XS, am 5'3 and have a more or less 62cm waist, and the fit for both is spot-on.
The belt is not adjustable and is very fitted without being constrictive. And the swimsuit is a great, comfortable fit all over. Despite being made with a narrow height range in mind, it still has adjustable straps (with chic, gold-tone metal hardware) to really perfect the fit.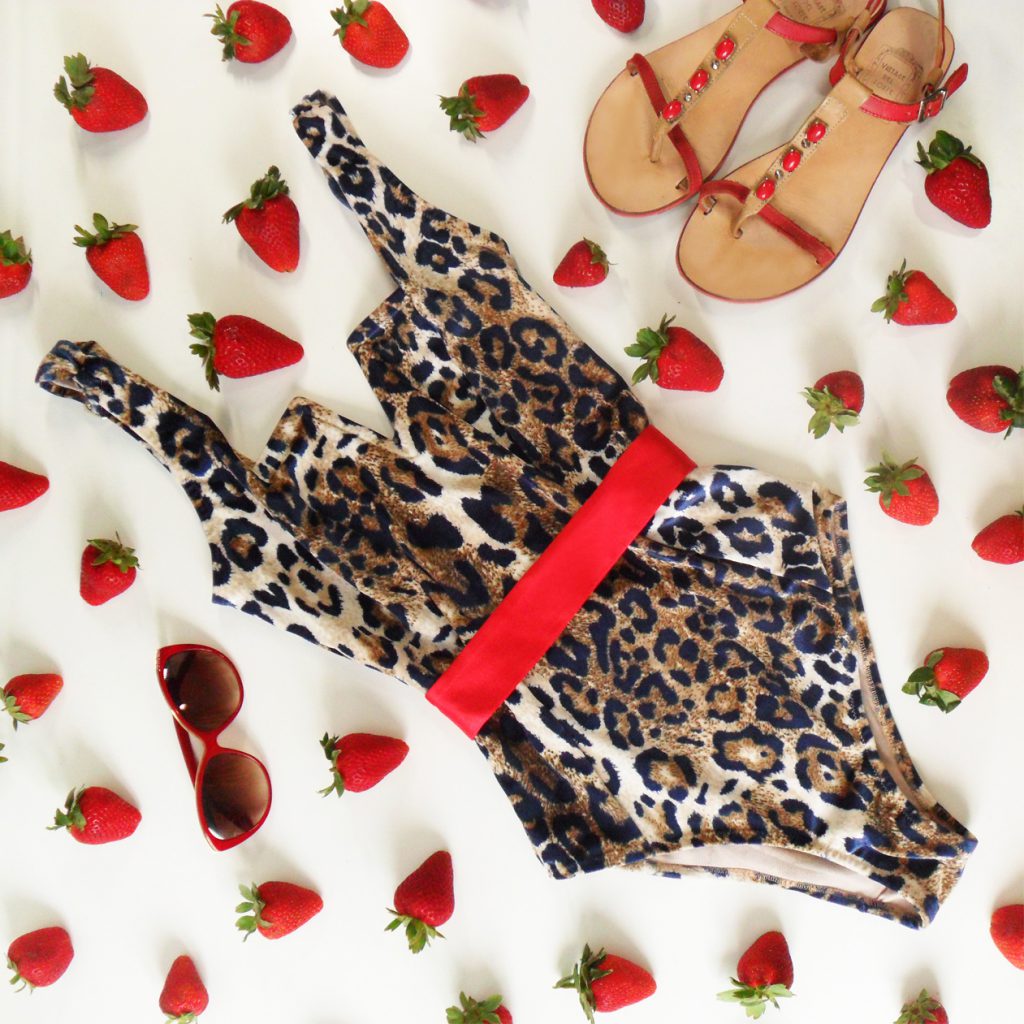 I feel like I say this a lot, but I basically never read product descriptions when shopping, and didn't realise until I received this swimsuit that it's velvet. But it was a nice surprise! Partly because I've been intrigued by the velvet swimwear trend – does it become all heavy and baggy when wet? The answer is no. Does it take forever to dry? Again, no.
But I also like that it's velvet because that makes it look less 'swimwear-y', so I could feasibly pair this with a skirt and call it a summer top. Actually, I definitely plan to do that. The swimsuit offers no bust support but the fabric is thick enough to conceal nipples, and the structured V-wire holds the neckline in place very well. It's not just wired in the actual plunge part, but boned across the top of the neckline too.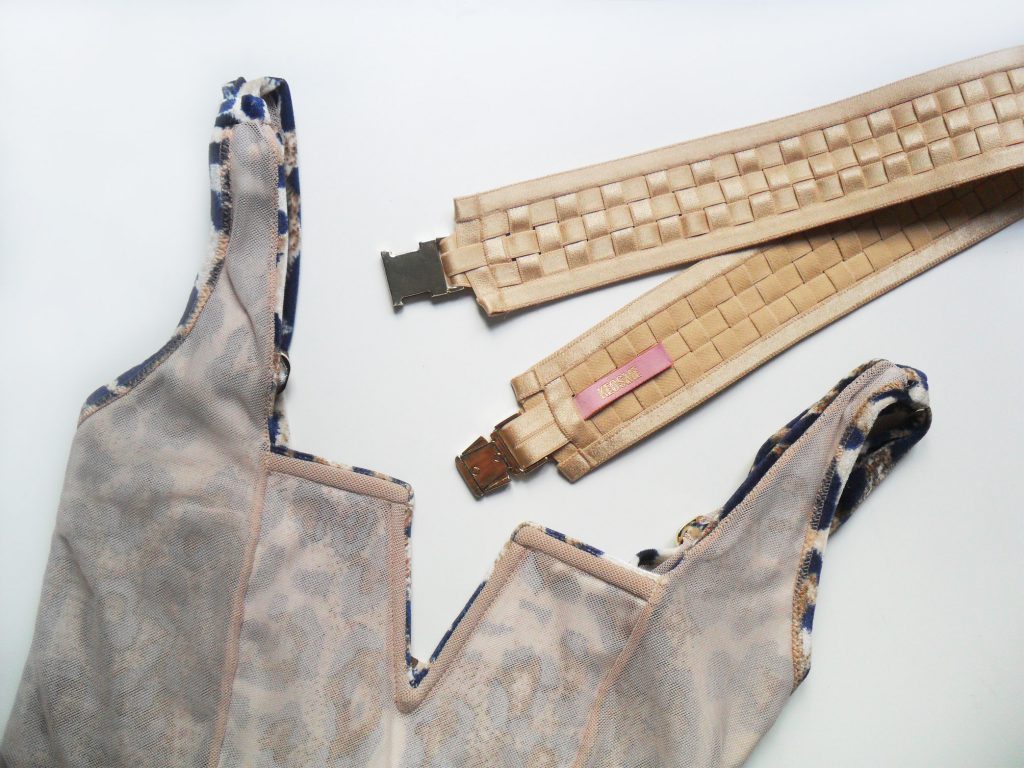 Quality-wise, I wasn't sure what to expect. This is only the second luxury price-range swimsuit I've ever owned. But I was really impressed with yesUndress' loveJilty bra set I mentioned earlier, and that was about a fifth of the price of this. So unsurprisingly, I liked this too.
The entire swimsuit is lined with mesh, except for the gusset which is lined with a softer material. As I mentioned, the strap hardware is metal, and it's rather chunky. The matching belt is made from strong, satin-finish elastic that's woven together, with a metal release buckle fastening. So far, the metal hasn't tarnished (though I've only worn this in the water once). And whereas the loveJilty set was ever-so-slightly rough around the edges, the sewing here is all done very neatly.
Overall, I love this swimsuit. It's very on trend right now – animal prints, V-wires, velvet, chunky belts and release buckles are all 2019 swimwear trends. But mostly I just like it because it's cute, very comfy, and the perfect size. Plus I get to wear the belt with my daytime outfits too – yay for it being detachable!
Yes, this swimsuit is on the expensive side. Especially if you want it with the belt. But remember that the sizing is unusually specific, and that's got to be worth paying more for than a generic 'Small/Medium'.
Have you ever worn velvet swimwear? Which colour would you have picked for this Dominata Bersèra one-piece?