Disclosure: I received this swimsuit free of charge to review. Links with a * are affiliate links.
It already feels like a distant memory, but this time last month I was on the beautiful (and very alien-looking) island of Lanzarote. The weather wasn't quite the glorious sunshine that we'd imagined, but we were staying right by the beach and determined to make the most of it anyway.
One of the swimsuits I took with me is this Art Deco One Shoulder* style by Gottex, from UK Swimwear. I have long lusted after this brand, whose Couture range* includes some truly breathtaking pieces that will set you back £400+. This particular piece however comes in at a much lower, though by no means insignificant, £147.95 (~$188 / ~169€). It's a luxury garment for sure, and I was intrigued at how it would compare to the swimwear I usually buy.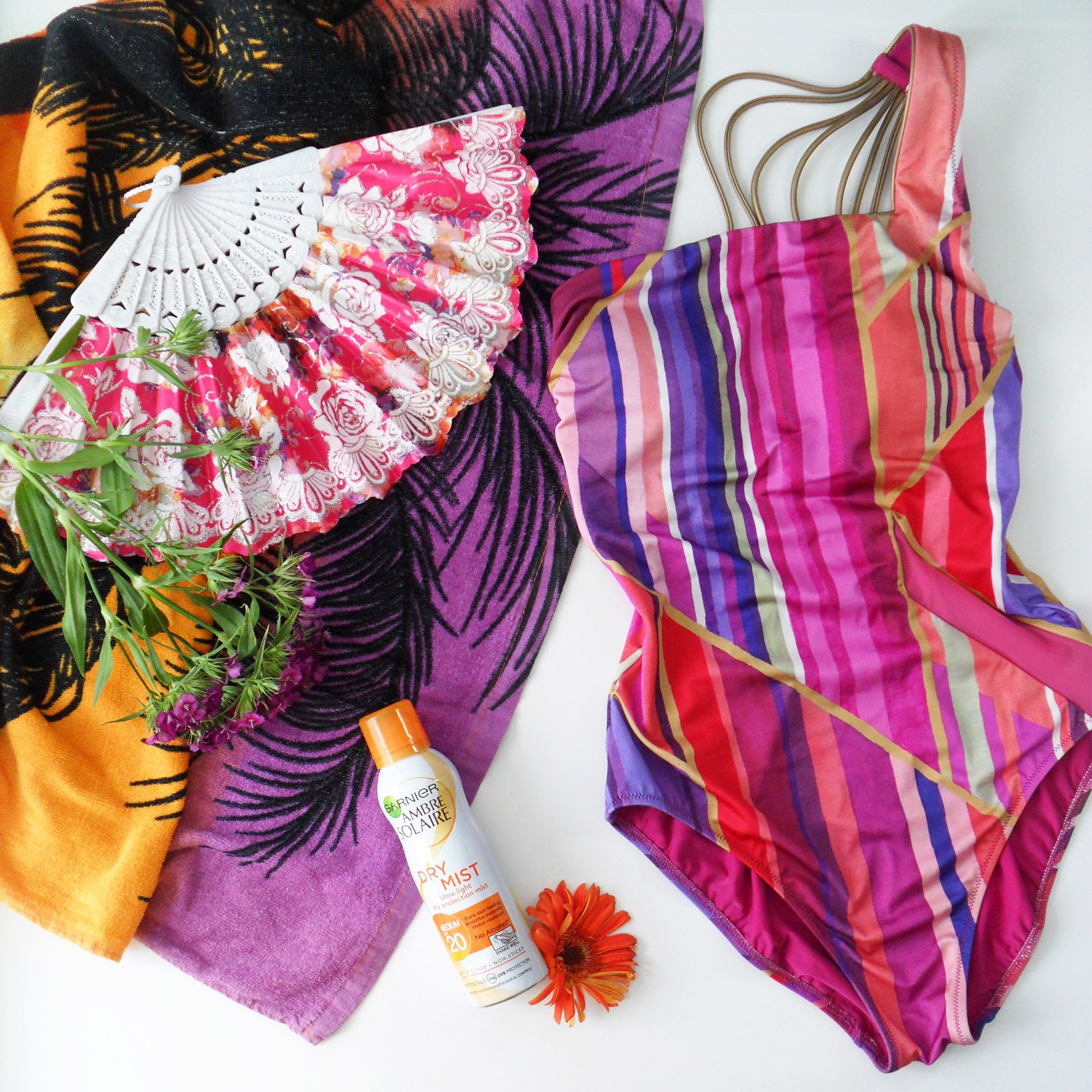 What you notice first about this swimsuit is, of course, the print. It's a bold mish-mash of pinks and purples, interspersed with little bits of red, white and gold. It's hard to capture this on camera but up close, it has this gorgeous, slightly luminescent shimmer that goes great with the metallic details. It's a high-quality looking fabric, and it feels like one too – thick, smooth and stretchy. And at one side, by the hip, there's a panel of sheer pink mesh. It's quite subtle, enough that I hadn't even noticed it online, but is a lovely additional detail.
Inside, the swimsuit is fully-lined with opaque pink fabric. The seams are all hidden, except for at the neckline and leg openings. The bust has built-in, non-removable padding, and a strip of Gottex-branded elastic just below to hold it in place. It's not ultra-thick padding – it's just enough to provide nipple coverage and a little shaping.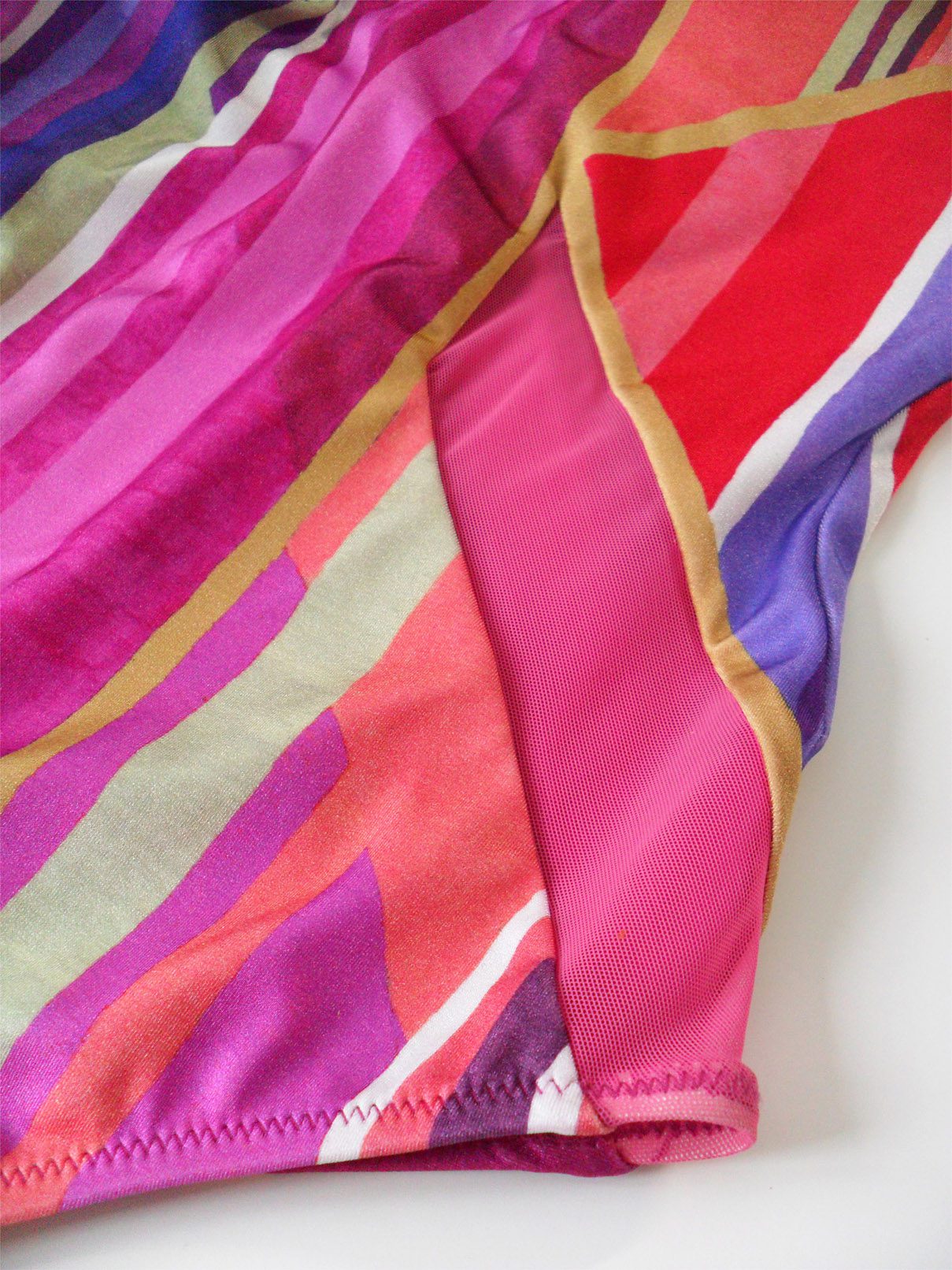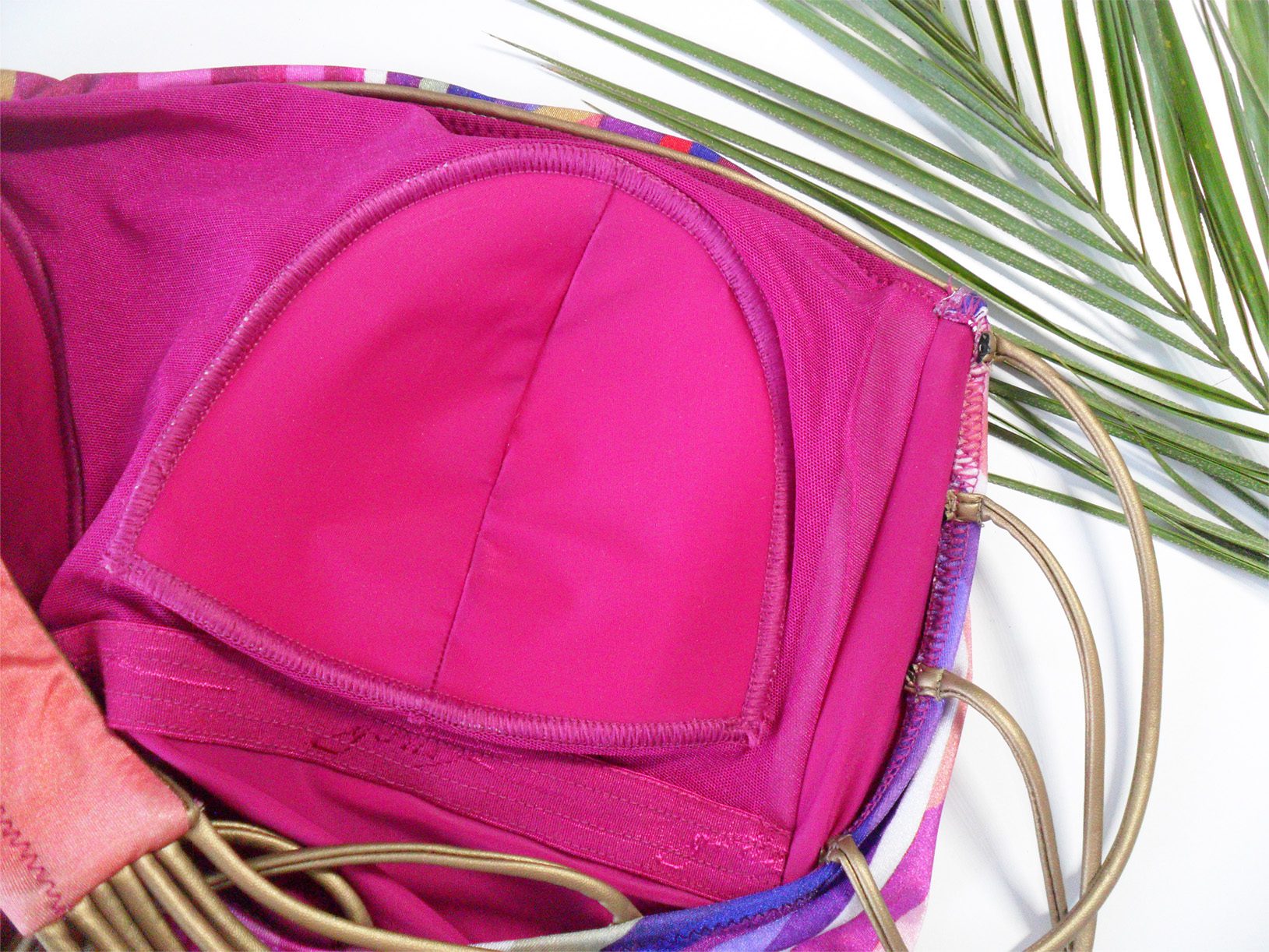 To the sides of the cups are sturdy plastic bones – the one on the right especially helps the swimsuit to hold its shape, so the strapless side won't roll down and leave you exposed. And it works; even splashing about in the waves I felt completely secure in this swimsuit. I don't think I stopped to pull it up even once.
Even more striking than the print is the strappy back. Seven thick, gold rouleaux straps start from the left shoulder and starburst out down to the scoop-cut back. And the same, thick fabric has been used to create a rolled edge that follows the edge of the strap and runs across the neckline. It gives the front of the swimsuit a very neat (and high-end looking) finish.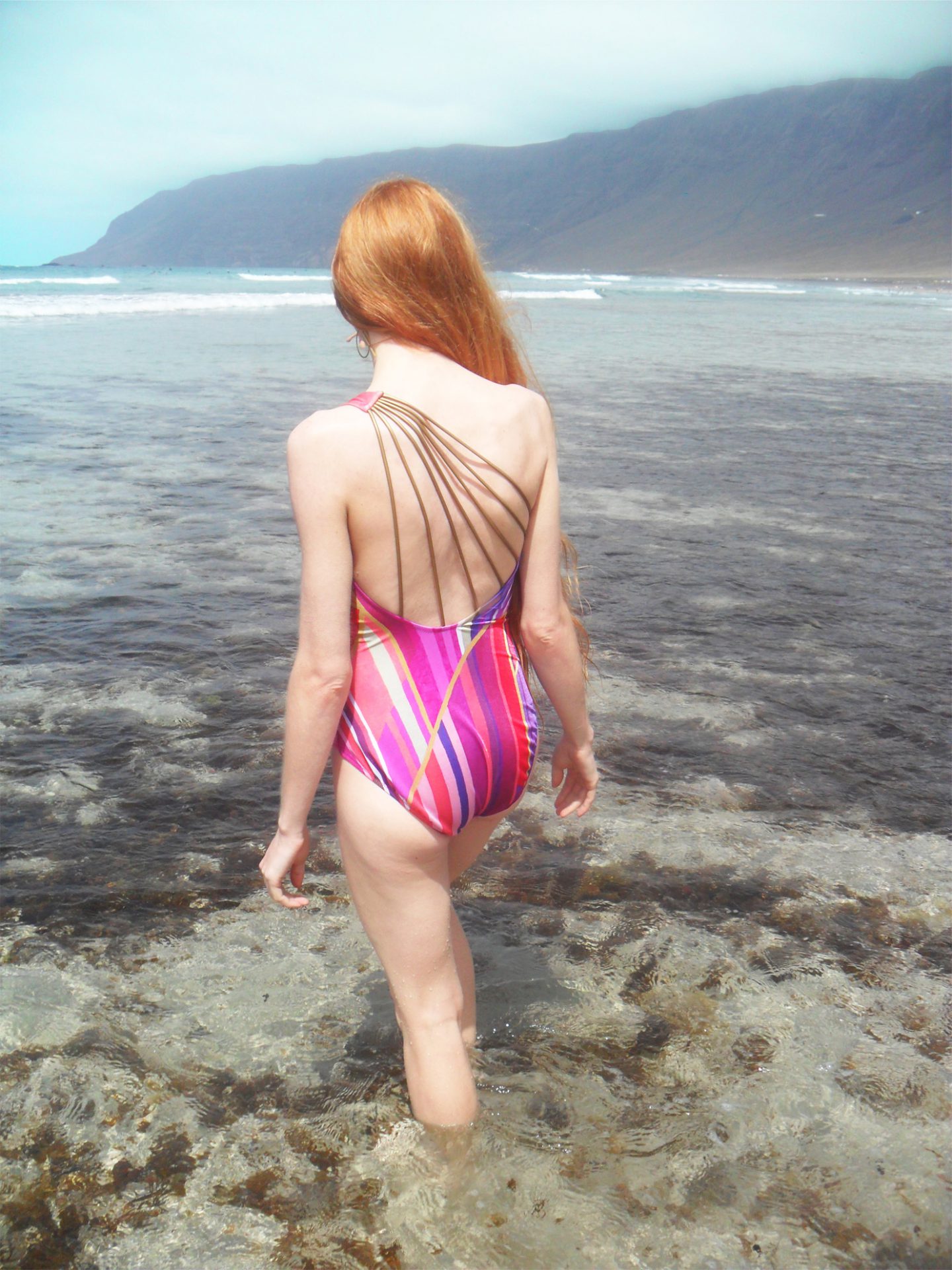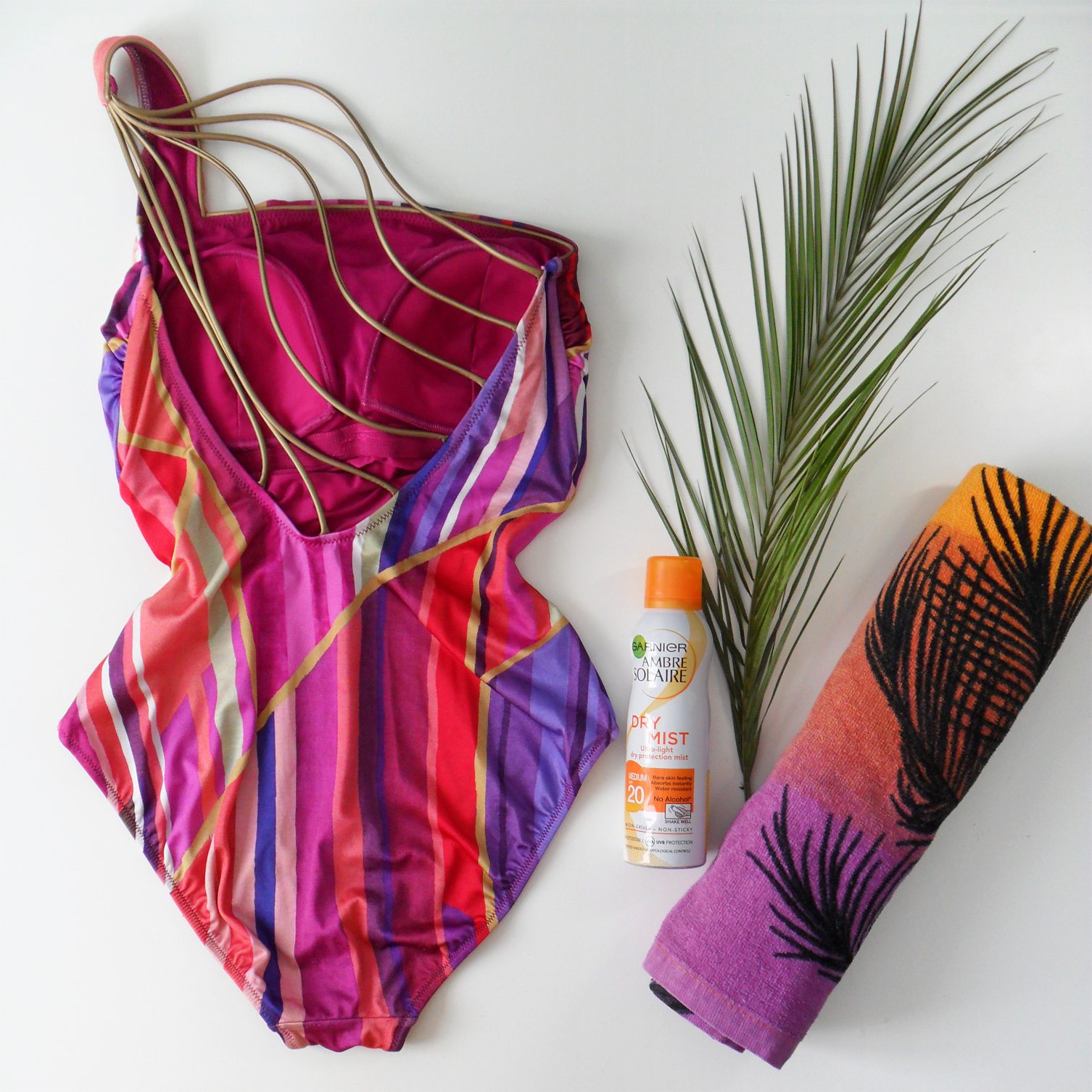 I can't say a great deal about the fit because UK Swimwear isn't stocking my actual size. They currently have this swimsuit available in a UK 10 or 12, and I'm wearing the 10 – two sizes up from my usual. I figured I might get away with it because of the ultra-stretchy nature of swimwear, and I kind of do. As most of the photos here show, the fabric is wrinkling on me, but not a huge amount. I feel like I'm wearing one size too big, not two. Also bear in mind that I'm 5'3 – on someone taller, the extra vertical stretch would smooth it out a bit more.
All in all, I love this swimsuit. I have absolutely nothing bad to say about it. The design is so vibrant and unusual – it's definitely a bit of a showstopper! And the quality is simply excellent. There's even a third little piece of boning where the gold lines join the shoulder strap, to avoid pulling too hard on the stretch fabric (which might have caused it to deteriorate here over time).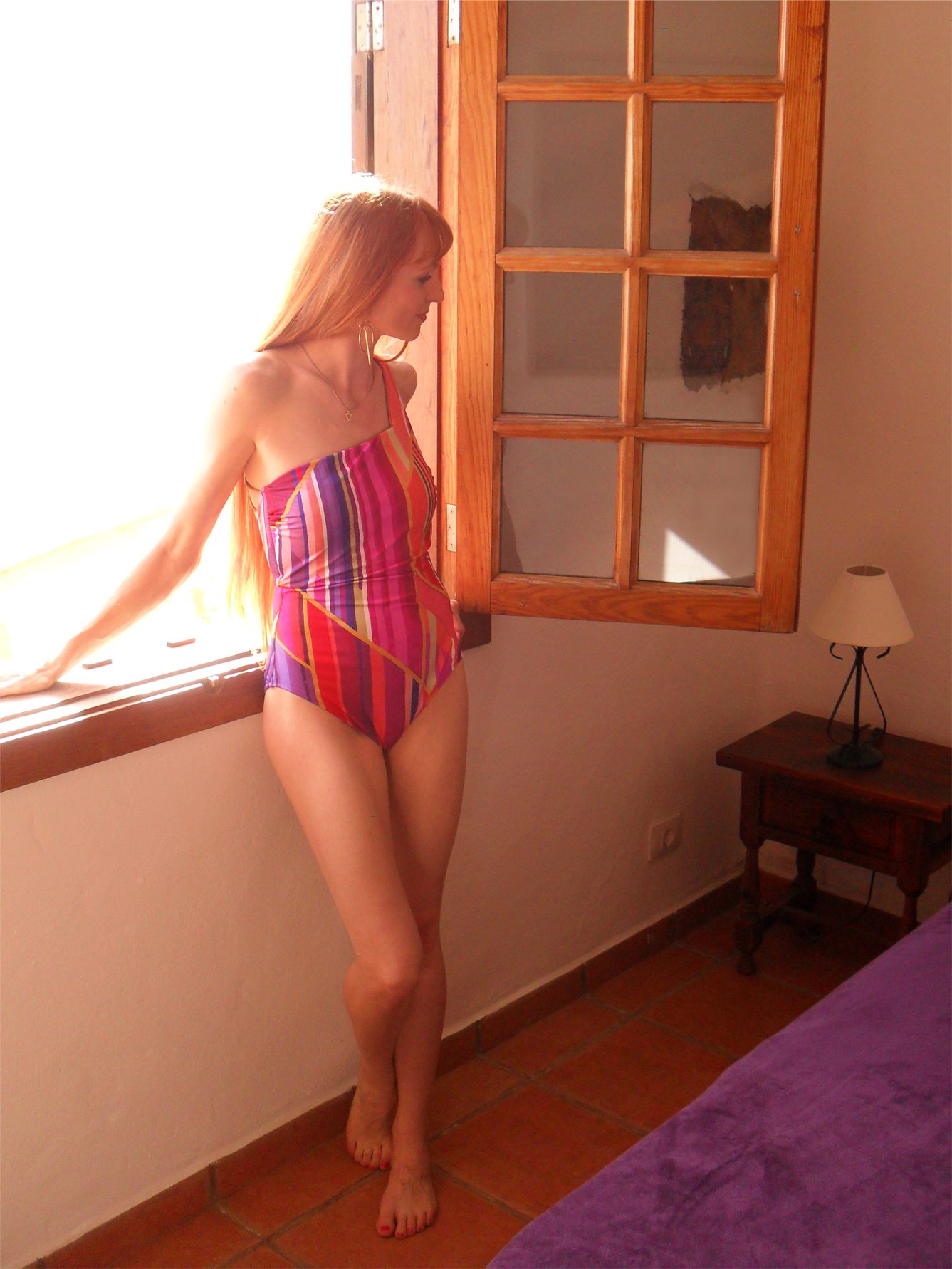 Instead, this swimsuit absolutely looks like a garment that will last for years and years. So while the price tag may be on the higher side, I don't doubt you'd get your money's worth. I can't wait to keep wearing this swimsuit on the beaches of Barcelona this summer!
Oh and hey, if you love this print but the asymmetric neckline is not your thing, UK Swimwear also has the Art Deco Surplice Swimsuit* and Art Deco Surplice Floating Underwire Swimsuit* too. The one-shoulder version is available here.
Have you ever owned a Gottex creation? What do you think of this one?