Disclosure: I received this item free of charge to review.
Mecedora is a handmade Italian brand that I discovered earlier this year, after spotting their Budoir Satin Top on Instagram. Made primarily from strands of golden cord, it instantly reminded me of Made by Niki's String collection, a truly innovative product range that I shall forever regret not buying more from. Especially now that Made by Niki has closed down, I was really happy to see another brand create their own version of 'string' lingerie.
And just to be clear, it is Mecedora's own design – the string idea may have been done from time to time before in lingerie, but this particular piece is creative and original. I particularly enjoy the colour scheme here, which feels both playful and luxurious. Ruched lilac satin wraps around the neck and ribcage, connected by a multitude of draped, metallic cords that cover (well, partially cover!) the upper chest and bust. Not visible in the product photos is the back of the band, which is made from two straps of dark caramel velvet elastic.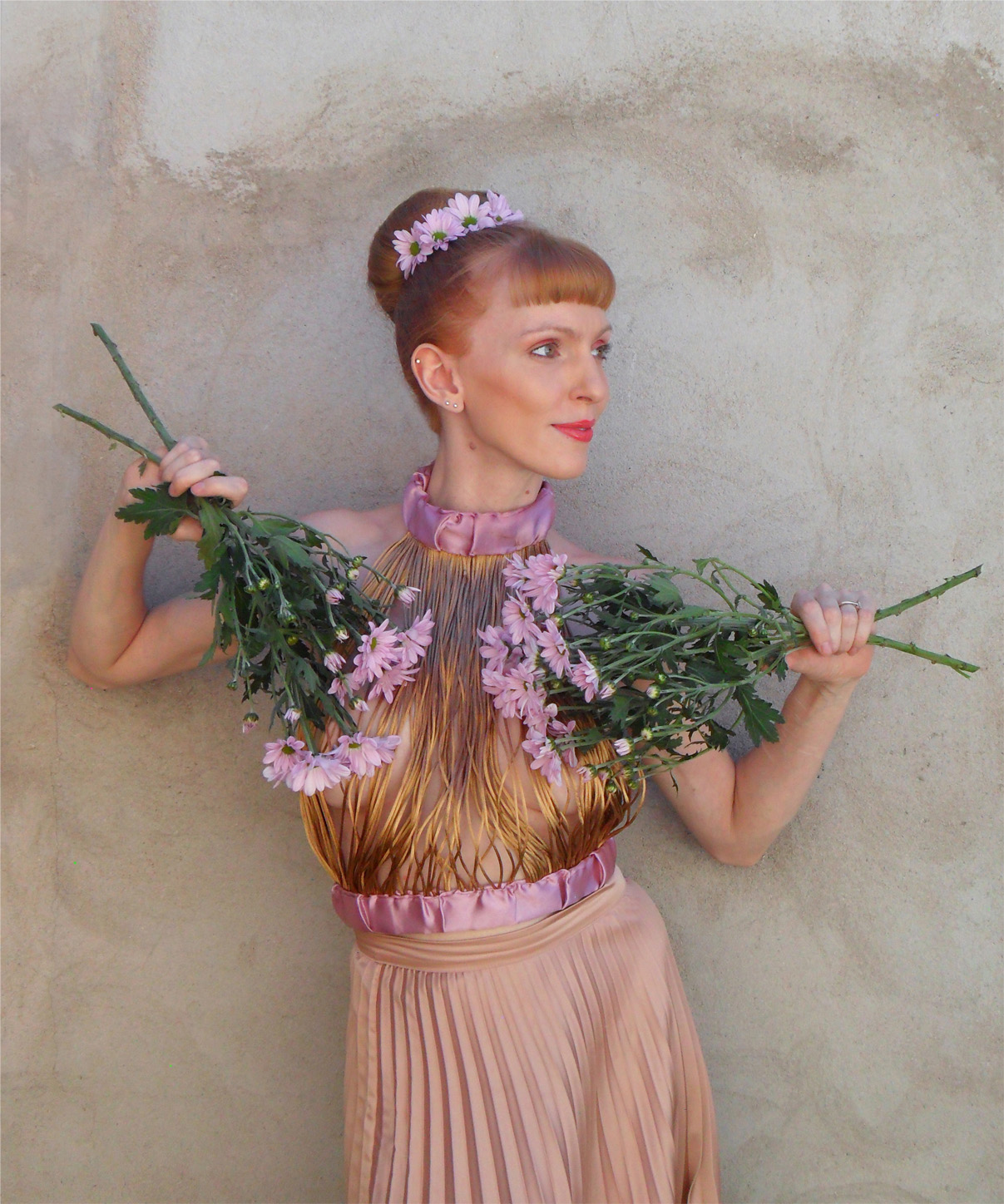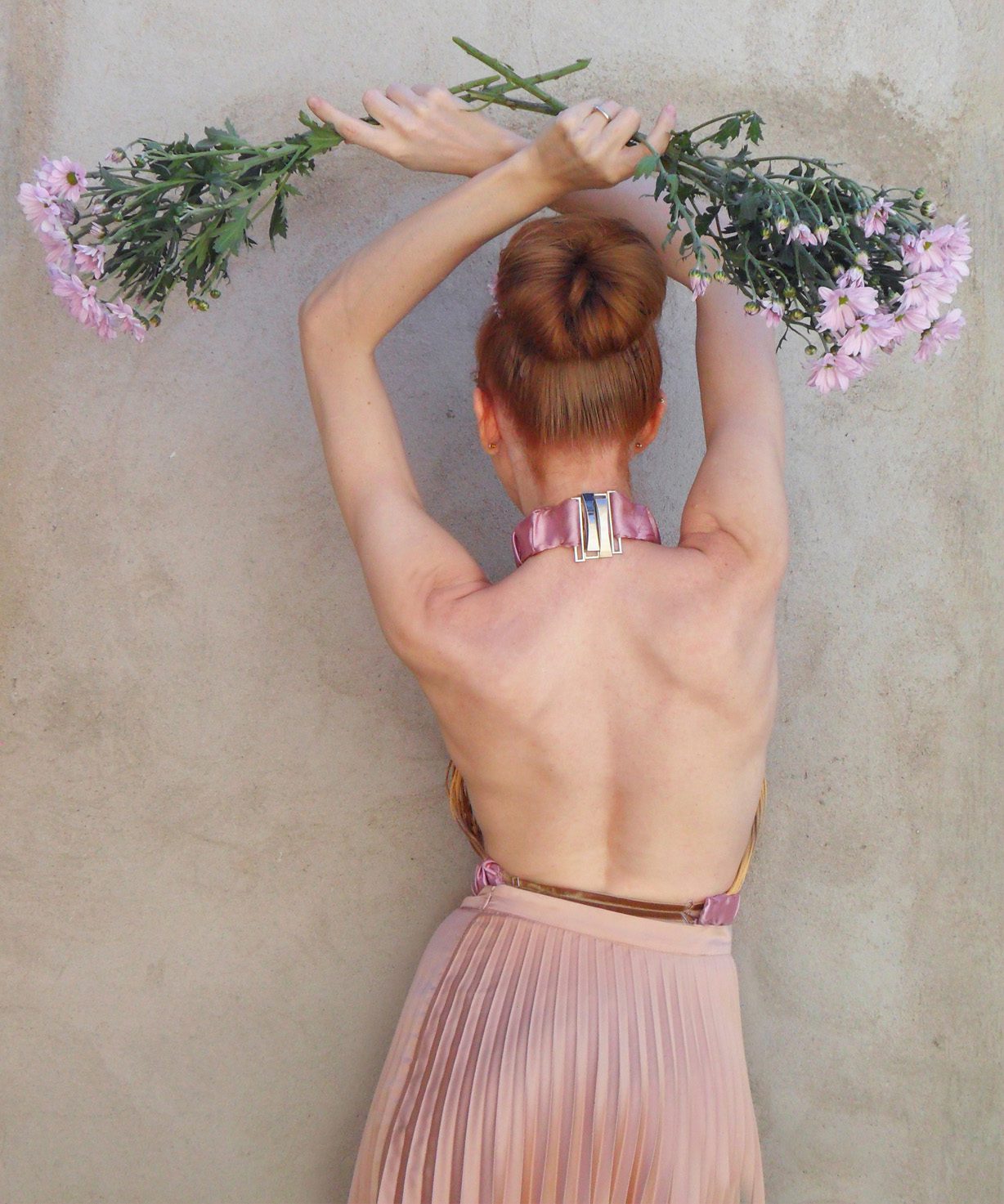 It's a deceptively simple-looking design, but in reality must be a tricky, time-consuming task to encase all of those strand ends into the satin. In fact, taking a close-up look at where they meet, the edges appear to have stitched closed by hand, with a line of thread sewn through each individual gold cord to hold it in place. There is also a double layer of thick elastic sandwiched between the satin; as a result, the garment has a substantial, weighty feel to it. It's definitely not flimsy.
Unfortunately, while the construction may be both sturdy and intricate, it isn't perfectly-finished. The purple satin is that type with a large weave that snags easily, and it arrived with a lot of small pulls and a couple of fraying patches on the fabric. They're mainly on the interior, where they won't be visible when worn, but considering this is a 240€ (~£218 / ~$279) item, I think a better-quality satin could have been used.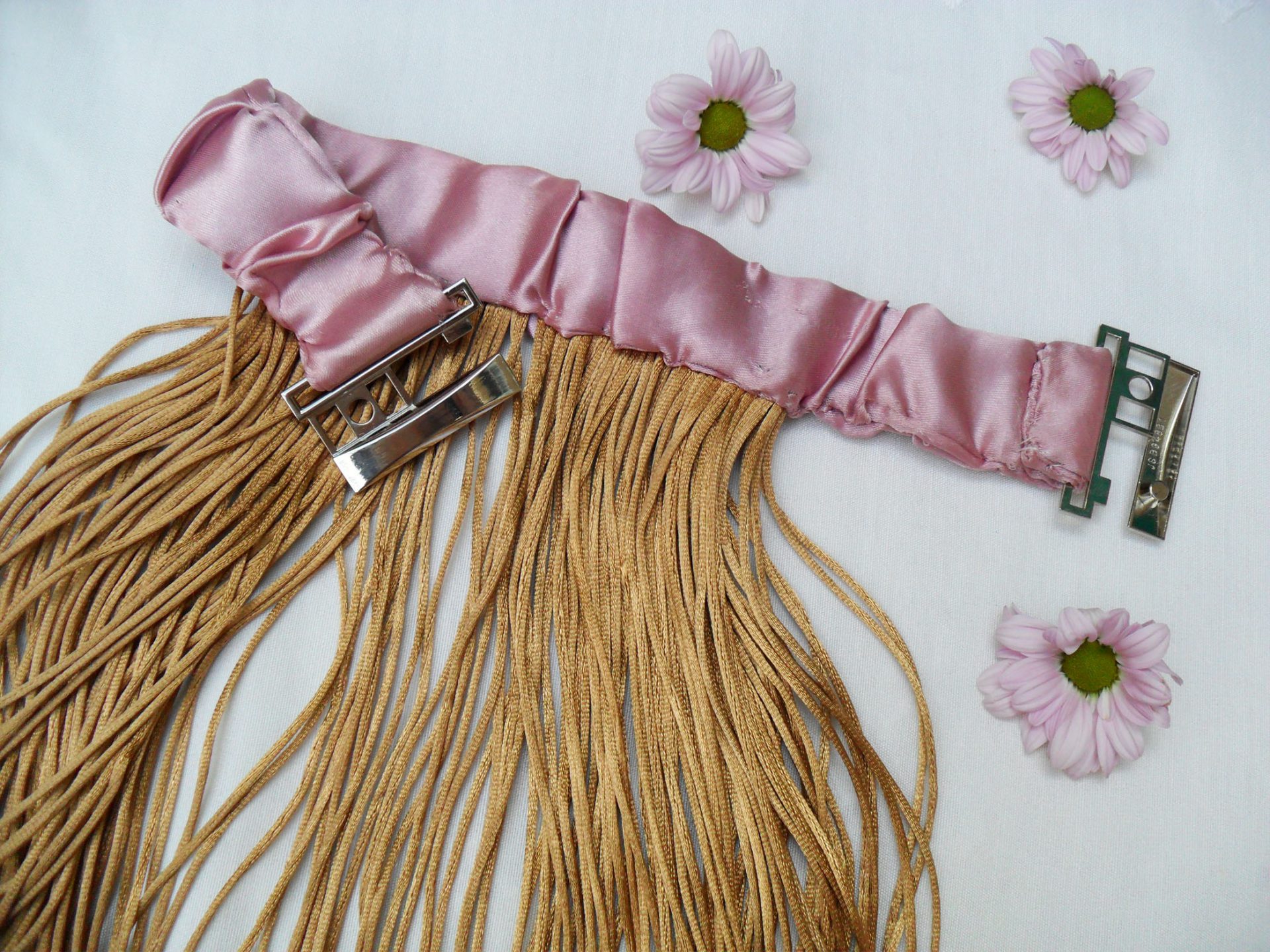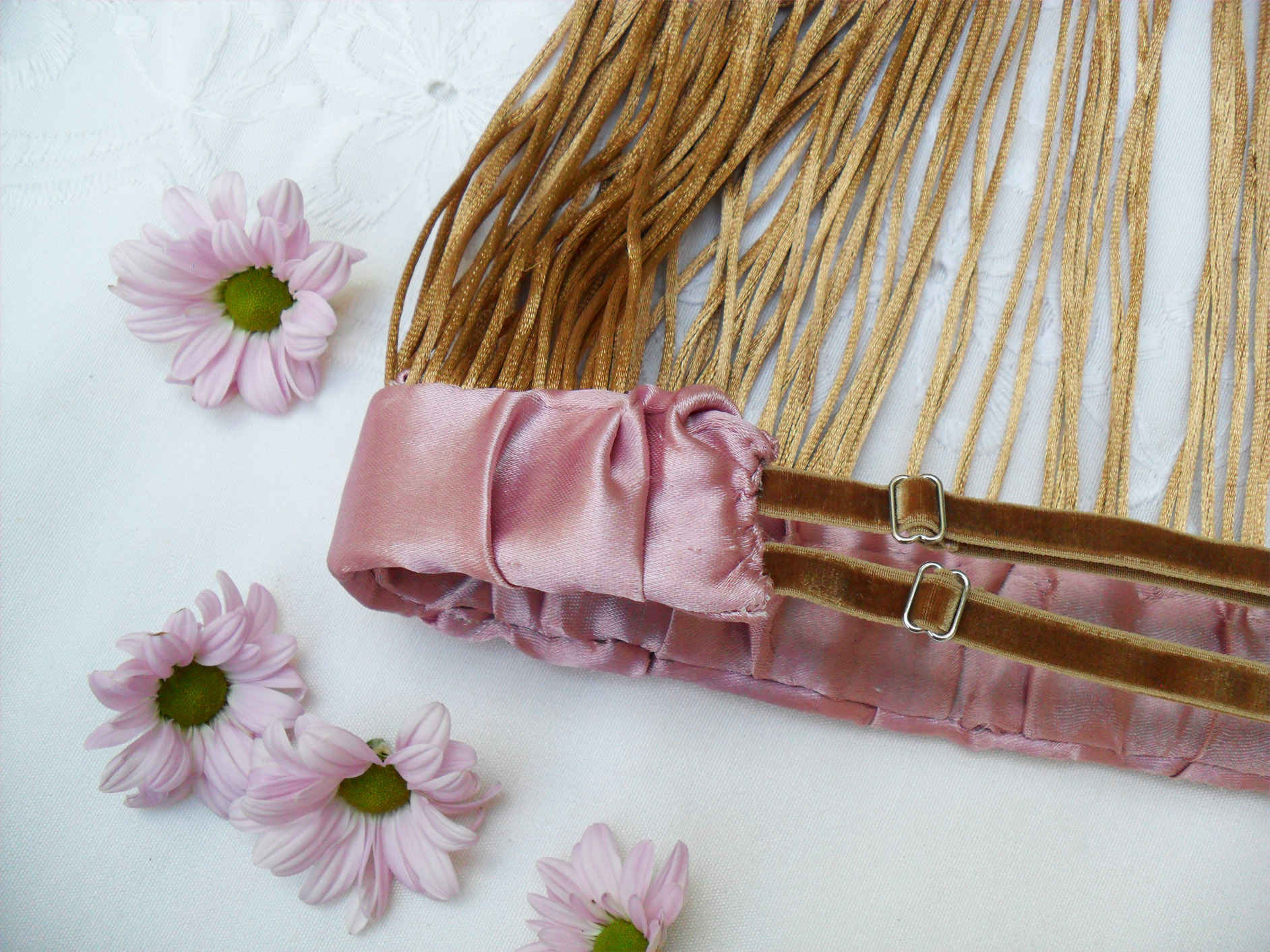 I also had an issue with the size. Although the band size is adjustable, it was much too big even on the tightest setting. Before taking these photos, I had to trim the velvet straps at the back to be around 5-6″ shorter. It appears that is was made to my actual underbust measurement (which I had sent to the brand) or even slightly larger, so that the elastic just sat loosely around my body instead of gripping firmly in place. On their website, the Budoir Satin Top is available from XS to 3XL, but I can't find any sizing information to indicate what ribcage measurements those sizes align with. The halter neck band is non-adjustable, but is elasticated and fits me fine with some room to spare.
However, the neck is where I had another significant problem with this garment. It fastens at the back with a large, silver-tone metal clasp, but the slightest knock and the clasp pops open. This unfortunately means that the top is simply unwearable for anything beyond a photo shoot – I was constantly refastening it while taking these pictures.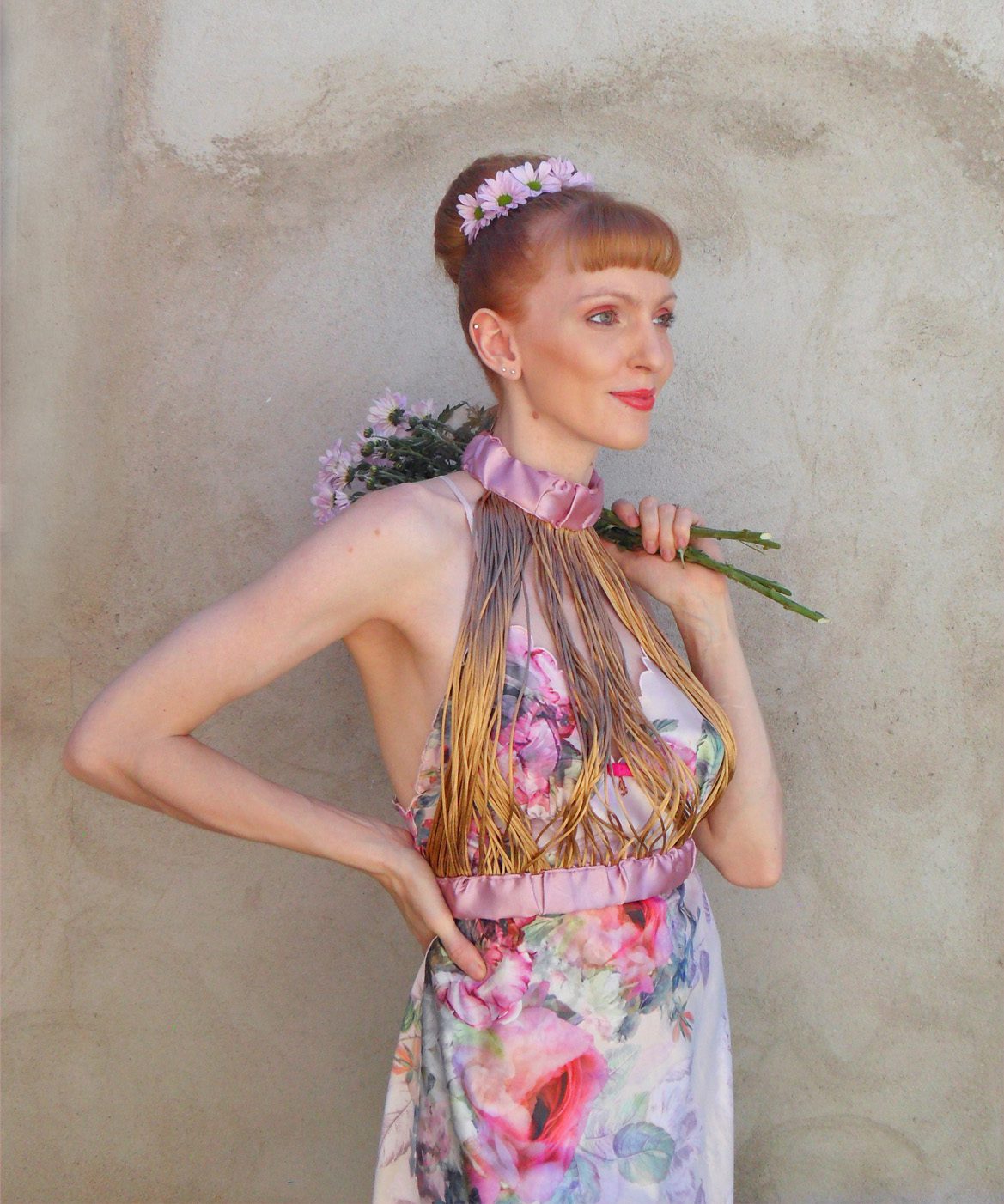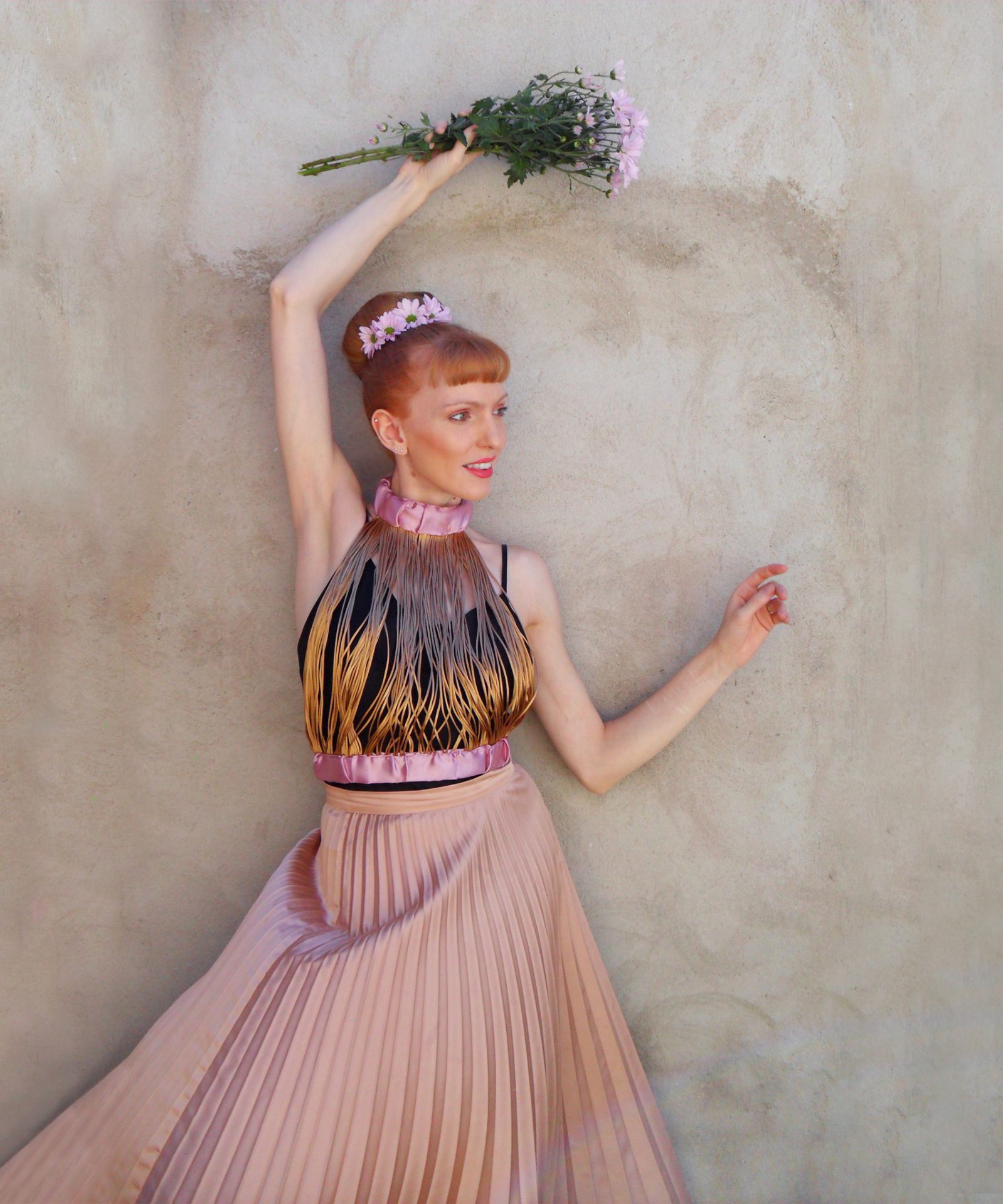 I think Mecedora's Budoir Satin Top is beautiful and unusual, and offers a multitude of styling options. The fluidity of the draped strings and the soft shimmer of the two materials would make for a gloriously eye-catching look for a burlesque performance. I can definitely imagine this being worn over nothing but some glitzy pasties. But it's also a very atypical lingerie design, one that could easily pass as fancy outerwear for a night out or special occasion. You'd just need to find the right top – perhaps even something small, like a bandeau – to style it over.
In its current state however, this feels like more of a prototype for a garment idea than a final, retail-ready design. While I don't doubt that it took a long time to make, the finish needs to be a bit more polished to justify the 240€ price tag – and of course, the neck clasp needs to be replaced with something that securely fastens.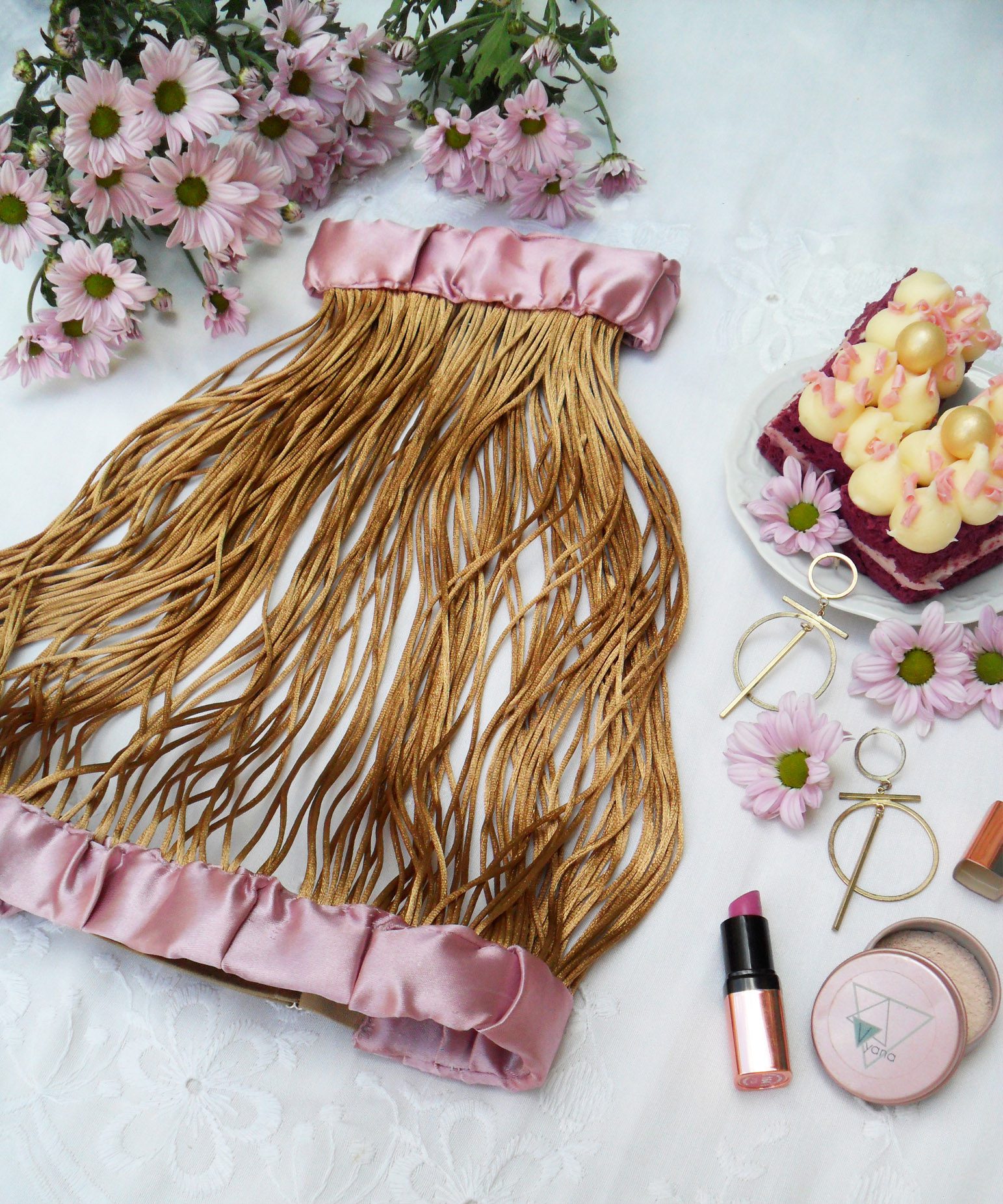 The Budoir Satin Top is unlike anything else on Mecedora's website – while there are some pretty items, they're much more akin to the cupped, fabric bras we're used to seeing. But as one of their newer designs, I hope this is an indication of things to come! I'd love to see the brand push further in this direction and create more string lingerie, or just other avant-garde creations. With a bit of refinement, this top has the potential to become a very interesting luxury lingerie piece.
Are you a fan of this Mecedora design? How would you wear it?