Disclaimer: This blog post contains affiliate links.
I have a small handful of absolute favourite brands, and of them Agent Provocateur is the one I own the most pieces by. Season after season, they've amazed me with their creativity, unique fabrics and general flair for awesome lingerie design.
So when I first saw their Autumn-Winter 2014 lookbook I'll admit I was a little… disappointed. Where was the innovation? Where were the brand new shapes I'd never seen before? But then I read the accompanying press release and I got it.
"For Autumn Winter 2014, Agent Provocateur returns to the flagrant hedonism and brilliant abandon of its formative years… Our Autumn Winter campaign images mirror the luxurious excess of the glorious 1970's that I had envisaged when designing the collection."
This isn't supposed to be modern, ahead-of-the-competition lingerie design. It's more of a mixture of vintage inspiration and classic Agent Provocateur styles from their archives. Of course, there are some on-trend details too, like the strappy lace on the Chiki, the cut-out gore of the Dolley and the whole of the Avery playsuit, but overall the collection definitely has a feel of a glamorous era gone by to it.
Is this my favourite Agent Provocateur collection ever? No. But as someone who loves the look of vintage lingerie but prefers the fit and fabrics of modern day, it can definitely fill a space in my lingerie drawer.
What do you think of Agent Provocateur's A/W 2014 collection? Is there anything here you'd consider buying?
Molly
Left: Slip (£295) and Robe (£695)
Right: Bra (£125), Brief (£110) and Suspender (£125)
Di Di
Robe  (£395)
Bra, knickers and suspender coming soon
Chii Chi
Slip Dress (£495)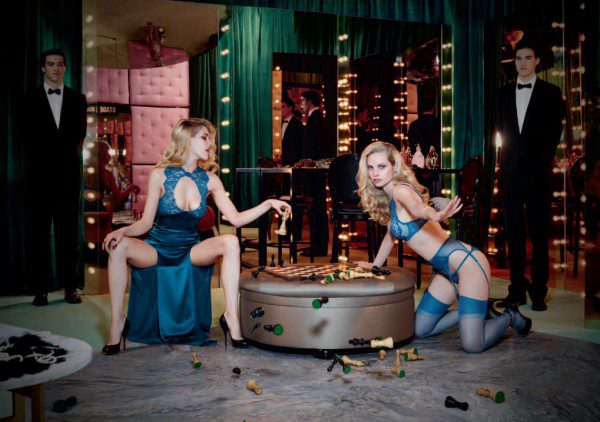 Cassia
Left: Slip Dress (£495, coming soon)
Right: Bra (£160), Knickers (£125) and Suspender (£160)
Chiki
Left: Bra (£125), Knickers (£125) and Suspender (£110)
Right: Bodysuit (£395)
Dolley
Bra (£95), Knickers  (£85) and Suspender (£95)
Dever
Left: Gown (£495)
Right: Basque (£395)
Avery
Playsuit (£395)
Featured image: Shina corset and slip dress, both coming soon