In case you're new around here and haven't seen the numerous times I've gushed over this brand before, the ethically-made indie label Love & Swans is truly one of the most exciting lingerie brands to come out of the 2020s so far, and now it's getting even better with the launch of swimwear. (And I say that as someone who rarely gets excited by swim fashion despite its similarly in silhouette to lingerie – it takes a lot for swimwear to catch my eye, but here I am wanting to write about it).
Owned by duo Maria and Ivan, Love & Swans – which is now based in Turkey – has done some fabulous things in the three short years it has been around. They've expanded the size range (up to 3XL and E/F cup fits), brought out a small gender-neutral line, launched both lower-priced and truly deluxe styles to cater to a greater range of budgets, and of course wowed us with multiple creative masterpieces along the way. So, swimwear feels like a logical next step for this brand.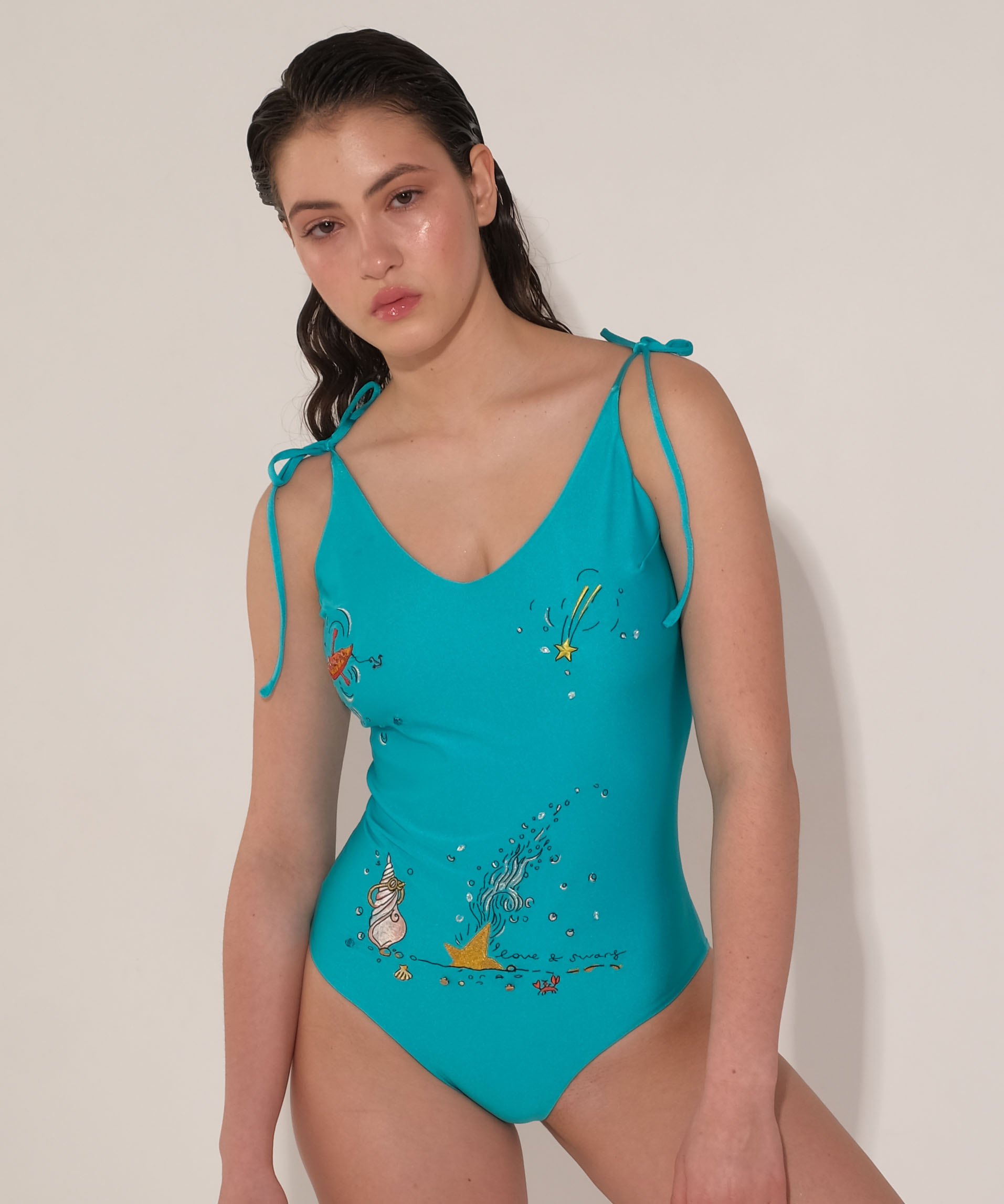 The debut swim collection consists of three bikinis and two one-piece swimsuits, all featuring Love & Swans' signature story-telling embroideries. Together, the five looks tell the tale of the "perfect holiday routine" which begins with Morning Swim, a fresh blue swimsuit depicting a shooting star falling to the seabed where it waits to be discovered. The story continues with Day Adventures, a sunny yellow triangle bikini decorated with tropical plants and a rather mischevious-looking snake.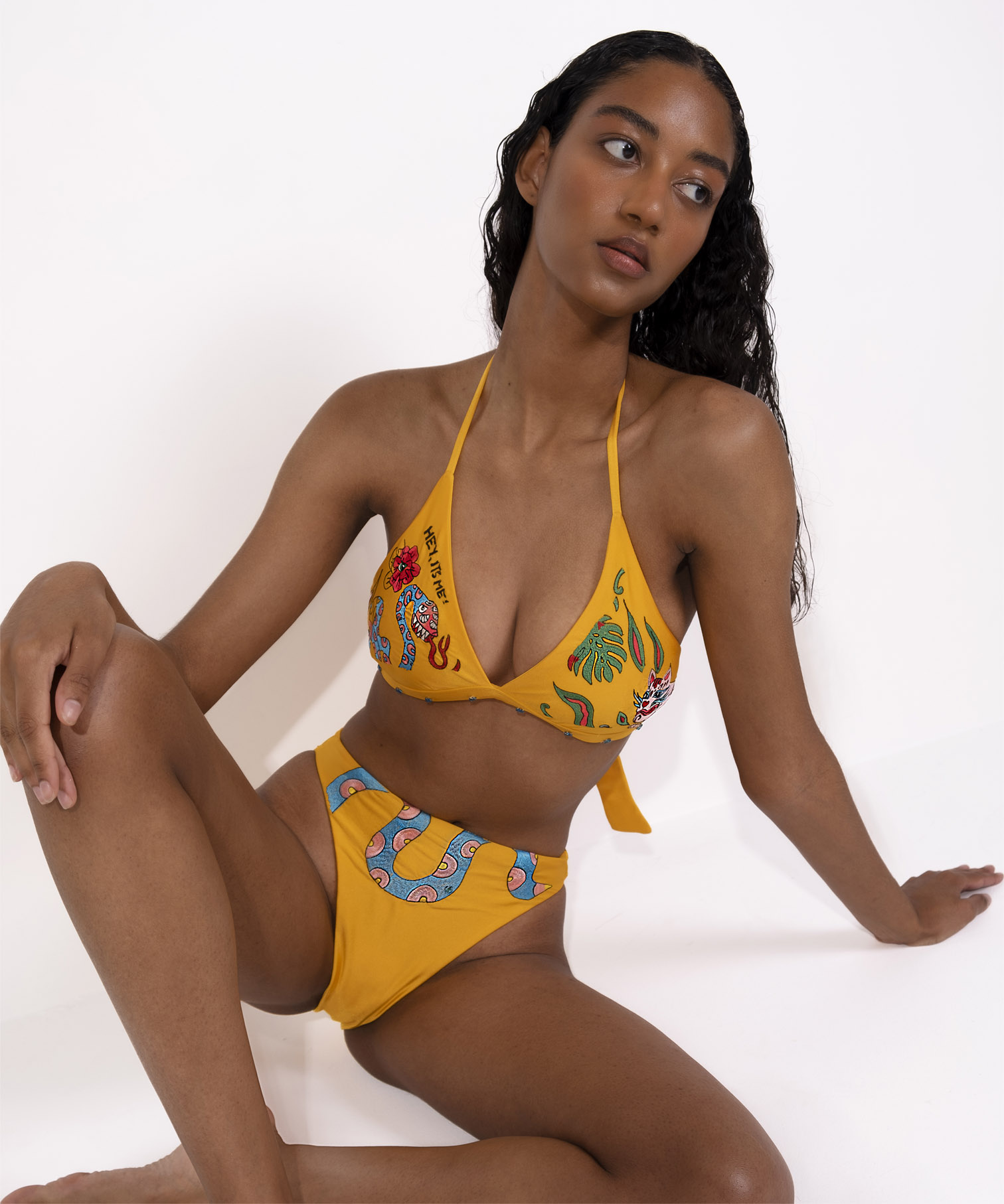 Then as the day rolls into evening and night, our character travels to Vegas in Risky Game, another triangle bikini in devilish red topped with representations of electrifying excitement, money and luck. Evening Ball is a purple bandeau bikini adorned with motifs of a glamorous, invite-only dinner and party (perhaps strictly for mermaids, given the coral). And finally there's Night Party to round off the adventure, a deep blue one-piece with strobe lighting, a disco ball, and a hint of holiday romance.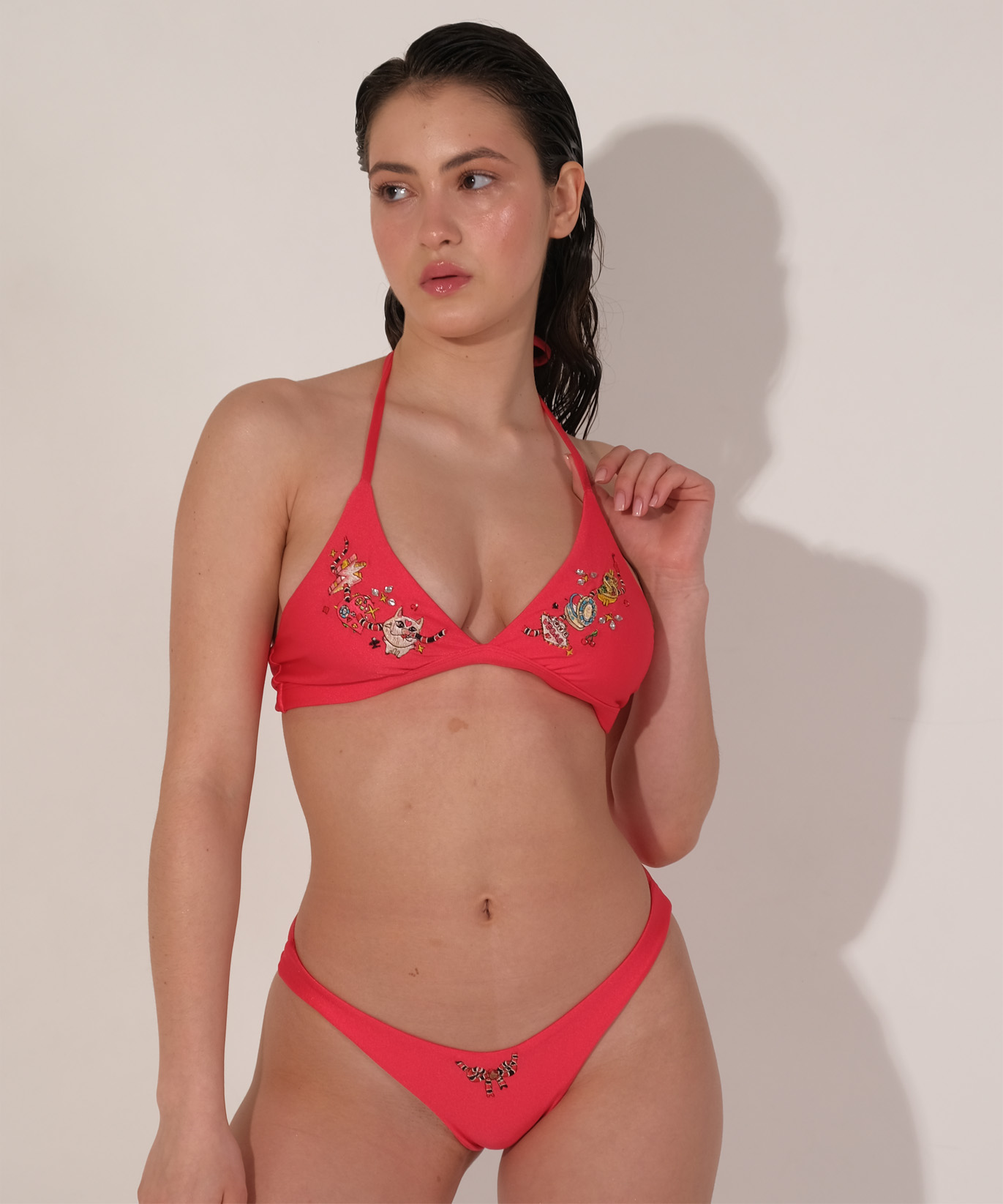 The Love & Swans swimwear pieces are made from long-lasting, OEKO-TEX certified Carvico fabrics from Italy. The exclusive illustrations have, as always, been dreamt up in house and then brought to life in colourful, sometimes metallic, threads plus a scattering of hand-stitched beads.
The only difference here seems to be that rather than the small seed beads frequently seen on the lingerie creations, the swimwear features large Czech crystals stitched on using thread made with real silver, to sparkle beautifully in the sunlight. However good you think these pieces look online, I have no doubt they look so much better in real life.
While these conversation-starting swimwear pieces would of course be just perfect for a pool party or luxury yacht trip, they're also a great way for fans of Love & Swans' aesthetic to work it into their outerwear looks without the revealing sheerness of the mesh lingerie pieces. Let's just say they'd make any festival outfit unique for sure!
This debut swim range is launching in sizes S to XL as standard, although given the brand's track record I'm hopeful this will be expanded in future if the garments prove popular. That said, if you order quickly, while they're still in production, Love & Swans is offering made-to-measure customisation for free! Two of the five looks have already arrived in store though and the last is scheduled to arrive at the start of June, so do contact the brand ASAP if you're interested in custom sizing.
Prices are $260 (approx. £209 or 238€) for bathing suits, and $290-$310 (approx. £233-£249 or 265-283€) for bikini sets, with tops and bottoms sold separately so you can pick different sizes.
Let me know what you think of Love & Swans' debut swimwear, and which design represents your perfect holiday activity!