Alexandrea Anissa is a brand I've been following on Facebook almost since it launched, so I was thrilled when owner Vanessa agreed to be interviewed for the Esty Lingerie blog. She's also giving away a US$50 gift voucher – details of how to enter are at the end of this post (don't forget to enter Mina Confidants and Esty Lingerie harness giveaways too!)
Vanessa says she's influenced by popular indie brand Hopeless Lingerie and I think it definitely shows in both her design aesthetic and the candid photography style of her lookbooks – occasionally when something shows up in my Facebook feed I think it's Hopeless for a moment! But her brand is also unique in it's own right too, being an unusual combination of edgy and girly with lots of strappy details placed against vibrant pink and purple florals, and pretty lace pieces featuring subtle gothic elements.
I spoke to Vanessa to find out more about where she gets her inspiration from, and how exactly she goes about designing and producing a new garment…
23 year old designer Vanessa Villarreal
When did Alexandrea Anissa launch and what's the story behind the name?
I launched Alexandrea Anissa in Sept 2013. The name came from an actual girl named Alexandrea Anissa. I instantly fell in love with her style/ persona on Myspace when I was 15 or 16 and decided I would name my future line after her.
What drew you to lingerie design specifically?
Lingerie design just kind of grew on me. When I was younger I wanted to design womenswear and create beautiful gowns, but as I got older I wanted to design pieces that were shorter in the hem, daring and a bit more playful.
 I try to make my miseries little treasures that other girls can cherish forever. I hope that my garments make woman and girls feel beautiful, sexy and confident. I have always struggled with confidence within myself so I guess I embrace it in my designs.
Tell us about how you design a garment from start to finish – where do you get your inspiration and how long is the design process?
I typically stumble across inspiration whether it be a photograph, muse, color palette or fabric swatch. I brainstorm ideas, thoughts and emotions from my inspiration and start depicting designs/ style lines. After I roughly illustrate a few ideas I start draping or sampling my designs and go from there.
A lot of times I have to alter my design because of the sewing construction or sequence. Eventually after a few samples I will have a finished product ready to photograph. Everything is trial and error. 
My design process ranges from time to time. Usually when I start on a new collection I'll email Miss Hana Haley (my photographer since day one) and let her know what I am thinking, share my inspirations and we set up a shoot date. I then work off whatever time I have until the shoot and do my very best to produce a consistent collection.
Which pieces are your bestsellers and why do you think they're so successful?
My current best sellers are from my Ramona and Sheena collections ranging from the bras to the panties. And my ultimate top seller is the Fawn bralette. I believe these are so successful because of how much thought was put into the design process and photoshoot theme. The more work you put into something the more you'll get out of it.
Are there any designers, lingerie or otherwise, who inspire you?
Absolutely! Gaby from Hopeless Lingerie is a huge inspiration. I been following her for a few years now and it's absolutely amazing to see her create a successful, well-known brand from her home. Everything she creates just gets more and more amazing. I especially love the newest pieces she has been releasing the past couple months – absolutely breathtaking!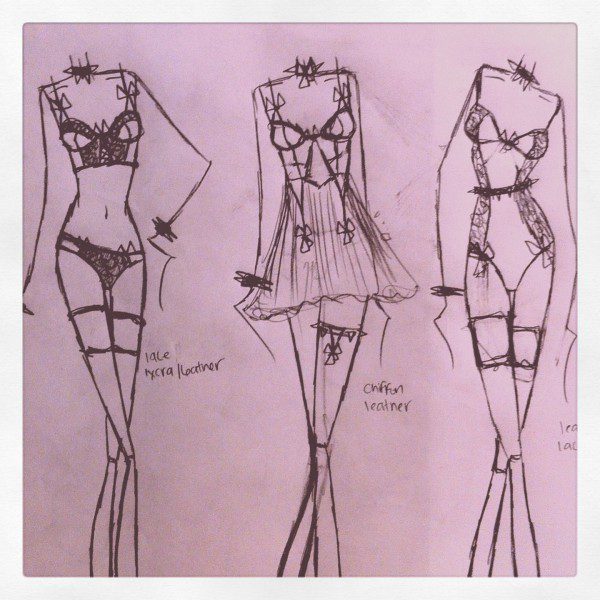 Finally, what can we expect to see from Alexandrea Anissa next season and next year?
Well for the next season you can expect my brand's very first birthday, a few new lookbooks and stocklists to a few well-known retailers. Within the next year I hope to bring Alexandrea Anissa to a whole new level by recreating my FIDM (Fashion Institute of Design and Merchandising) portfolio. I would like to push myself a little further to see what I can really create.
Want to win a US$50 gift voucher to spend on Alexandrea Anissa lingerie? Leave a comment explaining why you love Vanessa's designs. Then click the link below to record your entry via Rafflecopter so that it is counted – there are also ways to gain bonus entries that you can do afterwards.
(Ends 25th August 2014)