Flimsymoon is a new indie lingerie label I first heard about when some of my items were styled alongside hers in a photo shoot back in March. Unlike many lingerie designers who have a background in contour design or fashion specifically, founder Freiya Lilian is approaching lingerie from a textiles perspective – she has a degree in embroidery, screen-prints all the fabrics she uses by hand, and often hand-embellishes them too.
With skills like that, it's no wonder that Flimsymoon's debut collection, Kiss Me Under Flimsymoon, is a veritable cornucopia of textures – soft velvet, airy light feathers, glittering sequins, delicate beading, metallic leather, foiled silk and barely-there tulle. To me, the collection conjured up images of fairies and ballerinas and all things delicate and pretty!
I spoke to Freiya about her inspiration for the brand, and her vision moving forwards…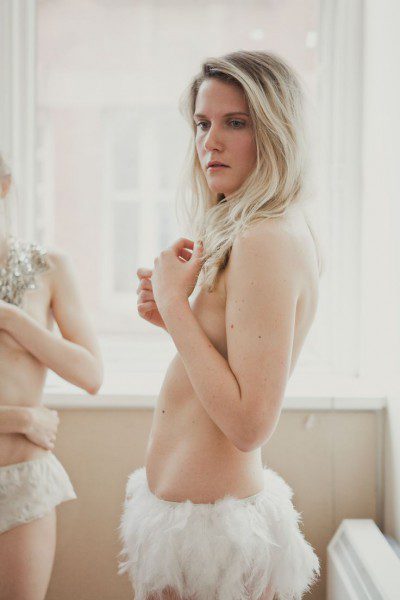 So, let's start by talking about what inspired the whole thing. What made you decide to launch Flimsymoon?
Flimsymoon is the natural outcome of my artistic personal and formal education. Growing up creative, and going down an arts education pathway, I was naturally drawn to an aesthetic vision and conceptual sensitivity that explored the notion of the feminine, relationships between men and women and ideas concerned with sex and romance.
I have also always been heavily into clothing since childhood. Fluctuating between art and design due to my equal love of conceptual exploration and superficial outcomes, when I finally realised it was design I wanted to focus on (I found myself feeling at odds with creating art for art's sake, I'm too practical) it made sense that lingerie would be the vehicle to express my ideas. Lingerie is so loaded with relevant connotations already, it seemed the perfect canvas!
What do you think sets your brand apart from everything else out there?
There is very little couture lingerie. There are many beautiful, high-end brands that use exquisite materials and are gorgeously designed, however, it is not an area of fashion that is particularly experimental. Designers like Strumpet and Pink really inspire me. Their pieces are almost like interactive pieces of wearable art.
As far as I am aware from my market research, there isn't really a design brand that focuses on hand embellishment in lingerie. I screen print and hand-embroider nearly every piece in this collection myself. I want to strike a balance between the wearability of the usual, high-end lingerie that is out there, and the conceptual and emotional design of haute couture.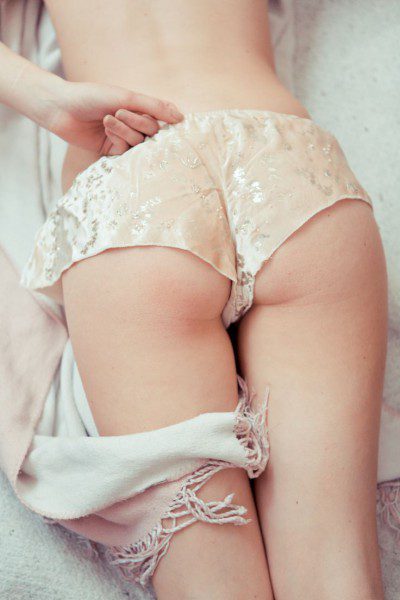 The Undine foiled knickers with delicate hand beading.
I think I'm in love with the and the beaded Undine knickers and the feathery Odette knickers! How much work goes into making something like this?
My, my, thank you! I am very flattered. They are a pair of hot mamas if I do say so myself!
With Odette, each feather is hand sewn. I prefer the overall outcome of the layers, using the feathers like large sequins, rather than using an already-stitched ribbon trim. The outcome is quite costume-like and reminds me of 1930s performers like Sally Rand. She was quite an inspiration for this piece!
Undine too layers hand techniques. Screen print with foil is layered with tiny hand stitches and hand-sewn pearls. Then silver lined bugle beads from the 1920s are embroidered into little motifs on top.
Tell me about your favourite brands or designers. Are there any that have inspired Flimsymoon?
It's funny when people ask me this question because when I think of inspiration for my work, my mind first comes to things which are less tangible. Poetry, Bataille's theories on eroticism and Animal Bride tales, dusty instrumental music and a feeling of longing.
My taste in designers is like my taste in music – it spans across all kinds of people and collections and eras. I can't really define and say just a couple of brands because I may totally adore a few pieces but really not be into others, you know? Off the top of my head… Strumpet and Pink as I mentioned, The Lake and Stars, Araks, Shell Belle, Zinke, Sretsis, The Loved One, Eberjey, Philip Lim lingerie, Egretta Garzetta, oh and of course Miss Crofton. I could go on.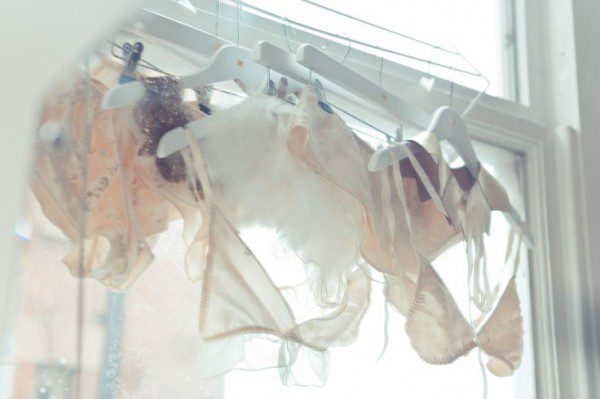 The full debut collection by Flimsymoon, with 2 bralettes, 4 knickers and 2 collars to accessorise your lingerie or outerwear.
What would you like to see more of in the lingerie industry?
More diversity and creativity in editorials, promotional photos and beauty presentation. I am into body positivity in a big way, and by this I don't just mean including models who are bigger than a size eight and a 34B sample size. I strongly believe that the fashion world is kind of lazy in just using one body type.
Fashion, by definition, is a magical melting pot of all eras and beauty ideals recycled and mixed up, creating new ways of reinventing ideas. Why this can't happen in the body and beauty ideals that are used to display these garments is beyond me. If you walk into a musuem, look to different cultures, you see such a broad spectrum of 'types' of celebrated beauty.
There are so many types of beautiful out there. I really think it's high time that editorials and promotional images started pushing the boundaries in a way that doesn't scream "Look at us, we are so inclusive we use plus size models". Mix it up.
Finally, you're currently running a Kickstarter campaign to launch the first collection. Tell our readers briefly about that and what they can get their hands on for making a donation…
[For making a pledge you can get] lots of exclusive treats we have developed especially for the Kickstarter – eye masks, custom monogrammed lingerie bags, bejewelled ear plugs inspired by Holly Golightly, leather star-shaped nipple petals, limited-edition jewellery, basic french knickers… there are care packages too the higher you pledge.
Also, if you pledge under £10 you have the option of donating to the wonderful charity 28 Too Many, who fight to end female genital mutilation. As we become established I want to work closely with them and donate a percentage of our profits.
You can check out Flimsymoon's Kickstarter project here which runs until the 29th of September and is currently at £2,320 of its £6,450 goal.
What do you think of Flimsymoon's designs?